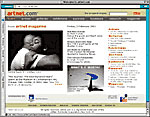 Premiere place on the Web to keep tabs on the established contemporary art scene. From a weekly coast-to-coast art news roundup to in-the-know columns by notable wits, such as Village Voice critic Jerry Saltz, to extended reviews of high-profile exhibits, (i.e., Charlie Finch's take on the latest show by art celebrity/celebrity artist Julian Schnabel), Artnet makes you feel like you were there--cocktail in hand. The thorough magazine even throws Americana collectors a bone through Garrett's Attic, written by Sotheby's vice president of decorative arts. New This Month in U.S. Museums series and Current Openings in the Events section will also keep you abreast.

BEST: A literate and progressive take on the contemporary art scene.

WORST: The organization of its content can be perplexing.