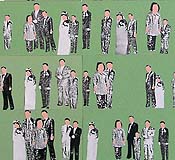 Yong Sin
Relatively the Same: Wedding Reception
(detail)
2002
at Lendrum Fine Art, Los Angeles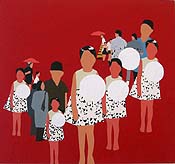 Relatively the Same: Happy Day I
2000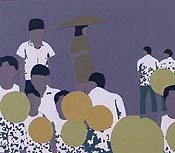 Relatively the Same: Happy Day XXV
2000
Happy Day
by Eve Wood
Yong Sin, "Alone, Together," July 11-Aug. 8, 2003, at Lendrum Fine Art, 5367 Wilshire Boulevard, Los Angeles, Ca. 90036

Yong Sin, whose paintings are currently on view at Lendrum Fine Art in Los Angeles, conspires with every gesture to create a delicate dance between form, color and space. Though Sin's imagery concerns itself mainly with stillness and economy, the tension between the figures in these works evokes the suggestion of joyful movement, the moment just before a young woman might break out into song.

Sin's imagery, done in mixed mediums, Xerox and collage, derives from two photographs, one taken at a wedding, the other from a memorable and happy outing with her family when she was a girl. Relatively the Same: Wedding Reception is an ingenious piece. Constructed from hundreds of versions of the same image, and intimating a variety of scenarios wherein the artist's mother marries everyone at the reception, the piece is funny and compelling on a number of levels.

Relatively The Same: Happy Day is the most intriguing work in the show. It focuses on a scene of joy, a day at the zoo when the artist was completely happy. Various figures are once again combined into scenes of ecstatic joy. The fact all the figures in Sin's work have no discernable features, their faces blank color fields, forces the viewer to focus on gesture and line rather than expression. This is not a unique strategy, however, the honesty inherent in this work allows it to rise above the obvious.


EVE WOOD's new book of poetry, Love's Funeral, is published by Cherry Grove Collections at the University of Cincinnati.