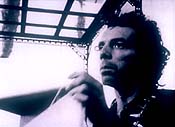 Hélio Oiticica
photo Ivan Cardoso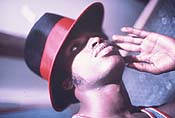 Hélio Oiticica
Neyrotika
1973
at the New Museum
Neyrotika
1973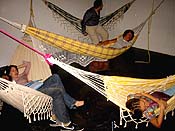 Block Experiments in Cosmococa, CC5 Hendrix-War
installation view
1973
Block Experiments in Cosmococa, CC5 Hendrix-War
1973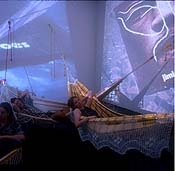 Block Experiments in Cosmococa, CC5 Hendrix-War
1973
Block Experiments in Cosmococa, CC3 Maileryn
installation view
1973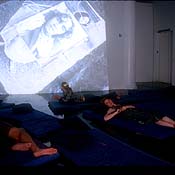 Block Experiments in Cosmococa, CC1 Trashiscapes
installation view
1973
Quasi-Brazil
by Sherry Wong
"Hélio Oiticica: Quasi-Cinemas", Jul. 26-Oct. 13, 2002, at the New Museum of Contemporary Art, 583 Broadway, New York, N.Y 10012

The obscure Brazilian conceptualist Hélio Oiticica who used cocaine in lieu of paint finally has a solo show in New York -- 22 years after his death. In Rio de Janeiro there is an entire museum devoted to promoting his art. In New York, however, we have to settle with three large installations and three smaller video and slide works. This small but impressive show was organized by Carlos Basualdo for the Wexner Center in Ohio and traveled to Kölnischer Kunstverein, Cologne before ending its tour at the New Museum.

The exhibition focuses on Oiticica's 8-year hiatus in New York from Rio de Janeiro in the 1970s. Armed with a Guggenheim fellowship he acquired a loft, made friends in the art world and experimented with emerging video equipment. Although the work looks dated, it retains the excitement of working in a new medium.

Near the entrance is a large television playing unfinished super-8 films. One segment is simply running footage of the Fillmore East Movie Theater. Facing this is a slide show, Neyrotika (1973), featuring sexy stills of men in different dramatic poses taken at Oiticica's loft. The images flicker on and off rhythmically to a soundtrack of AM radio music mixed with telephone and traffic noises. We can see the influence of filmmaker Jack Smith, whose loft slide shows inspired Oiticica.

Agripina e Roma-Manhattan (1972) is a full-length but unfinished super-8 film done in conjunction with filmmaker Neville D'Almeida. The film juxtaposes crossdressers and women in red posing in front of the N.Y. Stock Exchange and other quintessentially New York architectural landscapes.

The most interesting works are Oiticica's and D'Almeida's cocaine drawings called "Cosmococas". Perhaps by making cocaine his medium, the artist tried to gain control over his own addiction that led to his early death at age 43.

Block Experiments in Cosmococa, CC5 Hendrix-War (1973) consists of brightly colored hammocks strung chaotically from wall to wall. Projected on the walls and ceilings is a slide show featuring a Jimi Hendrix album cover. Hendrix also plays from the sound system. On the album, cocaine lines have been arranged in various patterns by D'Almeida. Sometimes it outlines the head or makes psychedelic patterns on the cheekbones. Oiticica included elaborate instructions with these installations so they could be replicated accurately. The work is incomplete until the audience participates by lying in the hammocks.

Another room is filled with sand, covered in vinyl and scattered with balloons. The slide show on the walls is of Marilyn Monroe with cocaine drawings on her face. Instructions ask the audience to roll and crawl on the floor while listening to Latin music. Cosmococa, CC1 Trashiscapes (1973) invites the audience to lie on futons and file their nails while watching images of Luis Buñuel. This slide show is the most whimsical of the lot -- primarily because the image is on the cover of the New York Times Magazine. A mirror, rolled-up dollar bills, an ashtray and a knife appear and disappear in what can be termed a well-choreographed dance of Duchampian ready-mades.

All three installations require the viewer to lie down. Oiticica claimed that conscious laziness could be a state of action. Fond of blending words, he called this active passivity "crelazer" (creleisure).

We find the roots of Cosmococa in his early '60s work done in Brazil around the time of the military coup promoting "modernization". One of Oiticica's seminal installations, Tropicália (1967), dealing with Brazilian stereotypes, was seen by cinematographer Luís Carlos Barreto. Barreto felt that this work was the visual equivalent Caetano Veloso's music. At his encouragement Veloso named one of his songs "Tropicália" which became the anthem of the rising counterculture that included such luminaries as Gilberto Gil. Oiticica's work, like Tropicália, deals with social change, westernization, racism and an irreverence for history and the present -- an outlaw sentiment. Tropicália musicians sang about Coca Cola and television and Oiticica's made his "quasi-cinema" with cocaine and Marilyn Monroe. It is rebellious and humorous at the same time, which is why Veloso once said that singing about Carmen Miranda was like "Andy Warhol putting the Campbell soup can in his painting."

Underneath the seemingly innocent fun of the Tropicália movement and Oiticica's work lies a cultural revolution beyond the life-as-art rhetoric. It is a shame that the Guggenheim cancelled an early 90s retrospective of Oiticica's work. The small selection of work at the New Museum whets our appetites for more representation of this brilliant artist beyond the borders of Brazil.


SHERRY WONG is assistant editor of Artnet Magazine.