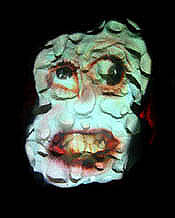 Tony Ourslers work in "East End Art Now," on the front porch of the Parrish Art Museum in Southampton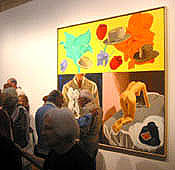 David Salle, in "East End Art Now"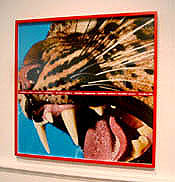 Barbara Kruger, in "East End Art Now"
Keith Sonnier
Walk-Up
2002
"The Infinite Fill Show" at Foxy Production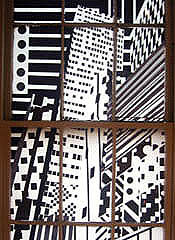 Tamara Gayers window design, in "The Infinite Fill Show"
Artist Agata Oleksiak at Oliver Kamm/5BE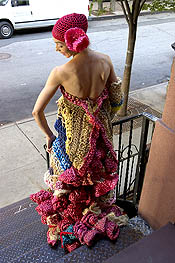 One of Agata Oleksiaks dancers, at Oliver Kamm/5BE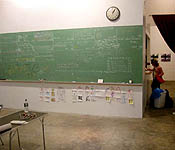 Installation view of Patterson Beckwiths "Home" at American Fine Arts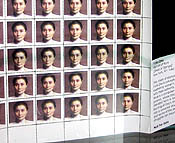 Yoko Ono
Portrait of Nora
2002
Lee Bontecou, at MoMA QNS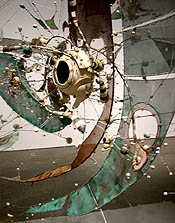 Detail of an untitled work from 1995-2000 by Lee Bontecou, at MoMA QNS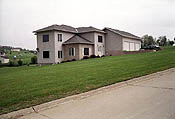 Justin Newhall
Sioux City, IA
2004
Jen Bekman at her Spring Street gallery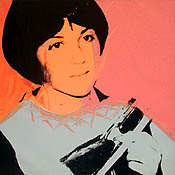 Andy Warhol
Dorothy Hamill
1979
Tony Smiths Tau, stripped of paint, at Hunter College
Damien Hirsts suite of spin-art prints, at MoMA QNS
Weekend Update
by Walter Robinson
"North Fork/South Fork: East End Art Now" at the Parrish Art Museum in Southampton presents works by 25 famous artists who live in the Hamptons and other beach communities at the tip of Long Island. It looks good -- curator Alicia Longwell has assembled one trophy piece after another -- but the idea seems prosaic, almost silly, until you realize the competition bubbling below the surface. Though disguised as a down-home kind of gathering, the exhibition is a collision of A-list egos, supercharged with soap opera subtexts. The Hamptons is New Yorks preeminent trophy destination, after all, a formerly near-mythical art colony that is at this point overwhelmed by the vulgar superrich, god bless em. The works in the show are accompanied by wall labels that note where each artist lives in the area and when they arrived. Here, the curatorial is the personal (even if subconscious), and it don't get more personal than in this crowd of Hamptons Homeys. It seems like everyone is represented (even though this is the second half of a two-part show). Eric Fischl is the big beefcake on the block, weighty like the lion in his prime, with a lust for life that approaches gluttony, giving a run for his money to the absent Julian Schnabel, the other big hambone of his generation. Fischls painting is the biggest in the show, a brooding work from his 2002 Krefeld project, for which the artist photographed a pair of Teutonic actors posing as a pair of flush, plush art collectors -- a truly great subject for our time (actually, everything here is a great subject, in its own way). David Salles smaller painting on the facing wall, also from 2002, is all nip and tuck neat -- funny, how they originally looked so anti-esthetic -- a multi-panel image done in pretty colors and dotted with painted flowers, including the torso of an anonymous man in a suit (the artists stand-in?) and one of his "classic" misogynist images of a nude woman's backside, showing him as some kind of closet case. He moved out to East Egg in 1982, right on the threshold of his success. A still smaller photowork by Barbara Kruger is the most ferocious piece in the show, cranky and crypto-Stalinist, a color image of a snarling tiger who is growling about how dull art is -- the Krugers trademark text, running across the picture sotto voce, reads "another artist, another exhibition, another gallery, another magazine, another review, another career, another life." What a sentiment! Shes lived in Springs, former home to Jackson Pollock, since 1988. Stuck out on the porch is a piece by the crazy newcomer, Tony Oursler (he moved to Southold on the North Fork in 2003), a kind of boulder with a wacky face projected on it, muttering to itself. In the front room is a handymans ladder decorated with neon, a cool and remote nod to the tool shed by Keith Sonnier (who has lived in Bridgehampton since 1988). Nearby is a boudoir-sized painting of a pink nude drinking milk by Billy Sullivan, whose East Hampton residency dates to 1974. In a corner of the back gallery is a brightly hued lawn chair by Mary Heilmann, a hard and sharp-edged version of Matisses comfortable armchair. A few more entries: Senior to the group is Jane Wilson, a painter of serene semi-abstract seascapes, who came to Water Mill in 1953. The Photo Realist Chuck Close, who curiously enough is now celebrated for his paintings of celebrity artists, lived in East Hampton from 1975 to 85 and then moved to Bridgehampton. The 1980s art star Ross Bleckner arrived in Sagaponack in 1991, while Sue Williams, a success of more recent vintage, moved to Montauk only in 2002.

* * *

"Eternal youth culture" is the stuff at Foxy Production on West 27th Street, or at least thats how dealer Michael Gillespie described the endless fascination of the art crowd with both psychedelia and goth. Foxys new exhibition is a compelling combination of the two trends, "The Infinite Fill Show," jamming the small single-room gallery with works by over 50 artists, all made with black-and-white patterns to jazzy effect, including stained-glass-style windows made with vinyl appliqué by Tamara Gayer, abstract paintings of computer-game patterns by James Buckhouse, a painting of rows of funky sneakers by Tyson Reeder, a cascade of cartoon doodles by Paper Rad and a linoleum rug by Maureen Arcangel -- all done in black and white. Maureen is mother to the brother-and-sister team of Cory and Jamie Arcangel, who organized the show (by open call) under the sign of MAC Paint, the 1984 software that allowed graphic designers to fill in areas with black-and-white patterns. Art lovers will remember Cory Arcangel from Team Gallery (and the 2004 Whitney Biennial) for a projection piece of a simple animation of white clouds blipping across a blue sky, obtained by hacking a Super Mario Brothers game module. Also available are cotton T-shirts printed with a pattern from the Infinite Fill paint palette by the Arcangels. They're $19.95 each.

* * *

Art takes the everyday and turns it into magic -- such corny conceits are well served by postmodernist irony. Witness the large pane of broken glass, slathered with clear medium and dusted with glitter, made by the young artist Tom Meacham and on view in a summer group show at Oliver Kamm/5BE on West 22nd Street. Its trash made into art with a sprinking of pixie dust. Meacham has a lot of energy, and makes figurative works, photocollages and "Abstrakte Bild"-style abstractions as well as the bit of latter-day Arte Povera thats been turned into a magical End Game art object. Its a bargain at $1,200, if you dare. The exhibition, titled "The Day after I Destroyed the Women, I Wished I Had Not Destroyed Them," is organized by Lital Mehr and includes ink drawings of figurative metamorphoses by Dasha Shishkin, subtle layered drawings done in monochrome cut paper by Aaron Wexler and an over-the-top crocheted sculpture that hangs from the ceiling and drapes out the window by Agata Oleksiak. Oleksiak makes outfits as well as sculptures, and the opening was ornamented by dancers in her elaborate, multicolored costumes.

* * *

At American Fine Arts, theres a big green blackboard mounted on the wall, a large round clock and a scattering of chairs and tables. Summer school is in session, courtesy of L.A. artist and photographer Patterson Beckwith, a veteran of the Art Club 2000 art collective who in his last show at AFA ran a photo studio where you could get your portrait done in front of one of three seasonal backdrops. For his new show, titled "Home," Beckwith has arranged for a bunch of his friends to conduct "home-school classes" during July and August (its very Tom Sawyer -- Im not even sure Beckwith is in town). Youve already missed "Hair and Make-up" with Kembra Pfahler (7/26); coming up is "Samba" with Andrea Fraser (8/3) and "Mask Making" with Rachel Harrison (8/5). For a complete curriculum, see the AOL homepage

* * *

"Yoko Ono: Editions, Ephemera & Printed Works," July 21-Sept. 30, 2004, the retrospective of printed artworks and ephemera by Yoko Ono at the Printed Matter bookstore on West 22nd Street, most of it drawn from the archives of the art guru herself, includes Portrait of Nora (2002), a sheet of stamps with the digitalized self-portrait of Yoko as the protofeminist Ibsen heroine. Also on hand for the avid low-end collector are a t-shirt reading War Is Over If You Want It ($25), a do-it-yourself kit including an "Imagine Peace" rubber stamp ($15) and a 2000 reprint of the original 1964 Grapefruit: A Book of Instructions by John and Yoko ($15). The true collectible on the shelves, though, is Moogambo, a campy color picture book of Arabian Nights fantasy photographs by famed art dealer Tony Shafrazi, made in 1976, two years after his fateful inscription of Picassos Guernica with "Kill Lies All" in protest against the Vietnam War and before he opened his celebrated gallery. Moogambo is $15. Speaking of Printed Matter, after more than six years on the job as director, David Platzker is off to launch a new initiative dubbed ASAP -- Artists Space Archive Project.

* * *

Everyone loves Lee Bontecou, and everyone loves the Lee Bontecou retrospective, finally on view at MoMA QNS. A proto-Minimalist who got a great early review from Donald Judd, shes actually an Outsider Artist who just happened to exhibit at Leo Castelli Gallery in 1960. "If Id never had these shows, I would have been a happy person," Bontecou confessed at the press preview -- then hastening to thank the museums after realizing her faux pas. They look good, her dark constructions of sooty, stitched-up muslin, expressing a 1950s-style Frankensteinian fear of the atom bomb and the science that spawned it (which provided the emotional underpinnings of Abstract Expressionism, as Irving Sandler emphasizes in his recent memoir, A Sweeper-Up after Artists). Then, after she left the city, happily enough, she became engaged in a cheerier 25-year-long obsession with utopian, floating space architecture of handmade porcelain, wire mesh and silk. Its all on view at MoMA QNS (though about half the size of the show out at the Hammer Museum in Los Angeles). The Bontecou exhibition is the final presentation at MoMA QNS; it closes Sept. 27, 2004.

* * *

Middle America is an eerie place, we all know that by now. For "Best Midwestern: Photography from the Heartland" at Jen Bekman at 6 Spring Street off Bowery, the young art dealer has assembled works by seven artists, four in their New York debut (and two fresh from the Whitney Biennial -- Alec Soth and Deborah Stratman). The beach in Craig Prehns Pine Barrens II (2003) has a "no swimming" sign -- with a vulture sitting on it ($1,000 unframed, in an edition of eight), while the suburban house in Justin Newhalls Sioux City, IA (2004) has very, very neat siding and windows that are dark as if covered by polished leather (like Duchamps Fresh Widow) ($1,000 unframed, edition of ten).

* * *

Word from Cologne is that the new exhibition of photos and sculpture by Vera Roehm at Galerie Schüppenhauer are a must-see. The sculptures are dark Minimalist cubes inscribed with the phrase "the night is the shade of the earth" in several languages, a quotation taken from the 17th-century ornithologist Johan Leonhard Fritsch. Roehm, who was born in 1943, is seeking a kind of materialist "la recherche du temps perdu."

* * *

The new director for the 2005 Venice Biennale -- succeeding Francesco Bonami, who wont be returning -- should have been announced by now, but things are in disarray, as usual. The British are sending Gilbert & George, the French are represented by Annette Messager, and an announcement of the U.S. entry is due soon. Tate Britain is giving Anthony Caro a retrospective in January 2005 for his 80th birthday, but cant find a U.S. venue, insiders say. . . . The Morgan Library is closed for renovation and expansion but its worth a visit anyway to see that the horrid swoop-roof solarium annex has been knocked down. . . . Philadelphia Museum of Art is still in search of a contemporary curator. Kimerly Rorschach is director of the new 65,000-square-foot Nasher Museum of Art, opening in October 2005 at Duke University in Durham, N.C. She was at the Smart Gallery in Chicago. Curator there is Kathleen Goncharov, who organized the Fred Wilson show for the U.S. Pavilion at the 2003 Venice Biennale. Meanwhile, back out in the Hamptons, the Vered Gallery in East Hampton is celebrating its show of 12 paintings of athletes, measuring 40 x 40 in., done by Andy Warhol in 1979. The complete group has a lovely 1970s profile, including portraits of Chris Evert, Dorothy Hamill, Tom Seaver, Willie Shoemaker, O.J. Simpson and three versions of Muhammad Ali. Taxter & Spengeman is moving across the street to 504 West 22nd Street, downstairs from Oliver Kamm. . . . Paul Morris Gallery has moved to 530 West 25th Street. . . . LFL Gallery is expanding, swallowing up the next door space of Volume, which is moving nearby. British artist Keith Tyson, represented by Haunch of Venison in London, has joined Pace Wildenstein in New York. . . . Dealer Adam Sheffer has gone to work at Cheim & Read. . . . Donald Kuspits The End of Art has sold out its hardcover run and is to appear in paperback, as well as in Spanish and Turkish translations. Tony Smiths massive black Tau sculpture at Hunter College on Manhattans Upper East Side, has been stripped of paint for restoration, thanks to prompting by William Agee, who will oversee a Hunter show devoted to the work in coming months. . . . Artist Rita Ackermann has done a new window for Max Fish on the Lower East Side; the old picture of junkie waifs, painted on the glass of the popular Ludlow Street bar in the early 1990s, had more or less worn out. . . . New psychotropic drugs could spell end of the asylum brand of "Outsider Art," insiders say. One more thing, also at MoMA QNS, a new acquisition: a suite of ten new "spin art" etchings by Damien Hirst, done in an edition of 68 by Paragon Press in 2002 and bought by MoMA last year. So, where was the museum when I showed my beautiful, sign-painters-enamel spin paintings at Metro Pictures in SoHo in 1986? Boo-hoo.


WALTER ROBINSON is editor of Artnet Magazine.