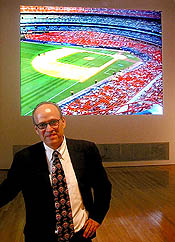 Queens Museum director Tom Finkelpearl with Pia Lindmans Shea Stadium Establishing Shots, in Subway Series: The New York Mets at the Queens Museum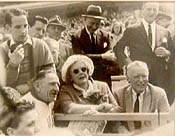 Louis Requena
Opening Day at Shea, Casey Stengel with Joan Payson
1962
Larry Fink
Homage to George Grosz
2001
powerHouse Gallery
Freecells Moistscape at Henry Urbach Architecture
Ana Mendieta
Still from Creek #2
1974
Galerie Lelong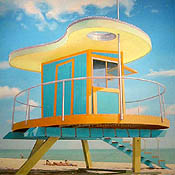 Paul Caranicas
Miami Beach, Kenny Scharf Lifeguard Stand
2004
Bernarducci Meisel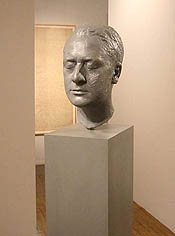 Gerhard Richter
Two Sculptures for a Room by Palermo (detail)
1971
Peter Freeman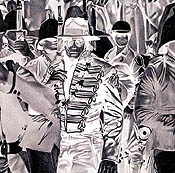 Marc Brandenburg
Untitled
2004
David Zwirner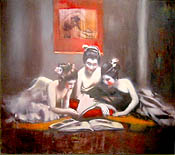 Louis Renzoni
Permanent Wave
2004
Kim Foster
Luis Gispert in New York, July 2004
Weekend Update
by Walter Robinson
Amusements! Summer is here, and its all about amusements! Forget moral uplift, intellectual rigor, historical context and the quest for the wholly human! We seek the perfect beauty that is spelled f-u-n! And nowhere, absolutely nowhere, is beauty more easily found than at the ballpark, specifically, Shea Stadium in Queens, as is proved oh so easily by Subway Series: The New York Mets, the new exhibition at the Queens Museum jointly organized by Carlo McCormick and Tom Solomon. How perfect is the green in Pia Lindmans six-minute-long color video projection, Shea Stadium Establishing Shots (2004), a set of four stop-action scenes capturing the essence of baseball atmosphere. And how tragic is the moment of individual failure amidst the cheering mass -- a strikeout -- in Adam Cvijanovics soaring mural, Night Game (2004). The painting was started in the studio and finished on site -- and should stay there, patrons take note (the price is a bargain $35,000). Elsewhere in the show, installed in spaces that snake around the museums estimable centerpiece, the New York Panorama, are the jersey of 1970 Mets coach Yogi Berra, cartoons by the irrepressible Bill Gallo, lots of trophies, signed gloves and signed balls, and plenty of notable photographs, including a sublime series of 23 black-and-white prints from 1985 by Susan Grayson showing a single pitch by Doc Gooden from start to finish -- it gives you goose bumps. Among the several contemporary artworks is a video installation by Queens artist Michael Rakowitz that focuses on the winning moment of the 1986 World Series, when triumphant relief pitcher Jesse Orozco threw his glove into the air -- which mysteriously disappears. In addition to providing an occasion to research the mystery -- do you know where the glove is? -- the work also fills the museum space with the pulse-quickening sound of a baseball game at high pitch. The Bronx installment of the Subway Series -- focusing on the New York Yankees, of course -- includes a new drawing of Roger Maris made especially for the exhibition by Robert Longo and a 1930 painting by John Marin of Babe Ruth. It bows at the Bronx Museum of the Arts on July 22, 2004. Back in Manhattan, the mind naturally seeks out more salacious amusements -- something like, say, a photograph of a gleeful George W. Bush with a negligee-clad harlot on his lap, his hand groping her breast. This knock-out image can be seen in The Forbidden Pictures: A Political Tableau, a show of photographs by Larry Fink at the new powerHouse Gallery at 68 Charlton Street, just west of SoHo, June 17-Sept. 4, 2004. Pornography as political critique -- it helped usher in the French Revolution more than 200 years ago, maybe it will do some good today. It turns out that Fink made the series, which pose a Bush look-alike plus several fetching models and the odd musician and circus performer in what appear to be the chambers of a private club, at the behest of the New York Times Sunday Magazine fashion department -- so that the pictures are part political satire, part art pastiche (referencing Weimar-era works by George Grosz and Otto Dix) and part a display of mens haberdashery! The Times declined to use the photographs, and when Fink exhibited them earlier this year at Lehigh University an uproar ensued. PowerHouse gallery director Susan Knig expressed the hope that Republicans visiting New York for their presidential convention might be spurred to similar distress. Large exhibition prints, in an edition of 10, are $9,000; a complete portfolio of smaller prints in an edition of 15 is $7,500 for the first five numbers. For those of us on a budget, the slim color catalogue, with all the photos in color, is $15. A more verdant kind of summer fun is available at Henry Urbach Architecture on the 10th floor of the Chelsea Gallery Builing on West 26th Street, where the Brooklyn-based architecture collaborative Freecell -- Lauren Crahan and John Hartmann, with Corey Yurkovich -- has installed something called Moistscape, a cool and damp climate-controlled room filled with a suspended space-age landscape of verdant moss. The otherworldly topography is straight out of science fiction. Its their first gallery show, and something of an eccentric triumph. More nature is found downstairs at Galerie Lelong, in the lovely and simple Super-8 film made by Ana Mendieta in Mexico in 1974, in which the artist floats motionless in the cool and cleansing waters of a sun-dappled creek in a sylvan glade. Fans of Ana Mendieta Earth Body at the Whitney Museum, July 1-Sept. 19, 2004, can also obtain one of the artists drawings, largely vulvic shapes done Art Brut style on paper, priced in the $18,000-$25,000 range. Wish you were in South Beach? Second best is Summer Is. . . at Bernaducci Meisel Gallery on West 57th Street, a show of Photo Realist paintings of Venetian canals, waterspouts and waterfalls, sunsets and strawberries. Check out the sunbathers in thongs in New York realist Paul Caranicas large painting of Miami Beach, Kenny Scharf Lifeguard Stand (2004), which can be yours for $20,000. Or a final option, take some time from a lazy summer day and drop by White Columns and watch a video, courtesy artist Nancy Hwang. From noon to 6 pm, Wednesday through Saturday, gallery visitors can pick out a video at the nearby World of Video store and view it on the Greenwich Village gallerys 60-inch screen. An endless variety of drinks and a customized mighty Vornado air circulation system are promised.


* * *

Meanwhile, while we all goof around at the beach and in the park, those art writers at the New York Times are working, working, working! Weve been hearing about a planned overhaul of the famed newspapers culture section for ages now, and some observers say that new editor Bill Keller has lit a fire under our dearly beloved art scribes. No longer content with the usual slew of esoterica on Friday, the paper now wants art news every day! Thus, Roberta Smith on Anne Frank snapshots on Monday, Julie Salamon on the new art pension fund scheme (see www.artistpensiontrust.org) on Tuesday, etc.


* * *

Fantastic 1971 piece by Gerhard Richter at Peter Freeman in the 560 Broadway building, Two Sculptures for a Room by Palermo, consists of life-cast busts of Richter and his then-colleague, irreverent German Minimalist Blinky Palermo. Busts and bases are all painted in Richters trademark monotone gray like dead Postmodernist glyphs, but for once the human life of the subjects shines through, even though their eyes are closed. The price is $3 million, someone said.


* * *

Plus more: The Brooklyn Museum is working on a Jean-Michel Basquiat retrospective for March 2005. Also at Brooklyn, a survey of works by painter Kehinde Wiley opens this October. It should be hot . . Kerry James Marshalls traveling museum exhibition, One True Thing: Meditations on Black Esthetics, also comes to the Studio Museum in Harlem this fall, opening Oct. 13, 2004. . . . Ellen Phelan and Donald Sultan are now represented by Ameringer & Yohe Fine Art on East 57th Street; the gallery also handles the estate of Nancy Graves, and is mounting a retrospective in February 2005. . . . How enthusiastic is the market for new art? In Happy Days Are Here Again, the summer group show at David Zwirner, collectors snapped up small works on paper by Carlo Arocha, Hernan Bas, Marc Brandenburg, Michael Cline, Christian Holstad, Violet Hopkins, Nick Mauss, Paul P. and others, all priced at around $2,000 or so, give or take. . . . Chelsea dealer Kim Foster sold a large painting of three geishas by East Village artist Louis Renzoni (done in his signature moody black with new touches of Communist red) for $12,000; he shows at the West 20th Street gallery in October. . . .The Franz West installation at Lincoln Center cost the Public Art Fund about $200,000. . . . Former Chelsea dealer Cynthia Broan has inked a lease on a new space on West 29th Street, a former auto body shop. Lo-Tek is doing the renovation. She opens in January 2005. . . . WMW Fine Art becomes WW Fine Art, as partner Liz Mayer leaves the gallery to work for PaceWildenstein.. . . Red Dot Gallery, which has specialized in low-priced art, opens in new quarters at 537 West 23rd Street in Chelsea in September -- but without its signature name. Co-founders Robert Goff and Cassie Rosenthal are now doing business as Goff Rosenthal Gallery. Six months after it shut down, things are very quiet at the Dia Art Center on West 22nd Street -- no sign of renovations or the rumored Paint movie project of 79-year-old movie director Robert Altman. . . Sothebys star auctioneer Tobias Meyer is paying just over $5 million for a 3,000-square-foot condo in the new Time Warner Center on Columbus Circle, according to the New York Post. . . .. Art lovers are flocking to Some Kind of Monster, the new movie about the heavy metal band Metallica -- along with all the head-banging, it gives an inside look at drummer Lars Ulrichs decision to sell his art collection at Sothebys London in 2002 (he made 1.8 million on a 1982 Basquiat). He was moving and wanted to redecorate. . . Supermodel Kate Moss bought a painting by poet and critic Rene Ricard. . . . Superdealer Richard Feigen on ABC This Morning on July 20, talking about his friend Martha Stewart and her prospects in jail. Shes strong, he said. Shell probably revamp the kitchen.. . . Superpublisher Larry Warsh launching a new Museums magazine in South Florida this fall, in time for Art Basel Miami Beach. Next big project for 2002 Whitney Biennial star Luis Gispert is a movie set in Marcel Breuers august museum, involving a romance between a Latin museum guard and a Texas deb. Shooting is slated for September. Gispert, by the way, won the 2004 Cintas Foundation Fellowship, a $10,000 prize that honors a Cuban artist living outside Cuba. Elf-eared Saint Reverend Jen, the self-styled sex symbol for the insane, is moving her nine-year-old Collective Unconscious theater from Ludlow Street on the Lower East Side (to make room for luxury housing for the wealthy) to 279 Church Street in Tribeca. For more info on the weekly Wednesday-evening Anti-Slam, call (212) 560-7235.


WALTER ROBINSON is editor of Artnet Magazine.