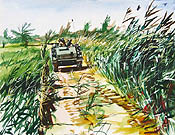 Steve Mumford
Mortar Patrol in Khalis
2004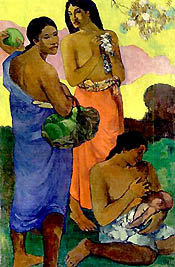 Paul Gauguin
Maternite (II)
1899
$39.2 million
Sothebys New York
Nov. 4, 2004
The Brooklyn Museum, with its new entry pavilion.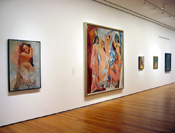 Picassos Les Demoiselles dAvignon (1907), at the new Museum of Modern Art
Louise T. Blouin MacBain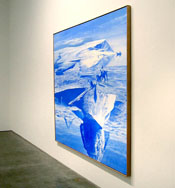 Mark Tansey at Gagosian Gallery
Paul Pfeiffer at Gagosian Gallery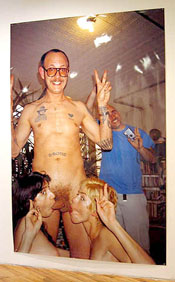 Terry Richardson and friends, at Deitch Projects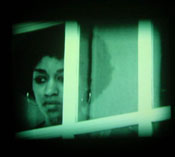 Coco Fusco, still from a/k/a Mrs. George Gilbert (2004) at the Project, New York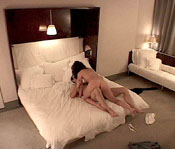 Andrea Fraser, still from Untitled (2003) at Friedrich Petzel Gallery
The 2004 Revue
by Walter Robinson
The 21st century, lest we forget, is well under way. One hundred years ago, in 1904, Fauvism was percolating in Matisses studio,

Les Demoiselles

was cooking in Picassos and Paul Cadmus, Salvador Dal, Isamu Noguchi and Willem de Kooning were born. What can one say about 2004, the dawn of our own new era?

We dont have art movements any more, for one thing. We have market movements. In the place of successive modernist and post-modernist esthetic revolutions -- now decades in the past -- we have fads and collector enthusiasms, things like Japanese anime, Chinese photography and the new Leipzig painters. Such developments are symptoms of a fallow, second- and third-generation period, and at the same time indicate new levels of competition in the continuously expanding, robust international art market.

And robust it is -- scalding hot, as

Artnet Magazine

columnist Richard Polsky called the art market earlier this year. After a rather extended period of uncertainty -- during the recessionary first term of President George W. Bush, as it happened -- the art biz has finally realized how obscenely wealthy America is. The U.S. is so rich, in fact, that it can finance a foreign war -- ably chronicled in these pages for the last 18 months by artist Steve Mumford, by the way -- without a sign of sacrifice back home.

A new art fair kicks off every week, with the contemporary scene ruled by Art Basel Miami Beach (which all but vanquished poor Art Chicago, now slated to open in late April in a tent). The auction houses have yet to issue their 2004 annual reports, but Sothebys did more than $2.5 billion in gross sales for the year, considerably above its aggregate total for 2003. Presumably, the privately held Christies did the same.

Top lots at auction begin with Picassos

Boy with a Pipe

(1905), which sold to a still-mysterious buyer for $104 million. The remaining top five for 2004 fills out with Paul Gauguin ($39.2 million), Amedeo Modigliani ($31.3 million), Johannes Vermeer ($30.1 million) and Edouard Manet ($26.2 million). The top five sellers in the post-War category in 2004 are Andy Warhol ($15.1 million), Jackson Pollock ($11.6 million), Jasper Johns ($10.9 million), Mark Rothko ($8.9 million) and Henry Moore ($8.4 million).

A list of living artists who can sell individual works for six figures and more would extend halfway down this page. Call it socialism for artists, transferring money from those who have to those who need. For the poor art critic, standing at the shores of a vast sea of art cash, we can only hope to dip in our tin cups for a little drink now and then.

At the museums, the story is a short one -- theyre all expanding. The Flick Collection opened in Berlin, the Brooklyn Museum unveiled a futuristic new entry to its Beax-Arts building, the Walker Art Center opens its 130,000-square-foot expansion in April 2005, Atlantas High Museum opens three new buildings in fall 2005, the Whitney Museum picked Renzo Piano to design its expansion tower and, oh yes, the Museum of Modern Art opened a new $425-million, six-level, 630,000-square-foot museum, so vast that Picassos formerly formidable

Les Demoiselles

now looks like a parlor picture.

Mogul of the year is lovely Louise T. Blouin MacBain, the 44-year-old French-Canadian businesswoman who has assembled an impressive art publishing group, including

Art + Auction, Modern Painters, Gallery Guide

and

Museums Magazines

. Her LTB Holding has also purchased the Gordons Art Reference photo and print database, and plans a new website as well, one that (foolishly) hopes to compete head-to-head with Artnet.

MacBain is not to be underestimated. She recently (as of Dec. 1, 2004) became a Guggenheim Museum board member, and serves on important committees at the Louvre, Tate and Whitney -- but obviously wants more, since shes also planning to launch her own museum in a 35,000-square-foot building she bought for 12 million in west Londons Notting Hill district.

But most important of all, shes tabloid fodder -- a convent-educated, twice-married beauty who dallied with auctioneer Simon de Pury and even dated Prince Andrew, if you believe the tabloids. Thats a lot of free marketing.

Runner-up for Bigfoot of the year is Larry Gagosian, the perennial art presence who now has four major galleries in three cities (that we know of). No sooner did Gago sign superstar artist Damien Hirst to a new exclusive contract than he reportedly brokered the possible resale of Hirsts iconic

The Physical Impossibility of Death in the Mind of Someone Living

(1991), the famous shark in a tank of formaldehyde, for 6.25 million. British collector Charles Saatchi owns the work, which he bought 14 years ago for 50,000. Sometimes, it seems that Gagosian isnt so much an art dealer as a syndicate of a dozen billionaires.

On the art front, Gagosian earns his chops with a continuing series of knock-out contemporary exhibitions, mounted two at a time at his vast Chelsea space. The most recent manifestations of his money, taste and power were a show of million-dollar paintings by Mark Tansey, who has triumphantly revived Dals paranoiac-critical method in pictures that compare emblems of contemporary values (Lizzie Grubman) with classic ones (the Sphinx), and new editions of video-still photos by Paul Pfeiffer that infuse basketball players with the passion of the Christ. $15,000, $25,000, I forget what their price was, they sold so fast, said a gallery staffer.

Otherwise, the art world increasingly belongs to women, not least thanks to the return of the Guerrilla Girls at Printed Matter last month. The 2004 Whitney Biennial, organized by Chrissie Iles, Shamim M. Momin and Debra Singer, starred Marina Abramovic, Cecily Brown, Sue de Beer, Roni Horn, Laura Owens and Catherine Sullivan. New gallery favorites included Iona Rozeal Brown, Hilary Harkness, Wangechi Mutu, Lisa Ruyter and Dana Schutz, and even Yoko Ono showed up at Deitch Projects.

Diane Arbus finally had a proper museum exhibition, and the U.S. branch of the Art Critics Association gave its first-place award to the Lee Bontecou show organized by Annie Philbin at the Hammer Museum and Elizabeth A.T. Smith at the Chicago MCA. Melissa Chiu was appointed director of the Asia Society Museum, Laura Hoptman was put in charge of the Carnegie International, and in Italy, Maria de Corral and Rosa Martinez were selected to oversee the forthcoming Venice Biennale.

Even the years most P.C. exhibition (that we love to hate), Only Skin Deep at the International Center of Photography, was organized by a woman, the ever-provocative political artist Coco Fusco (who had a notable exhibition of her own art at the Project on West 57th Street).

As for the guys, well, they like women, too. Funky fashion photog Terry Richardson took the art world by storm with a show at Deitch Projects of sex pictures that gave new license to the notion of licentiousness. Lower East Side erotic auteur Richard Kern, with his new kinky photos at Feature Inc., managed to point his camera down the blouse and up the skirt in the same picture. And Timothy Greenfield-Sanders introduced hard-core porn stars to polite society with his color portrait photographs at Mary Boone Gallery in Chelsea. Art in New York is obsessed with sex! said German critic Barbara Weidle, after a month-long stint in the Artnet offices.

But the most radical artistic gesture of all -- and curiously, the most trivial -- belonged to Andrea Fraser, the institutional critique artist whose video at Friedrich Petzel Gallery chronicled a special kind of performance -- her having sex with a collector, reportedly for $20,000. In the end, Simone de Beauvoir was right -- woman is sex. Complain about chauvinism all you like, this kind of thing still represents eros, the life force, the one universal positive.


WALTER ROBINSON is editor of Artnet Magazine.