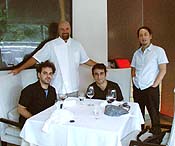 Dinner at Pikayo, with (from left) Pedro Velez, New York curator Omar Lopez-Chahoud, Chef Wilo Bennet and painter Jorge Zeno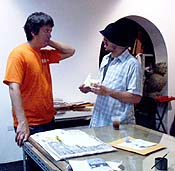 Chicago curator Ed Marzewski with artist Chemi Rosado Seijo at Jorge Zeno's studio.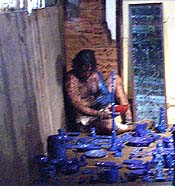 Carlos Betancourt performing in Loíza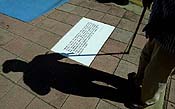 One of Kike Renta's journal entries painted on the ground in Loíza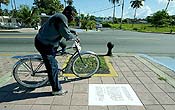 Kike Renta's journal entry in Loíza
A project by artist, writer and curator Olu Oguibe in Loíza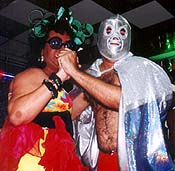 Freddie Mercado and Jose Luis Vargas dancing in bar in Santurce
video still from "El Santo de Santurce, episode 5."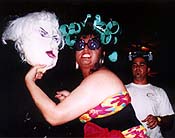 Freddie Mercado with weird alien head
Photo courtesy of Pintadera Gallery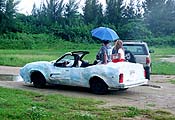 José Lerma & Jesús "Bubu" Negrón's corveta de papel maché
In his work Primeros Auxilios/First Aid, Bubu replaces the damaged parts on a public sculpture of famous Puerto Rican boxer Sixto Escobar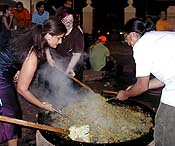 Rirkrit Tiravanija at the Escuela de Artes Plasticas.
Puerto Rican Sun
by Pedro Velez
PR '02 [en ruta], Oct. 6-13, 2002, at M&M Proyectos and elsewhere, San Juan, Puerto Rico

"PR '02 [en ruta]" was a mammoth invitational featuring 48 artists and seven curators spread across five venues in and around Puerto Rico's capital city of San Juan. The event, the second chapter in a saga that started in 2000, was organized by Puerto Rican dealer and curator Michelle Marxuach and her organization, M&M Proyectos. In addition to the physical venues, which are detailed below, PR 02 included two Internet venues: a chat room for the curators involved in PR 02, hosted by local e-zine Cuarto Del Quenepon and a net art section, curated by Chicago's own Ed Marszewski.

PR 02 was designed to cater to an audience outside of the capital city of San Juan and to offbeat neighborhoods not associated with art production. From what I saw, however, the attendance was remarkably low, and not many people from the communities involved seemed interested. Not to blame M&M Proyectos because everyday local newspapers would advertise the events of the day but the problem seemed to be logistical. Most of the events were scheduled during daytime hours, which left no room for people that work 9 to 5 to assist or to make it on time to the venues outside of San Juan. Another problem was that the events were so many and so spread out that it was hard to focus on what was or should have been important.

Still the invitational can be qualified a success if one thinks of the many ills that affect the Puerto Rican art scene. These include: 1) a decadent Museum of Contemporary Art that doesn't even own the required Andy Warhol or has a decent library or resource center for investigation; 2) at this moment in time, from a pool of seven, the island has only one active art critic, Manuel Alvarez Lezama, who publishes weekly in Puerto Rico's leading newspaper; 3) Abstract Expressionism is still big and influences a new generation of artist; 4) dialogue among international and local artists is almost nonexistent because cultural institutions don't encourage it by means of lectures or exhibitions.

For those reasons and more, PR '02 broke the mold and forced a fruitful dialogue at the same time it exposed different strategies and ways of producing and promoting art practice to the community. But the question remains -- will the Puerto Rican art scene get it? Only time will tell. I can only hope so, because Puerto Rico is a great place to make art.

Here is a diary of the weekly events I managed to see.

10/5/02: Dinner at Pikayo at the Museo de arte de Puerto Rico
My week starts in a good note with New York curators Mauricio Laffitte-Soler, Omar Lopez-Chahoud and painter Jorge Zeno at chef Wilo Bennet's Pikayo restaurant, which specializes in nouvelle Caribbean cuisine and is located in the newly built Museo de Arte de Puerto Rico. The designer of Pikayo's impressive interior is Benjamin Ortiz, who also worked Lenny Kravitz's New York condo.

Dinner is amazing. Wilo's culinary creations make him without a doubt an artist. Seeing him and his staff in action is a treat and a hard act to top during the week.

10/6/02: Open Studio Exhibition at Fortaleza 302, Old San Juan
The four-story building known as Fortaleza 302 used to house Kress Department Stores and is now the headquarters of Marxuach enterprises and studio residency.

Climbing the four floors and finding out who made what is difficult. The labels are few and the information confusing at times. The artists in residency seem to be upstairs enjoying the party instead of discussing the work with the visitors.

The most cohesive project in Fortaleza is a small show based on a book of concrete poetry by Esteban Valds. Valds is a sort of legendary figure in the underground scene and is idolized by a younger generation of artists. Some of the poems and ideas found in the book have been recreated by a group of artists working as a collective, including recent Whitney Biennial participant Chemi Rosado-Seijo, Chicago based installation artist Lillian Yvonne-Martnez, video artist Beatriz Santiago and ace sculptor Marxz Rosado.

The most interesting piece in the collaborative effort is a really cool pink neon sign modeled after the signature of Pedro Albizu Campos, leader of revolutionary pro-independence party. This gesture revamps the image of the legendary figure in Puertorrican history by branding his signature for a new generation.

10/7/02
Digital Video Detournement curated by Ed Marszewski at the Museo de San Juan
A sampling of videos projected in a huge video screen. The most interesting work comes from GNN with Propaganda Watch, a video with a news format that uses propaganda to fight propaganda and to reveal the lies behind the news media and political institutions.

10/8/02
"Escritos," curated by Antonio Zaya in Loíza
Antonio Zaya made a point of having his project, "Escritos," comment on the history and culture of Loíza, a small town of about 30,000 people in the northeast of the island. Loíza was settled by slaves in the 16th century and is well known for its kiosk-driven economy of fried goods and restaurants close to the coast. It is also known for its long tradition of Santeria.

One notable even here was a performance by Miami-based artist Carlos Betancourt, who painted his body and other ritualistic objects in blue. Betancourt performs bare-chested in front of a mirror, but keeps his trendy tennis shoes and shorts during the act. The artist seems to be modeling instead of performing a ritual. Betancourt's piece is sort of sexy, narcissistic, homoerotic and voyeuristic at the same time that it comments on the role of Santeria in contemporary culture.

Also in Zaya's show is Dominican Charo Oquet, who presents an installation of a group of burned objects that signal a mysterious and sacred ritual, now forgotten in the post-colonial age.

A great piece not included in Zaya's project but in the route to it are Kike Renta's painted floor mats. Installed in areas where the artist used to hang out while growing up, the floor text function as entries in a public journal. Some are fragments of popular songs, cooking recipes and notes taken from history books. Renta's most intimate memories become public and as a result, part of Loíza's collective memory.

10/9/02
Conversations: Art as a Think Tank
9am
Beach time in the morning was great. Got bitten by tiny colorful fish and ate some tasty fried plantains in famous Luquillo beach with Law Office's Rebekah Levine.
3pm
After the beach we meet up with Mauricio and end up at El Telgrafo theater in Santurce for a series of panel discussions open to the public.

"Art's Fading Meaning" panel was composed of Olu Oguibe, Guillermo Santamarina, Ed Marszewski and Ricardo Babaum. The panel is supposed to discuss the integration of art practice in life but never manages to live up to its promise. Maybe testosterone is to blame.

Ed Marszewski seems to be traveling in a parallel universe and gives a speech about the evil empire, capitalism and artistic independence under the clout of Big Brother. On the other hand, Olu Oguibe's refreshing vision of art is more revolutionary. Thanks to his upbringing, Olu sees art as part of his everyday life. For Olu issues in art don't fade, change or become pass, it is society that changes and along with it the parameters of making art. I would love to hear more from Oguibe, but the panel discussion takes an unexpected turn to the surreal when Mexican independent curator Guillermo Santamarina, addressing the public, questioned the lack of attendance and the unfocussed curatorial stance of PR '02.

10/10/02
La Rueda (a retreat) at La Rueda Motel, Naranjito
6:30pm
Surprised by a traffic jam in the mountains of Naranjito I arrive at Motel La Rueda. Puerto Rico has changed so much since I left six years ago. It is so overpopulated now that not even the countryside is safe from such depredation.

M&M Proyectos has invited a selected group to a curatorial retreat. For three hours the participants will be locked inside a room to mediate and execute a statement. Past the three hours, the motel will be witness to a sort of utopian gathering of minds ready to exchange ideas about each other's projects and such.

For this project I was offered a room, which I decide to give away to Guillermo Santamarina and other two curators. Their project turns out to be a tarot card reading room decorated with palm leaves. It is sort of cute. The rest of the project rooms, just like the tarot card reading room, were cute at most but mostly forgettable and lacking in originality or well-developed ideas.

The best piece of the night comes from Jose Rivera in the form of clandestine radio station. In a generous gesture Jose offers 15 minutes of airtime to anyone who wishes to use it in whichever way they please.

Later in the night, when the party is full force, I ask Santamarina about his comments during the "Art's Fading Meaning" panel and why he thinks the event is unfocussed. But he denies such allegations and comments that PR '02 is better than the Venice Biennial, The Sao Paolo Biennial and Documenta. At this I laugh my ass off.

10/11/02
The rainforest and the beach
Disturbed and fatigued by the disorganization of PR '02, I decide it is time to skip the day's event and wander to the tropical forest with friend and graphic designer Monica Rizzo. On the way to the forest, my mom's old Montero truck heats up and we end up at the beach. Monica gets the sweetest tan and I have cold coconut water mixed with rum.

10/12/02
Pintadera Gallery, a cancellation and Rirkrit Tiravanijia at The School of Fine Arts After extensive research on related events parallel to PR '02, which seemed to be not existent, I managed to find La Pintadera, a commercial Gallery nearby the Caribbean's biggest mall. La Pintadera showcases a strange mix of contemporary and experimental art and Abstract Expressionism.

Luckily, I see one of the contemporary shows, "El Santo en Santurce," a multimedia extravaganza that incorporates video, paintings, sound and set designs by an artist collective Laboratorio Cultural. The LC could be described as a raggedy and carnival-like Forcefield. It is composed of Antonio Walker, Jose Luis Vargas, Marcos Ruiz, Ivette Roman, Octavio Rodriguez, Jose Ramirez, Freddie Mercado, Cacheila Soto and Hiram Rios.

One of the most entertaining pieces of the show is El Santo de Santurce: Episode 5, a video packed with characters modeled after a John Waters movie -- and it probably is one of the most delicious videos I've seen in a long time. The story line of the piece showcases a passionate story of a man in costume and his torrid affair with some weird-looking woman who could be an alien from outer space. The love scene takes place in a bar, where both characters dance with passion.

The opening sequence to Episode 5 is a hilarious wedding of animation and live action reminiscent of South Park and the Batman serials.

4pm Some event at Hospital San Pablo
Stuck in a huge traffic jam I miss the program scheduled for 2 pm. I manage to make it on time to the project supposed to take place in the San Pablo Hospital at 5 pm. But I wait until 5:30. It is obvious the event has been canceled and no one at the hospital has been informed. I try calling M&M office but no one answers.

6pm Rirkrit Tiravanija at the School of Fine Arts
I decide to pick up my friend Monica Rizzo, who is not aware of Rirkrit's work or what this whole business about "serving food" art is about.

On our way to the school, which is perfectly located at the tip of Old San Juan bay, I see Jose Lerma and Bubu Negron's papier mache Corvette. This is not my first encounter with it; on the contrary, I've seen this mobile sculpture parked in different areas and at diverse times in the streets of Old San Juan. The reaction of pedestrians is always the same. They are surprised, and they gather around the car, as if it were some sort of alien spaceship, people point at it and talk about it. The car has achieved what the huge event itself hasn't -- a degree of interest among locals.

Once in the School of Fine Arts I find the same crowd I've grown tired of during the week. But this time around I see some of Puerto Rico's most powerful collectors taking turns mixing the ingredients in the paella. Seeing the collectors involved is reassurance that at least someone in the island cares about this event.

Rirkrit Tiravanija's meal is not as good or interesting as one of chef Wilo creations at Pikayo, but the calm atmosphere that the Tiravanija aura imposes in the crowd is amazing. Monica agrees with my observation as she digs in her paella.

Tiravanija's dinner in Puerto Rico is a subversive piece of art, a way of sneaking in, a power struggle for the viewer's attention, approval and understanding. I never thought of a Tiravanija in relationship to power but Puerto Rico's lack of familiarity with Tiravanija work forces me to view things in a different perspective. And a different perspective is all Puerto Rico needs and what Marxuach's event provides.

Rikrit's piece is a great ending for a week that started the same way, with good friends and a full stomach.


PEDRO VELEZ is a Chicago-based artist, curator and writer.