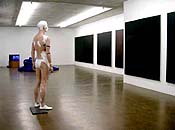 Heimo Zobernig, installation view, at Galerie Meyer Kainer, 2003-04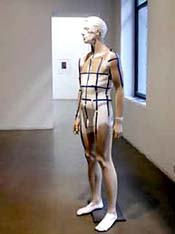 untitled
2003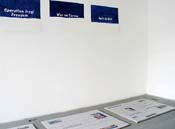 Rainer Ganahl
"Iraq dialogues," exhibition view
2003
KunstBuero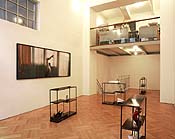 Markus Schinwald, installation view, Galerie Georg Kargl
Markus Schinwald
Diarios (to you) #12
2003
Galerie Georg Kargl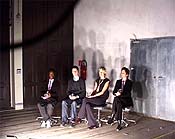 Michael Cleggs performance at the Vienna Akademie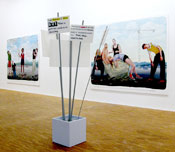 Muntean/Rosenblum, installation view
Kunstverein Salzburg

Justine Kurland
Ida
2002
Galerie Lisa Ruyter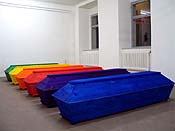 Henrik Plenge Jakobsen
Wiener Chromatisch
2003
Michael Hall Galerie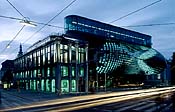 Kunsthaus Graz
Photo Paul Ott
www.wernernekes.de
Vienna Report
by Julie Ryan
Late last year, as darkness began to descend earlier and earlier over Europe's easternmost capital, I made a quick survey of the local art scene for the benefit of all of you whom are not wintering in Austria. What follows are the results of this quick look around.

The year turned at Galerie Meyer Kainer with a solo show by Austrian heavy hitter Heimo Zobernig, who is also having a mid-career survey at the MUMOK (Museum Moderner Kunst) here in town. Zobernig likes to take the elements of modernist abstraction and have his bit of fun with them. A nude, anatomically correct male mannequin is imprinted with a grid of black tape; a heap of Oldenburgian soft blue pigment, as if squeezed from a gargantuan tube of paint, sits on the floor, with its image replayed on a nearby color video monitor; a wall is filled with large square monochromes done in such a desultory manner that it seems than anyone could have made them. Zobernig's devilish re-takes on modernist, Minimalist and Postminimalist painting is a driving influence on the young minds in the Viennese art scene.

KunstBuero Galerie is arguably Vienna's preeminent space dedicated to young art, especially now, with the closing of the ultracool Offspace Gallery (run by artist and dealer Udo Bohnenburger). At this writing, KunstBue;ro is showing the work of Rainer Ganahl; the gallery has also been a starting point for artists like the Viennese collective Gelatin and Polish painter Marcin Maciojowcski (who has also exhibited at Marc Foxx Gallery in Los Angeles). Meanwhile, KunstBue;ro owner Amer Abbas has enlisted Rita Vitorelli as editor of a new art magazine (in English and German) that is to debut soon but still has an unknown title. . . to build suspense?

In his first solo gallery exhibition, the Viennese artist Markus Schinwald filled the sprawling two-storied space of Galerie Georg Kargl with Beuysian odds and ends, many displayed in cases and on shelves. But Schinwald's strength lies in the subtly manipulated computer images of Victorian portraits, as in Frederick, where a mask is superimposed over the eyes in the same style as the original. These deftly reconfigured faces, along with a slide show replacing and displacing iconic Americana into the landscape in and around Vienna in black and white photo stills, were the highlights of the exhibition. Schinwald's strong first show marked him as one of Austria's rising stars.

Martin Gutmann of the 1980s art duo Clegg and Gutmann is based in Vienna, while his partner Michael Clegg -- they still work together -- has just moved from New York to Berlin. Gutmann recently gave a pair of performances at the Akademie der bildenden Künste in Vienna titled Two Portrait Sessions, in which three actors moved solemnly about the stage, while Gutmann, poised like a professor, read from a text that included passages from Hegel as well as writing by the two artists. The text articulated the importance of light to actual presence in the absence of darkness, and its fecundity grew as the audience watched on.

For their stunningly succinct exhibition at the Kunstverein Salzburg last year, titled "There Is a Silence to Fill," the artists Adi Rosenblum and Markus Rosenblum of Muntean/Rosenblum presented their trademark huge drawings and paintings with captions, works that encircled the exhibition hall with youthful urban malaise. On opening night, too, the pair organized a performance in which a troupe of 20-somethings walked zombielike in a marching-band formation while holding vaguely political or politically vague plackets. This performance was originally done in the streets of Salzburg and included in the exhibition in the form of a DVD projection.

For its second show, Galerie Lisa Ruyter presented New York photographer Justine Kurland's technically beautiful portraits of naked commune dwellers at home at their respected woodsy locations. Kurland's risky and provocative portraits provide dreamy glimpses into the lives of her subjects, and have a time-gone-by feel, as if discovering lost colonies of '60s-era flower children, all grown up with kids of their own.

Michael Hall Galerie livens up its quiet corner of Vienna with an important and interesting roster of international artists. Formally of Chicago Project Room, Hall has forged new ground for himself in Vienna while his erstwhile partner, Daniel Hug, has remained in L.A. with his own space. Hall began 2004 with Henrick Plenge Jacobsen, who installed a set of coffins, each colored a separate stripe of the rainbow. These spare translucently painted boxes tend to look more like Minimalist sculpture than one might think.

And Graz! This town, more than two hours south of Vienna, now has another art destination -- the new Kunsthaus Graz. This bizarre structure, designed by London architects Peter Cook and Colin Fournier and dubbed (by them) the "Friendly Alien," has opened along with all the scorn and accolades expected for something so new and odd. From the outside it is funny and buoyant, with a roof covered by huge "nozzles" and a faade that bugs out like two giant insect eyes. Critics have turned thumbs down on the irregular inside space, which is judged as not very conducive to viewing art -- sound familiar? But the cavernous gray interior has been bashed a bit too hard. The Kunsthaus' only truly distracting element is the spiral neon white lights on the ceilings.

The first exhibition, "Perception," organized by the museum director Peter Pakesch (formerly director of Kunsthalle Basel), was a mix of signature pieces by artists ranging from Anthony Caro to Liz Larner, Olafun Eliassen and Ernesto Neto. A corresponding symposium, dubbed Architecture of Vision, was organized by the young curator Adam Budak (who has also been charged with organizing Poland's entry into this summer's Venice Architecture Biennial).

The ambitious, weekend-long event included speakers such as Ilona Kovacs, a Hungarian neuroscientist teaching at Rutgers, who spoke about the pictorial representation of movement. Also on hand were the art historian Mark Cheetham, the psychologist and artist Nicholas Wade, the architect and scholar Georges Teyssot (author of The American Lawn) and the Austrian linguist, art writer and man-about-town Martin Prinzhorn (who was also an influential consultant on the exhibition itself).

Then there was Werner Nekes, the German experimental filmmaker who was keynote speaker and showed some early films. One of his own works in particular, Film before Film (1986), gave a glimpse into his massive collection of paper toys, camera obscuras, trick photos, Muybridge images and anything having anything to do with the early cinema. Some 400 objects (less than two percent of his collection) are on display at the Landeman Museum Graz, and an even larger selection goes on view at the Hayward Gallery in London in November. A must-see event from one of the art world's brilliant characters.

Austria will surprise you! For instance, today it is sunny. This week promises a whole new round of openings and we can begin again.


JULIE RYAN is an artist and writer living in Vienna.