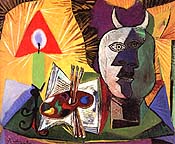 Pablo Picasso
Still Life with Minotaur
1938
at the Reina Sofía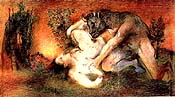 Pablo Picasso
Dora and the Minotaur
1936
Pablo Picasso
Blind Minotaur Guided by a Young Girl at Night
1934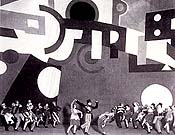 Fernand Léger
stage set for the ballet "The Creation of the World" in "The Painter's Theatre" at the Reina Sofía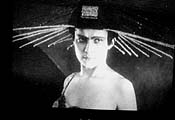 Atelia, Queen of Mars
costume by Alexandra Exter
1913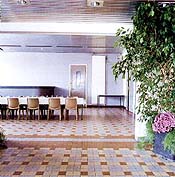 Candida Höfer
Banquet Hall, Enghein-les-Bains
1999
at Galería Fúcares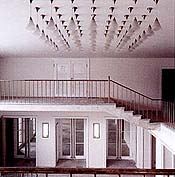 Candida Höfer
Festspeilhaus, Hellerau II
2000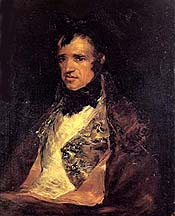 Goya
Pedro Mocarte
1805-6
at the Hispanic Society Show
BBVA Foundation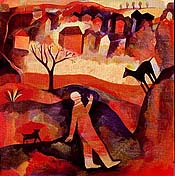 Iñaki Zaldunbide
The Friendly Horse
at Angeles Penché Gallery
Alfredo Alcaín
Still Life with Coffee Cup
1995
at Elvira González Gallery
Letter from Madrid
by Ysabel de la Rosa
Autumn 2000 brought brilliantly golden leaves and great art to Madrid, as it does every year. Last year's "Art-umn" in Madrid was exceptionally interesting and varied, and made a lasting impression on this winter's art scene.

The Private Picasso
The Reina Sofía never ceases to surprise with its sheer liveliness and thematic approaches to art. Amidst the ubiquity of Picasso glut, this museum mounted an exquisite Picasso show, "Picasso Minotauro." 70 works -- most on paper -- done between 1928 and 1936, restored an intimacy to the painter's life and work that has been all but forgotten -- or destroyed -- by his fame and the market value of his name.

Picasso once said that the Minotaur was the "line that extended throughout his career." In these drawings, prints, and paintings, the Minotaur paints, observes, makes love -- and even violates his love-object. The Minotaur travels, fights, goes blind and dies -- by turns, not in chronological or mythological order.

The drawings and prints couldn't be more personal or direct, and it's simple work to relate them to Picasso's outer life. The bull-figure makes love to Dora Maar, moves furniture with a pregnant Marie-Thérèse Walter, fights with first-wife Olga. Nevertheless, these analogies do not a message make. The Minotaur faces the artist's deepest fear: blindness. The half-bull, half-man embraces women and runs from them, challenges them in some works, is wounded by them in others -- particularly in the series "Minotauromaquia," where a bare-breasted woman on horseback spears the Minotaur.

The most eloquent works in this show were those of the blind minotaur being led by a little girl. The minotaur has the power, but it is the little girl who provides direction -- a sense of direction not provided by the adult female figures in the other works. Claude Picasso, Pablo Picasso's son, was present at the show's opening. When I asked him what he thought the little girl leading the minotaur symbolized, he answered without hesitation, "purity." Purity. Not a word I would ordinarily apply to the man who turned 20th-century art on its head.

For the first time, I found myself looking less at Picasso-Artist and more at Picasso-Human: Picasso scared, hopeful, exuberant, powerful and undone. None of the usual Picasso-terms came into my thoughts. Cubism didn't matter, Guérnica was yet to be born. The works' sexual content defies any artistic or academic labelling and surges forth in masterful lines that create as much force as they do volume. In the "sound and fury" that continually surrounds the artist's work, this show constituted a "still, small voice" with every bit as much -- if not more -- to say.

Painters on Stage
Another welcome surprise at the Reina Sofía was the exhibition "The Painters' Theater." The show featured 250 set and costume designs from 54 dramatic works and operas, dating from 1913 to 1930.

It was a wonderful opportunity to look at out-of-context work by well-known artists, including: Léger, Picasso, Gris, de Chirico, Dérain, Miró, Picabia, Grosz and Mondrian. Many of the designs were from Ballets Russes and Ballet Suédois productions, while others were done for Russian operas or Russian adaptations of works such as Oscar Wilde's "Salomé."

Russian and Ukrainian hands accounted for approximately 60 percent of the works displayed: Malevich, Rodchenko, Lissitzky, Kandinsky, Alexandra Exter, Natalia Gonchorova, Vladimir Tatlin, Naum Gabo, Mijail Larionov and Liubov Popova. All with very strong work, but Alexandra Exter won my heart with her costumes for "Aelita, Queen of Mars," considered by many to be the world's first science-fiction movie. The hardbound catalogue makes an excellent reference.

The British Are Coming -- to ARCO
Mark your calendars for Feb. 14 - Feb. 19, 2001. These are the dates for the next ARCO International Art Fair in Madrid's IFEMA Center. The new selection committee includes 17 galleries (nine Spanish, eight from elsewhere) and 10 senior staff members from art institutions. From the US: Ramis Barquet, Christopher Grimes and Sandra Gering. From Europe: Lotta Hammer (UK) and Pedro Oliveira (Portugal). The featured country will be the UK, with 24 galleries represented. Curators for the UK portion of ARCO are Charles Esche, Matthew Higgs and Kim Sweet. Next year marks ARCO's 20th anniversary.

Stopping and Looking with Höfer
Candida Höfer's photographs, recently displayed at Galería Fúcares, made me stop short. Höfer's work was also featured last year in an exhibit in Seville, titled "Architecture without Shadow."

There are indeed no shadows in Höfer's work -- either architectural or human. She portrays highly trafficked institutions, such as the British Library, a ballroom, or the Dresden Hygiene Museum with chilling clarity and a total absence of any human presence or reminder of same. Her composition and technique are flawless. This cool perfection is not, surprisingly, a turn-off, but more an invitation to reconsider Winston Churchill's observation that "we make our buildings and thereafter, they make us."

Hispanic Society Returns to its Roots
The Hispanic Society of America first embarked on an interesting art interchange with Madrid and Spain in 1998 with the Thyssen Museum's exhibition of the Society's Sorolla paintings. The most recent Madrid exhibit showing works owned by the Hispanic Society was up at the BBVA Foundation (Banco Bilbao Vizcaya Argentaria) in late 2000. 68 paintings from 30 artists dated from 1830-1936, and ran the gamut from Goya to Zuloaga. To borrow a Spanish expression and put it in another context, one could say this highly condensed version of Spanish art history was a "bonbón" of a show. The show goes on in Bilbao through Feb. 18, then travels to Seville (Mar. 1-May 2001).

Through a Glass -- Lightly
Iñaki Zaldunbide's "Life through a Window," recently exhibited at Ángeles Penché Gallery. The show consisted of 20 mixed-media works on canvas, in which the canvas becomes the window through which Zaldunbide interprets the life he sees. His work mixes two-dimensional and three-dimensional perspectives with great ease, while his colors are both refined and rich, with each canvas displaying the harmony of a pure "color story" without sacrificing tonal variety. This work is fresh and interesting -- not a hint of allusion, imitation or pretension.

Move Over, Morandi
Elvira González Gallery's fall season featured drawings by Alfredo Alcaín, all still-life's, all with the same bowl, fruit, goblet and coffee cup, and all in black and white or two-colors. The "repetition" led to an amazing variety of work, however, and brought to mind painters such as Giorgio Morandi who became known for painting one theme in myriad ways.

It would be great to see more of Alcaín's thoughtful and delightful work, but until it does, it's good to know that this 64-year-old artist does not suffer the proverbial fate of a prophet in his own land.


YSABEL DE LA ROSA writes on art from Spain.