Jessica Diamond
Money Having Sex
in "Bright Lights Big City"
at David Zwirner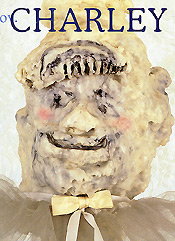 Izhar Patkin's sculpture on the cover of Charley 03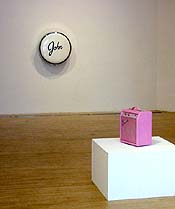 John Dogg's John, Not Johnny (1987), left, and Kaz Oshiro's Fender Vibro Chant 3 (2002) at Apexart
Robert Cuoghi's Goodgriefies (2000-01) animation and Nate Loman's More or Less (2003) wall installation at Apexart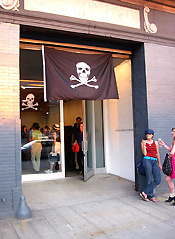 Euan Mcdonald's Pirate Flag (2003) in "Back in Black" at Leslie, Cohan and Browne
Banks Violette
Renee Coppola's untitled sculptures of polyurethane and glass (1991-2003) in "Frankenstein" at Tanya Bonakdar Gallery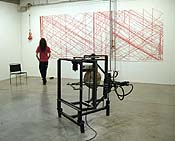 Sam Kusack's Untitled (2003), foreground, and Angela Bulloch's Pushmepullme Drawing Machine (1991), in "Frankenstein" at Tanya Bonakdar Gallery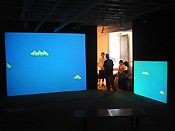 Cory Arcangel & Beige
Super Mario Clouds v2k3
2003
in "Throwback" at Team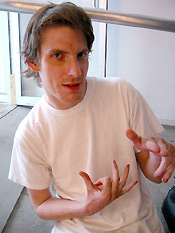 Cory Arcangel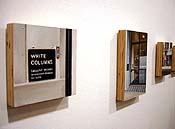 Elizabeth Saveri
Portraits of White Columns (detail)
2003
in "Phantom Arch"
at White Columns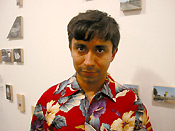 "Phantom Arch" curator
Chris Perez
Jessica Craig-Martin
Vogue/VH1 Fashion Awards, New York 2000
Guy Overfelt
I Fucking Rock
2001-03
at Silverstein Gallery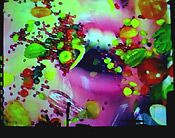 Assume Vivid Astro Focus VII
at Deitch Projects
The tattoo parlor in Assume Vivid Astro Focus VII at Deitch Projects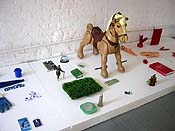 Filip Noterdaeme's
"$0.00 Collection"
at the Homeless Museum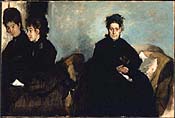 Edgar Degas
Duchessa di Montejasi with her Daughters, Elena and Camilla
ca. 1876
Museum of Fine Arts, Boston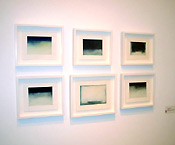 Untitled watercolors by Matthew Bliss in "OnLine" at Feigen Contemporary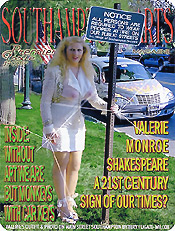 A picture postcard of downtown art dealer Valerie Shakespeare
Weekend Update
by Walter Robinson
For Manhattan art galleries, the onset of summer means lively group shows and, after July 4, an end to Saturday hours (to leave the weekend open for chic getaways). Nicely filling the spacious David Zwirner gallery on West 19th Street in Chelsea is "Bright Lights Big City," a quick tour of the 1980s via works by more than 25 artists. Among the works on view are a pyramid of decorated beer cans by Pruitt and Early and a huge spray-paint portrait of Debbie Harry from 1981 by Lee Quinones.

Other off-the-radar faves in the show are Clegg & Guttmann, Ron Jones, Milan Kunc and Jessica Diamond, whose classic 1988 Money Having Sex wall drawing is not for sale -- it's unique, and in the artist's own collection. "Similar ones may be commissioned," however, said Zwirner at the opening.

Also on hand at the reception was Charley 03, the Vogue-thick magazine consisting entirely of pages torn out from other publications (largely Artforum), edited by the formidable team of Maurizio Cattelan, Massimiliano Gioni and Ali Subotnick and funded by the Deste Foundation in Athens. This issue is dedicated to art of the 1980s and '90s, and certainly gives one pause -- so much art, so much of it forgotten.

And any doubts that the mag's title is a playful joust by Cattelan at his East Village neighbor, Artnet Magazine star critic Charlie Finch, should be dispelled by the cover illustration, a grinning wax bust by Izhar Patkin that clearly serves as a comic portrait of our scribe. For Cattelan, when it comes to deciding what to put on his magazine cover, a joke is the best rationale of all.

Speaking of '80s art stars, John Dogg, the fictional artist who electrified East Village art collectors with his Minimalist presentations of all manner of automobile and truck tires (hung bare on the wall like paintings or enclosed in handsome, carpentered wall and floor units), is currently on view in New York in not one but two group shows, at Zwirner and downtown at Apexart Curatorial Projects in Tribeca. A personage purportedly invented by artist Richard Prince and the late dealer Colin De Land, Dogg first surfaced in two solo shows in 1986 at 303 Gallery and De Lands first East Village gallery, Vox Populi. "He lives upstate," was all Colin would admit when pressed as to his artists background.

Doggs works still have just the right mix of anti-art nihilism and macho low-class styling (a formidable combination, perfected by Prince). Down at Apexart, Dogg's 1987 John, Not Johnny -- a glitter-finished pearlescent tire cover painted with the word "John" in cursive script -- is paired with L.A. artist Kaz Oshiros eye-fooling, canvas-and-stretcher simulations of music amplifiers and a well-weathered, sticker-covered truck bumper. Also on view is 23-year-old Nate Lowman's wall of abject graphics (from a paint-by-number Jesus and posters of Jerry Garcia to big reproductions of serial killers) and a collaged cartoon video by Milan artist Roberto Cuoghi.

Abject art plus commodity sculpture equals New Goth? Hanging outside over the doorway at Cohan, Leslie and Browne on 10th Avenue is artist Euan Macdonald's Pirate Flag ($1,000, in an edition of five), announcing "Back in Black," a group show that includes works by Jasper Johns, Robert Lazzarini, Bruce Nauman, Richard Prince, Kay Rosen, Joe Zucker and many younger artists. The works are black and white, by and large. Inside at the opening they were serving "Ten Grands" (Tanqueray and Gran Marnier) and "Ten Martinis" (made with pineapple), which were orange and quite tart, reportedly.

In the center of the room was an eye-catchingly shiny fabrication in silver and enamel black by Banks Violette called fucking gone (partial reconstruction -- 7.22.95) (2002), a sculpture that artist Carol Bove said was "somehow a convergence of Smithson and suicide." Banks explained that the work is a "non-site" linked to a ritual murder that took place in California -- its black stalactite forms representing the knife wounds, and the black gnarled log indicating the wooded spot where the body was found.

Violette has also contributed a graphite drawing on paper to the show, a delicate and sensitive rendering of what looks like a leafy glade. Called (As Yet Untitled) Ithaca Suicide Drawing, the work depicts both the location of Robert Smithson's first mirror displacement and also a notorious suicide leap in Ithaca, N.Y. "Its interesting that people kill themselves at a famous art site," noted Violette. The sculpture is $12,000, the drawing $3,500.

More goth spirit is in evidence in "Frankenstein" at Tanya Bonakdar Gallery on West 21st Street, where curator Ethan Sklar has assembled works by 14 artists, work that seems to be animated, in one way or another, by a ghost in a machine. In the entryway are several sculptures by Renee Coppola in which polyurethane has been allowed to expand monstrously from glass jars. The ensemble flocks together a little too much like the visitors at the opening. Individual jars are priced at a tempting $800 each.

In the main gallery, the young artist Sam Kusack's untitled 2003 sculpture emits piercing screeches as a carbide bit scribes an ever-deepening groove into a slowly spinning chunk of rock, while Angela Bulloch's 1991 Pushmepullme Drawing Machine serenely and methodically covers the end wall with a giant red-ink abstraction. The works are $6,500 and $60,000, respectively. Across the room, Damien Hirst's big spin art, Beautiful Green Slash Painting (2002), seems like a bargain at its $180,000 list price, since a butterfly tondo sold at auction last week in London for more than $500,000.

Up at Team on West 26th Street is "Throwback," a summer "triplex" of video projections. In the main gallery is Super Mario Clouds v2k3 (2003) by Cory Arcangel & Beige (a self-styled "art label" on the model of a "record label"). With cables snaking across the floor, the same video projections on three walls -- simple cartoon clouds moving across a plain blue sky to the accompaniment of jaunty, beep-beep-boop-bop electronic video-game music. The work is made from a hacked SuperMario game. It's $3,000 in an edition of five, but a silkscreened poster of the scene is for sale for a bargain $19.95.

In a smaller gallery is another hacked video game, this one playing on an old TV and including an attached plastic pistol for target practice. Called I Shot Andy Warhol, it charges viewers to "shoot Andys only" (other characters are the Pope, the Colonel and Flavor Flav). Highly recommended. Arcangel and Beige also have a band, called the 8bit Construction Set, which begins its "Summer of HTML" tour at the gallery on Aug. 3. Check www.teamgallery.com for details.

The show also features a new videotape by Maria Marshall, who is in town to install her contribution to the Whitney Museum's forthcoming "American Effect" exhibition, and a dramatic stroboscopic video by Jon Routson, whose exhibition of bootlegged first-run films at Team a few months back was a big hit. For this work -- a flashing, repetitive black-and-white pattern that aliens might use to torture their humans during close encounters -- Routson trained the video camera directly on a strobe light. The subject-object relation is authentic and unmediated, then, at least in a machine-to-machine way.

At the stalwart alternative space White Columns is "Phantom Arch," a survey of paintings, drawings and sculpture about architecture by five artists, organized by San Francisco curator and dealer Chris Perez. Elizabeth Saveri, who shows in Los Angeles with Suzanne Vielmetter, makes tiny oil-on-wood renderings of everyday objects (including architectural details of White Columns itself) that are meticulous and have a real human intimacy. A group of 13 small paintings, titled A Day in Objects (2003), is $3,000.

Conor McGrady's drawings of blank facades in Northern Ireland, done with stark black lines to considerable graphic impact, depict what the artist calls an architecture of social and military control. They are $750 each. A more festive note is struck by Douglas Melini in his installation in a separate small gallery, titled Colossus and composed of three years worth of brightly colored stripe paintings.

A brief commendation too for "Super You," an exhibition at Daniel Silverstein Gallery on West 21st Street that was organized by a class of Fashion Institute of Technology students as part of a class taught by art dealer John Post Lee. This sophisticated collection of contemporary works largely addresses the fraught subject of female beauty, such as the oversized color photo by Jessica Craig-Martin of Heather Locklear's beautiful, begowned legs in Vogue/VH1 Fashion Awards, New York 2000. Craig-Martin has perfected the art of the quick, off-center glance, giving her pictures a voyeuristic sexual charge. The photo is $6,000, in an edition of three.

One exception to the pretty-girl theme is Guy Overfelt's I Fucking Rock (2001-03), a neon Rolling Rock beer sign with some of the letters blocked out. It's $3,400. Next up at Silverstein, opening July 16, 2003, is "One Hundred Artists, One Hundred T-Shirts."

Down at Deitch Projects on Grand Street in SoHo, the young artist Eli Sudbrack, a.k.a. Assume Vivid Astro Focus, provides an especially festive note for the summer. His multi-media installations, complete with brightly decorative wallpaper that extends onto the floor and ceiling, have a welcome '60s psychedelic spirit. Outside on the Deitch storefront is the faade of a haunted house, while in the main gallery is a trippy rock video -- "part Brazilian Carnival, part Aubrey Beardsley," the gallery says -- done to a custom remix of Yoko Ono's 1981 song, Walking on Thin Ice. On hand at the crowded opening was the videos glamorous Brazilian star, Carla Machado, while in the front room a full-scale tattoo parlor was in operation.

Back in Chelsea, the Belgian artist Filip Noterdaeme has set up his "Homeless Museum," an arch gesamtkunswerk dedicated to the conceit of a museum of homelessness. So there are institutional graphics (the museum is anacronymically dubbed HOMU), an official membership card, a gift shop (with mugs from the Salvation Army stenciled in Day-glo paint with the HOMU logo), a caf (offering bottled water, when available) and, best of all, the $0.00 Collection -- a broad selection of esthetically appealing found objects, carefully and neatly arranged by color.

Other attractions include bottles of Dom Perignon champagne with "help the homeless" labels on the back (a proposal the artist made by letter to LVMH chairman François Arnault), a letter to Guggenheim Museum director Thomas Krens suggesting that their two museums might benefit from a merger, and a 40-second videotape of a toy robot (dubbed "Robobum") panhandling around town. "My batteries are running out. Please help," reads his hand-lettered sign. HOMU is temporarily housed (what else?) in painter Elisabeth Kley's studio space in the 453 West 17th Street gallery building, and may be visited by appointment only for a short time. Call (718) 522-5683.

* * *

The Boston Museum of Fine Arts has unveiled its new Edgar Degas masterpiece, a somber and rather modest, ca. 26 x 39-inch portrait of three black-clad women titled The Duchessa di Montejasi with her Daughters Elena and Camilla (1876), reportedly bought for $20 million from French dealer François Lorenceau. Funds for the purchase, the MFA's most expensive acquisition ever, were raised by the controversial sale of two Degas pastels and a Renoir painting for a total of $16.3 million at Sothebys New York last month. The new painting goes on view in a special show of 32 other Degas works from the museum's incredible collection of 70 pieces by the artist.

The Bronx Museum of the Arts and the Queens Museum are collaborating on a pair of exhibitions dedicated to the Yankees and the Mets, respectively. Guest-curating the shows, which are to feature art, memorabilia and merchandise and are slated to open in July 2004, are Carlo McCormick and Tom Solomon.

The Museum for African Art, formerly in SoHo and now in temporary quarters in Long Island City, is still trying to find a developer for its potential new home at a site at 109th Street and Central Park in Harlem. Its original partner, Edison Schools, pulled out last September. Now, museum president Elsie McCabe may have found a new team in developers Brickman Associates and Sidney Fetner, the New York Post says.

How good was the market at the 34th annual Basel Art Fair, which ended last week? New York dealers Gasser & Grunert completely sold out their stock of large paintings by Ena Swansea [see "Weekend Update," 4/14/03], priced at $12,000-$18,000. . . . Selling like hotcakes at "OnLine" at Feigen Contemporary -- a show co-organized by Charlie Finch -- are untitled, landscapey watercolors by Matthew Bliss. Theyre $920 each (including frame). For a complete cyberspace version of the show, which includes 38 artists (yours truly among them) and is on view through Aug. 9, see www.feigencontemporary.com.

San Francisco Photo Realist painter Robert Bechtle has moved from O.K. Harris to Barbara Gladstone Gallery, thanks in part to advice from Charles Ray, insiders say. Bechtle has a retrospective scheduled at the San Francisco MOMA in 2005. . . . Danny Simmons' Rush Arts Gallery in the Chelsea Fine Arts Building opens a show of "Modern-Day Cadavre Exquis," July 2-12, 2003, drawings made by New York City high-school students in collaboration with Ross Bleckner, Will Cotton, Kyra Lynn Harris, Sol Sax, others. . . . At the New Museum "Bowery Ball" benefit back in April, Chers Harley Davidson motorcycle was sold for $17,000. . . . New York Post critic James Gardners review of the Max Beckmann show at MoMA QNS was titled "Bent like Beckmann." And no, he doesnt like the work ("sloppy drawing. . . compositional gaucheness").

Check out Artnet Magazine D.C. correspondent Tyler Green's Modern Art Notes for "D.C.s worst-kept secret" -- the Hirshhorn Museum plans a "Directions" show in September for local artist Dan Steinhilber. Also, down-home observations and useful tips for visitors to Dia:Beacon ("Dia has nearly completely destroyed a Michael Heizer installation by putting a hideous plastic fence around it" and "don't take children, Dia:Beacon is a parents nightmare. When I was there a child cut himself on a Smithson broken glass sculpture").

The veteran downtown New York art team of artist Tery Fugate-Wilcox and art dealer Valerie Shakespeare have bought a dilapidated gas station at Canal and Greenwich Streets and plan to convert it to an art center, opening next fall. A "naming donor" of the final $2 million towards the $5-million project is being sought via ads in the Wall Street Journal, according to Fugate-Wilcox. In the meantime, artists are invited to submit "objects they have made that are not yet works of art but will be in the future" for a four-year traveling project. For more info, email fvlcrvm@nyc.rr.com.


WALTER ROBINSON is editor of Artnet Magazine.