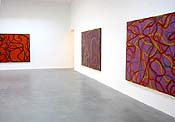 Brice Marden
Installation view
at Matthew Marks Gallery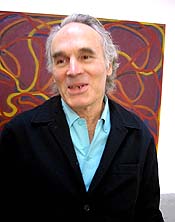 Brice Marden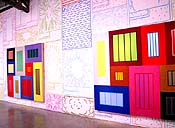 Peter Halley
Clockstopper (left) and The Time Machine
at Mary Boone Gallery
Ouattara Watts
Sirius, Monk Piano and KRS
(2002), at Leo Koenig
Maurizio Cattelan
Frank & Jamie
2002
at Marian Goodman Gallery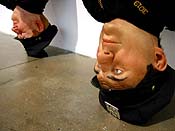 Maurizio Cattelan
Frank & Jamie
(detail)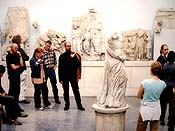 Thomas Struth
Detail from Pergamon Museum I-VI, Berlin
2001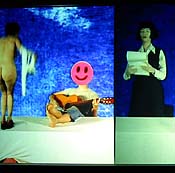 Tracey Rose
Detail from Ciao Bella
2001
at The Project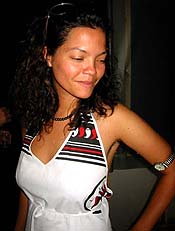 Tracey Rose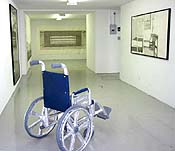 Olav Westphalen at Maccarone, Inc.
Olav Westphalen
Untitled
2002
at Maccarone, Inc.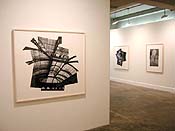 Mary Miss
at Senior & Shopmaker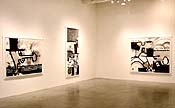 Carroll Dunham
"Mesokingdom"
at Metro Pictures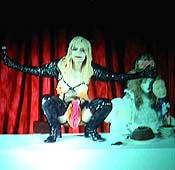 Tracey Rose
Detail from Ciao Bella
2002
at the Project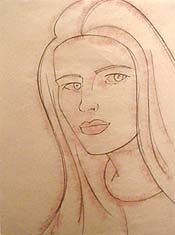 Alex Katz
Untitled #3
2002
at Senior & Shopmaker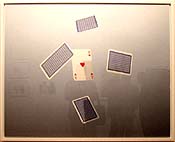 Tim O'Riley
Hearts
2001
at Briggs Robinson Gallery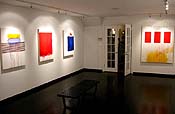 Joe Gaffney
Installation view
at McGrath Galleries
Weekend Update
by Walter Robinson
You can't buy an artwork to save your life in this town -- everything is already sold. Brice Marden opened "Attendants, Bears, and Rocks" at Matthew Marks Gallery, some 13 large paintings and 24 drawings (in black and white and color) filling both the 22nd and 24th Street spaces. Gallery staff wouldn't say what anything cost -- "we don't give prices once something's sold" -- though word quickly spread on opening day that the paintings went for $900,000. Some works seem to have been started five years ago, so the gallery had plenty of time to find buyers.

The paintings are interesting to look at, monochrome fields covered by 30-cm-thick looping lines, in three to five darkly rich earth hues -- Indian red, hunter green, cerulean, gray -- that sometimes pop out into a 3D form. The rawer drawings, apparently done with a long-handled brush, show better the familiar organic quality that is a reminder of Marden's roots in Abstract Expressionism.

Writers like to compare these works to Mondrian's red, blue and yellow New York City paintings of 1941-42, at which point it becomes clear that if Mondrian was painting Manhattan's city grid, Marden is doing the roadways of Central Park. We used to think that Pollock and Newman the endgame of abstract painting. Marden shows there's plenty of life in the old girl yet.

Opening the same day was a show of seven new paintings by Peter Halley at Mary Boone Gallery, displayed on various patterned wallpapers of the artist's own design. They may be the prettiest Halleys ever, several with nothing but cells, which gives them a pictorial classicism as well as a social recognition -- a hallmark of Halley's "abstraction" -- of the post-9/11, Safe Room mentality of New York City. Unlike Marks, Boone has always made a practice of proudly displaying the price list at the front desk, usually with red dots marking multiple sales. Halley's new works are priced at $85,000 each, with five marked sold and two on reserve on opening day.

Also sold out is the exhibition of six paintings by Ouattara Watts at Leo Koenig Inc. on Centre Street opposite the Police Building in Little Italy. This ordinarily happy condition caused a young curator visiting the show some discontent, as she took it as an insult when the dealer told her nothing was available. Ouattara's new large-scale paintings are on the way to Documenta 11, said Koenig, so only the six mid-sized ones are left for exhibition here.

Predominantly done in sunny orange and brown, with sand and dirt mixed into the paint, Ouattara's pictures are dotted with gnomic symbols and shapes. His paintings are better than ever, especially with the heightened attention being paid to Africa as a site of contemporary art production (thanks to Okwui Enwezor's "A Short Century" at P.S. 1 and the new Documenta). Ouattara was born in the Francophone Ivory Coast and lives in Manhattan, and his work carries the Neo-Expressionism schtick to Africa, where his combination of colonialist and native emblems take on a new, primordial edge.

Another highlight of last week was the unveiling of a new sculpture by Maurizio Cattelan uptown at Marian Goodman Gallery. Frank & Jamie, as the sculpture is titled, is a pair of life-size figures of policemen, made of wax and dressed in full uniform -- which have been turned upside down to rest on their heads with their feet up in the air. Their smiling, rosy-cheeked faces and the general silliness of the posture make the whole thing seem rather jolly.

At the opening, all three works in the edition were spoken for at a price that is unofficially put at $350,000 each. ("I don't know," said one of the gallery staff when asked its cost). Who would have thought that there is art to be made by channeling Duane Hanson through Georg Baselitz?

Current events compromised Cattelan's sculpture, however, after our illustrious colleague Charlie Finch suggested to reporters at the New York Post and Fox television news that Frank & Jamie is offensive to the heroes of 9/11. It's true -- Cattelan's work punctures the pompous authority of the state, but at the same time mocks the average working-guy -- a contradiction often found at the heart of much avant-garde art politics, such as they are.

[Finch has a special perspective on Cattelan, however, since the two men are neighbors on 12th Street, where Cattelan has recently bought and remodeled a squirish townhouse. Finch has taken a dim view of Maurizio's hijinks in the past, and in return Cattelan named his new magazine project, a random collection of pages already published elsewhere, Charley, arguably a reference to the 1968 Cliff Robertson starrer (a version of the 1968 novel, Flowers for Algernon, now a high-school English class standard) that associates our Finch with a retarded janitor.]

Down the hall at Goodman are some large-scale photos by Thomas Struth of visitors in the galleries of the Pergamon Museum in Berlin, an awesome trove of classical Greek sculptures and architectural fragments. Like the museum spaces themselves, the pictures are suffused with a milky light, and are full of the details of contemporary life, which just won't stay still, put face to face with the timeless grandiosity of history. The photos start at $125,000.

* * *

New star in New York is Tracey Rose, an engaging South African artist who opened her second show at the Project on West 126th Street in Harlem with a pair of projections. Downstairs was TKO (2000), a reeling, washed-out video projection of the nude artist sparring with a punching bag -- which holds the cameras that film the action. The soundtrack records the artist's exertions, beginning with heavy breathing and crescendoing to orgasmic cries and moans. This tape is a refreshing revisit to the classic Body Art esthetic of the 1970s.

The work upstairs, Ciao Bella (2001), is much more over the top, and more amusing. Perhaps a dozen characters, all played by Rose, preside over a long table, part Last Supper, part Mad Hatter's Tea Party, in a digitally tweaked super-wide-screen rear projection. In the center squats a vinyl-clad dominatrix, equipped with a garish pink false vagina and a whip. Other characters include a Japanese school girl, a cake-eating French geisha, a boxer, a smiley-face folksinger and a tweed-garbed Mami, presumably the artist's mother.

At the end of the 13-minute tape, a black-eared Playboy bunny blows everyone away with a shotgun, and a cleaning lady wipes the screen clean. The soundtrack, also intoned with mock seriousness by the artist, ranges from Shakespeare to the Angelus to Sun Ra. Ostensibly a burlesque of stereotypes, Ciao Bella has more than enough high-spirited weirdness to commend it.

The projections are in editions of three with two artist's proofs, and cost $15,000 and $18,000, respectively. Also available is a large color photograph of the artist as some kind of primitive woman in the wild for $1,500, which strikes me as a good price.

* * *

Back downtown at Maccarone, Inc., the funky two-story gallery located above an electrical supply store on Canal Street on the Lower East Side, comic artist Olav Westphalen -- who has provided cartoons for this magazine in the past -- has a not-to-be-missed show of drawings, sculptures and a videotape. There's something ineffably fabulous about his large-scale ink drawings copied from Andrea Gursky photos (the ones of Nike showrooms) -- how easy is it to deflate the seriousness of Gursky's admittedly impressive enterprise.

Westphalen is into "the cultural currency of art," according to Michelle Maccarone, referring to his ability as an artist to convince Swedish hockey superstars to take part in a videotape, on view upstairs. He's also into jokes that are dumb but nevertheless charming. In the video, Westphalen suits up and plays hockey with team, where he gets hit in the mouth by the puck and swallows it, tries to check the zamboni, is hit by scores of pucks when he plays goalie and more.

The tape, titled Meet the Tigers (2001), is $5,000 in an edition of five. A large drawing of John Walker's Prison Cell is $3,000, and a big drawing of a roll of toilet paper is $1,500. A smaller, untitled drawing with some comic sentiment -- an American Indian with his arm around a settler -- is $1,000.

* * *

At Metro Pictures on West 24th Street, Carroll Dunham's "Mesokingdom" features 11 works, drawn in black paint on white canvas, all featuring the same dick-nosed, yelling guy. Considering their cartoonishness -- hello, Phillip Guston -- the paintings have a remarkable range of pictorial incident and even reach the epic quality of Anselm Kiefer, in a particularly American way. Prices are in the $40,000-$50,000 range. . . .

At Senior & Shopmaker on the north end of Madison Park at 21 East 26th Street, an attractive gallery space that's always worth a visit, are collages by Mary Miss. These are "architect's photos," multiple black-and-white views of mostly interior spaces spliced together to capture a sense of antique architecture and its space -- a physical record that you can take away with you of a hard-to-quantify experience. The pictures are in an edition of three, starting at $7,500 for the first work and rising to $9,500 for the third.

In the back room are several new print editions by Ross Bleckner, Monique Prieto, Martin Puryear and others. What caught my eye were two new soft-ground etchings by Alex Katz, simple line portraits of clear-eyed young women done on what looks like brown wrapping paper, in an edition of 25 at $2,000 each. . . .

Another new gallery opened in Chelsea -- Briggs Robinson Gallery at 527 West 29th Street across from Sean Kelly, founded by Joshua Briggs and Mick Robinson, two Brit ex-Tony Shafrazi staffers who look a bit like they've stepped out of a Guy Ritchie film. The inaugural group show includes MacDermott and MacGough, Tod Wizon and Tim O'Riley, whose groovy photos of levitating cards -- Hearts (2001) is a hand with an ace showing, yours for $4,000 -- would warm a gambler's heart. . . .

A new gallery uptown is the McGrath Galleries at 9 East 77th Street, across the way from Michael Werner, opened a few months ago by sisters Eugenia McGrath and Julia Coleman, both daughters of Sandra McGrath, the legendary Australian art critic. On view there now are abstract paintings by Joe Gaffney, who abandoned fashion photography a decade or so ago for the vicissitudes of the easel. His Hofmann-esque works, which combine brightly colored squares and stripes with formless washes of white pigment, are clean and neat and moving fast, priced in the $3,000-$11,000 range.

* * *

By the way, down the block from the Project on West 126th Street, next to the Triple Candie nonprofit space, is a sprawling raw ground-floor space in something called the Mink Building, where the MFA thesis exhibition of the Columbia University School of the Arts also opened on Sunday, May 5. The show featured works by 23 students, a remarkably sophisticated bunch that includes Kevin Zucker, who has already had a sold-out show of his large-scale renderings of corporate interiors at Mary Boone, and Dana Schutz, whose cartoony summer-camp paintings drew raves from the perceptive Jerry Saltz in their debut show at L.F.L. in Chelsea. Also hot are Lansing-Dreiden, a collaborative duo whose minitheater proved popular for both its music and its seats, and Greg Martin, who reportedly has taken up residence in a small room above the entrance of the space.

* * *

Dark horses? In the race to succeed Kirk Varnedoe as director of painting and sculpture at the Museum of Modern Art, don't count out MoMA curator at large John Elderfield. Elderfield is well credentialed in scholarly modernism, i.e., Matisse and Picasso, which remains MoMA's bread and butter, despite its increasing tendency to foreground contemporary art. . . . Other sources put Thomas Crow in the post, saying MoMA needs strong scholarly leadership. A prolific writer, Crow headed Yale's art history department and now is chairman of the Getty Research Institute. . . .

Loving Matthew: Cremaster 3 is mesmerizing, beautiful, majestic, Blake-like, dark and brooding, say those who know. At a May 1 benefit screening of the three-hour film at the Ziegfield Theater in midtown Manhattan, hardly anyone left before the credits, which were lengthy -- suggesting that many viewers had worked on the film, said one wag. Among the attendees were Jerry Saltz, Deborah Solomon, Calvin Tomkins and his wife Dodie Kazajian, Barbara Gladstone, Ivy Shapiro and husband Gregory Crewdson, Shirin Neshat, Yvonne Force and husband Leo Villareal, Jeanne Greenberg, Manuel Gonzalez, Curt Marcus, Carol and Arthur Goldberg, Laura Hoptman, Robert Rosenblum and Jane Kaplowitz, Lisa Dennison, Nancy Spector, Richard Serra, Clarissa Dalrymple, Stella Tennant. . . .

At the recent Art Table annual lunch -- 600 women strong -- honoring Iris Cantor, who sponsored the five sculpture exhibitions held at the "First Lady's Garden" at the White House during the Clinton years, Kirk Varnedoe was brilliant on Rodin before Kitty Carlisle Hart introduced her dear friend senator Hillary Clinton, in a black pantsuit with a pink shirt and pink sweater thrown over her shoulders. "She hasn't aged as much as you might think," said one attendee. . . .

Rediscovered in a three-week-old New Yorker, in Peter Schjeldahl's review of the Barnett Newman show at the Philadelphia Museum, Newman's famous quip, "Esthetics is for the artist as ornithology is for the birds."


WALTER ROBINSON is editor of Artnet Magazine.