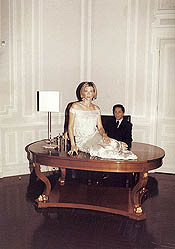 Juergen Teller
The Clients, Haute Couture: Mafalda of Hesse, Paris
1999
"Fashioning Fiction in Photography since 1990"
MoMA QNS
Philip-Lorca diCorcia
from "Cuba Libre"
2000
Cindy Sherman
Untitled #299
1994
Stuart Hawkins at LFL Gallery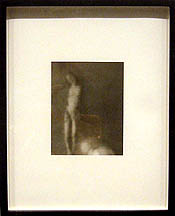 Patti Smith
at Robert Miller Gallery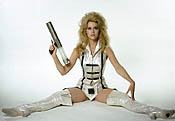 David Hurn
Jane Fonda as Barbarella
1967 (printed later)
Phillips, de Pury & Co.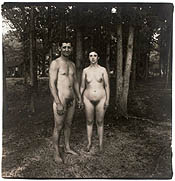 Diane Arbus
A Husband and Wife in the Woods at a Nudist Camp, N.J.,
1963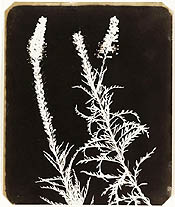 William Henry Fox Talbot
Veronica in Bloom
ca. 1840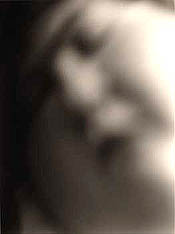 Andrea Modica
Treadwell, NY, 2001
Edwynn Houk Gallery
Eikoh Hosoe
Ukiyo-e Projection #1-9
2003
Howard Greenberg Gallery
Thomas Demand at 303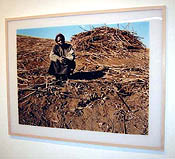 Zwelethu Mthethwa at Jack Shainman
Joe Ovelman at Oliver Kamm 5BE Gallery
Photo Review
by Walter Robinson
In the Postmodernist era, a mistake is as instructive as a masterpiece. So it is with "Fashioning Fiction in Photography since 1990," Apr. 16-June 28, 2004, an exhibition of about 100 photographs by 13 photographers, nicely installed in several galleries at MoMA QNS. With fashion work commissioned from contemporary artists on the one hand and arty shots by fashion photographers on the other, the contrast between real art and commercial photography could hardly be more clear. Here, we have an art exhibition tailored to the sensibility of a magazine fashion editor -- pretty girls, exotic locations, lots of product placement and plenty of clichs. One highlight is Juergen Teller's large-size portraits of the incurably wealthy clients of haute-couture fashion houses. Nice tailoring, but these people seem as empty-headed as their fortunes. They remind us of Jerry Seinfield's joke about Superman -- so much power, a fancy costume, but not that bright. It's bad enough that their taste rules the art market. Do we have look at their mugs plastered on gallery walls, too? Then again, you'd have to have a heart of stone not to like the photo of the barefoot and begowned blonde posed sitting Odalisque-style on top of her husband's fancy desk. Philip-Lorca diCorcia is a great photographer -- his pictures from his "Heads" series, showing ordinary people on the street enveloped in shadow, had a Caravaggeque solemnity when exhibited after 9/11 at PaceWildenstein in Chelsea -- but sending him to Cuba with a glamorous model just makes everyone look bad. In a fashion magazine it might be clever to pose a Madison Avenue clotheshorse at a shabby Cuban bar in a pastiche of Hopper's Nighthawks, but in a museum it just looks meretricious. And however a real artist might comment on the sad state of the Cuban revolution, surely this ain't it. Otherwise, in what is billed as the museum's first exhibition devoted to fashion, we have scads of Stepford families, tarted up with mass consumables and enacting charades of plastic American domesticity. There's also a few black-and-white art shots that package bohemian cool and sophistication as a marketable brand. All this makes Soviet Socialist Realism look downright pleasant. But in the end, we can't help but take a certain perverse pleasure in the exhibition, which is something like dissecting cadavers in order to learn how to heal. With this in mind, it becomes clear that curators Susan Kismaric and Eva Respini have assembled one of the best and most corrosive photo shows in recent memory. It's a movingly instructive lesson in the limits of taste, with the mortal struggle between real art and commercial crap playing out right in front of our eyes. Incredibly, once again it's Cindy Sherman who has the last word, with a series of her self-portraits done in 1994 for something called Comme des Garons. She dons this outlandish fashion and turns it into something truly bizarre and clownish. One picture in particular, called Untitled #277, says it all -- a red-eyed, tattooed freak points a gingham-gloved finger at her head, as if to show what part hurts or, who knows, to make a gesture of yearning -- to blow her brains out.

* * *

The penetration of Hollywood trash culture to all corners of the globe, even to Nepal, is the subject of Stuart Hawkins new exhibition at LFL Gallery on West 24th Street. Titled "Appearing In:2," the series of 18 color photos shows kids and the occasional adult vamping and gesturing in poses taken from fashion models, MTV and action movies. Everyone looks animated enough in their K-Mart duds -- in fact, their exuberance is positively contagious -- though their rural wasteland setting looks fairly exhausted. So much for cultural difference. Hawkins is a southern gal who previously showed with Priska Juschka Fine Art in Williamsburg and Peres Projects in San Francisco. The photos measure 30 x 40 in., in an edition of five, and are $2,800 each, several top collectors have bought one. Around the corner at Robert Miller Gallery are new black-and-white photos by the punk-rock poet Patti Smith that are fairly accomplished for celebrity art -- simple, almost old-fashioned images, small and gray and mournful. There's a great one of a hand holding a droopy daisy, and another great one of a flag with a peace sign on it. Several pictures show a small figure of Jesus wrenched from a crucifix. The arms are missing, and in one print the image is out of focus, feminizing the figure. They're almost Pictorialist in feeling. The photos are $900 in editions of 10.

* * *

The spring auction season kicks off in earnest this week, with three days of photo sales at the newly de-Luxembourged Phillips, de Pury & Company on West 15th Street in Chelsea, Apr. 22-24, 2004. Walking into the third-floor exhibition space, a visitor is faced with a sort of esthetic continental divide. To the right are galleries holding a slew of commercial magazine photos from the files of the celebrated Magnum photo agency; to the left are the more fine-art selections from Phillips' regular mixed-owner photography sale. So, on one hand are photos of Jane Fonda as Barbarella ($1,500-$2,500) and a pair of Eve Arnold portraits of Malcolm X ($3,000-$4,500), while on the other are a 1966 Andy Warhol photostrip of the Beat poet John Giorno ($5,000-$7,000) and a 1963 gelatin silver print by Diane Arbus of a nudist couple ($25,000-$35,000). As a rule, the commercial pictures are graphic and punchy, focused on subjects that scream for attention, in contrast to the softer and more poetic artworks, which somehow seem to contemplate more leisurely subjects, or no subjects at all. It's worth noting that the Magnum sale even includes a portfolio of 10 photographs by various photographers, printed this year, of the 9/11 disaster. It is estimated to bring $4,000-$6,000. The third segment of the sale is a collection of 228 photographs from the holdings of Pennsylvania photo dealer Alex Novak, who operates the popular I Photo Central website (where more than 1,000 additional prints from his inventory are offered in a "clearance sale" at 20 percent off). Called "A Century of Fine Photographs: 1840s-1940s," the Phillips sale features several big-ticket items, ranging from a ca. 1840 William Henry Fox Talbot "photogenic drawing" of Veronica in Bloom (est. $200,000-$300,000) to a 1937 Raoul Ubac solarized Battle of the Amazons (est. $50,000-$70,000). A blue-tinted cyanotype of Dandelion Leaves (1895-1910) by Arthur Wesley Dow is estimated at $3,000-$5,000, while a ca. 1934-35 photo of a Young Girl Dreaming that has been turned into a Cubist-style guitar by Brassaï is estimated at $20,000-$30,000. The sale kicks off with 70 lots in an evening session on Apr. 22, with the rest going on the block the next morning. The mixed-owner sale of photographs begins with 69 lots on the evening of Apr. 23, with another 199 lots being auctioned on the morning of Apr. 24. The Magnum auction begins at 2 p.m. on Apr. 24.

* * *

Diane Arbus seems brutal, even sadistic, in her unblinking presentation of her freakish subjects. The Brooklyn-based Yale grad Andrea Modica (b. 1961), by contrast, was more protective of her longtime sitter, a pudgy young woman from upstate Treadwell, N.Y. One of 14 kids in a poor family, she posed for Modica over more than a dozen years until her death at age 22 in 2001 from complications of diabetes. An exhibition of 41 platinum/palladian prints from this strangely affecting series wes recently on view at Edwynn Houk Gallery on Fifth Avenue in "Barbara, Treadwell, 1986-2001." The show includes several of the girl as a child, but as she grows older Modica begins to hide her identity, photographing her standing with her back to the camera or sitting on her porch with a Halloween bag on her head. The most recent photos are simple head shots in which her face has been blurred or distorted or hidden in shadow -- which does disguise the young woman, either as a nightmare visage or an apparition of Buddha. The 8 x 10 in. photos are in editions of 15, and cost $2,000 for the first half and $3,000 for the second. A book based on the photos, titled Barbara (Nazraeli Press), will eventually be available for $40 from www.photoeye.com.

* * *

At Howard Greenberg Gallery in the Fuller Building is a show of 19 large color photographs by the senior Japanese modernist Eikoh Hosoe (b. 1933). For these essentially theatrical improvisations, Hosoe projected slides of erotic Ukiyo-e prints onto the bodies of Butoh performers dressed in little more than loincloths and white body paint. The result is a curious kind of erotic expressionism, and suggestive of nothing more than Japan's answer to late Picasso. The works come in an edition of 15; numbers 1-4 are $3,400. In the small gallery at Greenberg are vintage photograms from the 1920s by the Bolognese Futurist photographer Tato, abstract works that deploy light in patterns like a flurry of brushstrokes in velvety brown darkness. The price: $15,000-$16,000.

* * *

The German simulationist photographer Thomas Demand, noted for making his photo subjects out of colored cardboard and construction paper, sent over four new works for his show at 303 gallery in Chelsea -- a leafy forest panorama, a Minimalist white wall with several rows of white conduit, a Baroque "space simulator" and a movie of a tape machine, all in editions of six. Prices range from $35,000 to $80,000.

* * *

Hiroshi Sugimoto's first publicly exhibited color photo goes on view at Yoshii Gallery on East 76th Street beginning May 1; it's a picture of a wax diorama of Vermeer's The Music Lesson. . . . Timothy Greenfield-Sanders portraits of porno stars due at Mary Boone Gallery next October. . . . Chelsea dealer Jack Shainman sold five large color photos by South African artist Zwelethu Mthethwa of sugarcane cutters to museums; price: $16,000 in an edition of three.

Robert Miller Gallery sold about 30 Bill Henson photos of teenagers in angst for $9,500 a piece. . . . Annie Liebovitz opens "American Music" at Edwynn Houk Gallery, Apr. 23, 2004. . . . Bargain-priced homoerotic C prints by Joe Ovelman at Oliver Kamm 5BE Gallery at $400 each. . . . Check out the website of Terry Richardson, who Fleshbot.com describes as "our favorite freakazoid fashiooln smut photographer" at www.terryrichardson.com.


WALTER ROBINSON is editor of Artnet Magazine.