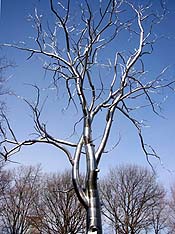 Roxy Paine
Bluff
2002
in Central Park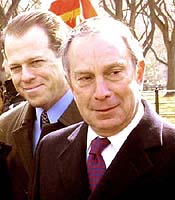 NYC mayor Michael Bloomberg with Whitney Museum director Max Anderson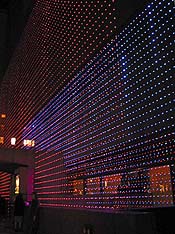 Erwin Redl
Matrix VI
2002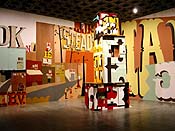 Margaret Kilgallen
Main Drag
2001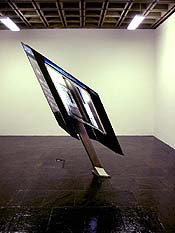 Robert Lazzarini
Payphone
2002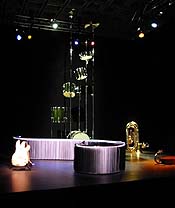 Christian Marclay
Band
1999-2000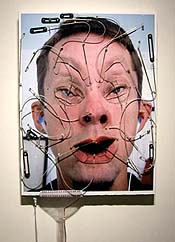 Tim Hawkinson
Emoter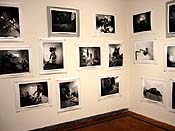 Hirsch Perlman
Day 1.1, Day 1.2, Day 1.3...
1999-2001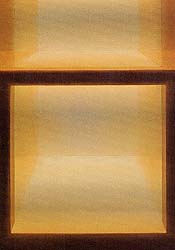 Lauretta Vinciarelli
Study for Luminous Void Volume of Light
2001
AA Bronson
Felix Partz, June 5, 1994
1999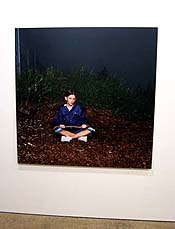 Sarah Jones
at Anton Kern
Bunnies
from Cecily Brown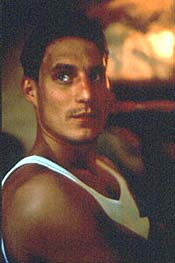 Nan Goldin
Clemens at lunch at Cafe de Sade, Lacoste, France, 1999
at the Whitechapel Gallery
Weekend Update
by Walter Robinson
The Whitney Museum's "2002 Biennial Exhibition" opens today, Mar. 7-May 23, 2002, and the initial verdict is that good-looking curator Larry Rinder -- see his macho-glam photo along with last week's preview of the show in Newsweek -- has got a hit on his hands.

Millionaire NYC mayor Michael Bloomberg showed up for the press conference unveiling five works in Central Park, praising the arts to a bewildered City Hall press corps in front of Roxy Paine's 50-foot-tall, 5,000-pound stainless steel tree, photogenically shimmering in the cold morning sun.

Visitors to the patrons' reception that evening -- including Al and Tipper Gore, Salman Rushdie with art consultant Kim Heirston, collector Eli Broad, and part-time artists David Byrne and Dennis Hopper (who has a short film about a homeless stripper in the show's film and video section) -- were greeted by the museum building's own light show, a restrained grid of tiny red and blue L.E.D. lights by Erwin Redl on the façade. It's like a gentle cyberspace net cast over the museum building.

The opening was enlivened by a performance by Brooklyn artist Karin Campbell, who calmly sat in a chair by the elevators conversing with museum visitors, her eyes closed the whole time -- though her lids were painted with simple, almost Egyptian-looking blue eyes.

In the galleries, the show at first seems alternately dominated by room-size installations and video projections, in an arrangement that somehow humanizes Marcel Breuer's Brutalist museum -- and one that looks considerably better than the curation-by-committee of the last biennial two years ago.

Among the eyecatching sculptural works are a sprawling, grafitti-inspired installation by the late San Francisco street artist Margaret Kilgallen, transplanted from a show at the Philadelphia ICA; Chris Johansen's stairwell installation of colored, spindly lumber and comic wall drawings; Robert Lazzarini's uncanny model of a pay telephone booth rendered 3-D at a sharp oblique angle; and Christian Marclay's Band, a dramatically color-spotlighted sculpture of metaphorically stretched and bent rock instruments that was shown last year at Paula Cooper Gallery.

The installation of models, photographs and a documentary videotape by the Rural Studio, the architectural practice established by the late Samuel Mockbee in Hale County, Ala., is especially notable. By turning vernacular shanty architecture into real housing for poor people, Mockbee's project is a shining example of art as a progressive social endeavor.

Another dark gallery is filled with what look to be life-sized, primitive votive figures that might come from Africa or the Caribbean, paired with a flashing psychedelic projection on the wall. The overall effect that is quite engaging. In fact, it's made by Forcefield, a kind of theater collective based in Providence, R.I. Another primitivist projection is Stephen Dean's roiling, color-saturated video of an ecstatic crowd in the middle of a ritual at Uttar Pradesh, a tape that is a great 21st-century update of Carolee Schneemann's pioneering Meat Joy.

Other standouts include Chan Chao's color photo-portraits of stoic refugees at the Burmese border, paired with his terse comments ("Don't know much about her, except that she seemed sad"), which are the kind of photojournalism that brings geopolitical issues down to an intensely personal level. Vija Celmins' new drawings of spiderwebs finally match her painstaking method with a subject worth looking at.

Art-about-art fictions seem to be popular (and why not, after the silly Museum of Jurassic Technology in Los Angeles won a MacArthur Foundation genius award last year). The Salon de Fleurus, whoever they are, gives us a vitrine filled with models and watercolors based on Gertrude Stein's early 20th-century Paris salon, and is supposedly recreated by a group of anonymous artists down on Spring Street in SoHo.

More cuttingly, John Leaños fills a gallery with fictive archeological artifacts, lightbox photos and drawings tracing the supposed castration rituals -- including the conceit of truncated phallic monoliths -- from Aztlán, the imaginary Chicano homeland along the U.S.-Mexico border. This is not funny!

The photographer and Frieze art writer Collier Schorr goes beyond the call of duty with an extensive series of art-about-art drawings and watercolors, putting a teenaged German boy through all the poses used by Andrew Wyeth in his erotic "Helga" series from 25 years ago. It's quite a study.

Over-the-top pyrotechnics are provided by Tim Hawkinson, whose incredible Emoter is a large color photograph of a face with moveable lips, eyelids and the like, that grimaces and pouts thanks to tiny servo-motors according to the motion of people in the room. The guy is amazing, and may be single-handedly revitalizing imagination as an avant-garde imperative. In this vein, too, Peter Sarkisian's Hover, his 1999 3-D projection of a lifesize naked woman and her little boy frolicking in a small cube (showed two years ago at I-20 gallery), looks particularly good here.

Black and white photography is back, at least if you go by Janine Gordon's grid of action photos of young men in the mosh pit, a subtle extension of her notorious interest in articulated female sexual desire. Hirsch Perlman, the former Chicago resident who showed his cryptic conceptual sculptures at Feature gallery, has moved to Los Angeles and changed his style. For the biennial, he provides a gallery full of black-and-white pictures of a studio filled with gollems, apparently made and remade in daily performances with cardboard boxes, packing tape and other materials.

The show is not completely devoid of painting. It includes monochromatic transparent oils by Berkeley painter John Zurier; goofy Surrealistic figure abstractions by Peter Williams, who shows at Detroit's Revolution Gallery; elegant Minimalist watercolors of light inflected boxes by the Italian-born, 50-something New Yorker Lauretta Vinciarelli; a gallery of big primitivistic paintings by Outtara Watts; and a kind of painted cartoon filmstrip version of the Biblical story of Lot by Gerry Snyder, who lives in Santa Fe.

But none of this stuff has the impact of AA Bronson's mural-sized photo blowup of the corpse (taken moments after his death in 1994) of his former General Idea collaborator, Felix Partz, wasted by AIDS but dressed in his flowery best, as was his final wish. "The dead walk among us," Bronson writes in the catalogue, "co-habitants of this dream city."

There's more to say, but as usual no time to say it. With any luck, reports on the biennial's film and video program, and its extensive internet section, will be forthcoming.

* * *

British photographer Sarah Jones, whose somber, large-scale color photos of kids out at night are wowing them at Anton Kern on West 20th Street in Manhattan's Chelsea art district, got a summons for drinking on the sidewalk at her own opening. The plainclothes officer, who was cruising the area in an unmarked car, told her that she could avoid a fine by watching a one-hour videotape on quality of life issues in New York...

Mitchell Algus, who drew praise for his shows of forgotten art of the 1960s and '70 at his Thompson Street gallery in SoHo, reopens at 511 West 25th Street in Chelsea on Apr. 13 with a survey of works by Oklahoma homoerotic realist Harold Stevenson... Time Out magazine says that Manhattan's Lower East Side is the newest gallery district, with a trio of new galleries run by four 20-something young women -- Rivington Arms, run by Sarah Lawrence grads Melissa Bent and Mirabelle Marden; Maccarone Inc., helmed by former Luhring Augustine director Michele Maccarone, and now Participant Inc., opened by former Thread Waxing Space curator Lia Gangitano.

Trans, the magazine and multiples operation run by Sandra Antelo-Suarez, is now a New York gallery, too, opening with a video installation by Albanian artist Anri Sala, who had a hit at the Venice Biennale with a video of kids repeating Al Capone's "Nobody puts a price on my head and lives." Trans>area, as it is dubbed, is located at 521 West 25th Street, suite 502... New uptown stop is Cook Fine Art at 1063 Madison Avenue, which opened last month with "Women by Women in Photography," a show of works by a dozen photographers, ranging from Diane Arbus and Vanessa Beecroft to Shirin Neshat and Cindy Sherman. The cooks in question are Scott and Soussan Esfandiary Cook...

"I'm happy," said Jeffrey Deitch at the opening of his Vanessa Beecroft installation on Mar. 1. "Naked girls is the reason I got into this business."... Spotted at Cecily Brown's opening at the uptown Gagosian Gallery, the superdealer himself bringing Ron Delsner and John McEnroe over to point out copulating bunnies in one of Cecily's new pastoral painting. The cycle of 11 works, all 48 by 60 inches, were all sold for $30,000-plus... Speaking of Gagosian, German collector Udo Brandhorst was buyer of the Cy Twombly installation Lepanto, recently seen at Gagosian's Chelsea space and at the Venice Biennale 2001...

Hot online art purchase -- a Nan Goldin photograph for £75 plus VAT from the Whitechapel Gallery in London, produced in an edition of 500... Speaking of big editions, Eyestorm, the online digital print publisher, may have found the perfect outlet for its wares -- wall space on the seventh floor of the pricey Manhattan clothes store Barney's, next to popular lunch spot, Fred's. An Eyestorm staffer complains of unending work replacing sold prints by Bill Wegman, other artists... Matthew Barney's new Cremaster film opens in May, but pals worry that his esthetic has been surpassed by Lord of the Rings, still playing to sold-out crowds weeks after its opening...


WALTER ROBINSON is editor of Artnet Magazine.