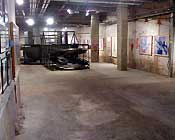 Dennis Oppenheim
"Vehicles for Projection: Factory Projects from the Early Eighties,"
at Kenny Schachter Rove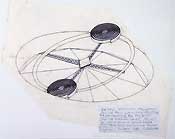 Dennis Oppenheim
Spinning Projection Device from Launching Structure #3 (detail)
1981
Dennis Oppenheim
Impulse Reactor
1980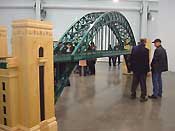 Chris Burden
Tyne Bridge
2002
Gagosian Gallery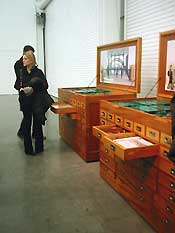 Chris Burden's Tyne Bridge kits
at Gagosian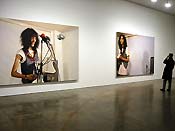 Franz Gertsch
From left, Patty Smith IV (1979) and Patty Smith II (1978)
Gagosian Gallery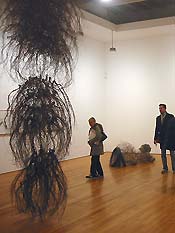 Alan Saret
Three-Tiered Copper
1982
James Cohan Gallery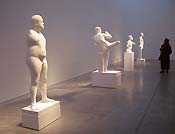 Marc Quinn
"The Complete Marbles," installation view
Mary Boone Gallery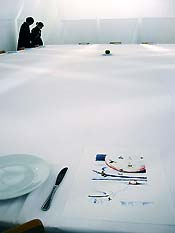 Ilya and Emilia Kabakov
20 Ways to Get an Apple Listening to the Music of Mozart
installation view
2004
Sean Kelly Gallery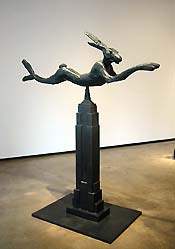 Barry Flanagan
Six Foot Leaping Hare on Empire State
2002
Paul Kasmin Gallery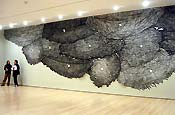 Giuseppe Penone
at the Drawing Center
Robert Longo
at Metro Pictures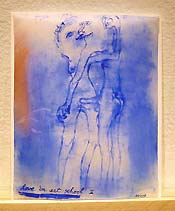 Leon Golub
Love in Art School
2003
Ronald Feldman Fine Arts
Randy Wray sculptures at Alona Kagan Gallery
Momoyo Torimitsuat Deitch Projects
Joseph Nechvatal at UCU
Erhan at Robert Steele Gallery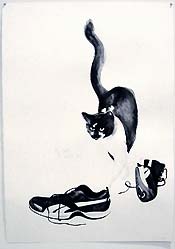 Beth Campbell
My Cat Hates Me
2002
Nicole Klagsbrun Gallery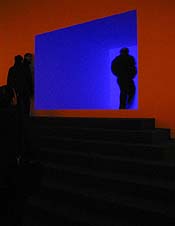 James Turrell
at PaceWildenstein
on West 25th Street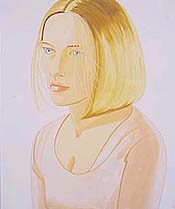 Alex Katz
Mae
2003
at Jablonka Galerie, Cologne
Weekend Update
by Walter Robinson
Let the girls fuss over the new goth trip. What we're fascinated with over here is a certain kind of large-scale demented engineering, a kind of scientific thinking that turns into mania. The prototype is the "influencing machine," described in 1919 by the Viennese psychoanalyst Victor Tausk as a schizophrenic delusion in which an imaginary machine controls the patient's thoughts and actions. It's a common enough trope in contemporary art (especially in Outsider Art) but is curiously pronounced in works by three Body Art pioneers, which as it happens was recently on view in New York galleries.

In January, New York's own Dennis Oppenheim unveiled "Vehicles for Projection: Factory Projects from the Early Eighties," a group of blueprints, drawings, photographs and one large machine sculpture at Greenwich Village dealer Kenny Schachter's Rove exhibition space on Perry Street. Oppenheim's incredible kinetic structures, with their ramps and conveyor belts, engines and heating coils, tipples and tracks, have titles like Device to Convert Chilling Underground Winds into Memory (1980) and Study for Accelerator for Evil Thoughts (1983). One group of sculptures even shot off fireworks, in a memorable event held down at the Battery Park "beach" -- landfill that eventually became the World Trade Center.

"The machines were all built over three years in an extraordinary burst of energy," Oppenheim explained in a phone call. "It was the period after Conceptual Art, video and Body Art, minor years for art that had actual physicality, and these things were attempts to reference the workings of the mind, to uncover the creative process, in machine language and large physical structures. They were transactional, performative, adjustable, able to go in any direction."

Oppenheim added, a bit ruefully, that these works were eclipsed by the rise of Julian Schnabel and Neo-Expressionist painting. Still, the actual machines were all "located at" (not sold to) museums and private collections. Warner Communications took five of them, Oppenheim said, and gave them to the Los Angeles County Museum, the Museum of Modern Art and other museums.

The drawings and blueprints, which were made like collages with a special techinique Oppenheim devised, come from his studio and are priced at $10,000-$18,000. Most are still available. The show includes one construction, called Impulse Reactor, that is $40,000.

(During the same period, Vito Acconci launched his now-celebrated architectural practice that translates the body into peculiarly figurative structures, as well as coming up with more-or-less practical designs for parks and other public amenities. These, too, were on view at Rove, in a show called "Rehearsals for Architecture" in late 2003.)

More ferocious than Oppenheim is Chris Burden, whose art usually incorporates something of the hormone-fueled energy of the adolescent male imagination. Since 1997 he has been working on building model bridges, a show of which opened last month at Gagosian Gallery on West 24th Street. Centerpiece of the exhibition is a 31-foot-long replica of the Tyne Bridge in northern England, done in green-painted steel with polished wood anchorages. Burden produced his Tyne Bridge in an edition of three -- one is assembled, while the other two are presented in pieces in Volkswagen-sized wooden cases to be put together by their buyers (it takes years, reportedly). The former is $700,000, the latter $300,000 each.

Nearby is the more abstract, 32-foot-long Curved Bridge, an arched structure put together from 10,000 stainless steel parts modeled on the turn-of-the-century Myoto Erector set. In the back gallery are smaller models of other bridges, done in editions of six or more. The simplest, in an edition of 20, is $10,000.

In Gagosian's front gallery are Photo Realist paintings of Patti Smith from 1978 and '79 by Franz Gertsch (b. 1930) in a show originally organized by the Museum Franz Gertsch in Burgdorf, Germany. Gertsch, who currently makes large-scale monochromatic paintings of leaves, grass and foliage, has the uncanny technique of the Photo Realists, though close inspection reveals traces of the artist's hand (lots of stippling, oddly). Works are on loan from the Kunsmuseum Bern, the Staatsgalerie Stuttgart and other collections, though a couple are available, priced at over $2 million, or so it seems. . . .

But for complete devolution of the engineering impulse into airy masses of Anti-Form go see Alan Saret (b. 1944) at James Cohan Gallery, a gathering of works from 1967 to 1986 by the reclusive artist who made haphazard tangles of steel or copper wire into a major post-Minimalist art movement. (In the mid-1970s, he also chipped a hole in the brick wall at the end of one of the halls of the then-dilapidated P.S. 1 building to trace the sun's path on the cracked linoleum floor.) The artist, who lives in Williamburg, didn't attend the opening. What's he up to now? "I think I heard that he was doing a translation of the I Ching," said someone at the gallery. The centerpiece of the show, the 19-foot-tall hanging Three-Tiered Copper (1982), was found in an office building on Long Island. The price: $50,000. . . .

* * *

The critics have been a little cranky about Marc Quinn's "The Complete Marbles," a group of 11 "classicizing" statues of nudes (apparently body casts translated by craftsmen into white marble) of people with amputated limbs or thalidomide-style birth defects, on view this month at Mary Boone Gallery in Chelsea. ("It is impossible not to feel annoyed," said the New York Times.) Though the reformed yBa -- supposedly he's stopped using artificial intoxicants -- is given credit for treating these real individuals (the works are titled with their names -- Stuart Penn, Alison Lapper, Alexandra Westmaquette) with dignity, even as heroes, skeptical viewers can't help but suspect the artist's motives. It's the contradiction of capitalism: Quinn's noble gestures are all sold or reserved at $120,000 a pop, according to the price list.

* * *

Don't miss the new installation by Ilya and Emilia Kabakov at Sean Kelly Gallery on West 29th Street. Called 20 Ways to Get an Apple Listening to the Music of Mozart, it's an elegant installation in an airy room of an oversized table with 20 table settings, each with a text (handwritten in Russian and translated in typewritten English) and one of Kabokov's witty, skillful drawings. And of course there's the lovely music, setting the tone.

The shiny apple in the center of the table is out of reach, and each text posits a different way that the reader might obtain it -- using telekinesis, for instance, or having a confederate "accidentally" tip up the table from the other side so that it rolls into your lap. It's amusingly philosophical in a lighthearted, Russian way. It's marked "not for sale," though other pieces in the show range in price from $12,300 for a small framed watercolor to $250,000 for a 2001 painting-with-lightbox titled Harvesting Apples 1930.

* * *

The new show of 23 acrobatic bronzes by Barry Flanagan at Paul Kasmin Gallery on 10th Avenue, his first in New York in a decade, looks beautiful (contrary to the glaring blind spot of Artnet's own Richard Polsky). Especially good is the large sculpture of a hare leaping over the Empire State Building. It's dated 2002 -- and yours truly was a bit miffed at having to wait till now to see it. Price: $240,000 (in an edition of eight). And in another development on the Kasmin front, gallery eminence grise Alexandra Kasmin opens new shop for antiques and other exotic merchandise, Kasmin Pirtle, upstate on Route 83 in Pine Planes, N.Y. . . .

A brief Arte Povera revival in New York for the beginning of 2004, via a masterful survey of 12 huge body-based drawings by Giuseppe Penone (b. 1947) at the Drawing Center to Mar. 6, metaphysical objects by Gilberto Zorio at Sonnabend, ghostly drawings of golems by Marisa Merz (b. 1931) just closed at Barbara Gladstone Gallery, while a masterful show of works by Alighiero e Boetti has just opened there, including a wall of pencil drawings of Italian pop magazine covers from 1986. . . .

As a subject, the mushroom cloud is at least 50 years old -- but it remains an image of unparalleled power, at least in the hands of Robert Longo, whose show at Metro Pictures includes three huge drawings in sooty black pencil of atomic bomb tests from the Cold War era. Other subjects include dark waves from the 1959 anti-nuclear film On the Beach and a view of Albert Einstein's desk and blackboard. "I changed the equations and moved things around on his desk," Longo said. "I wanted the picture to have mistakes." They're $70,000-$80,000, with the small works going for $7,000. . . .

Also speaking of power, Leon Golub's large-scale "Colossal Heads" paintings of ancient Roman-style titans and giants at Ronald Feldman Fine Arts made more than 40 years ago, are finding buyers at $200,000-$350,000. More recent Rabelaisian crayon drawings on notebook paper -- a reclining babe fondling a skull, captioned, "He was a worthy man" -- are $5,000 An impressive, colorful new tapestry by Magnolia Editions, done in cotton in an edition of five, is $75,000. . . .

Big Donald Judd show at Tate Modern, Feb. 5-Apr. 25, 2004, features none of the artist's elemental "single stack" sculptures from 1964-70 -- but plenty are on view at Van de Weghe Fine Art on West 23rd Street, including versions in copper, galvanized iron, and combos of colored plastic and polished stainless steel or brass. Prices range from $250,000 to $450,000. . . .

With the new Alona Kagan Gallery, West 29th Street reaches critical mass (it takes three; the others are Sean Kelly and Briggs Robinson). For February the gallery exhibited the funky, biomorphic sculptures, and paintings of sculptures, by the 37-year-old artist Randy Wray. Wray does a great job with the sculptor's vocabulary, making chandeliers that cross kudzu with Alexander Calder, table pieces that suggest Constantin Brancusi via glued-together toothpicks covered with glitter and paint, and floor sculptures that channel drippy hippie candles in wine bottles through Barbara Hepworth oval openings and strung cords. The 21 works range in price from $4,000 to $12,000. . . .

Crawling businessmen (one Japanese, one German, one American) by 35-year-old New York artist Momoyo Torimitsu (a woman, not a man as the New Yorker had it) at Deitch Projects kept turned off most of the time, lest they damage themselves. "The American is fastest," said the gallery's Kathy Grayson. "He goes in circles." They're $40,000 each. . . .

Lots of good stuff by hot young artists in "I, Assassin," a group show organized by Slater Bradley for Wallspace Gallery on West 27th Street (Bradley has his own new work, a faux film of a performance by a faux Kurt Cobain, at Team Gallery). Especially notable is Blind TV by Christian Marclay, a regular set with a polished mirror where the tube should be. The sound is network, but you are the picture. . . .

New robotic-assisted, vaporously colorful acrylic-on-canvas paintings by Paris-based computer theorist Joseph Nechvatal depict "the hermaphroditic body" -- the "computational morphing" of images of male and female sexes -- under attack from computer viruses, in "a sort of sullied Epicurean Hellenism simultaneously antediluvian and post-human." They're $9,000 per 44 x 66 in. panel at Universal Concepts Unlimited on West 22nd Street in Chelsea. . . .

Young talent at Oliver Kamm 5BE Gallery on West 22nd with first solo show of "tree paintings" by Kamrooz Aram. Three of the large, colorful, floral, Persian carpet-like paintings (including Tree of Strife, 2003) were sold at the opening at $7,500 each. . . .

At Robert Steele Gallery on West 25th Street in Chelsea, a wall of spray-painted "Babes" in every color of the rainbow by 30-year-old Melbourne-born Turkish airbrush artist Erhan, who lives in New York. The image has inspired an animated cartoon series, described as "Sex in the City meets The Simpsons" by its creator, Erhan publicist Anna Samuel. Get yours for $8,000, 63 x 47 in. . . . At Nicole Klagsbrun around the corner, one for the cat lovers from Beth Campbell, a lovely pencil drawing of a kitty with two tennis shoes, called My Cat Hates Me (2004). It's $3,000. . . .

"100 Artists See God," the pseudo-religious exhibition organized by John Baldessari and Meg Cranston and circulated by Independent Curators International, had its premiere canceled last fall at the Naples (Fla.) Museum of Art, presumably due to fears of right-wing backlash, though nobody's talking. . . . That fat-headed big baby in "Diane Arbus: Family Albums" at Grey Art Gallery grew up to become gay CNN star Anderson Cooper (son of Gloria Vanderbilt and Wyatt Cooper). . . . Typical hubris from master cylinder Dia Art Foundation with a "no vendors 20 ft." sign on the door of its absurd Broken Kilometer installation on West Broadway in SoHo. . . .

Brent Sikkema Gallery doubles in size in November, when it breaks through to take over the American Fine Arts space. Fate of the late Colin De Land's gallery remains uncertain. . . . Line of people stretching down 57th Street to the corner of Fifth Avenue for the last day of "Mark Rothko: The Year 1949" at PaceWildenstein. It's getting to be old hat -- a line too for James Turrell's light installations at PaceWildenstein on West 24th Street in Chelsea back in December. . . .

Contemporary art auction regular Stellan Holm has his name on new gallery space glass door on West 24th Street in Chelsea, in between LFL and Mike Weiss Gallery. . . . C&M Arts said to be planning show of works by Jeff Koons for April or May. . . . Poppy-painter Donald Sultan moves to Ameringer & Yohe from Knoedler & Co.. . . . Meanwhile, for muscular, contained, geometric sculpture in plaster, steel, don't miss John Duff (b. 1943) at Knoedler, on view till Mar. 13, 2004. . . .

Briggs Robinson Gallery has installed exhibition of works by 44-year-old Belgian Minimalist Hans Fohan in the "library" -- a room with book wallpaper -- of SoHo House, the super-hip London-style private club in south Chelsea. . . ."Surf Culture," traveling art show organized by the Laguna Art Museum, looking for New York venue -- maybe Exit Art -- if funds can be raised. . . . Ecology artist Alan Sonfist has signed up with Paul Rodgers Gallery; show slated for May. . . . New York Sun art scribe Lindsay Pollock signs on to do art commentary for Cablevision's new HDTV auction channel. . . .

Supermodel Jerry Hall bought one of the Paul Caranicas photo-realist paintings of the U.N. at Bernarducci Meisel Gallery on West 57th Street. . . .Oscar-winner Marisa Tomei, Ray Liotta of Goodfellas and Puerto Rican firecracker Rosie Perez at the opening for MTV photographer Eric Johnson's show of color photographs at Vanessa Buia Gallery on West 23rd Street. . . . New York writer Oscar Hijuelos' Mambo Kings, which PaceWildenstein president Arne Glimcher made into a hit movie in 1992 (starring Armand Assante and Antonio Banderas), may be headed for Broadway. . . .

Happy third birthday to Glasstire, editor Rainey Knudson's independent magazine devoted to contemporary art in Texas. The current issue features an interview with Joseph Helfenstein, the 46-year-old, Swiss-born curator and art historian who took over as director of the Menil Collection in Houston last month. See it online at www.glasstire.com.

Visiting Cologne? Go see the portraits by good-looking Alex Katz (b. 1927) of good-looking young women, made just last year, at Jablonka Galerie on Hashnnenstrasse 37, Feb. 276-Apr. 17, 2004. There's Leora, Mae, Sophie, Tiffany, Tara and, of course, the artist's longtime love (and wife), Ada.

* * *

The recent exhibition at Andrea Rosen Gallery of flower paintings assembled by Los Angeles power collector Dean Valentine is an inspiration -- an inspiration to say that we shouldn't give a damn about these fat-cats who lord it over the art world. It's a question of naked power, of course. Artists, dealers and curators have to kowtow to these puffed-up moneybags. Critics don't have much, and as long as that's the case, we can tell these dorks -- invariably their taste is awful and their manners worse -- that they're nothing but their money.


WALTER ROBINSON is editor of Artnet Magazine.