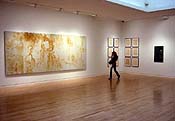 Andy Warhol
"Piss and Sex Paintings and Drawings," installation view at Gagosian Gallery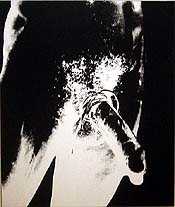 Andy Warhol
Torso
ca. 1983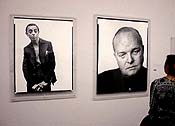 "Richard Avedon: Portraits"
at the Metropolitan Museum
with photographs of James Galanos and Truman Capote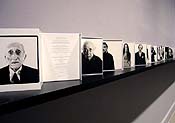 On display, the book Richard Avedon: Portraits (Abrams, $35)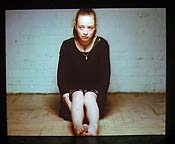 Sam Taylor-Wood
Still from Breach
2001
at Matthew Marks Gallery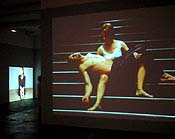 Sam Taylor-Wood at Matthew Marks Gallery, installation view, with Pieta (2001)
Tracey Emin
I Think It's in My Head
2001
at Lehmann Maupin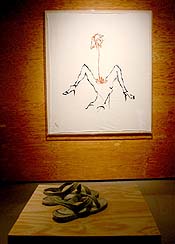 Tracey Emin, installation view at Lehmann Maupin in one of architect Rem Koolhaas' plywood-paneled small galleries, with Flo-Jos in the foreground and Self Growth on the wall.
Conrad Ventur
Brain, Christine, Sophia, Neon
2002
at Elizabeth Dee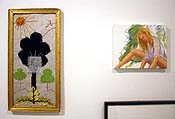 Works by Elizabeth Cannon (left) and Mary Jones at Lindsey Brown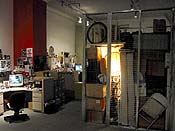 Pepon Osorio
Face to Face
2002
at Ronald Feldman Fine Arts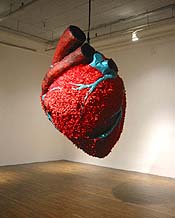 Pepon Osorio
My Beating Heart
2002
at Ronald Feldman Fine Arts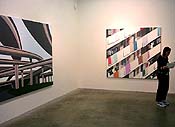 Brian Alfred
at Max Protetch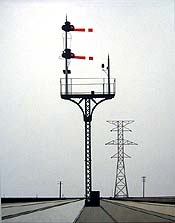 William Steiger
"Signal"
at Margaret Thatcher Projects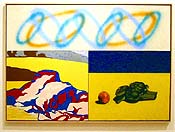 David Salle
Oranges and Artichokes
2001
at Leo Castelli Gallery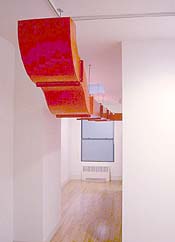 Rita McBride
Servants and Slaves
2002
at Leo Castelli Gallery
Weekend Update
by Walter Robinson
Could the elemental art impulse be . . . infantile? Equivocal evidence this month in New York, with the reprise of Andy Warhol's "oxidation" paintings, made by pissing onto the canvas, at Gagosian Gallery's Madison Avenue redoubt. Back in 1978, for a period of about six months or so, Andy and his assistant Ronnie Cutrone and anyone else who happened to wander through the factory would pee for art's sake. The results, according to critic David Bourdon in his 1995 book, were "sumptuous" canvases with a "perverse resemblance" to Abstract Expressionism.

Bourdon hypothesized that Warhol was a latter-day alchemist, converting dross into gold (unlike his medieval counterparts, who cooked urine and discovered only potassium.) The gallery has paired the piss paintings with Warhol's homoerotic works -- drawings and paintings of salami-sized penises, men's asses, close-ups of anal sex. Warhol may be hot, but this kind of material appeals to a very narrow market segment. Drawings are $25,000, while a large mural-sized painting is $100,000. Note to those who saw the piss paintings at Gagosian in SoHo in 1986 -- they still smell.

Meanwhile, nearby at the Metropolitan Museum, it seems that Richard Avedon doesn't just take pictures of celebrities, he takes pictures of old celebrities. He makes everyone look like lizards -- Groucho Marx at 77, Dwight Eisenhower at 74, Robert Oppenheimer at 54, Truman Capote at 50 -- except for his own very aged father, who looks like a mummy.

They're desiccated, gimlet-eyed, porous and whiskery, all of them, and in all this Avedon, who is 80 himself, is saying something about age -- but it's not something that anyone wants to hear (age is like assholes, everybody has one). The sensibility, which shows in the series of photos of Western drifters, carneys and trailer trash as well, is not unlike that of both Diane Arbus and Billy Wilder in Sunset Boulevard. It's a dramatically pessimistic outlook, especially for someone who spent most of his life photographing pretty girls.

With all this, it must be said that "Richard Avedon: Portraits" looks great. Its assemblage of 180 photographs includes his iconic, wall-sized group portraits of the Chicago Seven, Andy Warhol's factory and Vietnam-era military chiefs, political markers of the 1960s, works that deserve their place on the sober, gray-painted walls of the museum's main galleries on the second floor. The show's catalogue, done accordion style, is a very nice collectible object. The photos all seem to be new exhibition prints, most property of the artist or part of his recent gift to the museum of works from 1975. That's 21st-century museum economics. Think the prints are for sale?

Down in Chelsea, two top women from the "Young British Artists" group, Sam Taylor-Wood and Tracey Emin, both have exhibitions in New York at the same time. From this vantage, relatively free of what in London must be a deafening din of hype, tabloid chatter and envy, the two come off as endearing. Both play up notions of artistic vulnerability in their works -- Taylor-Wood's photographs and films are allegories of her escape from cancer, while Emin's paintings and sculpture are like emotional wounds. Both are expressionists, though rather than the angry dementia of their male predecessors (Bacon, the Neue Wilde), there is weeping.

Especially good in Taylor-Wood's installation at Matthew Marks Gallery on West 24th Street, a dark room filled with short films and photos in light boxes, is Breach (2001), a 10-minute film of a young girl sitting on the floor in the corner of the room, crying. Though the installation is silent, you can almost hear the sobbing. Despite the pain of this and images like Self-portrait as Tree (2000) and Bound Ram (2001), Taylor-Wood nevertheless can still pose as a Pieta (2001), with the admittedly drug-addled celebrity Robert Downey Jr. standing in for her own self. Such admissions of weakness are unusual for contemporary artists, whose identity is founded on notions of a powerful individuality.

The show (which premiered in London) includes two new pieces from 2002 -- a long, horizontal photograph of an androgynous, red-headed man lying on a bed like a medieval corpse, called Sleep (2002), and a series of 25 small light-box transparencies of a couple coupling, called Passion Cycle I-XXV, that are based on Japanese erotic prints (but which are themselves neither explicit nor erotic). Taylor-Wood seems to go to art history not to compare herself with the greats, like Julian Schnabel might but to find some kind of meaning that, well, actually means something.

Taylor-Wood's collaborations with celebrities have resulted in a striking music video, in which Downey lip-syncs to Elton John's I Want Love. Copies of a limited edition DVD of this piece, in an edition of 200 signed and number by John and Taylor-Wood, can be had for $375, with the profits going to the Hetrick-Martin Institute.

Tracey Emin's show at Lehmann Maupin, in the gallery's new Rem Koolhaas-designed space on West 26th Street in Chelsea, may be the artist's last with her famously raw edge. (She has reportedly stopped drinking.) Emin is something of an avant-garde woman of letters -- her work springs from scrawled poems and bathroom graffiti, often reproduced on canvas with embroidery. The message here, sex as the center of the universe, is vulgar and profound.

The show includes neon signs in her own handwriting (one with the title of the show, "I think it's in my head"), large quilts with antiwar slogans (and one including several pages of her diary entries) and in the center of the gallery, a plushly upholstered four-poster bed. According to the British press, this last work has been purchased by Charles Saatchi as a pendant to the sickbed that Emin exhibited at the Tate in 1997, both to be included in the mega-patron's new London museum. Her prices are soaring -- several larger canvases, some sold at the opening, carry price tags of $104,000.

* * *

Speaking of Avedon's style of portraiture -- and he admits that Egon Schiele was first to pose penetrating images against a plain white backdrop -- hot photographer of the new season is Conrad Ventur, a 25-year-old whose portraits of electroclash musicians on view at Elizabeth Dee Gallery are the great-grandchildren of Avedon's subjects. His cool images of weirdly, barely dressed rock stars of the future have appeared in Fader and more mainstream mags.

Lindsey Brown opened her second season in the Chelsea Arts Building on West 26th Street with a group show of small works that were made from a group outing to Wave Hill, the 28-acre art center on the Hudson River. The works range from the luminous abstractions of Gwen Hardie to the comic poems of Hal Sirowitz (illustrated with photos). Mary Jones painted the dealer herself in Lindsay Draws a Leaf ($800) while the fashion designer Elizabeth Cannon's Sampler is a collage of buttons and such ($1,000). Cannon is designing the costumes for Trisha Brown's performance of Schubert's Winterreise.

MacArthur "genius" award-winner Pepon Osorio is a bleeding heart and proud of it. In his massive installation at Ronald Feldman Fine Arts, Osorio packs the large front gallery with the object-life of a Philadelphia welfare-family -- a huge chicken-wire-enclosed storage unit filled with tattered possessions, surrounded by bureaucratic work stations covered with tchotchkes and including a video diary of the family's life (this accumulation resulted from a stint as artist in residence at the Philadelphia Department of Human Services). The rear gallery is empty save for a single oversized papier-mâché heart, hanging like a piñata from the ceiling, with the taped sound of his own heartbeat playing from speakers set into the aorta. Could liberal sympathy have a more perfect contemporary expression? Face to Face (2002) is $150,000, while My Beating Heart (2002) is $45,000.

Pittsburgh-born, Yale MFA Brian Alfred paints everyday views in soft, lullaby colors -- scenes like an arabesque of highway overpasses, or a gas station sign seen through willows in the snow -- that look a little like Alex Katz with an architectural jones. Alfred's new paintings at Max Protetch are in demand; all seven in the exhibition were sold when it opened ($12,500 each), but there are more in the back. . . . Speaking of urban views, Margaret Thatcher Projects opened at its new quarters at 511 West 25th Street with a show of paintings William Steiger. His representations are so simple that they become almost abstract -- spindly Ferris wheels, railroad signals, houses in white landscapes. The works are priced between $1,500 and $9,000.

Last month, a visit to the Leo Castelli Gallery on the ground floor of an East 79th Street townhouse found the legendary dealer's wife (and widow), Barbara Bertozzi, graciously showing visitors around an installation of Postmodernist works done in conjunction with Brooke Alexander down in SoHo. On view at Castelli were a recent work by David Salle called Oranges and Artichokes (2001) -- "it feels like de Chirico and late de Kooning, combined," Bertozzi said -- and an installation by Rita McBride of some orange-painted ductwork that snakes from the front gallery to the rear office. The relatively small Salle (48 x 68 in.) is $60,000.

* * *

A visit to the SoHo gallery building at 560 Broadway pays off with two must-see of now-classic early stuff by senior artists. At Peter Freeman, Inc., the blue chip dealer who used to work privately in Brooklyn Heights but who now works out of A/D, which is owned by his wife, presents "Wall, Window, Area," a show of early paintings from 1964-65 by Robert Mangold. "I thought it would be interesting to do an exhibition of the first works in an artist's catalogue raisonné," he said. The assembled paintings and drawings, suggestive of winsome architectural fragments, have a palpable sense of searching for an abstract language.

In the same building, "Peter Saul: The Sixties" at Nolan/Eckman Gallery presents a group of the wildly imaginative, underground comix-style paintings by the unique San Francisco artist who now lives and works in New York state. Saul seemed to paint his muscular, raucous images with a nonchalant perfection. Phillip Guston saw his early shows, before he switched from lyrical second-generation abstract expressionism to his own brand of brutal figuration. The Saul paintings are priced at $50,000-$70,000.

* * *

You know the art season has started in earnest when you drop in on an exhibition that is closing . . . that day. So, if you haven't seen the survey of paintings by Leland Bell (1922-91) at Salander-O'Reilly on East 79th Street, it's too late. Bell's highly choreographed frieze-like works -- often featuring himself, his wife (the late painter Louisa Mathiasdottir) and his daughter (the painter Temma Bell, who has a show coming up next spring at Bowery Gallery) -- seem almost academic, so exquisite is his modernist use of color, line and form in a way that is both abstract and suggestively naturalistic.

His interest in perfectly articulated syncopation no doubt dovetailed with his love of jazz (an avid drummer, he kept a drum kit in the studio, which can be seen in the background of one of the still lifes). The show, which includes several self-portraits and portraits of his wife and daughter along with the allegorical compositions, was originally organized by the museum at Swarthmore and ended its tour here. Large paintings go for $120,000.


WALTER ROBINSON is editor of Artnet Magazine.