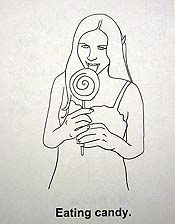 A page from Reverend Jen's coloring book,
at Printed Matter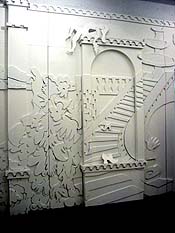 Rachel Feinstein
The Sorbet Room
2001
at Marianne Boesky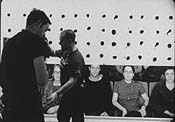 Robert Morris
Finch College Project
1969/2001
Anthony McCall
Line Describing a Cone
1973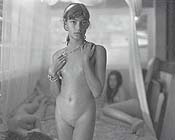 Jock Sturges
Fanny: Montalivet, France
1977
at Bernaducci-Meisel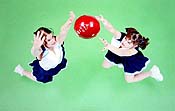 Luis Gispert
at Massimo Audiello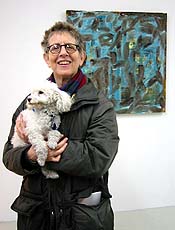 Louise Fishman
at Lindsay Brown, with Razzmatazz (2000) and Albita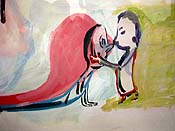 Amy Sillman
detail from "A Long Drawing" at Sikkema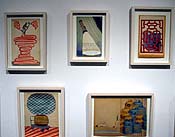 Tom Burckhardt
at Tibor de Nagy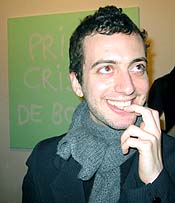 Eneas at
Gracie Mansion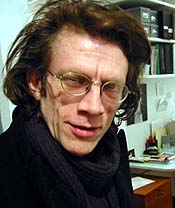 James Romberger
Adventures in Art
Georg Baselitz in his studio
photo Benjamin Katz
in Adventures in Art: 40 Years at Pace (Talk Miramax Books)
Weekend Update
by Walter Robinson
What better way to start off 2002 than by attending to just a few of the things left over from 2001? It's too late to urge readers to rush to Printed Matter in Chelsea and buy a Reverend Jen coloring book as a last-minute Christmas gift. It's too late to plug the Sarah Morris show at Friedrich Petzel, a very pretty installation of hard-edge Neo-Constructivist abstractions that go for around $35,000 each. And it's too late to praise the one good art idea of the fall, Rachel Feinstein's $30,000, all-white-enamel boiserie in the back room at Marianne Boesky. You know, this kind of complete room paneling is all the rage among the Park Avenue set; it's about time a contemporary artist started making some.

So it was with a certain resolve that I dropped in at the year's first "Fab Friday," the Whitney Museum's new Friday night social whirl, for which the doors stay open till 9 p.m. and entry is "pay what you wish." It was busy but not crowded, with a nice mix of squares coming to see the Jacob Lawrence show and bohemians going through the third floor maze of "Into the Light: The Projected Image in American Art, 1964-77."

"Into the Light" was by far the most interesting show of "new" art at any New York museum in recent memory -- which does you little good, since it closed on Jan. 6 (oops, I take that back, the show is extended to Jan. 27). Robert Morris' rotating projection of the artist gluing up mirror panels that reflect the 1970s audience does much to restore his dimming avant-garde luster, certainly more than the personality-less droopy pelt pieces that have been turning up recently at auction.

Also exceptionally good was Anthony McCall's Line Describing a Cone. Back at its debut some 30 years ago at the Clocktower in Lower Manhattan, I remember it as a fairly straightforward (and obvious) articulation of geometric form. Now, with the projector light slicing palpably through the smoke, the work has dramatic gothic edge that puts more recent digital hijinks to shame.

Another hangover from the 2001 season is Jock Sturges, whose shows of photographs opened at Louis Meisel in SoHo and Bernarducci-Meisel on 57th Street in December (these are both still on view). There's not much new about his photos. He takes pictures of nudists -- beautiful, mostly female nudists -- on the beach and posing in the studio. What's changed is the context. Sturges' young models are empowered by their naked sexuality, even more so than those who perform for Vanessa Beecroft. And in the wake of 9/11, such cosmopolitanism becomes more eagerly political.

On a more mundane plane, one thing you can say about the guy is that his erotica is way better than Hugh Hefner's. Sturges is younger (he was born in 1947) and he's more of a real artist. But more significantly, he's able to balance on a certain edge between outright girlie shots and the more restrained world of naturism and fine art photography. Thus, his privileged use of young models in his pictures, for whom prurience is banished by definition.

What else was of interest on the first weekend out in 2002 in New York galleries? Casual encounters rather than the art on the walls, I'm afraid. In the Chelsea Fine Arts Building on West 26th Street, the irrepressible dealer Massimo Audiello went into his flat file and pulled out contact prints of works by Cuban photographer Luis Gispert, who is included in the forthcoming Whitney Biennial. Gispert makes color pictures of uniformed girl athletes of various races caught mid-movement, leaping for balls, like angels and saints in colonial altarpieces.

Meanwhile, upstairs at Lindsay Brown's exhibition "Four Painters," Louise Fishman dropped in with Albita, a white poodle who impressed us all with her lively intelligence. Fishman's color painting, Razzamatazz (2000), is also very nice! Dogs inhabit the exhibition at Nicole Klagsbrun by Clara Williams, too, but they seem an inside joke, since the show is an installation of sculpture and paintings that turn the gallery into a kind of snow-covered, woodsy landscape that is home to deer, raccoons, squirrels and the like.

Everyone wanted to see Amy Sillman's exhibition of "A Long Drawing" at Brent Sikkema. It is long -- spread in segments across 15 framed sheets, each more than 40 inches wide and 15 inches tall. That's about 50 feet, if my math is correct. Sillman's approach to art-making is very James Thurberish -- modest, bemused, internal. The artist is a subject of her world, rather than the world being a subject of the artist, if that makes any sense. They're $3,200 each.

Lots of artists make art with a personal inventory of images, of course. The question is just what it all adds up to. Uptown, in the large gallery at Tibor de Nagy, is a suite of new paintings by Trevor Winkfield, who pictures hard-edged jumbles of things that to me always suggest a cross between Peter Max and Alice in Wonderland (though without the fabled world-view). "He uses lots of colors," said Geoff Young, quite rightfully. Young lives in Great Barrington, Mass., and earned my undying fanship when he wrote the poem, "I hear from my ex/on the back of my checks." Winkfield's paintings are priced between $1,500 and $15,000.

In the small gallery at Tibor's is a show of drawings by Tom Burckhardt, who usually exhibits his paintings at Caren Golden but will be showing drawings here. They look good, small, whimsical colored ink structures on pages that sometimes have an old-fashioned-looking image printed on them, like a gas can or flashlight. They're $900. Burckhardt's wife, the ceramist by Kathy Butterly, who has had seven sold-out shows at Franklin Parrasch gallery, searching for a change of context, will be showing at Tibor's as well.

At the opening was Irving Sandler, the celebrated art historian and critic who made his name with a book on Abstract Expressionism called The Triumph of American Painting. Irving said he had three new projects -- a memoir, a novel, and a new book on Abstract Expressionism that counters some of the more recent art historical arguments about the movement.

Also on view this month is a show of "portrait paintings" by Eneas at Gracie Mansion in Chelsea. New York art fans remember Eneas for opening a doppelganger gallery right next to Gavin Brown's Enterprise a few years ago, driving the charming Brit to distraction. Now, the diminutive provocateur has produced a dozen four-foot-square color canvases, each casually spray-painted with the names of some Eurotrash celebrity. They're very colorful, and $6,000 each. At the opening, the noise of the bartender's martini shaker sounded uncannily like a spray can being readied for work.

Next up at Gracie's is a show of new pastels by James Romberger, the incredibly deft veteran of the East Village art scene known for his political cartoon work. He once did a great drawing of a giant David Wojnarowicz smashing St. Pat's to illustrate David's Seven Miles a Second.

* * *

Crowds also flocked to Spencer Tunick's opening at I-20, though the photographer wasn't displaying his usual nudes, but rather a bunch of snapshots of ordinary people originally produced for keychain viewers. Among the throng was Christopher Trela, who besides doing legal work for the frequently arrested Tunick is also a publisher whose Trela Books is putting out a new tome on Andy Warhol's sex life. The book features photos by legendary '60s photog Harry Shunk, one of which reportedly shows the Pope of Pop wearing a dildo. But first, Trela has to finish his trip to Antarctica with Tunick, who hopes to convince some of the day trippers on the Antarctica ferry to pose for a shoot. The whole thing's being taped for an HBO documentary -- Tunick's second.

* * *

Film notes: For the dreadful Vanilla Sky, director Cameron Crowe's pre-Christmas Tom Cruise starrer, the production needed someone to play the powerful but passed-on patriarch of Cruise's character. Somehow they found some 60s-era film footage of... Robert Rauschenberg. The set is also dressed with a huge photo-realist portrait of a young Rauschenberg. Crowe's hero? A call to the artist's Florida studio produced little elucidation. "We signed a release, " said an assistant. "But no one's seen the film."

Similarly, in the Royal Tennenbaums, director Wes Anderson's follow-up to his cult-hit Rushmore, the townhouse-set of the drug-addled Owen Wilson character is dressed with a 1999 cycle of paintings of Neanderthal bikers by Mexico City artist Miguel Calderon as well as delicate black-and-white tracery paintings by Elliott Puckette and a drawing of underwear by her husband Hugo Guiness. The artists are friends of the director. "He's very meticulous about detail," said Puckette.

* * *

Book buzz: The hot new title from Talk Miramax Books is Adventures in Art: 40 Years at Pace, a 664-page, $120 tome that chronicles the history of superdealer Arne Glimcher's celebrated gallery. With 700 illustrations, a complete chronology of over 500 exhibitions (beginning in 1963, first in Boston), essays by Yves Alain Bois, Donald Kuspit, Nancy Princenthal and Robert Rosenblum, plus memoirs by Barbara Rose and Glimcher himself, this book is a fascinating document of the New York contemporary art world.


WALTER ROBINSON is editor of Artnet Magazine.