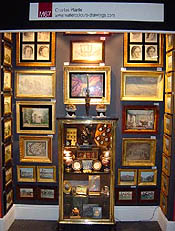 Charles Plantes stand at the Olympia Fine Art and Antiques Fair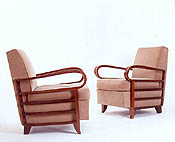 Palissandre upholstered armchairs
ca. 1935
Olympia Fine Art and Antiques Fair
Gordon Watson Gallery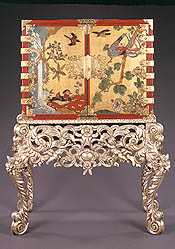 Japanese cabinet on a Charles II silvered stand
ca. 17th century
Malle Gallery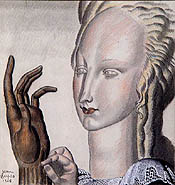 Jean Dupas
The New Glove
1928
Whitford Fine Art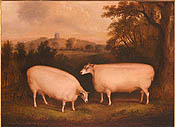 Thomas Weaver
Two Prize Rams in a Landscape
1825
Iona Antiques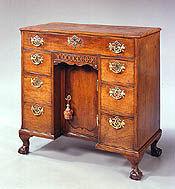 George II period kneehole desk made of solid kingwood
ca. 1735
Hallidays Fine Antiques Ltd.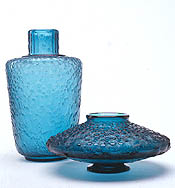 Daum Nancy
Two acid etched and polished blue glass vases
ca. 1930
Gordon Watson
Decorative Arts Diary
by Brook S. Mason
Founded in 1928, Olympia Fine Art and Antiques ranks as the worlds very first art and antiques fair. And talk about growth, a staggering 400 dealers and an expected 35,000 visitors flock to this summer event over the course of 11 days. Hands down, its the Super Bowl of antique shopping. Whats new? Well, only last month St. James Capital, an investment group specializing in leisure industry acquisitions, snapped up Olympia as its latest purchase for a hefty 245 million. The Japanese Nomura Asset Management Group provided financial backing demonstrating how lucrative such niche investments can appear. Now in new hands, the fair continues to sparklean endless treasure trove packed with virtually every specialty from English Windsor chairs, gleaming silver and every manner of ceramics and pictures, too. Even the quixotic -- everything from ostrich skeletons to early English rolling pins -- can be found here. But Olympia is hardly only for the preciously riche. Its for everyone, with items ranging from 19th-century English teacups at 17 each to pictures that sell for over 100,000. Dealers, some of whom exhibit in Maastrichts prestigious The European Fine Art Fair and even nearby Grosvenor House, pull out all stops for this fair. Quite literally some of the most stylish stands in the world can be seen at Olympia. A number of dealers erect houses--two story stands. One can trundle up to a second floor and bask in Anglo-colonial furniture like at the Netherlands Roell Fine Art & Antiques. Then Dutch dealer Venderven and Venderven Oriental Art ordered up a minimalist pagoda-like structure while the British Talisman Antiques commissioned an Arabian tent in splendid silk. With that kind of diversity, Olympia is the millenniums fancy dress ball of style. But even with such showstopping efforts, the antiques trade on this side of the pond has been buffeted by the downturn in tourism. Plus, Americans especially seem to be down in numbers what with the weak dollar pegged to $1.83 against the mighty pound. Even so, some are still out in full force shopping up a storm. Simply consider the receipt books of decorative picture dealer Charles Plante. By June 9, he had racked up more than 60 sales of diminutive portraits, landscapes, and seascapes as well as architectural and fashion designs ranging in price from 300 to 18,000. An impressive 60 percent of Plantes sales were to Americans. An American decorator zeroed in on 36 pictures alone for trimming up one clients three homes in Manhattan, Southampton and Aspen. And he wants more, says Plante. Americans were also zooming in on a longtime ceramics favorite: blue and white Staffordshire, long considered de rigeur for the authentic country house look. Buckinghamshire dealer Gillian Neale packed up more than 350 examples of prize Staffordshire with a dinner service for 12 selling for 10,000. Some dealers did speak of slow sales. Yet Brit dealer Lennox Cato, known for selling to television diva Oprah, reported that 80 percent of his sales were to East coast clients. Philadelphia miniatures dealer Elle Shushan wrote up close to 20 sales and for London ceramics dealer Aurea Carter, 18th and 19th century English porcelain was whizzing out of her stand. That flurry of buying proves that this fair still commands collectors attention. Another draw for collectos luckily enough to be in London this season is the 23rd International Ceramics Fair & Seminar. Long considered the crown jewel in Brian and Anna Haughtons show empire, the International Ceramics Fair & Seminar remains stellar in terms of rarities coupled with exceptional sales though the dealer roster is a tad smaller. This fair now held at the Commonwealth Centre continues to attract noted collectors. As usual, some collectors turned out at close to dawn and joined the celebrated Ceramics Fair queue. The reason for such allegiance is quite simply the astonishing range and quality of wares from choice Meissen and majolica to prize Bow and Chelsea. And the loan exhibition, selections from the Lady Ludlow collection, set the scene for outstanding ceramics. Even on the first day, impressive sales were achieved. At Mallett, John Smith who heads up their venerable glass department, rang up an 18th century glass goblet signed and dated by Jacob Sang, considered the most successful engraver in all of Holland. The covered goblet was also distinguished by its large size. Also red dotted were a 1780 Irish cut glass bowl and a Dutch 1650 engraved flute, among others. Such sales speak of the growing sophisticated of collectors in this niche area. Collectors flock to this fair for the wide array of offering with a number of specialties offered in depth. For example, London dealer Justin Raccanello has brought a veritable trove of majolica spanning the 15th to the 20th centuries. In the 1920s, collectors in the States like financier J. P. Morgan focused on majolica as a critical component in their artful holdings. As majolica moved off the popularity charts, fewer and fewer dealers offered the vibrantly colorful ceramics. Today, Raccanello is considered the premier dealer internationally. And talk about depth. London dealer, Jonathan Horne, who heads up the British Antiques Dealers Association, is featuring four entire cases of Staffordshire. Snatched off his stand opening day was an elaborate figure Politos Menagerie packed with musicians. It went to an American, says Horne. The price had to be a solid mid-five figure sum. Also whisked off his stand were creamware, English Delft and medieval wares. He reports witnessing far superior sales over last years version. All the serious collectors are here, says Horne, not the pram pushers. This dealer believes the lack of weak stands is what draws serious collectors here. Horne was hardly alone in that belief. Martin Bonham Carter also rang up a bevy of sales. He wrapped up rare examples of Bow, Worcester and Vauxhall. More dealers like Londons Adrian Sassoon, who is known for museum quality Sèvres porcelain, are touting contemporary examples by leading artisans. Also spotlighted on Sassoons stand is the stylish jewelry Wendy Ramshaw created in collaboration with Wedgwood. Even the V&A Museum holds close to a dozen pieces of her jewelry in their prestigious collections. Serious collectors were not the only ones zeroing in one this event. Sister Wendy, the celebrated television host, turned up. Im bowled over by the sculptural qualities of ceramics as well as their radiance of color, says Sister Wendy. Her command of ceramics alone is dazzling. Hands down, this fair demonstrates the power of finely tuned specialist shows over general events. So, the Haughtons have emphatically proved that quality over quantity is what attracts important collectors.


BROOK S. MASON writes on the fine and decorative arts.