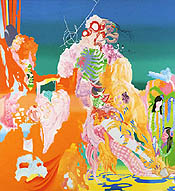 Alec Dartley
Fall
2004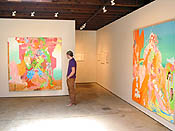 Installation view of Alec Dartley at Jessica Murray
Installation of "Rapt" by Laura Fayer at Realform Project Space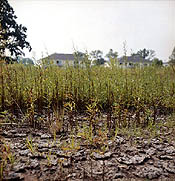 Victoria Rich
Read Avenue (weeds)
Star67 Gallery, Brooklyn, NY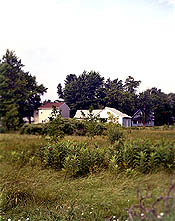 Victoria Rich
93rd Street, New Houses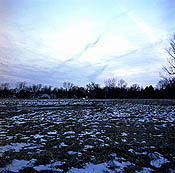 Victoria Rich
Headlights
New work by Charles Yuen at Metaphor Contemporary Art
Mark Schubert
Playmate
Southfirst
Dateline Brooklyn
by Stephen Maine
A trio of solo debuts brightens the current Williamsburg scene. At Jessica Murray Projects on North 6th Street, Gregory Amenoff meets Peter Saul in the paintings of Alec Dartley, a young Parsons-trained painter based in New Jersey whose show, "Pleasures of the Mass," is on view through June 13. Teeming hybrids of squirming, swarming landscape elements, puffy shapes connoting smoke or entrails, and what might be construction debris occupy vertiginously sweeping spaces and take on an anthropomorphic suggestion. Visual confusion is the order of the day; acid color, much of it local, further threatens pictorial coherence. Four of the five acrylic-on-canvas works in the show are nearly seven feet high, and all are so dense with detail that prolonged viewing is required to absorb the overload of data. Throughout the show, areas of flat, hot color act as foils for patched-together passages of comics-derived tumbling rocks, muscle tissue and goopy dripping sludge. Here and there is a highly rendered bit of description, an iconographic anchor in the maelstrom: particle mask, length of chain, turntable. The monstrous figure that is the ostensible subject of each painting nearly eludes notice. An extremely tidy Neo-Expressionist, Dartley leaves little to chance in these carefully frantic paintings. Prices are around $7500. (In the gallery's Drawing Room, visual and psychological ballast is provided by Vicki Sher, whose suite of six smallish drawings, "Vacation From Murder," darkly hints at the aftermath of mayhem.)

* * *

Independent curator David Gibson oversees what may be Brooklyn's most heavily-traveled, if smallest, exhibition venue: the display window in the vestibule of "the Mall" on Bedford Avenue. Called Realform Project Space (in acknowledgement of the building's original use as the Realform Girdle Factory) it plays host this month to the compact but intense and densely worked paintings of Laura Fayer, whose materially inventive and process-oriented work are in their own way no less meticulous than Dartley's, just a whole lot calmer. The show, called "Rapt," is on view through June 6. In response to compositional contingencies as they unfold in the making of each piece, the paintings are developed through an open-ended, intuitive process of stamping and stenciling in acrylic on rice paper, which is then adhered to canvas. Bands of roughly parallel lines like eccentric racetracks or wandering musical staffs curve and fold back upon themselves, creating a shallow space that is nevertheless grand in scale. Even the very smallest pieces, at 10 x 8 inches, convey a landscape-like expansiveness. The generally muted palette takes a back seat to the muscularity of the drawing component: Borrowed Luck (52 x 22 inches, 2003) suggests the forward-leaning space and elevated point of view of panoramic Japanese scroll painting, a characteristic that may be traced to the artist's childhood in Japan. Fayer is an MFA candidate at Hunter College, but her work's demure self-possession distinguishes her attitude from the meretricious self-importance of much student work. Prices are $600 to $1500.

* * *

Victoria Rich makes a splash with "Love Canal," on view at Star67 on Metropolitan Avenue through June 14. This Hunter-trained photographer sometimes works with a 4x5 view camera, and makes lovely, rather creepy pictures. To appreciate them, you don't really need to know about the nightmarish environmental disaster that turned Love Canal, a neighborhood in Niagara Falls, New York, into a symbol of industrial and governmental irresponsibility in the 1970s-but it helps. In Read Avenue (Weeds), the sharp-focus foreground of earth and weeds is shot from ground level, while anonymous tract houses blur into the background. It recalls David Lynch's suburban dystopias, and alludes to the toxic chemical dump the original development was built on. Headlights, in which a tiny pair of yellowish headlights glows dimly at the center of the picture from the far side of an inky blue field scattered with leftover snowdrifts, gets to the isolation of life in suburbia. Elsewhere, radically truncated depth of field is used to expressive (and scale-distorting) effect, as in Ground 3, in which an outcropping of moss appears massive, and 93rd Street, New Houses, which owes something to the view camera's capacity for multiple focal points for its resemblance to a scale model. Part of an extended series, the photos date from 2001 to 2003. Prices are $800 to $1200; prints are in editions of five.

* * *

Also happening: our friends at Metaphor Contemporary Art, formerly of Dumbo, have relocated to Atlantic Avenue and recently unveiled their sleek new gallery space with a group of sumptuously painted new works by Brooklynite Charles Yuen. Metaphor is just two doors down from the very young Bruno Marina Gallery, and observers can't help but wonder if the proximity of the two venues will provide the requisite center of gravity for a new gallery district. Don't snooze or you'll miss a three-venue exhibition of alumni of the New York Studio School, titled "Study," curated by James Hyde and presented at Roebling Hall, Pierogi, and Parker's Box, all in Williamsburg, June 24 through 28. Among the forty artists included in the show are Amy Chaiklin, Glenn Goldberg, David Reed, and Joe Tonetti. I'm telling you, interesting things happen when artists are consulted. Southfirst continues to impress with a lively group show called "Sadie Hawkins Dance," wherein fourteen invited artists each select another to show alongside, collaborate with or otherwise engage. Gallery regular Jose Lerma brings Mark Schubert aboard; Schubert's plaster-and-burlap Playmate (2004) is a memorable object--a mutating beverage cooler, a Thermos bitch proudly displaying her litter. Ah, summer.


STEPHEN MAINE is an artist and writer who lives in Brooklyn.