A view of the Brooklyn Museums new entryway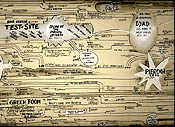 Ward Shelley
Brooklyn Timeline Drawing (detail)
2002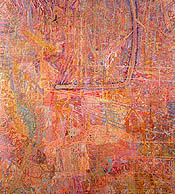 Steven Charles
noletosee
2003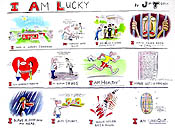 Jim Torok
I Am Lucky
2002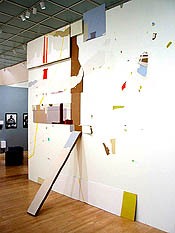 Lisa Sigal
On the Rooftop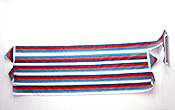 James Hyde
Return
2003
Leonardo Drew
Number 90
2004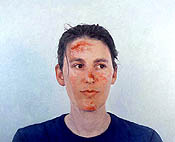 Jenny Dubnau
Woman with Scraped Face
2003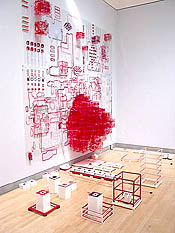 Diana Cooper
Hidden Tracks Sabotage the Random
2001-4
Amy Kao
Untitled
2002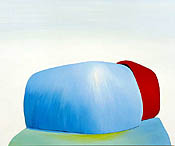 Louise Belcourt
Hedge Painting # 3
2003
E. V. Day
G-Force over Brooklyn
2004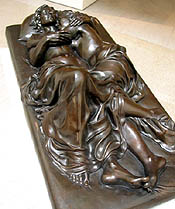 Patricia Cronin
Memorial to a Marriage
2004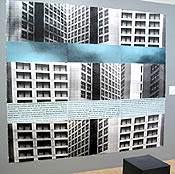 Marc Lepson
A Meditation on Claustrophobia, Confinement & Comfort
2002
Mark Dean Veca
Bang
2003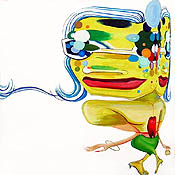 Angela Wyman
SDL: Glimpse
2002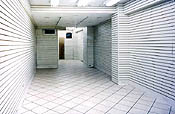 Daniel Mirer
Architecture Interior Space Series: Slot Wall, 57th and Madison, NYC
2002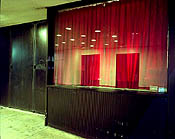 Lisa Kereszi
Ticket Window, Times Square
2002
Dateline Brooklyn
by Stephen Maine
"Open House: Working In Brooklyn," Apr. 17-Aug. 15, 2004, at the Brooklyn Museum, 200 Eastern Parkway, Brooklyn, N.Y. 11238-6052 A few works look especially good and some works look terrible in "Open House: Working in Brooklyn," now on view at the Brooklyn Museum. This is as true now, when the crowds of visitors have thinned a little, as it was in the first frantic, packed days of the show. In their effort to demonstrate the diversity, energy and sheer quantity of artistic practice in our borough, curators Charlotta Kotik and Tumelo Mosaka have erred on the side of inclusiveness, inviting 200 artists to participate, and this big-tent approach begins to resemble a circus. Everyone knows by now that Brooklyn is a hotbed of creativity, a gurgling fountainhead, a foaming Petrie dish -- enough already. A more succinct show could have more effectively made this point, and the museum wouldnt have seemed so baldly boosterish. Of course, the shows complexity and diversity does reflect the reality of the Brooklyn scene. But surely, the exhibitions first responsibility is to the artworks that it presents, and in that respect "Open House" is a disappointment. The show is wildly, almost comically, overhung. The curators have devoted a considerable amount of space to the exhibition -- two whole floors plus spaces elsewhere throughout the building -- and it has nearly twice as much work as it should. The nicely proportioned halls of the Schapiro Wing are split lengthwise not once but twice by temporary partitions, resulting in extremely tight and often uncomfortable viewing. The New York Armory Show, which is jammed into narrow piers over the Hudson River and is thus not exactly a model of thoughtful installation, had more elbow room. The busy installation is especially jarring after entering the building through its new entrance pavilion on Eastern Parkway, a curving, glass-and-steel portico (designed by the Manhattan-based Polshek Partnership Architects) of such capaciousness that seems clearly designed to accommodate crowds of arrivals and departures -- and so feels like a transit terminal. At least the entryway looks and works better on the inside than on the outside. The true introduction to the show comes by the elevators on the museums fifth floor -- Ward Shelley's Williamsburg Timeline Drawing (2002), a large lithograph and a classic bit of Brooklynology indicating, in cramped lettering and clever graphics, the flow of significant events of the last 20 or so years in what is now the city's most fecund art-producing neighborhood. As to bringing order to chaos, the show goes downhill from there.

* * *

Strong painters, like Amy Sillman, are made to look bland, trapped among nondescript neighbors. The crush of unkindred spirits squeezes the paintings of John Berens, whose glazy, moody landscapes have more to do with each other than with the work around them. The site-specific work of Elana Herzog, also, has looked much better elsewhere. Here, her Untitled No. 1, a dusty-rose-colored chenille bedspread affixed to the wall with innumerable staples and partially picked apart, can't establish the relationship to the architecture, so crucial to its impact, that was previously seen, for example, in "Custom Fit," a group show of site-specific works at Smack Mellon in Dumbo, a year ago. Sheer size prevents some works from being submerged in the ocean of visual stimulation. Among the artists who survive the cheek-by-jowl treatment is Steven Charles, whose hermetic, minutely detailed abstract paintings in enamel on canvas seem indifferent to their surroundings and would probably look fine just about anywhere, including a bus station. It also helps that his noletosee (2003) is seven feet high. Jim Torok's very funny examinations of his own place in the world, in ink, watercolor and acrylic on paper, owe much to the serial space of the comic strip, and the close focus required to (literally) read them effectively shuts out the surrounding cacophony. By contrast, the willfully inchoate swirl of sculptural and pictorial shards that constitutes Lisa Sigal's work of the last few years, typified by On the Rooftop, a site-specific mixed-media wall installation on view here, seems to replicate and embrace it. The visually aggressive also fares well in this situation. A key practitioner of what could be called Spatial Painting -- that is, work that explores pictorial issues through the use of sculptural materials and real space -- James Hyde refers to Post-Painterly Abstraction, the stripes of Daniel Buren and the Coney Island boardwalk in Return (2003), an enormous length of industrially-produced nylon beach chair webbing tacked to the wall in stacked loops. Hyde's deceptively simple gesture transforming a mundane material into a wall-filling visual statement is a relief from the overwrought sprightliness that sometimes threatens to overwhelm the exhibition, and the Brooklyn scene in general. In his recent work, Leonardo Drew fabricates 3D renditions in white paper of cast-off junk recovered from vacant lots. Encased within a pile-up of funky glass boxes, they look at first like bones, then like specimens in formaldehyde. At 12 x 20 ft., Number 90 (2004) nearly fills a small space between two museum galleries, a physical and visual barrier, a ghostly presence, a showstopper.

* * *

Some sections of Working in Brooklyn do cohere a little better, and the polyphony of voices begins to settle into something like a conversation. One section of the installation features several strong portraits that reinforce the effect of the whole. The slightly distracted-looking subject of Jenny Dubnau's photo-based oil Woman with Scraped Face (2003) resonates with the large color photos by Katy Grannan of young people rather awkwardly presenting themselves to the camera in natural surroundings, as in Angie and Betty, Shoeneck Creek, Nazareth, Pennsylvania (2003), where the sitter and her dog give a fresh twist to that favorite theme of the portraitist, strength versus vulnerability. Things get a little wilder in another gallery that is devoted to rococo contraptions, notably Hidden Tracks Sabotage the Random (2001-04), a mixed-media installation by Diana Cooper engaging a considerable expanse of wall and floor and based on a potent color scheme of red, white and clear. With its blocky cloud of acetate and eccentric, linear forms that march off the walls and into the gallery space, it is a typically deft balancing act of the diagrammatic and the sensual by this increasingly visible mid-career artist.

* * *

The curators tactic of larding the permanent collection galleries with works from "Open House" is a transparent attempt to provoke visitors into visiting all five floors of the museum -- a successful strategy, it happens, that provides some of the most interesting moments in the show. Cloud 9 (2001) by David Kramer, a donut-shaped settee surrounding an underlit pedestal surmounted by tiers of empty beer and liquor bottles, occupies a respectful but freighted distance from the museum's lighted displays of 17th- and 18th-century glassware and furniture. Among the ancient and exotic utilitarian objects in the Chinese gallery, a trio of contemporary works creates a gentle rift: Seoul native Il Lee contributes Untitled 1103 (2002) in acrylic and thousands of marks made with ballpoint pen on canvas, while a few feet away Taipei-born Amy Kao's similarly obsessive but dreamier untitled drawing from 2002, five feet square and blooming with tiny ripples or pox in carbon transfer, sets up its own kind of symbiosis with its surroundings. Both of these works suggest the leisurely yet focused concentration associated with the classical Chinese "scholar's studio" or painter-scholar tradition. Louise Belcourt paints loaf-shaped, highly chromatic masses apparently based on the landscape and flora of her native Canada. In Hedge Painting #3 (2003), acid blue, red and green forms echo the contours of the neighboring lacquered leather traveling case from the Yuan Dynasty. Women infiltrate the Cantor Gallery, which Auguste Rodin ordinarily has to himself. The valence of motion and stasis is economically explored by E. V. Day in G-Force Over Brooklyn (2004), in which a clutch of tiny fighter planes streaking overhead are frozen in place by the very cables that suggest their slipstream. Bombers in bondage? The issue of context is nothing new for Memorial to a Marriage (2002) by Patricia Cronin, the full-size marble version of which is situated among the mortuary sculptures of Woodlawn Cemetery in the Bronx. A smaller 2004 bronze cast looks great here among the Rodins, its depiction of two entwined female figures, all flowing hair, limbs and drapery in the style of Neo-Classical American statuary, sharing something of the visual language of the most fluid of Romantic sculptors, and holding its own. The death theme is gloomily rejuvenated in a coffin-sized, dumpster-shaped container fabricated of glass and steel and filled with ash and charred wood fragments by Rob Fischer in Untitled (Container of Ash) (2003), installed in a small room among Egyptian funerary artifacts. Except for the extremely young, 9/11 is inevitably evoked. It is unlikely that someone not equipped with the museum's handy map will come upon Suspect (2002-3), the chilling, barely perceptible installation in the furniture galleries by Peter Scott. The artist has drawn, in a staggered pattern, the likenesses of terror suspects, or anyway their caricatures, on the back of pale striped wallpaper, which has been installed among a tableaux of Gilded-Age American furniture. The falsities of domestic comfort, given the insidiousness of criminality, is a theme in much of Scott's work. Its articulation in this piece extends even to that very bourgeois pastime, museum-going.

* * *

Not just space but time, even a brief period of time, can provide a new context. Two weeks after "Open House" started its run, the revelations of abuse of Iraqi prisoners by occupying American forces has profoundly disturbed every thinking person with access to the news, and deepens the resonance of the work of several artists in the show who deal with issues of surveillance, militarization and political freedom. In Breathe: A Meditation on Claustrophobia, Confinement & Comfort (2002), an eight-by-ten-foot silkscreen that depicts the Metropolitan Detention Center (which is located right here in Brooklyn), Marc Lepson presents brief accounts of the plight of foreign nationals detained by the Immigration and Naturalization Service following the World Trade Center attack and held in solitary confinement without being charged with any crimes. Visually, the piece is standard-issue political art: photos and text. It engages the biggest issue of this moment, though.

* * *

Also elbowing their way into the attention of Open House visitors are the Southern Gothic paintings of Mark Dean Veca, whose wallpaper-like canvases recycle a multitude of motifs including but not limited to entrails, tattoos, dark shadows and sensationalistic pulp fiction illustration, in oozy acrylic colors; Angela Wyman's exceedingly strange gouache and acrylic paintings of women suffering severe anatomical distortions, as in a funhouse mirror; the banal yet eccentric architectural geometries of photographer Daniel Mirer (whose very strong solo show is currently on view at Priska Juschka Fine Art in Williamsburg); and the apotheosis of the artist/worker in an endless procession of paint pans in the sunset by Rick Briggs. A riveting three-screen video by Oliver Herring titled Basic (2000) calls into play body art, dance theater, reverse-motion spewing of liquids, and a rousing orchestral score, and looks like it was a lot of fun to make. And there are quieter surprises, like Lisa Kereszi's photo, Ticket Window, Times Square (2002), which, with its pitched planes and interpenetration of space and regardless of any greater context, is a haunting image, akin to the unpeopled sociological studies of William Eggleston.

* * *

"But there's also a lot of unclever and tedious work, and inevitably, some surprising omissions. Where is Bill Jensen? Chris Martin? Kim Jones, Richard Mock, Thomas Roma? The museum could better demonstrate an ongoing commitment to Brooklyn's artists by mounting exhibitions of new work on a regular basis, a sort of Brooklyn Biennial, or better yet, a Brooklyn Artists Annual. If the curators were willing to relinquish control, they might set up a program like "Ten Downtown," which ran for many years in various lower Manhattan venues. In such a curatorial roundtable, artists in one annual select the artists to be included the next time the show is mounted. Such a show could be presented, with museum sponsorship, in a different Brooklyn gallery each year. After a couple of decades, Ward Shelley could do the flow chart.


STEPHEN MAINE is an artist and writer who lives in Brooklyn.