Mark Koval's Eleven Books at Sideshow Gallery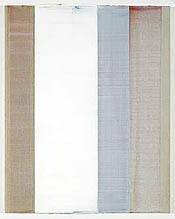 Sarah Sizer
Remind Me
2004
Sideshow Gallery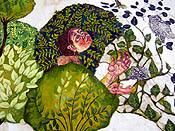 Jennifer Nuss
The Escape I (detail)
2004
Monya Rowe
Jennifer Nuss
The Eventual Rebirth of Goat Girl as Her Former Self
2004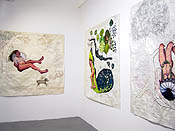 Jennifer Nuss at Monya Rowe, installation view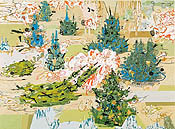 Jane Fine
Battlefield II
2003
Pierogi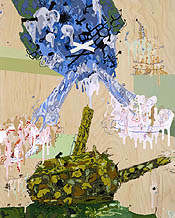 Jane Fine
Gasoline
2004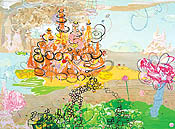 Jane Fine
Sugar Time
2003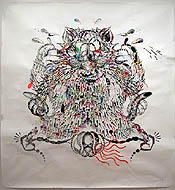 Reed Anderson
Spring Fit with Shoe Shine
2004
Pierogi
Leigh Tarentino
Anti-Oasis (Monolith)
2003
Black & White Gallery
Leigh Tarentino
Anti-Oasis (Motel)
2003
Black & White Gallery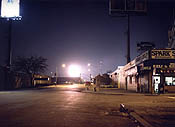 Sean Dack
Halfway between West Egg and New York
2003
Southfirst
Sean Dack
Halfway between West Egg and New York
2003
Mary Judge's installation at Kentler International Drawing Space (with Kentler intern Megan McGettrick)
Detail of a drawing by Mary Judge at Kentler
Dateline Brooklyn
by Stephen Maine
The modernist endeavor is not a style but an invention, like the sidewalk or the dance floor. Sideshow Gallery owner Rich Timperio characterizes the work in "Joy and Lunacy," the current exhibition at his space on Bedford Street in Williamsburg, as "straight ahead painting" -- in other words, no code, no mapping, no back story. The two artists in the show, Mark Koval and Sara Sizer, have both been working for years and are fluent in the language of materials-conscious abstraction. Koval often makes his paintings on found panels, notably pieces of particle board covered with black veneer, the type that is used for cheap office furniture. The smooth black ground makes his scrapes and splashes of saturated color really pop, and the broad gestures and packed compositions start to give the impression of enlarged details. Eleven Books, in which as many small panels hold the back wall of the gallery, is a casual mix of graphic and atmospheric space. The price range for these works is $550 to $1,500. The color of the paintings' ground is also paramount in Sizer's more demure works, which are about two feet high and done in acrylic on raw linen. Milky bands of pale, near-white paint, or paint thinned to a wash, play off the tone of the support. In Remind Me a stripe of transparent acrylic medium darkens the linen, sounding a sonorous note like a cello in a chamber group. Timperio's eye for pairing artists is always reliable. He plans to break through the gallery's back wall and double the size of the space so he can show a lot of really big paintings. Coming up in May at Sideshow is a huge group show -- collectors take notice -- with half the proceeds going to Share, a notprofit serving women with breast or ovarian cancer.

* * *

A young curator with a Chelsea pedigree and a show in 2003 at White Columns to her credits, Monya Rowe has been presenting the work of young artists in her diminutive space on South First Street since last September. Her focus is that currently hot commodity, works on paper. On view through May 2 is the very convincing solo debut of Manhattan-based Jennifer Nuss. A Yalie with a Guggenheim Fellowship under her belt, Nuss was included in "Hotel/Motel" at Triple Candie in Harlem a couple of years ago. Her interest in narrative is balanced by her concern with materials. The show consists of four large pieces in gouache on collaged Japanese paper, each roughly six feet square, and two smaller pieces featuring collaged etching. In each, the figure of a woman, rendered in classic egg-tempera style (that is, lots of tiny lines), is shown getting into or out of trouble in an expansive landscape space furnished with rocks and trees painted in a decorative yet muscular manner. Sometimes she is accompanied by. . . her alter-ego? Her former self? Her better half? Allegories of feminism are the specialty of Rowe's gallery, and certainly a work like Nuss' Disasters 1 (2003), in which our heroine is dismembered and skewered Goya-like on the branches of a scraggly tree, asks for a gender-based interpretation. But the visual pleasures of Nuss' work, and the tactility of its facture, are such that we don't feel we're missing out by failing to properly decipher her signs and symbols. Not just their size but the physicality of the artist's process gives them a commanding presence. Nuss makes nice, painterly use of the transluscence of the paper where she pastes it over sections of the picture to reduce their visual importance without completely obscuring them. Buckled and brawny, the character of the paper is left to express itself and -- closely hung, pinned unframed to the wall -- her works look great in the space. The bigger pieces are $4,000; the smaller ones are $1,500.

* * *

Pierogi is the home of what might be called the "Runaway Doodle School," and a pair of shows there, on view through April 19, are typically overloaded with visual incident. Brookynite Jane Fine, in "After Sugar Time," her fifth solo show in New York and her second at Pierogi, has departed from her past practice in ways that should feel radical, but don't. The stamp of her personality anchors her transition from abstraction to figuration, and from oil-based enamels to acrylics. Having decided that toxic materials are not for her, the artist developed a formulation of acrylic paint and mediums that match the viscosity and sheen of enamels. Fine's signature interwoven drips and dribbles of funny colors, her frantic whirl of runny marbleized paint and scribbled line is still present. But here, three close-valued variants of the same hue suggest the chromatic structure of camouflage, and the military motif is made explicit by little gun turrets and cannons added with black lightfast marker, and by warring tribes of local color (Warms vs. Cools?). And since she paints on wood veneer, the sandy colors of the birch ply connote the desert, where we fight wars lately. Sugar Time (2003, 42 x 53 in.), by contrast, uses the weirdly bending space and indeterminate scale of Chinese landscape painting. Fine's seven paintings on panel are in the $2,500-$6,000 price range, and two works on paper are around $2,000. The gallery has put together a nice catalogue of the show, and Fine's work will be seen in "Open House," the Brooklyn Museum's survey of current artistic activity in the borough, which opens to the public on Apr. 16. While these are transitional and not wholly successful paintings, it is nevertheless exciting to watch an accomplished artist move from the idiom for which she is known into uncharted territory. A comparison with the beloved Philip Guston is apt. In the gallery's back room are works on paper by Reed Anderson, whose work was seen recently at Clementine Gallery in Manhattan and at Mixture Contemporary in Houston. These pieces appear to have been developed through a process of folding and stenciling, with a little collage thrown in for added heft. Spring Fit with Shoe Shine, (2004, collage and acrylic on cut paper, 85 x 79 in., $6,500) depicts a different breed of cat, truckin' on crystal meth and just a little psychedelic, as precisely-cut patterns of circles and ovals and the dissolving images stenciled from them vie for visual dominance. Uptight and outta sight.

* * *

Around the corner at Black & White Gallery on Driggs Avenue, RISD-trained, Brooklyn-based Leigh Tarentino makes her solo debut with a show titled "Anti-Oasis," on view through Apr. 26. The leitmotif of her elegant and restrained ink wash drawings is the down-at-the-heels small-city commercial strip that's been leeched of its vitality by suburban mall culture, of which there is no shortage in Tarentino's native upstate New York. The artist's graphical idea is to flip the composition along the horizontal axis, so that the bottom half is the mirror image of the top. The tracery of telephone poles, electrical wires and dangling, space-marking stoplights thus becomes primary, and the rushing perspective and absence of the human form give these five rather large drawings (approaching five feet on a side) a monumental and bleakly hallucinatory quality, like a sodden mirage of rough economic prospects amid our supposed sunny affluence. Drawings are $2,500; a series of smaller color photographs, in which Tarentino works with commercial signage, are $1800 (in editions of four).

* * *

Always prepared, Maika Pollock of Southfirst informs us that "Dwell Time," the title of recent Columbia grad Sean Dack's second solo outing at the gallery, is the ad-business term for the length of time a viewer might be expected to look at a commercial graphic. Its understated application to the gallery business is inspired. The show's installation is spare, consisting of just one video projection and three not-large photographs. This befits the work, which is very much about mood. The five-minute-long Halfway Between West Egg and New York (2003, edition of three, $2,800), composed of jump-cuts between stationary camera angles, depicts life at night in an anonymous, desolate industrial zone (the title would put it somewhere in Queens) and features facades of warehouses and factories, barreling after-hours truck traffic, and an oddly flickering effect of light which is at least partly owing to the enormous video billboard that dominates the landscape. Though augmented by an electronica soundtrack, the piece would be mesmerizing without it. Even more compelling are the three untitled production stills (2004, editions of three, $1,300 and $1,600) that are as crisp and detailed as the video is grainy. The billboard is seen from afar, harsh and malignant, looming like an alien spacecraft. For these photographs, Dack left his shutter open for a long exposure, and the billboard's screen is washed out, a haze of white light that suggests white noise, propaganda. Unlike usual photographic practice, which freezes time and thus expands the significance of a single moment, Dack compresses an expanse of time into a single frame. Conceptually, the work recalls Hiroshi Sugimoto's mid-1970s photographs of empty movie palaces with glowing white screens, made by leaving the shutter open for the duration of the film. Dack's critique of the relentless commercial assault on our lives is no homage, though. The exhibition is up through Apr. 18.

* * *

Down in Red Hook, neighborhood fixture Kentler International Drawing Space has in recent months mounted several noteworthy shows expanding the definition of drawing, like the exhibition of Dragan Ilic's custom-made mark-making implements which themselves become sculpture [see "Weekend Update," Nov. 25, 2003]. Gallery director Florence Neal is keenly interested in the work of artists who explore the boundaries of drawing, the formal and technical gray areas where the medium borders on other disciplines. On view at Kentler through Apr. 24 is the "Spolvero Drawing Installation" by New Yorker Mary Judge whose work, much of it on paper, has been seen in the U.S. and Europe for some years now. In the compact but high-ceilinged space, she has executed three lovely wall drawings in her signature swirling, redoubling dotted line. Her procedure is essentially that of Renaissance fresco painters, who transferred drawings to the wall by means of perforated paper through which red powdered pigment was forced with a pounce. (Spolvero means "dust," and this transfer technique is also used in ceramics.) Judge gets credit for being alert to the inherent beauty of the vagaries of this method; the shifting densities of drifting pigment are allowed to remain and seem to dematerialize the walls. A number of the artist's works on paper are available in the gallery's impressive flat file.

* * *

Also: Channeling Monty Python, the small-scale, wall-mounted sculpture by recent SVA grad Craig Hein provides many little chuckles and one big hoot. "I have decided that the best way to present text is with a banner held by birds," reads the text of a banner held by birds in this smart, sweet show at starsixtyseven, up through Apr. 26. . . . A most excellent group show called "So Few the Opportunities, So Many the Mistakes" is at Champion Fine Art on North 7th through Apr. 18, curated by artist Josh Smith and featuring nasty smushy acrylic paintings by Wendy White in the colors of dirt and detergent labels, and a sprawling, strangely buoyant installation of detritus caked with salt, or something, by Aidas Bareikis.


STEPHEN MAINE is an artist and writer who lives in Brooklyn.