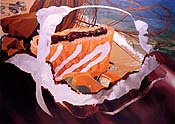 Jeff Koons
Mountains
2000
at Deutsche Guggenheim Berlin
Jeff Koons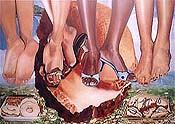 Jeff Koons
Niagara
2000
at Deutsche Guggenheim Berlin
Jeff Koons
Blue Poles
2000
at Deutsche Guggenheim Berlin
Lois Renner
Jesus Österreich
2000
at Kuckei + Kuckei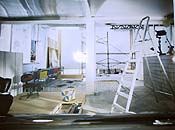 Lois Renner
Cool 1000
2000
Kuckei + Kuckei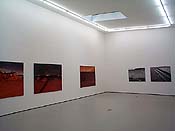 Paul Seawright
The Map
2000
at grieder-vonputtkamer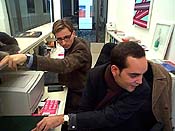 Damien Greider and Jesco von Puttkamer in their gallery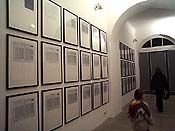 Hanne Darboven
at Klosterfelde
Berlin Art Diary
by April Elizabeth Lamm
Hungry. The hungry and thirsty masses came out for the Jeff Koons opening at the Deutsche Guggenheim Berlin back in October. I arrived un-Germanly late only to see Deutsche Bank spokesperson Rolf Ernst Breuer squeezing his way out the door with sweaty brow, muttering, "It's a madhouse in there!"

And a madhouse of fun the show proved to be. Pink balloons bubbled over the edges of the marble stairs heading upwards into the pink-lit courtyard of the bank-plus-museum. "Easyfun -- Ethereal," as Koons has dubbed it, features seven billboard-sized paintings that were commissioned last January. When Gugg curator Robert Rosenblum visited the artist's studio in June, he found the artist in a state of productive procrastination.

Koons and his mini-team of four assistants digitally scan images from department store catalogues, fashion magazines, cereal boxes and candy wrappers, and then manipulate them on a computer until a pleasing composition is found. "I always try to be honest in my work, to have a moral calm, a moral stability," Koons told the press in preparation for the opening. These big, sexy, porno-free paintings are lushly pop, very James Rosenquist-y. The show runs until Jan. 14, 2001.

At the opening, Koons was in his best crowd-pleasing mode, autographing everything purchasable from the museum gift shop -- the laughing and dancing potted plastic sunflowers as well as the inflatable red bears that seemed to be the favorites.

Earlier in the day, Koons had courteously given me a guided tour of the show. Looking at a large painting that collaged together Photo Realist images of a bird's eye view of a beach, a chunk of auburn hair blowing in the wind, a bitten-into ice cream eclair, an apple, and something weirdly abstract taking up the foreground, Koons told me, "Mountains is a painting about the history of sex... People respond to the mildest millimeter of flesh."

But the flesh was absent, cut-out of sight. The abstract thingy that had me baffled turned out to be the side view of bikini underwear (taken from a Greek fashion magazine) with the thigh cut out. Looking at what seemed to be the long locks of some sleek shampoo model, Koons remarked, "When you look at hair without a face it reminds me of pubic hair."

"Pubic hair?" I queried in disbelief. He then gave me a quick demonstration of exactly what he meant. "When one sees food and hair collaged together one thinks of pulling pubic hair out of the mouth... like this," he said, pantomiming the removal of a pube from his maw. Quite the convincing performance, I must say.

What was not so convincing was the attempt that morning made by co-curator Lisa Dennison to stress what a perfectionist painter Koons is, who was supposedly working on the paintings up until 6 a.m. that day. Maybe next time they'll have him arrive with a few careless splashes of paint on his Italian loafers? Why not just fess up and admit that your assistants do the work? It's been nearly a century since we've come to expect that the artist gets his fingers dirty with anything other than the "idea."

Lois Renner's mini-ateliers
Tucked-away in a courtyard (shared with the gallery Klosterfelde) is the space of brothers Kuckei + Kuckei (Ben and Hannes). Five large-format photographs filled the gallery with depictions of an artist's atelier -- oddly clean, cluttered only with scaffolding, ladders, chairs on wheels, unused plywood. A closer look revealed funny details that give away the trick the Viennese artist Lois Renner (b. 1961) plays on his viewers. For instance, an electric socket and plug are the same size as the adjacent office chair. Which is real and which is hand-made? In another work, the Rubens painting hanging on the wall is no Rubens, but a mock mini-Rubens. I mini-oohed when I witnessed them.

Like Velazquez in Las Meninas, Renner often inserts himself into the mock atelier as the artist at work -- i.e. a cut-out of a photograph of himself (in mini) holding a painter's pallet. In Jesus Österreich and Isabella (both 2000), a recumbent model lounges in a makeshift two-by-four loft bed, so that she features in the top half of the composition, looming largely but gracefully above the mini-atelier, reminding me of medieval paintings where the perspective is in proportion to nature only in the artist's expanding mind.

I think the idea of having such models loafing about in an atelier where not much is getting done is every lazy artist's dream. Much ado was made of Renner's most recent work, which was selling well, between DM 18,000 and 22,000 for an edition of one -- harking back to an idea of the photograph as unique a piece of art as an old-fashioned painting. An edition of 10 of some of Renner's smaller works were available for DM 1,200.

Katharina Wullf's rooms
Something coy and catlike pervades the paintings of young Berliner Katharina Wullf. Her latest series called "Wiedersehen ol ol" (See-again ol ol) is a continuation of her ongoing interest in playing with luxurious patterns in a very Matissean way. In the largish Interior mit Tigern, the brocade of the couch melts into the flourishes on the wall.

In Charly, an oriental pattern of birds and blooms exotic (positively Alice-and-Wonderlandish) flap gently in the wind before an open window. A woman whose clothing seems anachronistically modern in such a lush setting stands to the left of the window, with an expression on her face as absent and peaceful as that of an Egyptian goddess. She wears brown fingerless gloves and white rain drops (or are they tears?) drip in a chain running down her hip.

It would seem that these "wall-flower" maidens live out a wild existence if only in their choice of décor. A fairytale princess sits on her pale canopy bed in one, the silvery rotting walls behind her betray the loneliness and discontent her blank face does not. Tigers and the sultans of India make up the wallpaper of a study for Interior mit Tigern as if one could invite Lawrence of Arabia to break through the walls. In these Victorian England rooms the furniture remains the same; only the young women that frequent them change, perhaps evoking the subtle degrees to the sadness of having a "room of one's own" without the pleasure of having anyone over for tea.

One can see that the pattern-and-decoration painters of the 1970s influenced her work, but her style is refreshingly her own. Everything in the show sold out, from drawings for DM 4,000 to medium-sized oil-on-canvas paintings for DM 14,000. (21 October to 2 December).

Paul Seawright's map
Their fourth show since opening in May, the young gallerists of Grieder von Puttkamer -- Damian Grieder (formerly of Galerie Franck + Schulte) and Jesco von Puttkamer -- are thrilled to have Paul Seawright as part of their emerging program (which also includes "tape man" Nic Hess, bondage photographer Nobuyoshi Araki and abstract painter Albrecht Schnider).

Seawright (b. 1965) hails from Belfast and bases his work on that beknighted city. When speaking of Belfast in his series of photographs called "The Missing," Seawright poignantly remarked, "Many of the key debates and decisions that have been central in shaping the conflict in Northern Ireland have remained hidden; inside secretive organizations, behind the façade of state institutions, in conversations behind closed doors, and inside people's heads. I have always been fascinated by the invisible, the unseen, the subject that doesn't easily present itself to the camera."

His latest series, "The Map," records the "unseen" edges of a very Belfast-looking community on the sprawling outskirts of Dublin called "Tallaght" -- one of Europe's largest community housing projects. Last month, each of its 20,000 inhabitants received a catalogue documenting Seawright's haunted vision of their neighborhood, devoid of neighborliness and filled instead with things that keep us separate from one another: walls, fences, barbed wire.

Plinth shows a fragment of a run-down children's playground where only beer bottle tops and empty cigarette cartons -- the remnants of adolescent's "play"-- is to be seen. Houses, Night shows the rocky margins of this marginalized community, more Mars-like than anything one would consider to be literally on the edge of Arcadian farmland, with the orange street lamps of Dublin filling the city sky with an atmospheric infernal red. (Editions of 6, 100 by 125 cm for DM 8,500, and 144 by 183 cm for DM 13,500)

And...
Another "map" was to be seen, a stone's throw away in the Arndt & Partner gallery in the Hackesche Höfe, but this one was completely fantastical -- Michael Müller draws maps of non-existent cities, a twist in the tradition of painter-cartographers from Leonardo to Jasper Johns... British art was all over town, ho-hum, thanks to the support of the British Council, which gave each of the galleries some pocket money (about $500) for their trouble. A group show of painters at Diehl Vorderwuelbecke, photographs by Bridget Smith at Galerie Barbara Thumm, Keith Thompson's digital 3-D interpretation of dead murderers' heads at Breitengrasser room for contemporary sculpture, among others...

The year 1993 would appear to have been a full if dull one, if you judge from the u-looped scribble filling the day calendar of Hanne Darboven on view at Klosterfelde last month. Given the white winter grey sky over Berlin just before darkness hits at four, I understand at least the malaise that might have driven her to such a dull velocity, a need to fill our time with people, places, things to do and see...


APRIL ELIZABETH LAMM writes on art in Germany.