John Cage
New River Watercolor, Series IV, #4
1988
in "Wabi Sabi in the West"
at A.V.C. Contemporary Arts Gallery, New York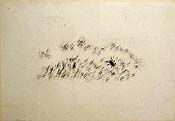 Morris Graves
Insect
1958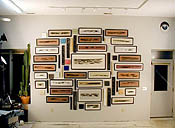 Ray Kass
Pacific Rim: Surflines and Seabones
installation view in the artist's studio
2000-2003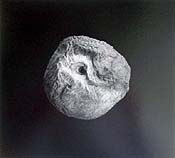 Paul Caponigro
Peach, Santa Fe, NM
1989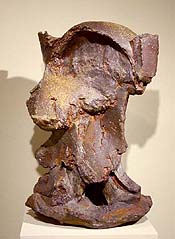 Peter Callas
Ubatuba
2001
Jeff Shapiro
Abstract Vessels
2003
Oriental Breeze
by N. F. Karlins
"Wabi Sabi in the West," on this summer at the A.V.C. Contemporary Arts Gallery in the Fuller Building on East 57th Street in Manhattan, is a cool and refreshing mix of drawings, prints, ceramics and photography by nine artists. It even includes a huge fabric kite, or at least a kite tail. Despite being made by western artists, the objects share a feeling of wabi-sabi, a concept underlying traditional Japanese esthetics and grounded in the veneration of nature.

"Wabi-sabi" (pronounced "wah-bee sah-bee") was formalized as the tea ceremony evolved and owes much to Zen Buddhism. Leonard Koren's description of the term is succinct:

Wabi-sabi is a beauty of things imperfect, impermanent and incomplete.
It is the beauty of things modest and humble.
It is the beauty of things unconventional.

Because the individual parts of nature (although not its underlying essence) are transitory, there is also a built-in sense of time passing and of yearning. There is sparseness, too, the better with which to locate the ineffable beneath the externals of a person, object, ceremony or place.

John Cage's series of "New River Watercolors" with their allusion to simple natural forms -- horizons, rocks, rivers -- and their fluid swipes of color certainly fit the bill. As does Lee Sauder's pyroprint, or seared paper. This sepia abstract was made literally with fire.

Jackie Matisse's Kite Tail for Wabi Sabi, created especially for this show, is an elongated fabric and silk paper extravaganza of colorful panels within a longer white expanse. Looped from the ceiling, it's a colorful celebration of the here-and-now that joyously evokes a summer's breeze.

The large (over 4 x 2 ft.) drawing by Morris Graves, Vessel Feeling the Grandeur of Space (1944), is made of watercolor on an Oriental textured paper. The pink of the vessel bleeds into the lavender vastness of the surrounding ground. It immediately brings to mind Wallace Stevens' poem, Anecdote of the Jar -- "I placed a jar in Tennessee/ And round it was, upon a hill. . ."

A second large drawing by Graves, Ice Age Rocks, is complemented by two smaller black ink drawings from the late 1950s, each with playful insects. One features six different very funny bugs, while the other, in sumi ink on Japanese paper, has a beetle skittering across grass. It's elegantly spare yet filled with life.

The evocative installation by Lee Kass, Pacific Rim: Surflines and Seabones, consists of small horizontal ink-transfer drawings on silk, with a few lines limning beach grass and shore, interspersed with vertical and square elements. These elements are made of watercolor on smoked paper under beeswax and have soft, rounded abstract patterns.

Among several striking black-and-white photographs by Paul Caponigro of natural forms and fruit, his Peach, Santa Fe, NM from 1989 stands out. This puckered fruit is simultaneously a wizened ur-face with a single diabolical eye.

All three potters represented here studied ceramics in Japan and produce anagama, or woodfired high-temperature ceramics. That said, each man has his own ideas. The thick slabbed clay twisted into upright forms or rolled out into thick glazed plates of Peter Callas, for example, immediately links him with his former collaborator Peter Voulkos. His Ubatuba looks like it might start walking towards you and that, if it did, you would definitely want to get out of the way. The title is actually the name of a Brazilian seaside town. Maybe those forceful curves of clay are really waves.

Randy Johnston creates ceramic vessels inspired by eastern and western functional forms, often glazed with an attractive red slip, like his Boat Form from this year.

Vessels that seem freshly exhumed from the ground or sea and encrusted with age are the more usual output of Jeff Shapiro, but he has also produced a stunning pair of Abstract Vessels with smooth sides dappled by splashes and streaks of glaze.

"Wabi Sabi in the West" proves that this is one Eastern concept that translates easily. The exhibition is on view at A. V. C. Contemporary Arts Gallery, 41 East 57th Street, through Aug. 15, 2003.


N. F. KARLINS is a New York art historian and critic.