José Clemente Orozco
Self-Portrait
1940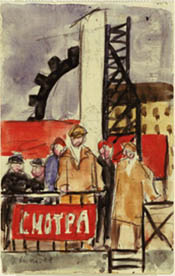 Diego Rivera
May Day, Moscow
1928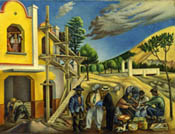 Antonio Ruiz
The New Rich
1941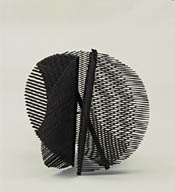 Gego
Sphere
1959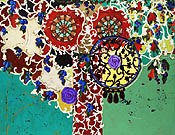 Beatriz Milhazes
Succulent Eggplants
1996
Andy Messerschmidt
Parapurakayapravesa
2003
Plane Space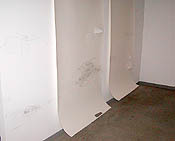 Kim Beck
Self Storage
2004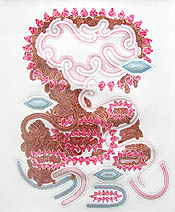 Cotter Luppi
Xylaconic Straal
2003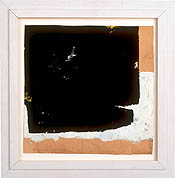 Robert Ryman
Untitled
1958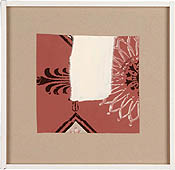 Robert Ryman
Untitled
1958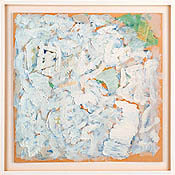 Robert Ryman
Wedding Picture August 19
1961
Drawing Notebook
by N. F. Karlins
Exhibitions are flourishing in this last gasp before August, when most dealers either shut down their galleries or leave them in the care of some sacrificial lamb unable to flee the city for a little R & R. Youll have to hurry to see MoMA at El Museo: Latin American and Caribbean Art from the Collection of the Museum of Modern Art, on view till Sunday, July 25, at El Museo del Barrio on upper Fifth Avenue. A team of five curators culled about 160 pieces from the more than 3,000 Latin American works in the Museum of Modern Art collection, carefully researching and conserving them as necessary. The five sections deal with collecting spurts at MOMA. This not a survey but a hop, skip and three jumps through Latin American art. Pieces range in date from the 1920s to the present, in a variety of media. Iconic works by the Mexican muralists Jos Clemente Orozco, David Alfaro Siqueiros and Diego Rivera start things off with a bang. Orozcos powerful Self-Portrait (1940) in tempera on cardboard is a key image in Latin American art. The artist is fierce, looks like a hawk, and stands defiantly against a backdrop the color of dried blood. Some of the political works by this trio (and others) espousing Communism can now be read as politically nave, no matter how heartfelt. A series of three watercolor-and-crayon works from Riveras May Day, Moscow sketchbook (1928) can be savored, however, for their evocation of time and place and their universal emotions. The works tell the story of a worker as he prepares his family to attend the celebrations. Frida Kahlo (Mexico), the Surrealists Wifredo Lam (Cuba) and Matta (Chile) are represented by important works from the 1940s. Lesser-known is Antonio Ruiz, whose oil The New Rich (1941) offers an insightful look at the changing class structure of Mexico. Sphere, a black painted welded brass and steel sculpture from 1959 is one of several engaging pieces by the Venezuelan artist known as Gego, who was born in Germany and originally named Gertrude Goldschmidt. Whether working in three or two dimensions, shes a find. The contemporary Brazilian artist Beatriz Milhazes titles her work Succulent Eggplants (1996), which is an apt description of her lush Pattern and Decoration painting, one of the most memorable of MoMAs recent acquisitions. In this exhibition it pays to follow your own eyes. About 75 percent of whats here has rarely or never been shown before. Some time-frames or countries have more depth to their selections than others, but theres plenty of new and old work to enjoy.

* * *

Plane Space, located at 102 Charles Street in Greenwich Village, has mounted Drawings, an engaging show of 12 emerging young artists. Andy Messerschmidts ink on paper extravaganza, Parapurakayaprauesa, consists of tiny abstract shapes -- phalluses, vulvas, hooks, snakes and crescents -- that interlock along a spine into a medallion mandala. A year-long effort, this drawing is the first work shown in New York by the artist, a 2002 U. of Minnesota grad. He is definitely someone to watch. As is Plane Spaces artist-in-residence, Kim Beck. Her Self-Storage is two long sheets of paper that unroll down a wall in parallel. Reiterated long, low storage building units expand and contract in graphite on the paper sheets and on the walls. Some are cut from the paper scrolls and seem to have escaped and begun reproducing on the gallery walls. Eerie. Buildings as bunnies. Expansion is also a component of Tara Donovans large (72 x 60 in,) ballpoint drawing. Endless spirals generate decorative chenille-like ridges. The ridges make up round floral clusters that push into the white space like a bacterial colony or pond scum. The push-pull of the works tidy formation yet organic sprawl keeps the eye entranced. The Italian-born and England-educated Davide Cantoni offers three small drawings with scenes that take some looking to make out in detail. These delicately wrought pieces are made by burning tiny bits of the paper, creating brown and ochre outlines that whisper unforgettably in their own distinctive hot breath, whether the topic is Motel Gang, Mine South Africa or Muslim Prayer. Another stand-out is Cotter Luppis colored pencil Xylaconic Straal, which wins a most-creative-title award after so many Untitled works this season. He combines Peter Max-ish rainbows of parallel colors with hard-edge geometries to impressive effect. The other works in Drawings range from imaginative to technically over-thought. Still, its a must-see for drawing fans.

* * *

Robert Ryman: Works on Paper 1957-1964, on view at Peter Blum gallery in SoHo through Sept. 25, showcases works made by the celebrated formalist painter when he was in his 20s and beginning to find his way into his own brand of abstraction. Coming to New York as a saxophonist from Tennessee, Ryman switched from music to art. He absorbed what the Abstract Expressionists had to offer about touch and then went his own way, confining himself to a square format and, eventually, to shades of white for all his works. Although labeled a Minimalist, Ryman is more a Spare-ist to my eyes. He never banished the artists hand, which is elegantly present in his works. Solid expanses of one kind or another, whether flat or vigorously brushed, are part of a carefully calibrated whole that carefully and sparingly employs color or tonal variation. These drawings precede Rymans use of white, but even when color appears here, you can tell its place has been considered long and hard, as in a piece thats mostly black, white and brown. Squint, and there are small delicate splashes of flesh and yellow. One of the most important elements in his work has always been his signature. Several pieces show him moving R Ryman around these small square grids, experimenting with a form that would play an integral part in his abstractions. Ryman delights, even at this early stage of his career, with the sensual feel of materials. And hes willing to use anything to get what he wants in a painting -- wallpaper, used front and back; a coffee filter; newsprint and mylar; and other cheap papers that allow paint to bleed its oil into the surface. One of the most flamboyant works, Wedding Picture 61, has yellow, green and blue with ochre beneath squiggles and crisscross slashes of white paint, and its signed in light flesh tones. Well, its mostly white, but theres nothing Minimal about its exuberance.


N. F. KARLINS is a New York art historian and critic.