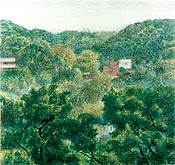 Jeng Jundian
Sao Mao Mountain
2003
Marlborough Chelsea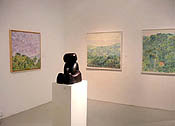 "Body and Nature" at Marlborough Chelsea, installation view, with paintings by Jeng Jundian and sculpture by Wang Keping
Detail of Jeng Judian's Sao Mao Mountain
Marlborough Chelsea on West 19th Street in Manhattan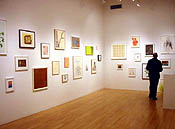 "Colored Pencil" at KS Art, installation view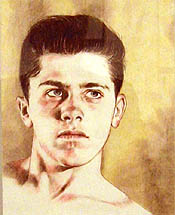 Paul P.
Untitled
2003
"Colored Pencil"
KS Art
Ben Degan
"Whose Trees?"
n.d.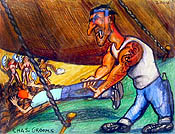 Red Grooms
Untitled
2004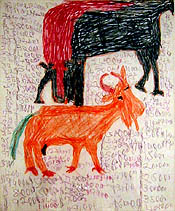 Ray Hamilton
Untitled
n.d.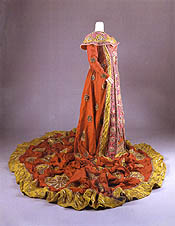 Cecil Beaton
costume for Turandot
(worn by Birgit Nilsson)
1960-61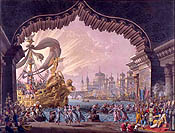 Alessandro Sanquirico
Scene from The Crusader in Egypt (The Port of Damietta)
1826
Edwin Long
Love's Labour Lost
1885
Drawing Notebook
by N. F. Karlins
Art made with colored pencils and crayons have been on my mind, ever since I saw "Body and Nature," an exhibition of works by two Chinese artists staged by Marlborough Chelsea as its participation in this year's Asia Week. The show presented landscapes in oil and crayon by Jeng Jundian along with the small in size yet massive in volume wood sculptures of Wang Keping. Jeng presents an essentially hybrid art, pairing the atmospheric mountainsides of Chinese art with the colors, the flattened space and an interest in technical innovations common to the Impressionists through the moderns. This is not surprising considering that Jeng has studied both in his native Taiwan and Paris. He has not exhibited here before, nor anywhere else for the last five years, which he spent in perfecting this new series of paintings and drawings. Whether using oil or crayon, Jeng's approach is similar. He builds up his landscapes from cross-hatching, varying the directions and density of the strokes and their blend of colors to shape his views of nature. The places he describes so beautifully are specified in the titles of his works, like Pin Gwang (2003) with it majestic mountains or Sao Mao Mountain (2003) with architecture perched within hills covered by trees. Both measure 41½ x 38½ inches, although other pieces range from 35 x 35 inches to around 59 x 59 inches. Jeng occasionally interrupts the crosshatching with white opaque clouds in a few of the oils. These evaporate into clich for me. More successful is Hsinstan Menhu 2, an oil-on-linen work with a limited pallet of colors but a plentiful set of subtle tonal gradations that flicker across its surface. His evocation of light makes every inch of the canvas quietly, yet restlessly alive. Jeng owes much to Cézanne, yet his sensitivity to tonal variation and his ability to create a mesh of grids to conjure up landscapes is all his own. It will be interesting to see what he does next. The exhibition was on view at Marlborough Chelsea, 211 West 19th Street, Mar. 18-Apr. 17, 2004.

* * *

Downtown, KS Art, having presented a wildly diverse show devoted to ballpoint pen drawings, is at it again, this time with "Colored Pencil." With 69 works, mostly small, this exhibition shows colored pencil work of all kinds and colored pencil in conjunction with practically every other medium. If cross-hatching appeals to you, for example, look no further than the shading in the portrait of a male hunk by Paul P. Ben Degen's Whose Trees? is another East-West hybrid, like Jeng Judian's landscapes. Degen's title alludes to a popular theme in Japanese screen painting from the Momoyama onward, Whose Sleeves?, in which colorful and expensive kimonos are languidly draped over wooden racks, suggesting the bodies of those who once were wearing them. In his punchy drawing in red, blue, and graphite, Degen updates the theme by showing men's ties draped over wooden supports. I did a double-take on seeing the name on an exuberant drawing of a red-headed kid being yanked by a guard from under circus or carnival tent. It was signed Chas. Grooms, but was made for the show by Red Grooms, who was recording an incident from his own early life. Well-known draughtsmen like Steve di Benedetto, showing one of his famously alluring octopuses, and Alexander Ross with a lush organic abstraction, and Polly Apfelbaum, offering Studies for one of her kaleidoscopic works, are mixed with newer artists. Jackie Saccoccio's Plenum is a powerful, de Kooningesque abstract, while Ruth Waldman's Rococo extravaganza is filled with tiny, tantalizing body parts, hooks, and barbs! There's a nice geographic range to the artists, too. It's great to see Chicagoan David Sharpe's nude figure in an interior and San Franciscan Sid Garrison's untitled abstract, composed of force fields of black and orange colored pencil that have been rubbed to a nice sheen. The late self-taught artists, landscapist Joseph Yoakum and genre artist Pearl Blauvelt, look great. So does Ray Hamilton, a greatly underappreciated draughtsman. He combines graphite and colored pencil in an energetic drawing featuring vivid quadrupeds and strings of numbers. Just when I thought nothing could equal Hamilton's animals, I turned around and saw the funny bunny in a shirt and tie in contemporary Carolyn Oberst's Golden Dreams. The show is sharp, often witty, and covers a lot of territory. Prices range from a few hundred to a few thousand dollars. The exhibition remains on view through May 8 at KS Art, 73 Leonard Street in Tribeca.

* * *

The lure of the Orient, especially the mythic Orient, became one the major themes of 19th and early 20th century opera. With watercolor and print set designs, sketches for costumes, and an extravagant display of the lavish costumes themselves, the Dahesh Museum of Art is presenting "Staging the Orient: Visions of the East at La Scala and the Metropolitan Opera." The Orient is interpreted broadly, so operas dealing with Russia, Egypt, the Near East, India and the Far East are all given their due. Special attention is given to that genius of La Scala, Alassandro Sanquirico, who was the principal stage designer at the Milan opera house from 1817-1832. It was a time when opera-goers expected numerous set changes with exotic trap gs and eye-popping mechanical effects in addition to the more human ones provided by at least one or two ballets executed by a large corps. By the look of the designs here, Sanquirico's dramatic sets provided the background for plenty of action, as in his "The Port of Damietta" for Il Crociato in Egitto by Giacomo Meyerbeer. The majority of the costumes from La Scala and the Met are devoted to Turandot, the last of the great Italian operas to enter the current repertory. Premiered at Milan's La Scala in 1926 and at the Met shortly thereafter, Verdi's tale of a cruel Chinese princess whose heart is thawed by love is still a crowd-pleaser. Ten costumes from the original La Scala production and several from 20th century Met productions are must-sees for any opera fan or theater-lover. While the bejeweled robes and headdresses are the most impressive parts of the show, nearly as intriguing is the number of set and costume designs devoted to operas no longer produced. Of the 42 operas mentioned, most were new to me, and I'm an opera fan. The handsome new shop is selling kimonos, opera guides, teas and a few CDs of operatic snippets, none out of the ordinary. If you see the show and crave hearing some of these infrequently performed pieces, you might try the net for recordings. The admirable London-based non-profit Opera Rara (www.opera-rara.com) is where I turned up Meyerbeer's Il Crociato, Mascagni's Iris, and a host of other things that I hadn't heard before. The Dahesh has organized a show of Orientalist art from its permanent collection to complement "Staging the Orient." Both are up through May 30.


N. F. KARLINS is a New York art historian and critic.