Visitors at the new quarters of Tomio Koyama Gallery, with Takashi Murakami's Time Bokan -- Sexual Violet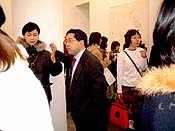 Dealer Tomio Koyama (center)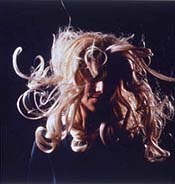 Vibeke Tandberg
Beautiful #51
1999
at Koyama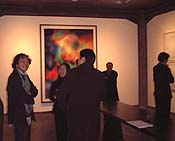 The new Atsuko Koyanagi gallery in Shinkawa, with a photograph by Thomas Ruff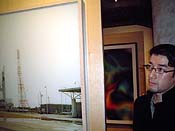 Sliding racks in Koyanagi's viewing room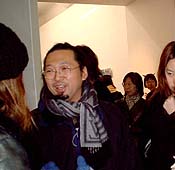 Takashi Murakami gets mobbed at the opening of the new Shinkawa gallery building
Shugo Satani's Shugoarts gallery, with Yasumasa Morimura's Picasso-based self-portrait and a wall sculpture by Shigeo Toya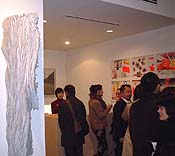 Dealer Shugo Satani (at center right, with goatee)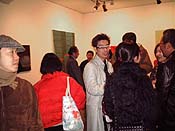 Osaka-based comedian and art collector, Kenta Oka (center, in white coat) at Shugoarts
Dealer Taka Ishii (center, with back to camera) in his gallery
At Taka Ishii Gallery, curator Pier Luigi Tazzi (organizer of the inaugural show at the Mori Art Museum in October 2003) and Douglas Aitken's Rising Sun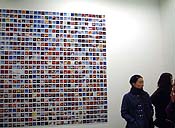 Nobuyoshi Araki's Sky, Flower, at Taka Ishii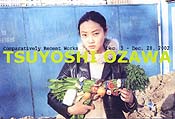 The invitation for a recent show at Ota Fine Arts
Report from Tokyo
by Kay Itoi
Almost two years ago, Artnet Magazine reported that Ginza, Tokyo's top shopping and art district, was no longer the place for art lovers to be. Outside of Ginza, the city's leading contemporary art galleries were creating "mini art centers" where rent is lower and the crowds are younger and hipper.

Now, in a time of redevelopment that promotes constant scrapping and rebuilding, Japanese have become considerably more mobile than they ever were, and so have the art galleries. The last few months have seen major players in the market pack up their art and depart their homes of many years. A climax of a sort came in late January, when four major dealers settled in a building in Tokyo's newly fashionable Shinkawa area and threw a joint opening party.

The new Shinkawa art neighborhood
Having been the center of the Japanese shipping business since the Edo period in the 17th through 19th centuries, the Shinkawa area, on the River Sumida, is filled with storehouses and wholesale offices. Due to recent efforts to redevelop the area into a cool "Tokyo Waterfront" district, however, the dingy old warehouses have been replaced by big corporate headquarters, tony apartment complex, cafes and restaurants. What was a nearly 50-year-old former warehouse is now the new home of Tomio Koyama Gallery, Shugoarts, and Taka Ishii Gallery. Gallery Koyanagi, while maintaining its posh space in Ginza, opened a new viewing room in the building, too.

The art-star-studded opening on the evening of Jan. 31 was the most jammed, lively and uplifting event in Tokyo's art scene in years. Artists like Takashi Murakami, Tatsuo Miyajima, Yoshihiro Suda, Chiezo Taro and sculptor Katsura Funakoshi rubbed shoulders with dealers, curators, museum directors, journalists, collectors, art students and fans in newly painted, high-ceilinged galleries.

Tomio Koyama, a dealer who has become known for aggressive overseas marketing of Japanese pop artists including Murakami, Chiezo Taro and Yoshitomo Nara and for showing in Japan such Western artists as Dennis Hollingsworth and Tom Friedman, occupies the first floor nearest to the entrance to the building. Koyama's inaugural show (through Feb. 22, 2003) features Murakami's new acrylic painting, Time Bokan -- Sexual Violet (2002), Vibeke Tanberg's color photos, Jumping Dad #2 (2000) and Jumping Dad #6 (2000) and Hollingsworth's oil Navigator (Wet on Wet #47) (1997), among others.

Koyama used to be in the Sagacho Food Building, a 1920s European courtyard-style structure that was called Tokyo's most beloved art gallery center. It housed the Sagacho Exhibit Space, the city's first alternative art gallery, for 17 years until it closed its doors when fundraising became too much of a burden in 2000. Koyama and a colleague, the young dealer Taro Nasu, managed their galleries there since 1996 and 1998, respectively. On the Sagacho Food's top floor was Rice Gallery, a space that was opened jointly by Gallery Koyanagi and the SHUGOARTS gallery in January 2001 in place of the Exhibit Space. All of these gallery spaces came to an end last November, as a Tokyo land developer had bought the piece of land on which the Sagacho Food stood with a plan to demolish the building and construct an apartment complex there. The end of the Sagacho Food Building, obviously, was one of the forces behind the current mass movement of Tokyo art dealers.

Next to Koyama on the first floor in the Shinkawa building is Taka Ishii Gallery, which specializes in photography and used to be based in the northern Tokyo residential neighborhood of Otsuka. On one of the walls in his stylish space for this opening (through Mar. 1, 2003) is a Nobuyoshi Araki's Sky, Flower, (2002-03), a set of 1,000 color Polaroids of colorful flowers. The show also features Doug Aitken's Rising Sun (2002) and Thomas Demand's Ghost (2003).

The second story, above Ishii's gallery, is occupied by Shugoarts, run by Shugo Satani. The son of Kazuhiko Satani, who owned the legendary Satani Gallery in Ginza until it closed in 2000, Shugo has worked for his father's gallery and also on his own. He shows both Japanese and International artists, including Yasumasa Morimura, Shigeo Toya, Ilya Kabakov, Navin Rawanchaikul and Jan Fabre. The opening exhibition (through Mar. 1, 2003) features Morimura's self-portrait based on a Picasso painting and Toya's sculptures, among others.

Gallery Koyanagi's viewing room for VIPs is located next to Shugoarts on the second floor. Unlike the other three galleries, whose walls were painted white, Koyanagi, which is run by Atsuko Koyanagi, left the walls concrete gray, as if to match one of the artworks on them: a big black-and-white photo of Hiroshi Sugimoto, one of the artists Koyanagi represents. Sliding frames that reveal paintings, photos or prints are built into one of the walls -- a rarity in a Tokyo gallery.

The Kayabacho financial district
Also new in the neighborhood is Masataka Hayakawa Gallery, which relocated from its former home in Ebisu to the Number Two Inoue Building in Kayabacho, a financial district (where lots of security firms and banks do business) right next to Shinkawa. Hayakwa specializes in cutting-edge art, representing such artists as Maria Eichhorn, Olafur Eliasson, Marie-Ange Guilleminot and Teresita Fernandez. It's a small, simple white-walled space and is open on Thursday through Saturday (and by appointment only on Tuesday and Wednesday).

In the same building in Kayabacho is Taguchi Fine Art, operated by Tatsuya Taguchi. The artists he represents include Yoshinobu Nakagawa, Wakiro Sumi, Ingrid Weber and Simon Morley. Currently on view (through Mar. 8, 2003) is a show of paintings by the young, Dusseldorf-based Chinese artist Chen Ruo Bing).

Mizuma in Nakameguro
Ahead of the recent mass movement, in March 2002, the Mizuma Art Gallery (mizuma-art.co.jp), run by Sueo Mitsuma, also moved from the fashion district of Aoyama to another trendy address, Nakameguro. Mizuma shows such funky young Japanese artists as Makoto Aida, Izuru Kasahara and Yayoi Deki as well as international artists who include Nguyen Quang Huy, Nguen Van Cuong, Jeanne Susplugas, Jun Nguyen-Hatsushiba and David Tremlett. Mizuma is currently showing works by Shinsuke Tsutsui (through Feb. 15, 2003).

To be continued...
Tokyo galleries' mass relocation continues. Ota Fine Arts, run by Hidenori Ota, plans to move out of Ebisu to Roppongi, another hip district, this spring. Ota will be joined by Taro Nasu Gallery, which had been in the Sagacho Food Building, the edgy Roentgen Kunstraum gallery, which used to be based in Aoyama, and a few other dealers in the same building. Owned by Mori Building Corporation, it is near the 54-story Roppongi Mori Tower, where Mori Art Museum will open in October 2003. The excitement of their joint opening, scheduled for Apr. 4, 2003, will rival that witnessed in Shinkawa last month. Stay tuned.


KAY ITOI is a critic and reporter based in Japan.