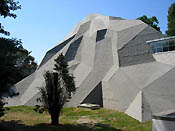 Hans Schabus' The Last Land (2005) at the Austrian pavilion
ITALY ARCHIVES

TOP TEN REASONS TO LOVE THE VENICE BIENNALE
by Walter Robinson 6/20/05
Highpoints from the art world's most important festival.

VENICE IN PICTURES, PART II
6/15/05
More scenes from the 51st Venice Biennale.

VENICE IN PICTURES, PART I
6/14/05
Scenes from the 51st Venice Biennale.

FESTIVE VENICE
by Walter Robinson 6/10/05
The 51st Venice Biennale gets off to a flashy start.

TRANSLATING MUNTADAS
by Michèle C. Cone 6/9/05
The artist behind Spain's 2005 pavilion at the Venice Biennale.

MILAN SPRING
by Alice Savorelli 6/8/05
Contemporary art galleries and the Salone del Mobile.

MILAN ART CENTRAL
by Joe La Placa 5/27/05
A report on the Milan art fair.

ORIGINARY FORMS
by Alice Savorelli 1/25/05
A new look at nature in works by four contemporary artists.

DAMIEN AGONISTES
by Joe La Placa 12/22/04
A triumphant Damien Hirst retrospective in Naples.

FRESH WIDOW
by Alice Savorelli 11/19/04
Vedovamazzei, a pair of Italian artists, at Turin's Galleria d'Arte Moderna.

STARTING AT ZERO
by Michèle C. Cone 8/6/04
The political context of European Minimalism, 1958-68.

VENETIAN HERITAGE 2003
8/5/03
At the Venice Biennale, in support of historic architecture.

VINDICATED AT VENICE
by Michael Rush 7/9/03
Michal Rovner's "Against Order? Against Disorder?" in the Israeli Pavilion.

VENICE IN PICTURES
6/16/03
Out at the 50th Venice Biennale, June 12, 2003.

SHAPELY VENICE
by Walter Robinson 6/13/03
The biennial gets buxom for its 50th birthday.

DECORATIVE ARTS DIARY
by Brook S. Mason 10/30/02
The new Biennale of Ceramics in Contemporary Art in Savona, Italy.

MIRABILANDIA
by Walter Robinson 6/8/01
Out at the 49th Venice Biennale, June 6-8, 2001.

VENICE DIVERTIMONDO
by Walter Robinson 6/7/01
A first look at the 49th Biennale di Venezia.

REPORT FROM ITALY
by Massimiliano Gioni and Gianni Romano 7/5/00
Mike Bidlo, Jonathan Meese, Wim Delvoye, Maurizio Cattelan, Candice Breitz, Tam Ochiai, Chinese artists, more.

ITALIAN HOLIDAY
by Gianni Romano 12/15/99
"Guarene Arte 99" brings young artists to Piedmont.

HI MOM, I'M IN VENICE
by Walter Robinson 6/10/99
It's open all over at the 48th Venice Biennale.

LETTER FROM MILAN
by Gianni Romano 5/28/99
Kiefer at Lia Rumma, memorial shows for Boetti and Shifano, "Sweetie" in Rome, more.

LETTER FROM ITALY
by Gianni Romano 1/11/99
Recent shows by Sam Taylor-Wood, Grazia Toderi and Luca Pancrazzi.