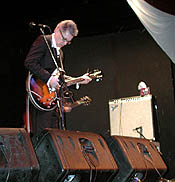 Rodney Graham on stage at the Contemporary Art Gallery, Vancouver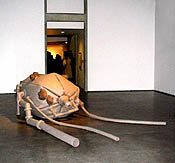 Luanne Martineau
Lubber
2003
Contemporary Art Gallery, Vancouver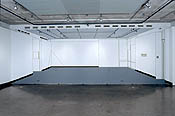 Nestor Krüger
Untitled (Room)
2004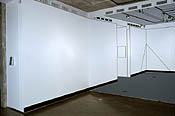 Nestor Krüger
Untitled (Room)
2004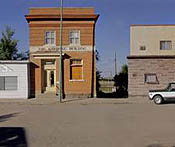 Danny Singer
Kerrobert (detail)
2002
State Gallery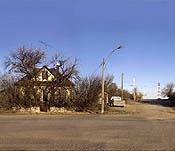 Danny Singer
Bladworth (detail)
2003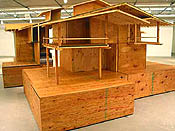 Brian Jungen at Capp Street Project, San Francisco, 2004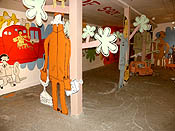 Keith Jones
"Nobodyland," installation view
2004
Anti-Social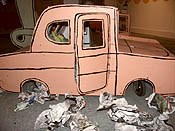 Keith Jones
"Nobodyland," installation view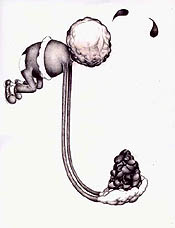 Jeff Ladouceur
Untitled
2003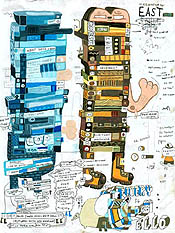 Marc Bell
Cleening Up the East Side
2003
Adam Baumbgold Gallery, New York
Jason McLean
Night Divides the Day
2003
Mina Totino
Book Painting (Heart of the Matter?)
2003
Tracey Lawrence Gallery
Letter from Vancouver
by Lee Henderson
A while ago the Contemporary Art Gallery in Vancouver hosted a late-winter fundraiser and launched the newest issue of the Canadian art journal Public. This particular issue was guest-edited by CAG curator Reid Shier and art critic William Wood, and devoted to the redaction of an exhibition at the CAG back in 2002 called "Satan Oscillate My Metallic Sonatas" (a palindrome first used as a record title by the Seattle grunge band Soundgarden). The CAG event was one big party. Held at the old W.I.S.E. Hall in East Vancouver, it boasted a lineup that included novelist Michael Turner, who read a transcript of everything said at the 1969 Altamont rock festival riot; artist Kevin Schmidt on guitar with his fuzzy, friendly rock band; the amazing psych-rock act Orphan, which blew ear-drums; and finally the Rodney Graham Band, featuring a lineup of Vancouver's best professional musicians along with the Rodney formerly known as an artist. Graham is a conceptual artist of the first rank, of course, celebrated for his striking photographs of upside-down trees as well as for thoughtful and funny video narratives. But his band was truly, painfully awful -- so much so that many people loved it. This isn't a real band, it's an accidental art piece. In any case, everyone likes the CAG, and we were all ready to overlook Graham's vanity. Meanwhile, the CAG opened the New Year with a tight two-person show. Artist Luanne Martineau, who hails from Saskatoon, Saskatchewan, installed her drawings of messy, improvised rural life in avant-garde salon-style on one wall like a dust-bowl cloud. This extrapolation, from the scratchy, cut-and-paste assemblage that makes up each of her semi-figurative pen and pencil works to the installation itself, was challenging and worthwhile. In the darkened room behind the drawings, Martineau had a vaguely anatomical and very large felt-wool sculpture of a mutant car muffler, quite detailed with several attached pipes and a nozzle. Or maybe it was a grotesquely rotting and tumor-riddled section of bowel, or a coughed-up hairball, or something. Anyway, it was big and grey and really interesting. The CAG's other gallery had a work by Toronto's Nestor Kruger that was far more antiseptic than Martineau's dirt and lump. Along one wall, Kruger did mural-sized wall drawing that is a trompe l'oeil reflection of the actual gallery space, which was otherwise empty aside from a wedge of glass balanced against a corner of the gallery's opposite wall. The piece is graphic and simple and effective, though I don't know if all the art-historical issues the piece raised ultimately amounted to a satisfying experience. The South Granville District
Across the bridge from the CAG, nested in the South Granville commercial gallery district, is the State Gallery. There, as it happened, was another show relating to Saskatchewan, this one by photographer Danny Singer, who takes panoramic shots of small towns in the prairie province. Using a digital technique that allows him to stitch together multiple shots, Singer is able to offer unabbreviated looks at entire blocks of these deprived and wayward farmland hamlets. Singer's show, titled "Re Seeing," advances the photographic project that was begun by Ed Ruscha in the 1960s with his "Every Building on Sunset Strip," and given a particularly Canadian twist by Stan Douglas with his much-admired composite photo, Every Building on 100 West Hastings (2001). Singer's images are fascinating from a distance, and brilliant up close. A squinting look at Bladworth, for instance, sees a hotel sign that reads "HOT" -- and that's exactly the same scorched story told by the drought-brown farm fields beyond. Another important Vancouver avant-garde outpost is the illustrious Catriona Jeffries Gallery, which lately seems to have specialized in installation art. Artists like Alex Morrison and Geoffrey Farmer have put in good showings there, and Jeffries has been instrumental in all the positive attention paid to the prize-winning young Vancouver artist Brian Jungen, who recently installed a poetic and difficult installation of a basketball court made of sewing-machine tables at Triple Candie in Harlem and an elegant, scaled-down plywood version of a 1908 Arts and Crafts house, cut into quarters á la Gordon Matta-Clark, at Capp Street Project in San Francisco. Vancouver "Street Art"
One of Vancouver's most energetic art venues, though, is neither a museum nor a gallery. Rather, it's the back room of the city's best skate shop, Anti-Social. The 20-something skateboarding street-artist Keith Jones spent weeks converting the Anti-Social gallery into "Nobodyland," a two-dimensional scrap-wood world of knotty-armed boozers, lonely X-eyed punks, superflat convenience store facades and crooked phone booths. No surface is ignored, floors included. The influence of the late San Francisco artist Margaret Kilgallen's murals was fairly obvious, though Jones gives his funky, cartoon environment a style all his own. This ambitious work, combined with the 200 drawings hung in the second room (selling for $10 a pop, though not on acid-free paper) made the show an almost overwhelming experience. "Nobodyland" is a gentle, happy tribute to the artist's low-rent East Side neighborhood, full of what bluesman Tom Waits best identified as "crumbling beauty." Where his work lacked in depth, he made up for it with sheer entertainment -- certainly not such a bad thing. Jones's show is emblematic of a local graffiti-inspired drawing scene that has gone largely unnoticed by local critics and curators, but that has nevertheless become one of the most dominant genres for our emerging artists. In addition to Jones, who has been a presence through his self-published 'zines for years, there are several other artists whose names are beginning to filter slowly into the municipal consciousness. Keep a sharp eye out for newcomer Mark Delong, who had a great show of paintings last autumn at Anti-Social. And Jeff Ladouceur is surely one of Vancouver's most admired young artists. Four works from Ladouceur's artist's book Ebola recently appeared in Harper's magazine, while a solo show is being prepared for autumn 2004 at the ZieherSmith gallery in New York. But the two crucial artists for Vancouver's drawing scene are Jason McLean and Marc Bell, who have collaborated on and off over the past 15 years, and showed separately in New York this past winter. Bell's solo show of his intricate cartoon drawings, which while delicate and small nevertheless sometimes seem to don the chunky boots and big noses of late Philip Guston, was a critical hit at the Adam Baumgold Gallery. McLean, for his part, had over 40 new works on display at Richard Heller's booth at the Armory Show (and has a solo exhibition scheduled for June at Heller's gallery in Santa Monica). McLean's large map drawings are visual diaries, a loving and personal account of his troubled Downtown East Side neighborhood done in a hand that is reminiscent of Saul Steinberg. Both artists offer beautiful visions of comic-strip expressionism. Painting the Book
Back in South Granville, across the street from the State Gallery, is the Tracey Lawrence Gallery, where painter Mina Totino recently showed her dour, ruminative paintings. Done in faded greens, ochre and grey, with only scant brushwork devoted to the mere outlines of stacks of books that she depicts on her canvases, they have a morbid, vampiric beauty that's in keeping with the notion of books as dusty hardcover caskets where living words hide. Presumably the allusive text along the bottom half of each work is derived from the books represented above -- it's hard to tell. Totino's paintings have an almost immaterial quality that may be a comment on the "death of painting" -- the "death of the novel" is just as familiar, and similarly refuted. Totino's patience and solitary vision is admirable, if almost inexplicable, in the context of all the buzzy, manic energy modern art frequently gives off. Quiet work, slow work, this kind of mortal art is never as temporary as it might seem on first look.


LEE HENDERSON is the Vancouver editor for Contemporary Magazine, and the author of The Broken Record Technique.