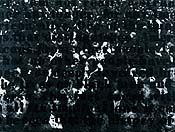 Glenn Ligon
Untitled (Stranger in the Village/Crowd) #2)
2000
Glenn Ligon
Untitled (Hands/Stranger in the Village #1)
1999
Glenn Ligon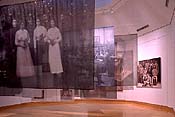 Carrie Mae Weems
The Hampton Project
2000
photographed at the Williams College Museum by Arthur Evans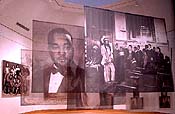 Carrie Mae Weems
The Hampton Project
2000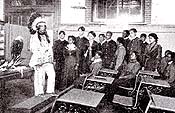 From Francis Benjamin Johnston's
Hampton Album: A Class in American History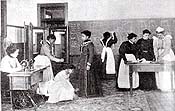 A Class in Dressmaking in the Domestic Science Building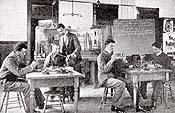 Physics Class Making and Repairing Telephones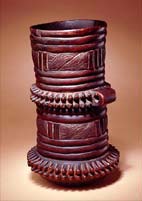 Cup drum
in "African Forms"
Ankle bangle
in "African Forms"
Into Africa
by Joy Garnett
Glenn Ligon has made "text paintings" for the past decade, diligently applying murky encaustic and oil stick through stencils to make neat, partly legible rows of text on canvas. Excerpting works by pivotal African American writers like Ralph Ellison and Zora Neale Hurston and important gay authors like Jean Genet, Ligon has re-defined word art (think of Lawrence Weiner and Jenny Holtzer) in his own image -- that of a contemporary, gay, black American man. Ligon employs his starkly minimal means to great effect, evoking difficult social and historical realities while packing an emotional punch.

At the Studio Museum in Harlem, Feb. 1-Apr. 1, 2001, is "Glenn Ligon: Stranger," an exhibition of eight, lyrical works that excerpt passages from James Baldwin's 1953 essay, "Stranger in the Village," which reflects the author's experience as a young African American living in a small Swiss village. Ligon's work is as poignant and disturbing as it is exquisitely beautiful.

The larger paintings, which measure up to 84 by 134 inches, are thickly coated with a black material that sparkles like fresh asphalt. Stenciling and gluing layers of coal dust and glitter -- iconic materials in and of themselves -- Ligon literally paves the canvas. Your eyes scuttle over their surfaces, finding fragments of text as you might spot a coin or glittering object in the street.

Occasionally, a word jumps out -- "pleasure," "blue," "bloodless," "purpose." The letters seem worn, honed down to stubs, and in places they are mere traces or tracks. In general the texts are not legible, and viewers may be inclined to decipher or to just let go. Now and then you experience an odd sensation, as when staring indefinitely at an Ad Reinhardt, and something indefinable moves or takes shape. Blackness becomes blacker and some fragments of text stand out more than others:
Rage can only with difficulty and never
entirely be brought under the domination of the
intelligence...
From all available evidence no black man had
ever set foot in the...
Language is rendered part object, or partially erased testament, eluding our attempts to classify it or extract from it the things that normally function to make us feel comfortable.

A nice counterbalance to these large, dark canvases are several somewhat smaller works that incorporate photo-silkscreen and coal dust on paper. The silkscreens depict crowds of people in the street -- a demonstration? A busy marketplace? Faces peer from behind the dot matrix and the text, which is clear and velvety black. It floats above the crowd imposing a grid-like semblance of order:
I am not really a stranger any longer for any
American alive. One of the things that distinguishes
Americans from other people is that no other people
have been so deeply involved in the lives of black
men and [vice] versa...
Weems' world
In the exhibition, "Carrie Mae Weems: The Hampton Project," currently on view at the uptown townhouse facility of the International Center of Photography (through Apr. 1), artist Carrie Mae Weems examines issues of institutionalized assimilation in America at the turn of the century. Drawing on the work of noted photojournalist Frances Benjamin Johnston (1864-1952), Weems weaves a tale of ideological entrapment, in which the cultural legacies of African American and Native American people were washed away in favor of an Anglo-European American identity.

In 1899, Frances Benjamin Johnston was commissioned to document the success of the Hampton Normal & Agricultural Institute, founded in 1868 in Virginia. It was the first educational establishment to open its doors to African Americans and Native Americans. The resulting photo album was shown at the Universal Exposition of 1900 in Paris, in the "Exhibit of American Negroes," and later as "The Hampton Album" at the Museum of Modern Art in New York.

For her project, Weems has chosen specific images and enlarged them on semi-transparent sheets of muslin, which she hung in layers from the ceiling. Text is superimposed on the images, and an audio-narrative describes various key historical moments, including the story of Hampton's founder, Samuel Chapman Armstrong.

Weems has lined the downstairs gallery with selections from Johnston's original album. The images depict students in full Victorian school regalia, posing without seeming to be posing while attending classes that range from English literature and physics, to agriculture and watercolor painting. Highlighting various eccentric-seeming activities whose original importance may be lost on us, the album provides at the very least a record of changing moeurs and social standards.

One particularly humorous photograph, Agriculture: Judging a Dairy Cow, recalls the famous Mark Tansey painting, The Innocent Eye Test, in which a group of suited men (museum trustees?) show a life-sized, bucolic painting of cows to a live cow. Do we find ourselves to be likewise "innocent"? Are we participating in similar invisible processes of social engineering? This is just one of the many uncomfortable questions that comes to mind while visiting Weems' installation.

Other photographs include a history class whose guest of honor is an Indian chief; one wonders exactly which skewed versions of themselves these students were given to digest.

Perhaps the eeriest image is Geography: A Class in Current Events. Groups of freshly washed and combed students, buttoned tightly into their uniforms, stand around miming classroom activities. Some gather before a table spread with maps; others convene around a large globe, appearing to examine the southeastern hemisphere, presumably focusing on Africa. Behind them on a chalk board are several columns of words: "Current Events: South Africa: The Transvaal; Orange Free State; Cape Colony; Natal; Basutoland; Rhodesia…"; "Places: Kimberly..."; "Persons: President Kruger…" The staging of this image is precise, every detail accounted for.

Once upstairs, one walks through the maze of deftly chosen images, muslin hangings in sepia, grays and cyan, gigantic and wavering. A voice intones, "I saw you become everything you weren't supposed to be..."

The final image, printed in Cyan on canvas, shows a beautiful young Native American man wrapped in a blanket, sitting on the tiled floor of presumably the halls of Hampton. The text across the surface reads:
Before your image and Mission Furniture became
highly collectible and museums crammed their
vaults with your blankets, beads and bones.
Form vs. function?
Showing through August at the Museum for African Art in SoHo is "African Forms," an exhibition examining African design from across the continent, from the Kamba people of Kenya to the Kuba of Zaire. Organized by Frank Herreman, the museum's director, and Marc Ginzburg, a founding trustee of the museum and longtime collector of African art, the exhibition is nearly entirely composed of objects from Ginzburg's collection, including jewelry, textiles, furniture, receptacles, weapons, musical instruments and devotional objects. The 400 pieces on view are mostly utilitarian, and are of great beauty, proving once again that form and function often do go hand in hand.


JOY GARNETT is an artist whose solo exhibition, "Rocket Science," opens in April at Debs & Co. in New York.