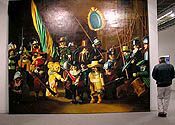 Jorge Villalba-Strohecker
Nightwatch
2002-04
Art Frankfurt 2004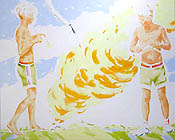 Norbert Bisky
Anstifter
2004
Galerie Michael Schultz, Berlin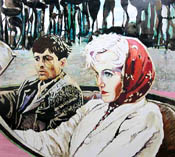 Cornelia Schleime
Untitled
2004
Galerie Michael Schultz, Berlin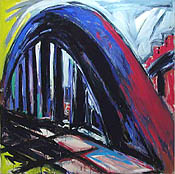 Helmut Middendorf
Brückenbogen
1980
Galerie Winter, Wiesbaden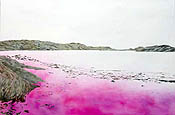 Franziska Goes
Tjörn 2
2004
Galerie Schuster, Frankfurt
Alex Flemmings Flying Carpets (2003) at Galerie Blickensdorff, Berlin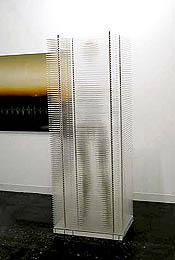 Marilène Oliver
Mum
2002
SPHN Galerie, Berlin
Andreas Gefeller
Plattenbau
2004
Galerie Rehbein, Cologne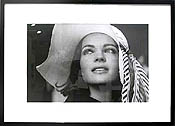 Werner Bokelberg
Romy
Multiple Box, Hamburg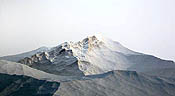 Gerhard Mantz
Unerreichte Mglichkeiten Nr. 1
2004
Galerie Witzel
Fair Frankfurt
by Thomas W. Eller
Now in its 16th year, Art Frankfurt, May 7-10, 2004, has become one of Europes many premiere fairs dedicated to contemporary and avant-garde art. Sited in a hall in the shadow of Helmut Jahns signature skyscraper in downtown Frankfurt, the fair brought together 167 galleries and drew a quite respectable 28,100 visitors. Art Frankfurt caters especially to new collectors: sales were strong at lower price levels, up to 5,000 euros; respectable in the 5,000 euro to 50,000 euro bracket; and virtually absent at above 50,000 euros. Accordingly, the fair drew mostly galleries from the second tier, with the exception of a few heavy hitters, like Frankfurt dealer Michael Neff, who presented an ultra-cool installation of curtains and mucic from the 1970s and 80's by Sylvie Fleury. On the second floor, art-world veterans like Galerie Nothelfer, Berlin, Galerie Meyer-Ellinger, Frankfurt, and Brigitte March, Stuttgart, set high standards. Nothelfer offered an impressive work on paper by Richard Serra (30,000 euros), while Meyer-Ellinger sold quite a few drawings by Michael Croissant (in the 2,000-3,000 euro price range). New (and old) German painting
Much painting was in evidence at Art Frankfurt, notably in galleries from Leipzig and Dresden. Though many East Germans may feel a certain nostalgia for the good old days of Communism, its unlikely that this sentiment infects the current backwards look in new art. Rather, artists who studied in the former East Germany are simply better at the craft of painting. Ironically, their superior skills make for a wide array of entertaining imagery. Jorge Villalba-Strohecker studied at Bauhaus University in Weimar. His new version of Rembrandts Nightwatch, peopled with Lego-like toy figures (and priced at 25,000 euros), is just one example of a resurgence of Postmodernist strategies in painting. Another shining star on the scene is Norbert Bisky, whose paintings of young men done in a brightly pastel-hued Social Realist style sell like proverbial hotcakes. His work Anstifter (Instigator), for instance, went for 20,000 euros at Galerie Michael Schultz, Berlin. Schultz also sold a painting by Cornelia Schleime, a melodramatic scene of a couple in a convertible, for 17,000 euros. Schleime has been around for some time, and her career seems to be finally taking off. She has been awarded two important prizes recently, the Gabriele-Münter-Prize in 2003 and the Fred-Thieler-Prize in 2004. The new painting craze also includes a revival of interest in the 1980s Junge Wilde group, whose work has been resurfacing at the art fairs for a few years now. Galerie Winter, Wiesbaden, sold Helmut Middendorfs painting Brückenbogen, a blue and crimson Neo-Expressionist image of an arching bridge done in 1980, for 26,000 euros. Several galleries featured what could be called fast painting. Galerie Schuster, Frankfurt, with its brightly colored walls, was especially noticeable in this regard. Among the extremely reasonable offerings at the gallery booth were Franziska Goes Tjörn 2 (2004), a strange landscape of gray mountains marked with violet spray paint, that sold for a mere 1,300 euros, and Eamon OKanes My Ideal Studio (2004), a night-time scene of a slatted building in the woods, which was priced at 4,400 euros. Voges & Partner Galerie, a household name in Frankfurt, featured in its booth exquisite collages by Manfred Peckl. Badende (2004) was 5,000 euros and Mädchen vom Land was 2,200 euros. 9/11, politics and conceptual art
More conceptual works were sparse this year. Reflections on 9/11, if not abundant, were quite visible. Alex Flemmings flying carpets (2003), wall-hung silhouettes of airliners made out of patterned carpet segments, were offered at 6,500-7,800 euros by Galerie Blickensdorff, Berlin. Galerie Rafael Vostells booth was dominated by an installation by Axel Lischke -- a suitcase imprinted with images of flying weapons and ammunition and placed on a fragment of metal conveyor belt, which must have been conceived with the impressions of the burning WTC still fresh. One cant help but find such art problematic -- most of the artworks energy seems to be drawn from victims misery. This untitled work from 2001 was priced at 13,000 euros. Only seemingly detached is an installation by Marilne Oliver titled Mum (2002) at SPHN Galerie, Berlin. A vertical column made up of sheet after sheet of glass with individual MRI images taken of the body of the artists mother constitute a precarious human presence. Using a highly advanced imaging device to record invisible parts of a human body, Oliver has recreated her entire family, including herself, as existential shadows. Mum was priced at 28,000 euros A different approach to identity occupies the young artist Juliane Köhler, whose sculpture, titled I cant remember all the places I have been to Selbst (2003), consists of a lifelike sleeping figure draped in a sheet that is intricately printed with autobiographical images. Dresden. Being at the center of her own universe, this young artist deals with topographies and urban issues to literally map out her existence. The work, offered at Galerie Baer, was priced at 2,500 euros. Photographs, more
Photography made only a weak presence at Art Frankfurt this time around. One exception, however, is the photographer Andreas Gefeller, who works in the tradition of the Becher Schule. He pushes the means of photography further by creating images that at first appear to be documentary photos with an ornamental approach. Plattenbau (2004), for instance, is an aerial view of a buildings floor plan taken from an impossible vantage point high in the air, though apparently the color image consists of multiple exposures photo-shopped together, eliminating the unique camera perspective. The multifocal image appears more as a map than an image. This work, which is presented by Galerie Rehbein, Cologne, and priced at 5,200 euros, is for the moment too detached and too elegant. Much livelier are Werner Bokelbergs photos of Romy Schneider dating from the 60s. These brilliant black-and-white pictures were priced at a mere 640 euros at Multiple Box, Hamburg. But the carefree life that Bokelberg captured now seems to be times past. Our realities seem more designed and controlled, as in the color prints by Susanna Schönberg at Galerie Binz & Krämer, Cologne, which present life as a movie set. Even though the photographs are panoramic, 370 degrees in fact, everything seems to escape the cameras supervision. Finally, the photographic images of icy landscapes constructed in a computer by Gerhard Mantz at Galerie Witzel, such as his Unerreichte Möglichkeiten Nr. 1 (2004) (price: 4,900 euros), only emphasize the isolation and cool air of disappointed romanticism. More than ever, the artificiality of our images seems to reach deep into our existence.


THOMAS W. ELLER is an art critic based in Berlin. He is soon to launch a German language version of Artnet Magazine.