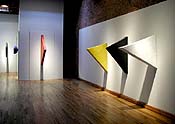 Eduardo Costa
Installation view
at Cecilia de Torres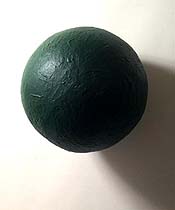 An Eduardo Costa wall relief.
David Ebony's Top Ten
Eduardo Costa at Cecilia de Torres
This exhibition titled "Volumetric Paintings" focuses on Eduardo Costa's large, recent monochrome wall reliefs in minimalist shapes, including spheres and monolithic rectangular and triangular forms. In this handsome installation, the objects, made of incalculable layers of acrylic paint in yellow, red, green, blue and black, seem to absorb all available light. They seem to both attract and repel the viewer with a rigorous and obsessive sense of mass and density.

While this group of works may be the latest manifestation of Costa's minimalist project, the endeavor is, in some ways, a summation of his 35-year career. Born in Buenos Aires, the artist studied with Jorge Luis Borges, and later went to Brazil, where he befriended some of the most important Latin American constructivists, including Helio Oiticica and Lygia Clark. Subsequently, Costa moved to New York, where he embarked on a wildly diverse and impressively unorthodox career as an artist, performer, designer, critic and impresario. Many of these exploits are documented in a thorough catalogue that accompanies this not-to-be-missed exhibition.

"Eduardo Costa: Volumetric Paintings/The Geometric Works," Feb. 1-Apr. 28, 2001, at Cecilia de Torres, 140 Greene St., New York, N.Y. 10012.