Olmo
1996-97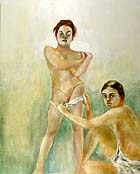 Marika (Without Shadows)
1997

This exhibition is the impressive New York solo debut for Ophrah Shemesh, an Israeli-born New York painter. On view are eight large-scale figurative canvases focused on the artist's favorite model, a 13-year old boy named Olmo. This handsome youth with jet black hair and blue eyes is shown in a variety of poses, usually with one or two women, all of whom are in various states of undress. The Boy is a forceful composition featuring Olmo standing against a gray background. In his awkward shyness, he stands with one foot over the other, while a woman lying on the floor nearby pulls up her black slip to expose her genitals. Marika (Without Shadows) shows the boy taking down a woman's panties, while Olmo, a portrait with a richly textured orange background, shows him standing in his underwear, as a reclining woman behind him bears her breast.

Shemesh's fleshy figures are rendered with loose, dry brushstrokes, and expressionistically activated by their consistently powerful distortions. Her theme of sexual awakening, which has been explored by Balthus, among other artists, is one that never grows old. She depicts frankly sexual situations without judgement or shame; her images are anything but lurid. In each work she manages to convey a sweet yet unsentimental feeling of innocence.

DAVID EBONY is a contributing editor to Art in America.