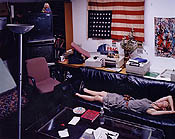 Tim Davis
The Napping Anarchist
2002-2004
Bohen Foundation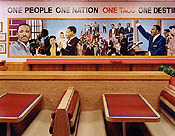 Tim Davis
One People, One Nation, One Taco, One Destiny
2002-2004
Bohen Foundation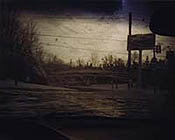 Todd Hido
Untitled #2663
2003
Julie Saul Gallery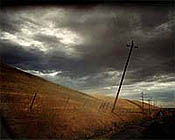 Todd Hido
Untitled #3277
2003
Julie Saul Gallery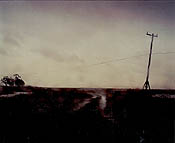 Todd Hido
Untitled #3186
2003
Julie Saul Gallery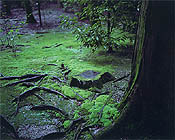 Wim Wenders
Mossy Ground, Nara, Japan
2000
James Cohan Gallery
Justine Kurland
The Burned Down Forest, Twisted Limbs
2004
Gorney Bravin + Lee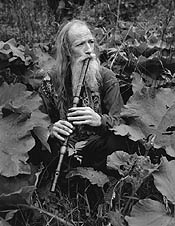 Justine Kurland
The Piper
2004
Gorney Bravin + Lee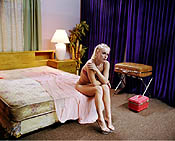 Larry Sultan
Sharon Wild
2001
Janet Borden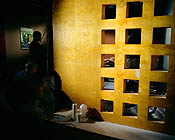 Larry Sultan
West Valley Studio #11
2001
Janet Borden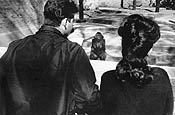 Garry Winogrand
New York
ca. 1965
Pace/MacGill Gallery
Photo Review
by Sarah Douglas
Tim Davis, a New York-based conceptual photographer associated with Yale and Bard, doesn't pose his pictures in the studio but goes out into the world looking for something interesting to photograph. His most recent work is about the 2004 presidential election. Titled "My Life in Politics" like some kind of campaign bio, the two-year project, which took Davis to political events across the country, was underwritten by Fred Henry's deep-pocketed Bohen Foundation. But Davis is no photojournalist -- hes not after the candidates or major political events. He mostly photographs objects, which is not that surprising, considering his last show at Brent Sikkema Gallery featured photographs of glare on the varnished surface of paintings in museums. So, we get a bookshelf with romance novels abutting books by right wing radio personality Rush Limbaugh -- two kinds of fantasy? -- and a computer-screen map of the U.S. electorate, with most of the country alarmingly imperiled by a red tide of Republicanism. Davis has a good eye for color in American life, and in this is something of an urban William Eggleston. Davis does photograph people -- a sleeping anarchist, for instance, and protesters at an abortion clinic. But it is difficult to tell whether or not he is making a point here. The overall impression one gets from the 50 photographs in Davis series is that politics is a tacky business. Tim Davis, "My Life in Politics" Sept. 11-Nov. 5, 2004, at the Bohen Foundation, 415 West 13th Street, New York, N.Y.

* * *

Todd Hidos latest series of color photographs are dark, moody pictures of the countryside, shot through his car windshield. A slight pretense for a photo, but Hido makes beauty of it. In the 18 photographs currently on view at Julie Saul, made on a road trip that took the photographer to Eastern Washington, central California, Indiana, southern Louisiana and other locales, he paid special attention to meteorological conditions. Low clouds loom over the rolling landscape; rain and snow become dramatic events. Streaking Hidos windshield, the weather often produces the trompe loeil effect that the print itself has been abraded. The road, as well as the telephone poles that line it, appears as a constant motif in these pictures. Todd Hido, "Roaming - New Landscapes," Sept. 9-Oct. 16, 2004, at Julie Saul Gallery, 535 West 22nd Street, New York, N.Y. 10011

* * *

The celebrated filmmaker Wim Wenders has joked that travel is his "main profession," and the handful of mural sized photographs from his ongoing series, "Pictures from the Surface of the Earth," were taken in Australia and Japan, and reflect his itinerary. The photographs taken in Nara, Japan, which was the countrys capital for most of the 8th century, are meditative, and show Wenders keen sense for color. In one, electric green moss blankets a forest floor, making it look otherworldly. The pictures from Australia are grittier. In Beetle Cemetery, Coober Pedy, South Australia (1988), Wenders revels in the colors and shapes of the beat-up cars, set against a barren landscape. Wenders prints are gargantuan, some up to 15 feet long. It seems only appropriate that a filmmaker would create photographs on such a grand, not to say bombastic, scale, echoing the big screen onto which his movies are projected. But Wenders, while acknowledging his debt to Walker Evans and Robert Adams, claims that he has only been influenced by painters -- which could explain his interest in photographic prints that compete with paintings in size. Wim Wenders, "Pictures from the Surface of the Earth" Sept. 10-Oct. 16, 2004, at James Cohan Gallery, 533 West 26th Street, New York, N.Y. 10001

* * *

Justine Kurlands latest exhibition features exquisite color photographs of charred forests alternating with black-and-white photos of knights, Pre-Raphaelite maidens, a pipe-playing wizard or soothsayer, and even a staged picture entitled Jesus with Girls. Kurlands subjects are participants in Renaissance fairs, mainly in Virginia. Kurland once told an interviewer that her mother was involved with these kinds of events, which are a "fantasy world, a re-enactment of England in the 15th century," so there may be an autobiographical component here. In her last show at Gorney Bravin + Lee, two years ago, Kurland presented a series of photos of back-to-the-land communes, with their counter-culture residents selecting their own pose in an (anti-) formal group portrait. This new group of pictures continues her interest in rural utopias and nostalgia, but with a Gothic twist. Her title, cribbed from William Blake, could refer to the alternate realities that Blake painstakingly constructed in his mystical poems. The charred forests in this show are Kurlands first people-less pictures; in her "Golden Dawn" exhibition last year at Emily Tsingou in London, the landscape was already threatening to take over, dwarfing the figures. The photos of knights and maidens come off a bit hokey -- theres a suggestion of the sentimental theatrics favored by the late 19th century photographer Julia Margaret Cameron, who dressed up her sitters to impersonate characters in romance literature. But the sharp focus pictures of gloomy, fire-ravaged forests, the best of which has as centerpiece a blackened, twisted mass of tree branches, are stunning. Justine Kurland, "Songs of Experience," Sept. 10-Oct. 9, 2004, at Gorney Bravin + Lee, 534 West 26th Street, New York, N.Y. 10001

* * *

Hillaire Belloq had his Storyville, and Larry Sultan has his suburbia. In a project begun in 1997 and only now completed and published (Scalo, 2004), Sultan chronicles the off-moments of porn shoots in rented houses in suburban San Fernando Valley. Sultan, who grew up in the valley, got the idea while doing an earlier series in the same setting -- of his own aging parents. In Sultans porno pictures, we get two primary motifs. One, the porno action is underway, but seen from off set, in a view that is blocked by some bit of domestic architecture. In one photo, a group of nudes, limbs intertwined, can be seen behind some shrubbery; in another, the sex act appears as seen through a perforated wall. In yet another, a nude's rump and heels are visible in the lower left hand corner, but the majority of the picture is taken up by humble objects in the room -- bedclothes strewn across the floor, a garish TV set and audiovisual equipment. This "coitus interruptus" is comic and a little creepy -- just look around, it seems to say, the sex act is everywhere. And two, we see porno actors during a break in the action. Here, they're humanized, sex pros in a mundane business, still erotic but with some of the pathos that attaches to their profession. In the books cover image, the actress Sharon Wild, wearing merely bra, panties and stilettos, perches on the edge of an unmade bed in an ugly, nondescript bedroom, eyeing the photographer with a mixture of wariness and sulkiness. Still, the actors Sultan depicts have a huge fan base -- one imagines that the audience for his pictures would be sizeable. And Sultan's glamorous color prints are rather large. Considering their subjects, who puts them over their couches, and what exactly is the result? Perhaps its a marker of a new risqu society. Larry Sultan, "The Valley," Sept. 8-Oct. 16, 2004, at Janet Borden, Inc., 560 Broadway, New York, N.Y. 10012

* * *

The legendary 1960s "street photographer" Garry Winogrand died 20 years ago, but his career is going great guns -- witness anniversary show of "Animals" at PaceMacGill. Winogrand took his kids to the zoo in Central Park, a cheap outing for the impecunious photographer, and later, in 1969, MoMA exhibited the black-and-white photos he took there, and published a book of them. Way too gritty for the National Geographic set and presumably too prosaic for the art crowd, the project was a flop. Needless to say, Winogrand's zoo photographs are gloomy monuments to the human condition, made all the more compelling by their inclusion of animal consciousness, now seen (if not then) as remarkably close to our own. (In fact, the pictures were recently discussed in New York Magazine in terms of progress in zoo design.) A Winogrand zoo photograph is a network of dyspeptic gazes. A couple gazes at a gorilla that sits Buddha-like in its enclosure. In another, a motley group of visitors -- a woman who appears to be crying, a guy kissing his girlfriend, and a man looking befuddled or concerned -- watches a cluster of seals. In another picture, a man holding a cigarette stares down a rhinoceros. In photo after photo, Winogrand asked which were more pathetic and humorous, the humans or the animals, and who was performing for whom. One of the best pictures in this vein shows five people watching elephants; two of the humans are wearing a cardboard box over their heads. Winogrand was an expert not only at capturing anecdotes, but also at picking up on visual puns and rhymes. A woman and her child, both wearing scarves over their heads, are shown in profile next to a llama and for a moment the animal, with its sleek head and thoughtful expression, appears to be another human. As the great MoMA photo curator John Szarkowski wrote in his essay for the book, its tough to tell from the photographs whether or not Winogrand was a fan of the zoo. (The poet Marianne Moore, its worth recounting, was a devotee, and gathered fodder there for her poems, observations of animal behavior.) And the zoo remains fertile ground for photographers. Just a few years ago Candida Hofer took stark pictures of Zoologischer Gartens in Germany. Garry Winogrand, "The Animals," Sept. 9-Oct. 16, 2004, at Pace/MacGill Gallery, 32 East 57th Street, New York, N.Y. 10022


SARAH DOUGLAS is associate editor of Artnet Magazine.