White Cube on West 26th Street, with Tao Reys Blah Blah Blah (2004)
Vickie Pierre
You Keep Me Wrapped in Sweet Delirium
2004
"Domestic Arrivals" installation view, with Gavin Perrys Artifact (Study for Landscape) in the foreground and Leyden Rodriguez-Casanovas Painting (Boy with Grapes) on the wall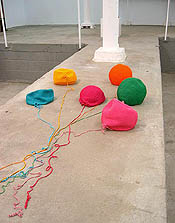 Frances Twombly
Balloons
2004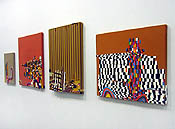 Paintings by Jacin Jordano in "Domestic Arrivals"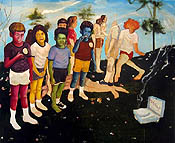 Christian Curiel
Children Wearing Dreams
2004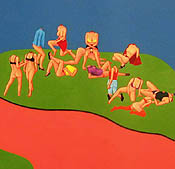 Detail of a painting by A.A. Rucci
N.B. Dash
Witness
2004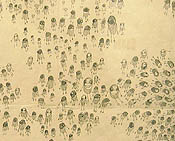 N.B. Dash
Witness (detail)
2004
Adler Guerrier
Untitled (Being In)
2004
The Miami School
by Nicole Davis
"Domestic Arrivals: Miami-New York Connection," Sept. 9-Oct. 2, 2004, at White Box, 525 West 26th Street, and the White Box Annex, 601 West 26th Street, New York, N.Y. 10001

The nonprofit space White Box inaugurated the fall art season with one of its trademark group shows, a sprawling installation of works by two dozen young artists from Miami titled, in the manner of a commuter flight, "Domestic Arrivals: Miami-New York Connection." The show was organized by Anat Ebgi and Carla Stellweg and can be read as a haphazard collection of claims to represent Miami culture. Miami, for instance, can be a little over the top. And so was "Domestic Arrivals," which overflowed onto the street. The gallerys large picture window was stenciled in white with the words "blah blah blah" by artist Tao Rey and the gallerys street-level "video box" monitor played a loop of video pieces by Ali Prosch, Natalia Benedetti and Francie Bishop-Good. The long trapezoidally shaped wall along the tunnel-like ramp leading down into the space was painted by Vickie Pierre with a mural of a turquoise-blue sky dotted with pink and brown biomorphs. Titled You Keep Me Wrapped in Sweet Delirium, the wall painting included a continuous sentence in a girlish, cursive script. "The gateway from my little world," it read. "We live side by side sometimes collide." Inside, the "white box" gallery throbbed with vibrant color and a turbulence of sounds. A sculpture by Gavin Perry in the center of the space contributed the lowest frequency to the cacophony. A customized set of ten speakers, arranged in lustrous white plastic like a group of audio volcanos, the sculpture -- called Artifact (Study for Landscape) -- is the sort of thing that might be installed in the back of a low rider. It makes a direct reference to Miamis "ghetto fabulous" milieu. The works of Frances Trombly are emblems of celebration -- a hand-knitted sculpture of a large red ribbon set on a gift-box-like square white base, and a colorful group of six knit balloons, complete with trailing yarn strings. The work conceals a tension between the unrestrained nature of celebration and the regimented discipline necessary for applied craft, a conflict that artists may well be familiar with. Miamis eclecticism was reflected in the abstract paintings of Jacin Jordano, who applies the paint in exorbitantly thick layers and revs his kaleidoscopic palette up to an almost neon pitch. And colloquial Miami imagery was found in the photographs by Leyden Rodriguez-Casanova, which enlarge family snapshots -- a young Latino boy in one picture, a Latina grandma in another -- to museum-scale and gives them elaborate gold frames. Similarly, the paintings by Christian Curiel depict neighborhood kids playing in Surrealist settings. Children Wearing Dreams, a row of kids with each done in a different color, evokes a rainbow version of Courbets Burial at Ornans. Brandon Opalka brings Miamis seductive edge to his blurred abstract paintings. Set up like indistinct still lifes, they border on the erotic, with fleshy planes of color interrupted by a barely perceptible, phallic stuffed animal head jutting out here and there. The detailed, storybook paintings of A.A. Rucci embrace Miamis decadent sexuality, though in a comically extravagant way. Rucci paints Barbie Doll-like pinup girls, in various states of undress and without their heads -- literally, as they all seem to have been guillotined at an earlier date. One picture shows several figures in an orgy on a cartoonish plateau, and a second depicts a headless body in a thong, collapsed on a strange striped plain, and titled Julys Events Left Nicola Wishing She Hadnt Missed the Last Train Home. Other works in "Domestic Arrivals" are created to a different, less localized frequency. From across the room, a column of four drawings on paper by N.B. Dash, a single piece entitled Witness (2004), looks like a rock formation in a desert, alien yet organic. Up close, the drawings reveal themselves as crowds of little pencil-drawn creatures, swarming in patterns that come to life in playful defiance of the overall stoic air of the work. Adler Guerriers untitled installation combines small, framed color photographs of foliage with a group of vertical stripes painted directly on the wall. The artist listens to jazz while he makes his works, and the music directs the placement of his color planes with the precisely tuned photographs. The end result has a strange, almost autistic genius. The third of the shows three black sheep are the narrative drawings of Alejandro Cardenas, which illustrate the story of two girls, Viviana and Lisette, who are locked in a perpetual battle of magic and mysticism. The drawings, done in a precisely etched line, have a touch of decadence not unlike Aubrey Beardsley, which adds to the enchantment of the imagery and the vortex of the characters world. Perhaps the most potential in the show can be found in the video works. Natalie Benedettis existential video, titled Every Atom, focuses a stationary camera on the faade of an apartment house. Benedettis video makes a matrix-like tapestry out of the individual apartments and their milling inhabitants on their balconies. Eugenia Vargas video, Girls and Horses, takes a close look at the archetypal fascination with the image of a girl on a horse. When linked with a man, the horse is a symbol of war. But when coupled with a girl, it is magically disarmed and transformed into something mystical (and a little nauseting). Jen DeNike exposes the underlying creepiness of men at play in three video works, titled As Boys Are Wont to Do, Dumb Bells and Dunking. Her characters embody a gratuitousness that gently grazes the perimeters of debauchery.


NICOLE DAVIS is a New York art critic.