Artist's rendition of
the Millennium Dome interior,
with "Body Zone."
Photo NMEC/Hayes Davidson






Computer-generated view
of the Millennium Dome
Copyright Hayes Davidson 1997





Richard Rogers
Who would have believed it? Britain is becoming a land of grands projets. In the past, the notion of state-sponsored monuments has been considered suspiciously foreign, best left to such étatistes as the French, with their Pompidou Centre and Louvre Pyramid and Grand Bibliotheque. It's true that in the heyday of the British Empire, monumentalism was the rule -- think of the Crystal Palace, built by Paxton for the Great Exhibition of 1851, or the audaciously ornate Albert Memorial, a sculptural celebration of science, the arts and imperialism.

The received wisdom has always been that Britain is a land of skeptics and empiricists. Monuments are symptomatic of an idealist, centralist state mentality. But under New Labour (the government elected with Tony Blair as prime minister last May), it is all-systems-go for the Millennium Dome, a temporary science and discovery fair being thrown up on the Thames at Greenwich at the throw-away price of $1.2 billion.

The dome's overseer is Richard Rogers, architect of the Pompidou Center, among other things. The recently elevated Lord Rogers suffered the disappointment of having his own millennium project shelved (he wanted to encase the South Bank Centre in a curvaceous hi-tech crystal palace), but the Greenwich Dome should keep him busy. It will sport 12 gargantuan pavilions, including an Antarctic Sci-Fi landscape that visitors can climb through wearing spiderman suits that will stick to surfaces vertical and horizontal. Also to be featured are a dreamscape with 16-seater beds floating visitors through surreal cities and aquaria, and the Body Zone, boasting an androgynous figure larger than the Statue of Liberty. No artist lends his or her name to this latter creation. Sad, really, that Britain's biggest statue won't actually be a sculpture.

The country is pretty divided between party-poopers who mumble about how a new hospital or three could be built for this sort of money and hale, hearty and well met optimists who echo the bumptious Mr. Blair with his talk of opportunities "so bold, so beautiful, so inspiring." In the arts community there is a certain feeling of incredulity that such money can be lavished on a temporary extravaganza when museums are so strapped for cash they are having to contemplate admissions charges.

Kitaj in the British Library
Photo Irene Rhoden






The British Library at St. Pancras






William Blake
Newton
Art at the new British Library
One such institution up against the wall is the British Museum, whose purchase budget has been all but obliterated. And yet the museum is pushing ahead with a major £100 million redevelopment by Norman Foster of its 19th-century courtyard, until recently occupied by the British Library. The sublime domed Round Reading Room is to be converted into a place for school kids to peruse CD-Roms and the Internet -- a sublime waste!

Back in the 1960s there was a scheme to pull down half of Georgian Bloomsbury to build twin towers to house the British Library's ever-increasing holdings. That scheme was blocked by conservationists, after which it was decided that the British Library would have to find premises of its own. The best part of three decades, a Millennium Dome-type budget and as many scandals as changes of government later, the new library opened earlier this year at St. Pancras, next door to the exquisite gothic horror of a railway station of the same name.

The poet John Betjamin once quipped that the English build their cathedrals like railway stations and their railway stations like cathedrals. The father of architectural fogeys, he would no doubt have been on the side of Prince Charles in castigating the design of Colin St. John Wilson for the new library, but to my mind the criticism is misplaced. Anything but outlandish, the library is surprisingly understated for such a monumental edifice. Like a book, it's not to be judged by its cover. Inside, it is accommodating and commodious, with warmly contrasting rich brickwork and marble in gentle echo to its neighboring station.

Sandy Wilson is a rare thing for a British architect -- a connoisseur of contemporary art. He sat for portraits by several artist friends, among them William Coldstream, R.B. Kitaj and Michael Andrews, and drawings from his impressive collection were exhibited in Chichester last year. Thanks to his forceful intervention, the library commissioned several ambitious works to complement his building, including a monumental sculptural transcription of William Blake's portrait of Newton by Eduardo Paolozzi, presiding over the library's forecourt. A sometime pioneer of British Pop, Paolozzi dropped the anti-science satirical edge of Blake's original, and modeled the genius's face on a genius readily to hand -- himself!

Visually dominating Wilson's vast lobby is a tapestry woven from one of R.B. Kitaj's seminal images, the 1970s landscape If Not, Not. This strange picture, at once jumbled and ethereal, was inspired by both T.S. Eliot's The Wasteland and the Holocaust, a typical Kitaj-conflation. "These fragments have I shored against my ruin," Eliot wrote in his poem. As we all know, the shoring up of fragments of literary and historical reference in fact proved Kitaj's ruin at the hand of London's inhospitable press. In anger and bitterness, longtime London-based expatriate Kitaj has since decamped to Los Angeles.

Kitaj's wall hanging is the largest single loom tapestry to be woven this century, and required 7,000 hours of work. Enormous fan that I am of the artist and this particular painting (which hangs in the Scottish National Gallery of Modern Art in Edinburgh, where the tapestry was made), I have to say that it sorely loses in translation -- mainly because the tonal gradations are jagged -- although I stand by it as the perfect image for a magnificent setting.

Anthony Gormley
Angel of the North
Photos courtesy Bolton & Quinn, London






Gormley's
Angel in preparation.
Photo Keith Pattison.
Gormley's Goliath
In art as in other important matters, size isn't everything. But it seems this season that big is beautiful for British sculpture. Never mind Paolozzi's Newton, crouching on his 12-foot-high plinth and measuring the universe with a pair of dividers. Never mind the nameless, sexless zombie in the Dome (with an observation platform in its head and to be covered, head to foot, by one million photographs of children). A motorway junction at Gateshead, on Tyneside, is now home to Angel of the North by Antony Gormley, at 65 foot tall one of the world's largest public works of art. Its instigators reckon that 33 million people a year will see it. As the estimated average time spent in front of a museum exhibit has been calculated at one and a half seconds, this horde of esthetes will be able to indulge the Angel with comparatively leisurely scrutiny as they speed by at 100 mph.

I haven't yet joined the angel pilgrimage but I was able to inspect the person-size maquette at the White Cube Gallery's stand at the London art fair last January. Person-size is perhaps unnecessarily p.c.; "man-size" would be okay, for although the figure -- like the Dome dweller -- is androgynous, most of Gormley's golems are in fact cast from the artist's own body (shades of Paolozzi ego here).

On the day the work was installed, which was no mean feat as it weighs 200 tons and has a wingspan about that of a Jumbo jet (175 feet), I heard a bulletin on the BBC about the piece. The journalist reported every conceivable detail of weight, measurement, installation technicalities, material -- steel from local yards which once supplied for battleships -- and of course cost: £800,000 (approx. $1.3 million). Local reaction was sought, with the usual wingeing about how the money could have gone to schools and hospitals. The diligent reporter only omitted a single -- perhaps negligible -- detail: the artist's name. There must be a morality tale here.

Ilya & Emilia Kabakov
The Palace of Projects, Exterior
Kabakov photos courtesy
Bolton & Quinn, London





Work in progress: Ilya Kabakov's studio, Long Island,
December 1997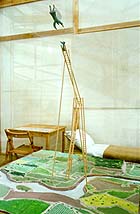 Ilya & Emilia Kabakov
The Palace of Projects,
'Encounter with an angel'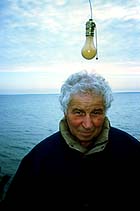 Ilya Kabakov, Long Island,
December 1997
Kabakov's Utopia
Keeping company with a Jumbo jet angel and unveiled plans for a billion dollar dome, Ilya and Emilia Kabakov's Palace of Projects was a perfectly timed satire of utopianism. To cap it all, their installation -- brought about by the aptly named Artangel, which was responsible, among other things, for Rachel Whiteread's 1993 House -- took place in a dome: the Round House in Chalk Farm in North London. A sublime mass of brick and cast iron, this Victorian railway shed was a legendary theatre and rock venue in the 1960s and '70s.

The Palace sits in the center of this space, a spiral structure that makes more than a nod towards Tatlin's Monument to the Third International. This palace is dedicated, in the words of Ilya Kabakov, to "a seemingly commonly known and even trivial truth: the world consists of a multitude of projects." Within its canvas and pine-framed chambers, arranged on two stories, are 65 "projects," each represented by a text, which can be read on a little wooden school desk, and a model.

Most of these crazy schemes for personal or collective improvement are ascribed to (presumably fictitious) ordinary Russian citizens. For instance, V. Mikhailov, a fourth category locksmith from Przhevalek, advocates a machine for cloud management, which the Kabakovs illustrate with a dolls-house model replete with a mobile of clapperboard clouds. An accountant named O. Kats proposes a new representation of geography, to replace the "simple" geography of the globe, which presents the countries of the world in their contiguous actuality, with a representation more in tune with "mental geography," placing continents in a muddy staircase.

Another dreamer plans a "radical, historical repartitioning of a country," the model showing high walls around various Alpine villages. An optimal plan for a prison is offered by P. Rimanov of Military Personnel, Vitebsk -- aware or not that he hails from the town where Kazimir Malevich wrested control of the art school from commissar Chagall. The sheer wackiness of these projects competes with the unrelieved tackiness of the Kabakovs' presentation of them.

Wherever the individual projects come from -- some have a genuinely metaphysical quality, others are blatantly satirical of totalitarian optimism -- the master project, esthetically, has a whiff of Borges about it. But in contrast to Borges' exquisite literary poise, his managing to keep a straight face and see his sublimely ridiculous schemes to the page, the Kabakovs haven't the art to rise above the tendentiousness of their invented schemes and dreams.

Their prose, in translation at least, is too turgid to be worth the amusement value of its reading. The portentous whole is less than the sum of the hastily flung together models and installations that are its individual parts. But of course, the genius of this palace is that to enter it is to enter a conceptual loop: it can't be too tendentious, tacky or turgid because to be these things is its high moral purpose. If only the governments spending our billions on millennium domes could have it so easy.

DAVID COHEN is a London-based art historian and writer.