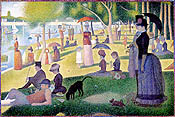 Georges Seurat
A Sunday on La Grande Jatte-1884
1884-86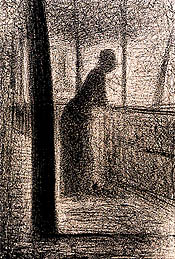 Woman Leaning on a Parapet by the Seine
ca. 1881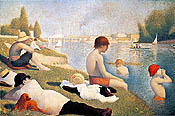 Bathing Place Asnières
1883
Le Bec du Hoc
1885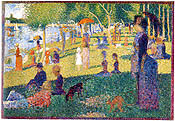 Compositional Study (large sketch) for La Grande Jatte
1884
Lela Hersh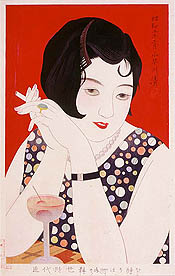 Kobayakawa Kiyoshi
Tipsy
1930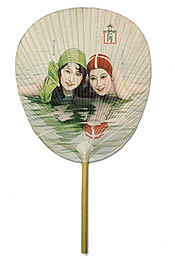 Round Fan Advertising Jintan, with Photos of Irie Takako and Hamaguchi Fujiko
ca. early 1930s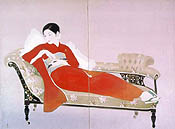 Nakamura Daizaburo
Woman (Fujo)
1930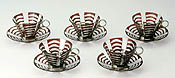 Cups and Saucers
Taisho Period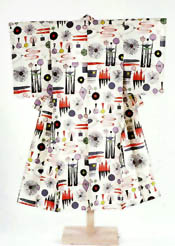 Womans Kimono
(Second quarter of 20th century)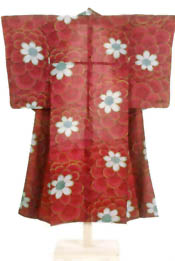 Womans Kimono
(Second quarter of 20th century)
Prairie Smoke
by Victor M. Cassidy
"I want to make modern people in their essential traits move about as they do on [ancient Greek] friezes and place them on canvases organized by harmonies," Georges-Pierre Seurat told the art critic Gustave Kahn some time before 1888. Seurat, now considered one of the preeminent Post-Impressionist artists, sought to transform Impressionism in to a new artistic Classicism by using the science of optics to depict contemporary life in a manner that was both austere and advanced. Seurats masterpiece -- A Sunday on La Grande Jatte 1884 (1884-1886) -- is a stage-like 82 x 121 in. painting of 48 people, three dogs and a leashed monkey in a park on La Grande Jatte, an island in the River Seine near Paris. Eight boats are visible on the water. Seurats figures have pleasing if rather anonymous features and project little individual personality. The whole luminous scene is organized so tightly that we feel that it might change dramatically if a single head, hand or foot were to move. The people in La Grande Jatte come, as did Seurat, from the middle and upper middle class. They are the solid backbone of 19th century France, the men and women who fill the professions, run the government and keep industry going. We see here neither any laboring types nor any of the pleasure seekers that populate so many Impressionist paintings. While some may read satirical intent into Seurats depictions, he seems to have identified with these people. The Art Institute of Chicago acquired La Grande Jatte in 1924 and the painting has become one of its most beloved icons. This summer the museum is presenting "Seurat and the Making of La Grande Jatte," an exhibition of 130 related paintings and works on paper. The exhibition examines the development of Seurats style and demonstrates how he conceived of -- and created -- La Grande Jatte. It also describes the first showings of the painting and the aftermath -- and places the work in art history. The AIC is the sole venue for the show, which runs June 16-Sept. 19, 2004. Very early in his short career (he lived just 31 years), Seurat began to draw with soft black cont crayon on textured white paper, creating flat simplified figures that have little narrative content but convey a sense of mystery. Woman Leaning on a Parapet by the Seine (ca. 1881) is a dark human form in a simple setting. The artist tells us nothing about this woman, but we can guess by her posture and figure that she is young or middle-aged and probably middle class. Beyond this, the drawing is an exercise in light and dark contrasts. In his draftsmanship, Seurat was influenced by Redon, Rembrandt and Goya, all of whom made expressive use of black, gray and black-white contrasts. His drawings, and later his paintings, reflect his interest in contemporary theories of optical perception, which state that when two contrasting tones are juxtaposed, the light appears lighter and the dark darker, each intensifying the other. In paintings, Seurat followed the theory by using color "complements." When the complements of red and green are placed together, for example, the red seems redder and the green greener. Like other artists of his day, Seurat worked outdoors as he developed his landscape painting skills. Millet-like peasants appear in some of these small works, which he made on panels that he carried in a slotted box. Influences on Seurats landscape and use of color include Delacroix, Pissarro, Renoir and Monet. Seurats distinctive style first emerged in Bathing Place Asnires (1883-84), a painting of working-class bathers on the banks of the Seine, and Le Bec du Hoc (1885), a Monet-like seascape. The artist assembled the figures in Bathing Place from several sources and arranged them in a proscenium space with the shoreline receding diagonally into the distance where a bridge crosses the river. A soft light suffuses both Bathing Place and Le Bec du Hoc and Seurats colors glow intensely. The exhibition reaches its climax in the gallery that includes both A Sunday on La Grande Jatte-1884 and the artists preparatory works: 28 drawings, 28 panels and three larger canvases. In a masterpiece of exhibition design, the curators have arranged the preparatory work along amphitheater-like curving walls and on arc-shaped structures in the center of the room so that viewers can examine each piece, turn their heads and see where it fits in the finished product. This presentation demonstrates that Seurat left nothing to chance: he tried numerous alternative compositions and even visited the zoo several times to sketch monkeys. Seurat started work on La Grande Jatte in May of 1884 and was ready to exhibit it at the Salon des Indpendants scheduled for March of 1885. When that show was canceled, he put the painting aside. At that time, it resembled his Compositional Study of 1884. In October of 1885, he began a second stage of work in which he introduced his latest thinking about color and its application in the form of small dabs, dashes and lines. He also altered the shape of figures, adding scalloped and curved outlines to previously starker and more columnar forms in order to create sinuous rhythms. This is the Grande Jatte that we know. Seurat took a routine Impressionist painting and transformed it into the first Pointillist painting. He showed it at the Eighth Impressionist Exhibition in May of 1886, where it created a sensation. Whether or not they admired it, everyone who saw the painting acknowledged that Seurat had done something new. On the advice of an artist friend, Seurat used the unstable pigment zinc yellow in La Grande Jatte. Within the artists lifetime, the pigment shifted from a lemony color to brown, darkening the painting and causing a loss in luminosity. Working with color scientists and advanced digital technology, the Art Institute has "de-aged" La Grande Jatte, creating a full-scale reproduction that suggests how the painting looked on the day it left the studio. The "de-aged" reproduction shows a brighter, better-balanced painting. Seurat died in 1891, followed, in 1935, by his friend and fellow Pointillist Paul Signac. But Pointillism, the style that Seurat originated, proved to be a cul-de-sac. Czanne and other Moderns developed in different directions. Still, La Grande Jatte is a landmark in the history of art, a painting we never grow tired of. The Art Institute deserves our thanks for celebrating this work and providing so much new information about it. On her own
What is an "Independent Museum and Fine Arts Consultant?" What do such people do all day? We asked ourselves these questions when we learned that Lela Hersh had resigned from Chicagos Museum of Contemporary Art and struck out on her own. We inquired about life at the MCA -- and what she does now. "I came to Chicago in 1983 with a masters degree in photography and got part time jobs at the Marianne Deson Gallery and assisting Mary Jane Jacob, who was then chief curator at the MCA," she says. "Both women gave me responsibility fast. I learned a lot in a hurry." When the MCA hired her full-time, Hersh put in long hours. "I wanted to be an implementer, not an innovator," she says. "I wanted to master the technical side of museum work. I became director of collections and exhibitions with responsibility for art conservation and rights and reproductions. I administered contracts for artists commissions, traveling exhibitions and filming -- and even wrote a few catalogue essays. Career came first for a long time, but I got to travel all over the world on museum business, often in the company of major artists."

Hersh married in 1990 and now has two children. After 20 years at the MCA, she knew her job inside-out and was ready for a change. "I wanted to do something new," she says, "to build my own business."

After resigning from the MCA, Hersh began working out of her home in a Chicago suburb. She finds that much of her consulting work resembles what she did at the museum. She cares for corporate collections and has shown collectors how to hang their art more effectively or how to re-install it when they move to a new home. She also helps them with conservation, framing and shipping.

Hersh's assistance in buying art starts with a house visit, so she can ascertain her clients' taste as well as the amount of space they have. When she visits galleries with collectors, she guides purchases and is not afraid to express an opinion. "Part of my job is to educate," she states.

Established collectors are more sophisticated and want less guidance. Hersh follows the lead of those clients of hers that have a strong sense of direction -- whether they are individuals, corporations or foundations. She especially likes young collectors who are refining their tastes.

Hersh recently organized an exhibition for a nonprofit art gallery. "Visiting studios and choosing work helps me grow," she says. "I must look closely at work by artists I may not know well -- and respond to it. I never want to lose touch with that." Modernity and Japanese women
At the beginning of the 20th century, women in Japanese society underwent a dramatic transition. Considered to be passive creatures, traditionally coifed and dressed, who engaged in decorous pursuits, Japanese women gradually began to cut their hair short, wear Western clothes and seek economic independence. This sea change was the subject of "Taisho Chic: Japanese Modernity, Nostalgia and Deco," a rewarding show of more than 60 scroll paintings, folding screens, woodblock prints, textiles and other works of decorative art that was on view at the Smart Museum of Art, Apr. 22-June 20, 2004.

Emperor Taishos reign (1912-1926) has been likened to the Roaring 20s in the U.S. The Japanese began to want more consumer goods, take a less class-bound view of society and become increasingly international in their outlook. Some Japanese women, known as moga, or "modern girls," cut their hair Western-style, got jobs in department stores and other places and even demanded the vote.

Artists of the Taisho period depicted moga in charming pinups, which are called bijijnga (paintings of beautiful women). Tipsy (1930) by Kobayakawa Kiyoshi depicts a moga whos had one drink too many. Round Fan Advertising Jintan, with Photos of Irie Takako and Hamaguchi Fujiko (ca. early 1930s) shows two lovely lasses taking a swim. Jintan, which the fan advertises, is an herbal pill used to freshen the breath.

"Moderate modern girls" wore kimonos but cut their hair. Woman (Fujo) (1930), Nakamura Daizaburos two-panel folding screen, depicts such a girl in a wistful mood as she reclines on a divan. She is clad in a spectacular red kimono and we are left to guess at what she is thinking.

Western design influenced clothing and home furnishings in the Taisho period. Some of the most attractive displays in "Taisho Chic" are kimonos with designs of purple flowers or abstract patterns. Taisho Japanese also made cups and saucers from glass and stainless steel.

"Taisho Chic" was a beautiful presentation of little-known Japanese art. The show was perfectly scaled to the gallery space and extremely well installed. We have come to expect such offbeat delights from the Smart Museum.


VICTOR M. CASSIDY writes on art from Chicago.