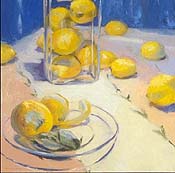 Joanne Jones
Lemons Stacked
(n.d.)
Texarkana Regional Arts Center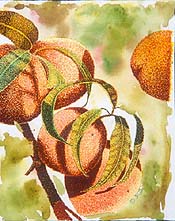 Jackie Fish
Just Peachy
(n.d.)
Texarkana Regional Arts Center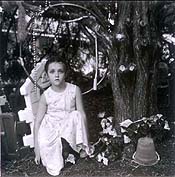 Donna Pinckley
Hannah
(n.d.)
Texarkana Regional Arts Center
Jefferson Historical Museum, installation view
Jefferson Historical Museum, installation view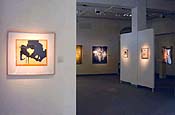 The Leo Michelson galleries at the Michelson Museum of Art in Marshall, Texas
Leo Michelson
Green Foliage in a Vase
Michelson Museum of Art, Marshall, Texas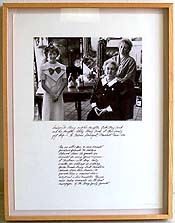 Maria von Matthieson
Carolyn Abney
1986
Michelson Museum of Art, Marshall, Texas
Maria von Matthieson
Dorothy Rudd
1986
Michelson Museum of Art, Marshall, Texas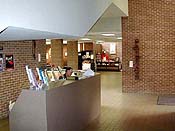 The entryway to the Tyler Museum of Art in Tyler, Texas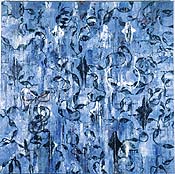 Sydney Yeager
Mortal Coil
1998-99
Tyler (Texas) Museum of Art
Clyde Connell
Swamp Ritual
1972
Tyler (Texas) Museum of Art
Texas Four-Step
by Victor M. Cassidy
A press tour of East Texas took me recently to four towns, four art institutions and much art that I had never seen before. The most rewarding work reflected the local life and landscape.

The towns -- Texarkana, Jefferson, Marshall and Tyler -- are all struggling to keep their central business districts alive as retail trade and street life are siphoned away to malls along major highways. To survive, the towns preserve and reuse historic buildings and promote cultural events to draw locals and tourists.

The Texarkana Regional Arts Center
The Texas-Arkansas border runs down the middle of Texarkana's main street. On the Texas side are 34,782 people, while 26,448 live in Arkansas, for a total population of 61,230. Downtown are derelict buildings and a handful of older structures being put to new use. What was once the United States District Court (1909), for instance, is now the Texarkana Regional Arts Center with two art galleries for touring shows and facilities for community art instruction on the main floor, and a refurbished former courtroom space on the second floor that is used for meetings and events. Every April, the local arts council sponsors its weekend-long outdoor "Jump! Jive! & Jam Fest!" that draws visitors from throughout the region.

The Regional Arts Center hosts national and local touring shows. It has no permanent collection. I saw "Originals! Arkansas Women Artists 2004-2005," which is sponsored by the Arkansas State Committee of the National Museum of Women in the Arts. First Prize ($2,000) went to Lemons Stacked by Joanne Jones, a modest, straightforward still life. Just Peachy by Jackie Fish was a fresh, unpretentious piece in pen, ink and watercolor.

Donna Pinckley's Hannah, a photograph of a glum little girl in a backyard filled with stuff, raised more questions than it answered. I wondered who Hannah was and what dispiriting experiences she'd had. There is no sociology in her surroundings, no clue to her history. Shes just a sad, silent child.

The Jefferson Historical Museum
During much of the 19th century, the only way to ship goods from New Orleans to East Texas was to pole a flatboat up the Mississippi and Red Rivers through Caddo Lake and through the Big Cypress Bayou to Jefferson. The town had a trade monopoly and made the most of it, growing to about 40,000 people with much industry and many elegant homes.

According to local tradition, Jay Gould, the robber baron and railroad man, proposed in 1856 to run a railroad down Jefferson's main street. When the city fathers refused, Gould is said to have placed a curse on the town. At any rate, in 1873, the Army Corps of Engineers lowered water levels in the bayou by 50 percent, making it impassable for flatboats. The railroad came in to compete with water transportation and the citys economy died.

Alarmed at the town's decline, garden clubs sponsored rehabilitation of the local Excelsior Hotel after World War II and rebuilt the town into a weekend tourist destination. Today it has 2,200 citizens, 40 bed-and-breakfast inns, several antique shops, restaurants, special events year round, and the Jefferson Historical Museum, ensconced in an 1888 building that once was a courthouse. Numerous Jeffersonians have contributed to the museum, which celebrates their generosity with white printed cards that accompany each exhibit.

Adjoining the museum's third floor is a garret with a trundle rope bed, crazy quilts, ladies kidskin gloves, buttons, belt buckles, and the Binion-Spears Collection of embroidery. On the third floor are a judge's leather briefcase from the 1890s, a sewing machine, hatpins of German origin, toy trains and cooking utensils, and paper dolls of Queens Victoria, Isabella, Louise and Marie Antoinette in morning gowns and court attire. On the staircase leading to the second floor Moseley art gallery are paintings from several periods (many by locals), calendar engravings of country dalliances, mounted cattle horns, dresses with bustles, and needlework.

The Moseley Gallery contains artworks attributed to Sir Henry Raeburn, John Constable, Jean-Marc Nattier, Guercino, Pieter de Hooch, the school of Tintoretto, and local artists. Also on view are Dresden porcelain, Miessen goats, and an Ancient Egyptian shrine in a glass case. Other rooms on this floor contain Caddo Indian arrowheads and pottery and an impressive collection of guns accompanied by blasting caps, hand grenades, bullet molds, handcuffs and brass knuckles.

The first floor has offices, a shop, Confederate Army artifacts, Republic of Texas currency, a computer from the mid-'70s and several Victrolas. The basement contains two Currier and Ives engravings of paddle wheelers, kitchen implements, a baby buggy, a cane bottomed wheelchair, a decrepit dressmakers form, farm tools, Irish ale bottles and much more -- but I ran out of time and had to scoot for the bayou boat ride.

Marshall's Michelson Museum of Art
Like Jefferson, Marshall was built on transportation, but its glory days followed the expansion of the Texas & Pacific Railroad after the Civil War. Now it is the pottery capital of Texas (we toured a factory) with historic homes and the Michelson Museum of Art. This institution was established in 1985 to house the life work of the Russian-American artist Leo Michelson (1887-1978) -- more than 1,000 paintings, drawings, and prints, of which 100 are on view.

According to Bnzit's Dictionary of Artists, Michelson was influenced by Old Russian art, German Expressionism and the School of Paris. "Since the 1930s," says Bnzit, "after an intensive study of the techniques of Titian, Michelson developed a unique process for stabilizing the pigment, which he applies in superimposed layers, so that he achieves, paradoxically, a kind of density in transparency."

Almost forgotten at the back of the Michelson Museum are several large, attractive photo collages with text. Dated 1986 and signed by Maria von Matthieson, a Dallas photographer, these show Marshall citizens and quote what they say about themselves.

"My name is Patti Kelly and I live on Burleson Street," says one of the texts. The reason why I like to sit on the front porch is because thats when dad is home and then everyone just sits out with him and plays with the cats and dogs. We just watch the trees, and listen to the birds and stuff."

The Tyler Museum of Art
According to our host, Tyler is the fastest-growing town in East Texas with much new industry coming in. The Tyler Museum of Art, which opened in 1970 as an exhibition space, began collecting contemporary American and Texas art in 1987 and now owns more than 600 pieces.

"Thirty-Three Years of Collecting at the Tyler Museum of Art," consisting of works from the permanent collection, was the exhibition on view during my visit. Mortal Coil (1998-99) by Sydney Yeager (b. 1945), a Texas artist, takes its name from a line in Shakespeare's Hamlet. There are twisted black shapes on a blue background with areas of white, dark blue, gold and red on the surface and possibly the shape of a dove. This lively painting suggests plant life, DNA and much else.

Clyde Connell (1901-1998), a Texas artist, made the sculpture Swamp Ritual in 1972 from stones, iron, wood, found objects, and paper pulp while she was living in a primitive area. Quiet, dark, menacing, and with a suggestion of the tribal, this sculpture has a strong presence and a tactile surface that recalls elephant hide.

"Intimate Expanse," photographs by Robert Langham, was much the best show I saw in Texas. Langham, who is native to Tyler, studied with Ansel Adams and learned much about light from him. He photographs the flat landscape around Tyler straightforwardly, with none of Adams operatics.

Langham shoots "dead-on" with the camera pointed straight at the subject, which is always in the middle of the image. He uses natural light to define space and waits for what he calls the decisive moment to record the landscape. Since this is usually in early morning, Langham chooses a spot and may camp there overnight so he is ready at dawn to begin shooting.

As Langham tells it, he establishes a tie with a small space, an "intimate" space that is "barely out of his truck" and "within his arm's reach." He provides a portrait in depth of a land that he has known and loved all of his life. We need more art like this.
VICTOR M. CASSIDY writes on art from Chicago, and Texas.