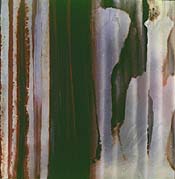 Sarah Figlio
Untitled
2001
at Klein Art Works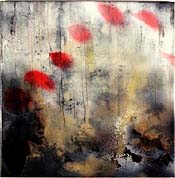 Sarah Figlio
Untitled
2001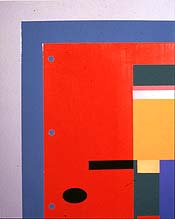 Karl Rademacher
Karl Rademacher
Still Life with Bottlecap
2001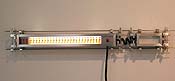 Peter Stanfield
Run
2001
Alice Hargrave
Family Portrait
2000-2001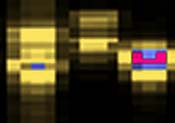 Alice Hargrave
Family Portrait
2000-2001
Tetsuya Yamada
Untitled
2001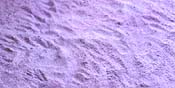 D'nell Larson
Untitled
2001
at Bodybuilder & Sportsman
Inside
Monique Meloche Gallery
Edra Soto
Scuba Diver
at Dogmatic
Prairie Smoke
by Victor M. Cassidy
Disinterested generosity is uncommon, especially in the art world. Chicago is lucky to have Paul Klein and Thomas Blackman, who have consistently supported its visual arts community, lesser known artists in particular.

Klein directs Klein Art Works, one of the half-dozen best galleries in the city. Blackman owns Thomas Blackman Associates, which produces two dealer expos each year: Art Chicago and the San Francisco International Art Exposition.

Both men sponsored events in December that presented the work of younger artists. Klein reviewed more than 300 sets of slides and selected 13 artists for his "Chicago and Vicinity Show (With a Bias)," which opened on Nov. 30, 2001, and runs until Jan. 5, 2002.

Blackman organized "The Stray Show" (Dec. 7-9, 2001), a three-day-long ad-hoc art fair in a warehouse with exhibitions and programs by 15 Chicago arts organizations. Most of the participants were weekend art galleries that show work by 20-somethings.

Chicago and Vicinity (With a Bias)
Long ago, the Art Institute of Chicago had a biennial competitive exhibition of work by Chicago artists called the "Chicago & Vicinity Show." A new contemporary art curator arrived in town, sniffed disdainfully at the local product, and killed the exhibition. Klein has since revived the idea, adding his personal biases -- a passion for abstraction, a love of sculpture and a preference for the formal.

Klein showed 13 "unexposed" artists, who "all deserve our attention": Nick Black, Norah Delaney, Sarah Figlio, Alice Hargrave, Diana Guerrero-Maciá, Mi-Yeon Katz, Maire Kennedy, Jason Peot, Karl Rademacher, Jason Salavon, Peter Stanfield, Christopher Trice and Tetsuya Yamada.

Sarah Figlio is a pure painter who creates glowing layered color fields that recall clouds, water and the Hubble photographs of the distant universe. Her influences include Ross Bleckner, Monet and Luminism. The work is "not about any specific place in this world," she says.

As she evolved this body of work, Figlio experimented with different techniques. She liked the effects that printmaking tools and rollers gave her, but wanted a harder surface than canvas. The stretched edge of the canvas seemed sloppy to her, so she began painting on aluminum panels, which have crisp, thin edges and a luminosity that enriches the work. Figlio sometimes abrades the aluminum so colored pencil and water-based inks will stick to it.

Karl Rademacher paints opaque color patterns on small wooden circles and rectangles. His sources are images and objects from popular culture, such as the labels on food cans.

Over the past two years, the artist has shifted from representation to abstraction, suppressing detail to expand the viewer's interpretive options. This provides artist and viewer with a "richer experience," he says.

Peter Stanfield makes small, elegantly balanced, wall-hung aluminum structures with text, colored liquid in tiny glass vials, and components that suggest mechanical movement. The artist, a Chicago resident for five years, says that the city gives him "stunning architecture to gaze at" and "a ready supply of industrial materials." His fanciful texts concern a woman who wants to abandon her lover, a woman who drives her automobile off a bridge and experiences temporary weightlessness, and an astronomer's calculations.

Mi-Yeon Katz, who was born in Korea and came to Chicago four years ago, is struck by the city's ethnic diversity. Her Six Neighborhoods (2001) is a wall-mounted ceramic construction that looks like fragmented street maps. Each neighborhood is a different color, suggesting its ethnicity -- green for Irish, orange for Polish, raspberry pink for Asian Indian and Pakistani, white for Korean, red for Chinese, and light green for downtown.

Alice Hargrave shows Family Portrait/micro-satellite markers/Chromosome 22, Reaction 1 and Family Portrait/micro-satellite markers/Chromosome 22, Reaction 2, two 36-inch by 44-inch archival jet prints made from jpeg files that the artist has manipulated. In each work we see three flat presences, horizontally banded in bright, blurry colors, that suggest figures or stage sets.

Since 1993, says the artist, she has drawn on medical imaging to expand her vision and the genres of portraiture and landscape. These works, which she produced with help from professional endocrinologists, show chromosome 22, one of the smallest of the 24 distinct chromosomes that transmit human inheritance.

Scientists use micro-satellite markers to visualize genetic relationships such as parentage. They dye transparent chromosomal material in different colors to aid observation and analysis. Specific reactions in the dye chemicals can produce different kinds of information.

Hargrave's family portraits show her own chromosomes and those of her husband and eldest child. Celebrating the recent birth of a new baby, she states that the "harmonious spirituality of the formal triptych (a family of three) has become a balanced new form and rhythm ... (a family of four)!"

Tetsuya Yamada takes a page from Brancusi's book and marries his sculptures to their bases. He makes light-colored, blocky stoneware sculptures with glaze drips on their sides, which he places on wooden bases that he has stained in pale colors. The overall effect is formal, tranquil and very much in the Oriental tradition.

For more images, check out the gallery website at www.kleinart.com.

The Stray Show
"The Stray Show," a non-commercial venture, presented Chicago's "stray" art galleries, which are mostly scattered all over the city and not located in an arts district. Thomas Blackman Associates donated walls and lights for the dealer booths and labor to erect them. The warehouse space was donated for the weekend. Crowds were best at the raucous Friday night opening and on Sunday afternoon during a panel discussion.

There were 15 organizations present. Among the more commercially developed galleries were Bodybuilder & Sportsman Gallery, Monique Meloche Gallery, NFA Space and Julia Friedman Gallery.

The other 11 are Dogmatic Gallery and Joymore Gallery, both storefronts; Standard Gallery, which presents highly regarded exhibitions in the front room of the proprietor's apartment; Deadtech, which favors new media; FGA Space; Law Office, a misnomer for a shameless, lawless gang of four; The Suburban, in the suburb of Oak Park; Deluxe Projects, a room in an industrial loft near Chinatown; mn Gallery + Studio; Seven Three Split, a storefront at the edge of Chicago's barrio; and Suitable Gallery, a garage on the city's west side.

We saw no evidence at the "Stray Show" of any developing "movement" or desire to repudiate the past. "Stray" art draws from popular culture rather than art history and is stylistically eclectic. The artists respect craftsmanship and work relatively small, possibly because the galleries themselves are spaces of modest size.. We saw no preachy political art. Nobody tried to "shock" us with sexual imagery that we'd seen a thousand times before.

The "Stray Show" was valuable for the dealers who now see themselves as part of a community and will surely organize more collaborative ventures. It was also good for the unrecognized artists to see their work hanging next to that of their peers in a fresh setting. The "Stray Show" gave Chicago a big boost. Thank you Tom Blackman.


VICTOR M. CASSIDY writes on art from Chicago.