installation shot of Not Vital's "Milla Larmas id ün Chamel, (1,000 Tears and a Camel)"
Galerie Nordenhake
Not Vital
Camel
2003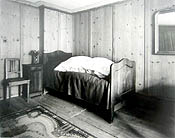 Not Vital
Nietzsche's Moustache in Bed
2003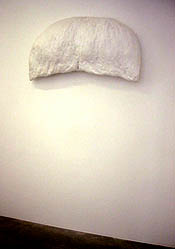 Not Vital
Nietzsche's Moustache
2003
installation shot of Not Vital's "Milla Larmas id ün Chamel, (1,000 Tears and a Camel)"
Quiet Vitality
by Kimberly Bradley
Not Vital, "Milla Larmas id ün Chamel, (1,000 Tears and a Camel)," Apr. 27-June 5, 2004, at Galerie Nordenhake, Zimmerstrasse 88-91, 10117 Berlin On Zimmerstrasse, just west of the throngs visiting Checkpoint Charlie in central Berlin, is an oasis of near-white respite, where 15 orbs rest in meditative silence on the floor of the German outpost of Stockholm's Galerie Nordenhake. The orbs are the "camel" part of Swiss artist Not Vital's "Milla Larmas id ün Chamel" (that's Rhaeto-Romantic dialect for "1,000 tears and a camel.") Camel? Yes. Distributed throughout and within the group of variegated pale-earth-toned ceramic sculptures are the desiccated remains of an entire dromedary, one of the peripatetic artist's somewhat offbeat animal obsessions inspired by a 1988 trip to Egypt -- he created both this and a silver version of Camel in 2003; back in 1990 his Herd depicted eight camel heads on long poles. Placed irregularly in the gallery's airy front area, the heavy-looking orbs gain an organic lightness, as if Vital rolled them like large marbles and waited to see where they'd stop (he only determined their placement during final installation), creating a little planetary system that visitors would have to navigate. Their apparent weightlessness is anchored by 1,000 Tears, a massive rectangular block of white Carrara marble whose front side reveals a stream of droplets of smooth stone in relief, and whose back side appears raw and untouched. Mounted on a wall closer to the gallery entrance is an oversize plaster cast of a mustache called Nietzsche's Schnauz (Nietzsche's Mustache, 2003). Here, Vital goes from organic statement to sheer humor (or maybe not) in another take on his similar aluminum sculpture from 1993, an homage to the philosopher so famous for his distinctive facial hair. Something viewers could almost miss if they aren't paying attention is a small black-and-white shot of the 'stache sculpture in Nietzsche's bed, placed low near the door. For all the show's peace, there's a lot going on here, not the least of which is a subtle commentary on the life of an admitted nomad. The 56-year-old artist (whose name, pronounced "Note Vee-tal," is his real name, which also comes from the Rheato-Romantic dialect) references some of the many places he lives or has lived: Vital's native Swiss village of Sent is right around the corner from the summer house where Nietzsche wrote such works as Jenseits von Gut und Böse, he's been known to hang out with Sahara nomads, and often has his pieces fabricated in Italy. While we don't necessarily see any connection to the sculptural mini-empire that Vital has spent five years constructing in remote Niger or his peripheral involvement in the New York downtown art scene (or, for that matter, the human or animal body-part art of his past works), this show exhibits a mix of deeply organic ties to the earth, Minimalism and high-concept humor. Spare yet busy, whimsical yet grounded, Vital's first Berlin show with Nordenhake feels a bit like a dreamworld without boundaries -- in the shadow of a landmark that was once one of the world's most famous border crossings.


KIMBERLY BRADLEY is a translator and writer working in New York and Berlin.