Berlin's newest gallery district -- Holzmarktstrasse 15-18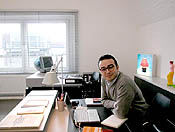 Dealer Mehdi Chouakri in his office.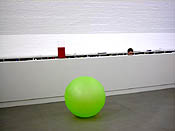 Gerwald Rockenschaub's inflated transparent ball, at Mehdi Chouakri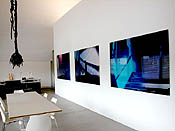 Mehdi Chouakri gallery, with works by Monica Bonvicini (left) and Isabell Heimerdinger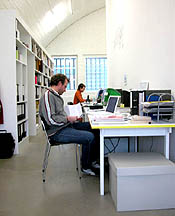 Inside c/o - Atle Gerhardsen
Ernesto Neto at Galerie Max Hetzler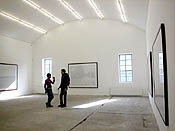 Paul Graham photographs installed in Carlier|Gebauer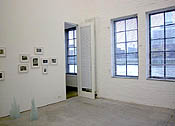 The smaller space at Carlier|Gebauer
Under the Bridge in Berlin
by Kimberly Bradley
Once upon a time, in the last few years of the century just past, a few streets in Berlin's thriving center, Berlin-Mitte (like Augustrae, Linienstrae, Gipsstrae), were lined by the edgiest galleries in the burgeoning East Berlin art scene. No longer. While a few revolutionary stalwarts like Eigen + Art remain near the Auguststraße art-anchor that is the Kunst-werke art space, a small group migration took place in late 2001 and early 2002 to a place less traveled, more difficult to find, and a little spooky: Under a commuter train bridge just east of the Jannowitzbrücke S-Bahn stop, tucked behind gas stations and auto rental agencies, and directly on the River Spree is a series of broad arches and heavy doors that at first glance seem is if they could be concealing the secret lairs of the modern German Kobold ("troll" -- and the word from which "cobalt" comes). But there are no trolls here -- sharing the address Holzmarktstrasse 15-18 are four commercial galleries and a nonprofit space. "It's a concentration of ambitious galleries," says dealer Mehdi Chouakri, who moved here from his Gipsstraße digs in September 2001, about the same time as c/o - Atle Gerhardsen, Carlier | Gebauer, Galerie Max Hetzler and Büro Friedrich settled into their brick archways to show an increasing number of national and international blue-chip and emerging artists in spaces much larger and more unusual than the classic white box. The architecture of each space varies; Carlier|Gebauer and Büro Friedrich have two arches. Skyrocketing rents and increasingly touristy pedestrian traffic on the old main drag was one of the reasons Chouakri and his colleagues jumped at taking the spaces, which had been cleared and transformed into exhibition rooms for the 2001 Berlin Biennial (or is it Triennial?) and seemed ripe for the picking. Two and a half years later, the area has established itself as a hot spot for those in the know: "We had more than 100 visitors a day on Gipsstraße. Here, it's much less. It's a different way of working," he says. For the artists, it's no different: "Some work with the space, some against it. . . but the arches make things monumental," says Chouakri, whose current show, "Specific Objects" (a group of not-quite-ready-mades, like Liam Gillick's oversize Bloody Mary, Gerwald Rockenschaub's inflated transparent ball and Angela Bulloch's red stilts), shines under the reflection of the Spree on the curved white ceiling; behind the "River Side Wall" is a trio of Isabell Heimerdinger works and a Monica Bonvicini hanging sculpture, made entirely of black leather belts. "People didn't think this location would be good for art, because of the noise," says Atle Gerhardsen, the only gallerist who didn't move here from elsewhere in Berlin (he came from Oslo with a solid stable of artists, many of them Scandinavian). While the rumbling trains above may preclude subtle sound installations, Carroll Dunham's prints and drawing -- and a side area featuring photography by Vibeke Tandberg -- seem to be doing just fine. As is a fabulous fluffy blob of a floor sculpture by Brazilian artist Ernesto Neto at Galerie Max Hetzler two doors down. "We can show completely different works here -- a lot of site-specific work," says Ophelia Abeler, who mans Hetzler's bridge outpost (he has another space on Zimmerstrasse, also showing Neto until May 8) and notes that the trains seem louder when it's humid. Since its inaugural exhibition -- a video installation by Dutch portraitist Rineke Dijkstra -- the Quonset-hut-like space has shown major works by Kara Walker, Jeff Koons, Christopher Wool and Craig Kalpakjian. As for Carlier|Gebauer, its two adjacent spaces seem more traditional than the others, which could be because, at least for Paul Graham's photography on view in the larger room until May 22, the curves of the arch have been partially concealed under raised white walls. At the very end of the strip is Büro Friedrich -- perhaps, like Kunst-werke, the institutional anchor of the group. Unlike Kunst-werke, however, this organization is dedicated to "presenting cultural identities in an area of fluctuating national borders within and beyond the European Union" (quoth the well-written brochure). Beyond, indeed: presently on view is a video installation by the Israeli artist Yael Bartana; recent solo shows have featured Shanghai-based Yang Fudong and Ross Birrell from Glasgow. "These are artists who live their lives but have not closed their eyes to the world," says project manager Alexandra Saheb. Run by founder Waling Boers, the Büro has symposia, artist talks and other events, and uses its second arch as a project room. Coordinating simultaneously exhibition openings as often as they can, these bridge dwellers are a cohesive group with a degree of vision and purpose that seems to be making a gradual exit from the slowly SoHo-ifying epicenter of Berlin-Mitte. And there are perks to being off the beaten path, beyond attracting a more knowledgeable visitor base and having room to breathe: "Here, we have the freedom to do whatever we want," says gallerist Ulrich Gebauer. Since there are no neighbors to call the Polizei when openings, after-parties and multimedia DJ-ed events get a little louder, this can even mean cultural cavorting, like mythical creatures, under the overpass.


KIMBERLY BRADLEY is a translator and writer working in New York and Berlin.