Wayne Thiebaud
Untitled
1997





Warhol Flowers at Sheehan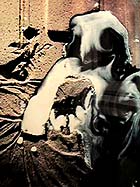 Nagel at Werner (detail)





Picasso's Study... at Werner






Cole at Kennedy (detail)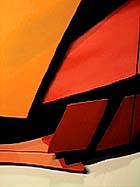 Wesselmann at Tasende (detail)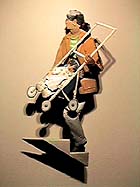 Timothy Woodman
Woman with Stroller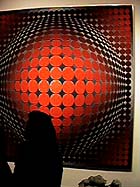 Vasarely at AAA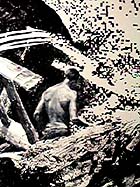 Tansey at Marcus (detail)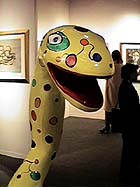 Niki de Saint Phalle at Maxwell Davidson






Patty Brundage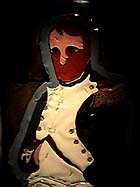 Larry Rivers
The Napoleon Figure, 2nd Greatest Homosexual
1965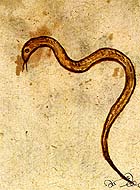 Vyakul
Sarpakriti
1992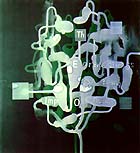 Graham Gillmore
The Earnestness of Being Imported
1998






Steven Harvey
Tamar III
1996
at Gallery Schlesinger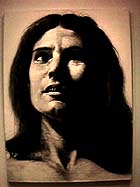 Chuck Close
Nancy Graves
1976
Hello everybody! You know what they're saying about the super-tony Art Show that closed earlier this week at the Seventh Regiment Armory on Park Avenue and 67th Street? Glad it's over! Seven days straight, with no weekend off, is a recipe for some grumpy art dealers.

Attendance was great, highest ever, despite the scant coverage in the New York Times last Friday. Roberta Smith wrote her review with a big yawn, one dealer complained. Of course, Roberta likes hip, and this fair wasn't that.

But it was still great. With 64 of the best art dealers in the U.S., how could you go wrong? Arguably the most contemporary booth belonged to Boston editions dealer Barbara Krakow, with her Kiki Smiths and Allan McCollums. Krakow reports that she sold 36 works, including a Richard Serra oilstick drawing, Preach, which went for $25,000.

Michael Werner director Gordon VeneKlasen said that if you don't bring new things, it's boring. Werner had C prints by Cologne artist Augustina von Nagel, who finds stuff and arranges it and then photographs it. Also on view at Werner, an unusual Picasso 1950 cast bronze, ca. 8 in. tall, of a clenched hand that doubles as a figure, called Study for a Hand of a Young Girl Skipping Rope. It's $75,000.

Speaking of Picasso, Jan Krugier's booth was full of them, notably the 1921 Maternite, a large Neoclassical beauty showing a baby in the arms of its mom, priced at $24 million. It's way better than the priapic Le Rêve, that sold at Christie's Ganz auction last fall for about $49 million, just about twice as much. By now everyone's heard the story of Krugier, on the way out of that sale, exulting, "Now they won't say my prices are so high!" He has an exclusive deal with Picasso's granddaughter Marina.

For visitors, the fair was best for its tasty historical material. Kennedy Galleries had what Martha Fleischman called the greatest Thomas Cole on the market, a self-portrait reclining in the New Hampshire wilderness called Autumn Landscape (1827-34). It's $2 million. Salander-O'Reilly had a great selection of works by Ralph Blakelock and Corot. David Tunick filled his booth with works by Edvard Munch. On his price sheet over half the listings had red dots, at prices ranging between $20,000 and $250,000.

For dealers, the fair is a major image-booster, since everyone who's anyone is there. "It's a chance to have a gallery in New York for a week!" exclaimed Bettina Tasende Hussey, who's usually found in San Diego or L.A. Tasende brought a suite of new Tom Wesselmann laser-cut aluminum abstractions painted with oil, measuring about five by seven feet and priced around $70,000. After all those nudes, Wesselmann has gone abstract! Just goes to show: everything turns into its opposite.

"Traffic is way up," said Andrew Arnot at Tibor de Nagy, in reference to new collectors. They had lots of sales of juicy cityscape oils by painter Stuart Shils (priced around $3,000) and figurative relief sculptures by Timothy Woodman (priced around $7,000). Los Angeles dealer Manny Silverman, with choice selection of classic Ab Ex canvases, said he was very pleased. "I sold a half-dozen works."

Everyone said they did great, like they always do. They better. Booth rental is $15,000, plus incidentals, for a mid-sized one -- the big ones are $25,000. It all added up to loads of dough for the Henry Street Settlement -- though two days later HSS still hadn't tallied up a total for the benefit! The silent auction of 10 drawings of cakes, specially commissioned from 10 contemporary artists, raised $84,500. Top lot was a Wayne Thiebaud drawing of a ... cake, which went for $31,500.

Joe Helman said he had the best year ever, but Joe's always so positive. He rattled off one tidbit after another: he virtually sold out his booth of Paul Waldman, Jose Maria Sicilia, Katherine Bowling, Joe Andoe; for the past ten years he's never sold less than 40 Joe Andoes a year; he sold works by tasty Minimalist Wes Mills to three dealers at the fair; he even sold some Dennis Oppenheim commissions! I like Joe -- he's a guy who knows how to talk to the press!

Celebrity-sightings were fairly modest this year. In addition to the widely reported appearance of Whoopi Goldberg, David Rockefeller was spotted eyeing the Vasarely at Associated American Artists. It's $75,000. Also Tom Hanks, who told AAA's Emilio Steinberger, "Oh, I have some of those," referring to David Bierk's neo-romantic landscapes. Bierk's show of paintings concurrently on at the gallery sold out at prices ranging from $3,500 to $12,000.

Other impressions: Susan Sheehan's booth full of Warhols, including a wall of 8 x 8 in flowers from 1964 priced $22,000-$34,000. Each. At Maxwell Davidson, a toddler-friendly Pouf Serpant (1994) by Niki de Saint Phalle with a built-in seat, priced at $55,000. It's an edition of 20 with five artist's proofs. Curt Marcus had a lovely 1938 Paul Klee priced at $750,000. "I got it from a broad," he joked. It's still available, but Mark Tansey's new Study for Repairing the Wheel sold for $60,000. The Weston Gallery from Carmel reported sales of a $120,000 Paul Strand and a $35,000 Ansel Adams.

Monday, the fair's final day, the crowd included a lot of dealers who weren't participating, checking it out on their day off. "They come around and stare into your eyes," confided one semi-delirious booth worker. "Looking for signs of sales." Among the more self-conscious visitors are those tinged by scandal who aren't members of the exclusive, self-policing ADAA -- Tony Shafrazi, still cursed by his radical Vietnam-era protest at MoMA (he graffitied "Kill Lies All" on Guernica), and some guys from Marlborough, a lovely gallery that under former management was accused of defrauding the Rothko estate.

Also of note -- dealers in good standing who were absent. Among those not participating this year is Leo Castelli, a true gentleman, loved by all, now near the end of his glorious run. His former director, Patty Brundage, was working, however, holding down a New York office for Greenberg Van Doren of St. Louis. One thing in the Greenberg booth was Larry Rivers' The Napoleon Figure, 2nd Greatest Homosexual (1965), a large 70 x 50 in. canvas with felt and vinyl stapled onto it, priced at $225,000. What a title! Who's the first greatest? Napoleon, Patty said. This is just Larry's second version!

Is anyone else selling any art? John McEnroe is doing very well with Vyakul, the 68-year-old tantric abstractionist from India, whose small paintings on paper of spirals, the Kundalini snake, checkerboards and the like go for around $3,000. Outsider Art collectors like them. Vyakul only paints a few times a year, in concentrated bursts of activity, using whatever paper is handy and making pigments from cow dung, coffee or coal.

At Linda Kirkland Gallery in Chelsea, all eight of Graham Gillmore's paintings have sold for prices ranging from $3,000-$5,000. The Vancouver artist, who also plays harmonica in a rock band, is "very cute," Linda says. The pictures are made of masonite covered with polyurethane, and have goofy phonetic phrases carved into the surface.

You'll never go wrong with pictures of naked women! There's something endlessly fascinating about the subject. Wonder what it is? Steven Harvey sold about half of the paintings of female models in his show "Figures" at Gallery Schlesinger on East 73rd Street. Prices ranged from $2,000 to $4,000.

Spotted on the M4 limited bus racing down Fifth Avenue to 86th Street from 96th Street, near where he lives: Metropolitan Museum chief Philippe de Montebello. Word is that he dips his metrocard gold with his trademark aplomb. At his stop he gazes up at his museum, and knows what he has is his!

Spotted down on lower Broadway: hypertheatrical goat-boy Matthew Barney, in full militia beard and some kind of swami hat, looking exactly like Ted Kaczynski. Look out New York! He's shooting Cremaster 3 at the Chrysler Building.

Poetic assemblage installation artist Ann Hamilton is the recipient of the 1998 Larry Aldrich Foundation award. I'll never forget seeing the great critic and animal-lover David Bourdon pale as he realized that the vast floor of Hamilton's installation at the Dia Center a few years ago was carpeted with the manes of hundreds of Mongolian ponies. I'm sure it wasn't her fault! The $25,000 Aldrich prize will come in handy, a drunken bird tells me, since the munificent MacArthur Award she won was gone in six months!

Expatriate Cologne art dealer Alfred Kren likes suing artists! In addition to Robert Rauschenberg, I mean, whose works Kren had seized from the artist's retrospective at the Menil Collection in Houston a few weeks ago. Back in the '80s, after Kren opened his Cologne gallery with a show of Brazilian ex votos, artist Walter Dahn made some paintings copying the illustrations from the gallery catalogue, and Kren sued him and his dealer Michael Werner!

Who's got the inside track to win Guggenheim's Hugo Boss award this year? Lorna Simpson. I spotted her at MoMA with uncanny photog James Casebere.

One of the first things you see at the Chuck Close show at the Museum of Modern Art is a giant 1978 black-and-white portrait of the late artist Nancy Graves. Back when the picture was published on the back cover of Avalanche magazine as an ad for Chuck's show at Reese Paley, she hated it. Too hairy. Note too the portraits of Phil Glass and Richard Serra from the same period. Do they look like workmen? Back then they ran a plumbing business together!

British Prime Minister Tony Blair went into a tirade against the vultures exploiting the legacy of Princess Diana -- at the exact same time that Pop portraitist Elizabeth Peyton opened a show of new work at Sadie Coles. Her subject -- Prince Harry at his mom's funeral.

Hypercompetitive Guggenheim Medici Thomas Krens was disconcerted when the Museum of Modern Art snatched F-111, painter James Rosenquist's room-sized Pop masterpiece, out from under his nose -- the work was even included on computer layouts of the new Guggenheim Bilbao. So he went and commissioned a new, bigger mural from the artist, incorporating motifs from F-111, Picasso's Guernica and German pop culture, that is to be unveiled at the Berlin Guggenheim on Mar. 6. "Best thing he's done since the '60s," says curator Robert Rosenblum. "Looks like a cosmic laundromat."

Say goodbye to 600 West Broadway, the gallery building that launched the SoHo art district 25 years ago. Sonnabend is moving to a street-level space near the Dia Center on West 22nd Street, while Charles Cowles and Castelli are expected to close.

Why did Jack Lane get the boot as director of the squeaky-clean San Francisco Museum of Modern Art? The current gossip has it that he had his trustees buy a bunch of late de Koonings, but got burned when Matthew Marks sold some for less in the last de Kooning show while the artist was alive. Allegedly the estate wanted to establish lower prices for tax purposes.

As "China: 5,000 Years" opened in New York, Guggenheim director Thomas Krens told New Yorker scribe Jonathan Napack that he was planning a major show of contemporary Chinese art for 1999, to be curated by top Asian art expert Ho Hun Roo. Napack called Roo, who said it was news to him. See you next month!

ROSETTA STONE lives and works in New York.