A rare 18th-century imperial snuff bottle,
$14,500 at Christie's, Mar. 21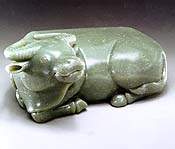 Ming jade water buffalo,
$486,500 at Christie's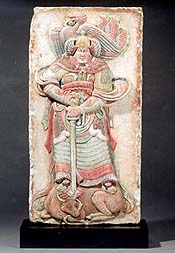 10th-century guardian figure withdrawn from Christie's by U.S. customs
10th-century Indian bodhisattva,
$167,500 at Christie's, Mar. 22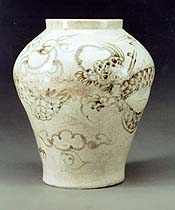 Choson Korean porcelain jar,
$343,500, at Christie's, Mar. 23
17th-century Japanese screen showing a Portuguese ship in Yokohama Harbor,
$552,000, at Christie's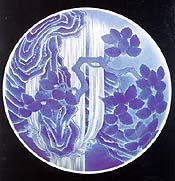 Nabashima plate (early 19th century),
$156,500, at Sotheby's, Mar. 21

Eight-fold screen, Korean Choson dynasty,
$68,500, at Sotheby's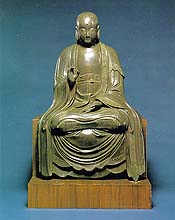 Song Dynasty bodhisattva,
$497,500, at Sotheby's, Mar. 22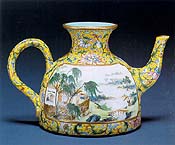 Qianlong period famille rose teapot,
$167,500, at Sotheby's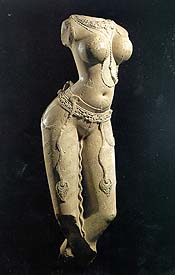 Rajasthani torso
$376,500, at Sotheby's Mar. 23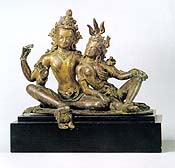 Nepalese Shiva and Parvati,
$200,500, at Sotheby's
The global Asian art fraternity marked this year's calendar with these dates -- Mar. 20 through Mar. 23, when New York's Asian art auctions took place.

Dealers, collectors and Asian art enthusiasts took up every seat, spread wall-to-wall, proclaiming their presence with hands raised in bids or in sheer excitement bringing fingers or pencils to their lips.

Sotheby's and Christie's specialists prepare all year for these four days, ferreting out fresh material from private collections, convincing museums to deaccession superfluous holdings.

A cursory look around the auction rooms quickly established the presence of visitors who had been absent from recent sales. Korean and Japanese collectors in strong numbers hinted at fierce bidding and important purchases.

Stateside buyers were in full force, too, a clear sign that the love affair between Southeast Asian objects and American collectors remains in full swing.

Chinese art at Christie's, Mar. 21
With over 600 items in its Chinese sale, Christie's had every reason to be optimistic. The overall prediction was $12 million-$16 million for this multipart offering. The choice selection of antique furniture, lacquer objects, jades, bronzes and for the first time Chinese paintings entirely from an American collection was matched by a wealth of ceramics, and 212 snuff bottles from the collection of Rachelle R. Holden. In the end, however, the total was a scant $6,750,000, down from $8,200,000 realized last spring.

First, the good news. The snuff bottles brought $1,084,000. Top item? A rare 18th-century imperial bottle with Qianlong markings, which sold for $134,500. (All figures include the buyer's commission, now calculated at a perplexing, triple-tiered rate!) American private buyers were responsible for purchasing six of the top ten bottles.

A rare gray-green water buffalo made in Ming jade from London's Eskenazi Collection fetched $486,500, well over its presale estimate of $250,000. Asian buyers snatched up most of the top ten items in the general sale.

Sale disappointments? In the furniture section, a 17th-century six-poster canopy bed failed to meet its reserve. As did 18 other furniture offerings.

Only $300,000 worth of paintings were sold, though $1,500,000 had been the target. But the major casualties were in Tang ceramics, where only 75 percent of the items reached their reserves.

A surprising absence at the auction was the much-anticipated 10th-century painted marble wall panel of a guardian figure. The panel was slated for return to China after the Chinese government alerted U.S. Customs that it had been stolen.

Indian and Southeast Asian art at Christie's, Mar. 22
Why does Indian and Southeast Asian art appeal to American collectors so strongly? We would guess that there are three primary reasons: 1) sculpture from Nepal, Cambodia and India is enticingly delicate and erotic; 2) Tibetan Buddha and Bodhisattva statues are masterpieces of sculpture, yet small, relatively inexpensive and easy to maintain; and 3) thankas (ceremonial hangings) are unusually dynamic in color, design and execution.

Christie's department head Dr. Hugo Weihe confidently expected $3,600,000 from this sale's rich mix of Tibetan ceremonial items, thankas, stone sculpture and Indian miniatures.

Although sales numbers were lower, Dr. Weihe was satisfied with the result, which at $2,731,000 was higher than last year. "Strong bidding by international collectors and new buyers secured works from Kashmir, Thailand and Cambodia."

Top item was an 11th-century Khmer figure of Uma, the goddess Devi, which sold for $332,500, more than double its low estimate. A 10th-century Indian stone stele of Padmapani, a Bodhisattva associated with the lotus cult, also topped its low estimate, reaching $167,500.

Japanese and Korean art at Christie's, Mar. 23
The most dramatic surprise for Dr. Weihe, who had expected $4,000,000 from 380 lots of Japanese and Korean objects, was a total of almost double that figure -- $7,440,000.

A 35-lot Korean component was responsible for close to $1.8 million of the total. An iron-decorated white porcelain jar dating to the 17th-and 18th-century Choson period topped the Korean list. It garnered $343,500, an impressive price -- though a far cry from the stratospheric $8,600,000 paid for a similar jar in Christie's 1996 sale.

Another success was a 17th-century six-panel screen of a Portuguese ship landing in Yokohama, which hit $552,000, over a presale estimate of $250,000.

Japanese and Korean art at Sotheby's, Mar. 21
Predicting an auction's results solely from its catalogue is foolhardy. Certainly, Sotheby's inventory of Japanese and Korean offerings was enticing, but the target was $3,500,000 and the sale realized only $2,727,000.

The sale opened with netsuke and small okimono, and then progressed through lacquer objects, masks, porcelain, paintings, screens, cloisonné, metalwork, armor, swords and fittings -- 650 objects in all.

However, a mere 53 percent sold, and among the top items, only two exceeded their modest estimates. The accompanying sale of the Bushell Netsuke collection was more successful with 82 percent of the objects finding buyers.

In the main categories (outside Bushell Netsuke collection), American collectors and Japanese and American dealers did most of the buying. European dealers offered winning Netsuke bids.

Had the top item, a beautiful Kakikiemon vase dating to 1670, been sold, the total result in this category would have been different. Slotted for $700,000-$800,000, it did not reach its floor.

Instead, the top winner was an early 18th-century, blue and white Nabeshima dish with three motifs on its underside. It went to a Japanese collector for $156,000.

The second highest price of the day went for a Korean, Choson Dynasty 19th-century eight-fold screen depicting a Chinese general in Tang dynasty service. It brought $68,500, doubling its $30,000 estimate.

Sachiko Hori, Sotheby's specialist for Japanese art, was pleased with "solid results in early prints, sword fittings and armor sections." He also hailed the top prices achieved by the Bushell Collection.

Chinese ceramics and works of art at Sotheby's, Mar. 22
"We are eliminating lower priced objects, which are better off on the Internet," said specialist James Godfrey about Sotheby's high-end auction. He structured a sale combining jade animals from Chicago's Alsdorf collection, snuff bottles from two other collections, glass in luminous colors, cloisonné vases, textiles, sculpture, bronzes, pottery and ceramics. The 250-plus lots brought in a total of $2,614,000. The targeted figure had been $3,400,000.

Top lot was a 48-inch-high wood figure of a Song Bodhisattva. Last exhibited by J. J. Lally in 1996, it was then for sale from the collection of Paul Houo-ming-tse. This time it sold for $497,500, just below its low estimate.

Another success was a rare, yellow-ground, famille-rose teapot with a Quianlong mark, which made a surprising $167,500, almost seven times its low estimate of $25,000.

Last year, Sotheby's had mounted a separate Chinese furniture sale built around offerings from the Chubb Collection, which in turn attracted other special pieces. According to a Sotheby's spokesperson, "Only top furniture offerings sell well internationally. Unless we can obtain another 'Chubb collection,' Chinese furniture will not be our main feature." (Last year's furniture sale grossed $2,614,000.)

Indian and Southeast Asian art at Sotheby's, Mar. 23
This year's sale of 230 items, featuring spectacular offerings of Tibetan thankas, Nepalese statuary and a strong showing of sculptures, brought $6,340,000, close to a 1998 high of $6,900,000.

Carlton Rochell, Sotheby's managing director for this department, was "thrilled with the market reaction. Fourteen lots exceeded $100,000. This indicates the market has reached a new high."

The magnificent Rajasthani torso of a 10th-century goddess went to an American collector for $376,500, the sale's high. The sandstone figure had been tabbed at $250,000.

A Nepalese bronze group with Shiva and Parvati, dating from the early 13th-century Malla period, was overpowering in its electric magnetism. Its $200,500 auction price bettered its low estimate by $50,000.

Now, what about the forthcoming auctions next autumn? Will increased dealer activity cut into available offerings? How will Asian financial markets affect auction outcomes? Will the overall art market retain its fluidity? Only time will tell.


FRED STERN writes on Asian art for Artnet Magazine.