John Singer Sargent
A Gust of Wind
ca. 1886-87
$1,652,000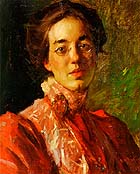 William Merritt Chase
Portrait of Elizabeth Fisher
1899
$17,250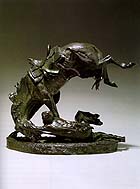 Frederic Remington
The Wicked Pony
1904
$2,752,500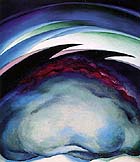 Georgia O'Keeffe
From the Plains
1919
$3,632,000









Arthur G. Dove
George Gershwin, "Rhapsody in Blue," Part I
1927
$255,500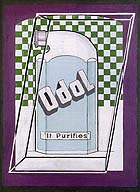 Stuart Davis
Odol
1923-24
$2,422,500










Bill Traylor
Blue Man, Black Mule
$178,500
Auctions of American art present a curious range of subjects, going from Jamesian drawing rooms to the Wild West to the modernist studio. On Dec. 3, Sotheby's American art auction in New York went somewhere else -- to a level of $43.7 million, a new record for an American sale, eclipsing the previous record of $37.8 million set at Sotheby's in May 1989.

Top lot was John Singer Sargent's In the Garden, Corfu (1909), which was knocked down for $8.4 million (presale estimate: $5,000,000-$7,000,000). The painting appears dramatically flawed, juxtaposing highly finished Belle Epoque figures with an almost Twomblyesque painterly passage -- and is all the more exciting for it. Apparently, the artist completed the scene of three young women reading on a patio against a backdrop of foliage, and then decided at the last minute to scumble in a bright patch of sky with bold, even annoyed, strokes.

The seller was reported to be Henry Kravis, the '80s junk bond king who is now a Sotheby's board member. Kravis sold three other Sargent works at the auction. Gossip in the trade had it that his wife, a Museum of Modern Art trustee, prefers more modern material.

Five of the sale's top ten lots were by Sargent. The best of the bunch, though, was the relatively underpriced Gust of Wind (ca. 1886-7), a luminous oil sketch of a girl in white standing on a dune against a sublimely decorative blue sky. It went for $1,652,000 (est. $700,000-$900,000) to an unnamed New York dealer. Similarly interesting was the unglamorous Inside a Tent in the Canadian Rockies (1916), Sargent's scene of a raggedy man reading with the rumpled contents of his rucksack spread out around him. In its unkempt masculinity, the work is suggestive of Jim Dine's bathrobes. It went for a bargain basement $90,500, no doubt because of its subject. Was it bought by a bachelor bookworm?

Other bargains (relatively speaking, of course) in the morning session included William Merritt Chase's Portrait of Elizabeth Fisher (1899), whose charming sitter, with her wire-rim spectacles, could well play the daughter in Washington Square (a version of which is currently at local movie houses). It sold for $17,250 (est. $20,000-$30,000). A luminous waterfall by Frederick Rondel, dated 1857, went for $23,000 (est. $15,000-$25,000) and a corny but lovely 1870 sunset by George Inness from the collection of the Art Institute of Chicago sold for $27,600 (est. $30,000-$50,000).

A moment of excitement was provided by a pair of wacky proto-postmodern studio pictures by Martin Johnson Heade, both titled Gremlins in the Studio (ca. 1865-75), showing a trademark Heade landscape propped up on a pair of sawhorses with a "gremlin" figure dancing in the shadows below. Each was estimated at $40,000-$60,000; the first sold for $57,500, and the second soared to $107,000.

Among the sellers in the morning session was Time Warner, which unloaded 16 works, mostly landscapes. They all sold for a total of $1,860,800.

Modern material was offered in the afternoon, and performed remarkably well -- largely thanks to the early American modernists from the collection of Andrew Crispo, who is reported to be liquidating his assets by order of bankruptcy court. Forty-eight of Crispo's 53 lots sold for a net of $11,775,200.

The sale's second-highest price was paid for Georgia O'Keeffe's From the Plains, a good-sized semi-abstract painting of clouds and lightning. It went for $3,632,000 (est. $700,000-$900,000); an auction record for the artist. Bidder was dealer Gerald Peters, of Santa Fe and New York, who represented O'Keeffe during her lifetime. Four other pieces by O'Keeffe were in the sale -- all bought by Peters over two or three competing bidders. Was he buying them for the new O'Keeffe Museum in Santa Fe? Probably! They were all from the Crispo collection.

The cowboy market was cooking, as well. A unique cast of Frederic Remington's famous 1904 bronze, The Wicked Pony, sold for $2,752,500 (est. $2.5 million-$3.5 million). It had been originally exhibited at M. Knoedler & Co. in 1905, where it was bought by George Murray Wright, Remington's attorney.

The sale contained particularly good works by Milton Avery that repeatedly sold for over their estimates. Eight of the nine were from Crispo (the last was from Time Warner, one of its few modernist lots). The top Avery in the sale was Mother and Child (1944) that sold for $321,500 (est. $150,000-$250,000). The Crispo collection also included Arthur Dove's George Gershwin, "Rhapsody in Blue," Part I (1927), a sprightly painting on aluminum with a collaged clock spring, that sold for $255,500 (est. $80,000-$120,000). From the IBM Foundation was Marsden Hartley's Nova Scotia Fishermen, which sold for $745,000 (est. $300,000-$400,000).

Stuart Davis' Odol (1924), an early still-life composition using commercial packaging motifs (for a disinfectant, no less -- shades of R. Mutt's Urinal!) sold for $2,422,500, an auction record for the artist.

After the American sale ended, Sotheby's held a separate auction of 21 drawings by outsider artist Bill Traylor from the collection of Joe and Pat Wilkinson. Prior to the sale the works toured to L.A., Chicago and Washington, D.C., as part of a fund-raising program for inner-city charities. The works fetched a grand total of $777,700, well over their high estimate of $500,000. Top lot was Blue Man, Black Mule, which sold for an incredible $178,500 (est. $30,000-$40,000).

Prices given here include the auction house commission, which is 15 percent on the first $50,000 of the sale price and 10 percent on the remainder.

WALTER ROBINSON is editor of ArtNet Magazine.