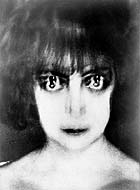 A fake of
Man Ray's
La Marquise Casati
1922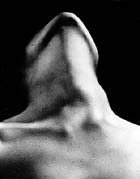 A fake of
Anatomy
ca. 1930





A purported
Autoportrait
1932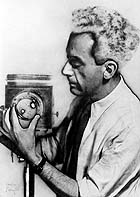 A forged
Autoportrait
1932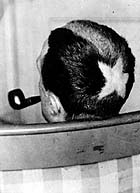 A fraudulent
Tousure
1921






A counterfeit
Noire et blanche
1926






An imitation
Larmes
1930-33
A long-running art forgery operation, which produced high-quality "vintage" Man Ray photographs, has been uncovered by the German photographer and collector Werner Bokelberg. The fakes include Man Ray's most famous images from the 1920s and '30s, including La Marquise Casati (1922), Noire et blanche (1926) and Larmes (1930-33). Bokelberg, who has assembled a large collection of 19th- and early 20th-century photographs and began collecting Man Ray in the 1970s, became suspicious at the increasing availability of such an unusually large selection of classic, and rare, Man Ray images. "It was too good to be true," he told ArtNet. "I could have any picture I wanted."

The source of this bounty was a engaging rogue known as Benjamin "Jimmy" Walter, a saxophone player who frequented various Paris nightclubs. "In retrospect, he looked and behaved like a gangster from central casting," said Bokelberg, who added that Walter could be very convincing. "'My word of honor,' he would say, 'I swear on the grave of my father'."

Walter's explanation of how he came to possess vintage Man Ray photos was a complicated one. According to Walter, his father -- Lucien Walter -- had been a bureaucrat who checked the papers of immigrants. In the course of his work, Lucien, who was also a Sunday painter, had befriended Man Ray and Marcel Duchamp, and even played chess with the famed Dadaists. Through this acquaintance, Lucien obtained a number of Man Ray photographs directly from the artist.

A second group of Man Ray works supposedly belonged to an unnamed friend of Lucien's, a secretive collector with no direct relatives except for a nephew, who was a drug addict -- and who in his will left the pictures to Lucien. According to Walter, he inherited all these works from his father, who died in 1982.

This tale, as it turned out, was false. Lucien is now believed to have been a bus driver -- though an investigation could find no driving license for him -- who died in a charity hospital, with no provable connection to Man Ray. So where did the purported Man Ray photographs actually come from? It remains uncertain, but during Man Ray's sojourn in Paris in the 1960s and '70s, he worked with a commercial photographic printer named Serge Beguier, who was married to Ellen Beguier -- Serge called her Marie -- who has now been Walter's companion for many years. The faked prints, then, could come from original negatives -- all of which were supposedly given in 1993 by Man Ray's estate to the Musée Pompidou (with a smaller number going to an institution in Rome). According to Bokelberg, some of the forgeries are also unusually cropped, containing more of the image than other versions of the same photographs, suggesting access to negatives rather than simple copies of existing prints.

Walter himself has yet to provide a final explanation. "Each time he is confronted," Bokelberg said, "Walter comes up with a new story, more incredible than the last."

The fakes seemed to have a good pedigree. They passed expert inspection, and are believed to be in a number of public collections. Bokelberg said that on Nov. 16, 1983, a group of them were sold at public auction at the Hotel Drouot, under the expertise of Man Ray specialist Gerald Levy, thus providing a bit of provenance. The forgers also took pains to use authentic-seeming photographic paper. A number of fake Man Rays that turned up in the early 1990s (some of which were also approved by Levy) seem to be printed on paper produced in the 1930s. In fact, as the Agfa company confirmed to Bokelberg, the paper used in the forgery scheme comes from a special "nostalgia" edition manufactured for a short time in 1992 and 1993. In another simple but telling test, these photographs fluoresce under black light, due to the bleach used to whiten all kinds of paper since 1955 (this technique was used to uncover the famously faked Hitler Diaries bought by Sternmagazine in the 1980s).

Bokelberg suspects that high-tech computer imaging may have been used to retouch the prints -- a technology of course not available in Man Ray's era. In one particular instance, the picture Glass Tears has a well-known smear in the negative on the nose of the model. In the Walter version of the print, the smear was invisible, with the grain of the negative apparently reproduced by computer.

Over the years, Bokelberg paid Walter a substantial amount for some 50 forged photographs. Earlier this year, after drawn-out negotiations, Bokelberg recovered about $1 million from Jimmy, who brought the sum in cash in a bag to a meeting at his lawyer's office at one o'clock in the morning. Bokelberg's lawyer, Jean Marie Degueldre, plans to file formal charges against Walter and his accomplices.

A number of questions remain. Who printed the fake photographs? Did Walter have a co-conspirator, one with access to sophisticated imaging equipment? Are Walter's forgeries spread far and wide through public and private collections? And if so, will they be uncovered -- or remain hidden forever? Since 1983, fake Man Rays have trickled into the market. ArtNet's auction database shows that over 680 lots of vintage Man Ray photos have been sold since 1989. Which are genuine? Art and Auction magazine is preparing a more detailed investigation of the Man Ray market in its February issue.

WALTER ROBINSON is editor of ArtNet Magazine.