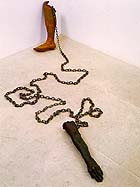 Kiki Smith
Untitled (Arm and Leg), 1990
$74,000

Felix Gonzalez-Torres
Untitled (Blue Cross), 1990
$60,800
Mark Rothko
No. 14, 1960
$5,942,500
Chuck Close
Georgia, 1985
$431,500

Jeff Koons
Ilona on Top (Rosa Background), 1990
$156,500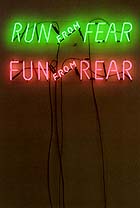 Bruce Nauman
Run from Fear/Fun from Rear, 1972
$310,500
artnet auction report: sotheby's contemporary
by Walter Robinson
The avant-garde went to auction last night at Sotheby's Nov. 19 contemporary sale. The crowd was younger and prettier, and so was the art. Oddly, though it's the other house that plans to split off its postwar lots into separate "contemporary" sales, Sotheby's is the one that actually put new stuff on the block.
And the shock of the new paid off handsomely, as the sale took in a grand total of $28.8 million with 80 percent of the 65 lots sold. It is the highest contemporary total for a single sale since the spring of 1990.
Records for the younger set included $156,500 for Jeff Koons' sexy Ilona on Top "painting" (oil ink on canvas, one of two done in 1990); $74,000 for Juan Mu˝oz's sculpture, Two Ballerinas (bought by SoHo dealer Jack Tilton); $60,800 for Felix Gonzalez-Torres' Untitled (Blue Cross); and $63,000 for Mike Kelley's ugly gray painting, Sic Semper Tyrannis (1985).
Other hip lots included Robert Gober's sentimental, hand-made Dog Bed (1966-67) for $112,500; Kiki Smith's cast-iron Untitled (Arm and Leg) for a bargain $74,000; Barbara Kruger's photo-montage We Refuse To Be Your Favorite Embarrassments (1981-83) for $34,500; and even the final lot, Richard Artschwager's fantastic Two Dinners (1986), a gray celotex field inset with a formica oak table top with images of two bagels, that was passed at $26,000.
Still more records, for avant-gardists of long standing: Bruce Nauman's Good Boy/Bad Boy (1986-87), a set of 100 blinking neon phrases that begins with "I was a good boy" and ends with "This is fear of death," went for a record $2,202,500. Brice Marden's famous Grove Group (1-5) (1972), a set of five very black graphite rectangles on white arches paper, was knocked down for a record $662,500, reportedly to Lucy Mitchell-Innes. And Chuck Close's Georgia (1985), a charming portrait of a girl in gray pulp paper, sold for $431,500.
Top lot of the night was a big fuzzy Mark Rothko, No. 14 (1960), that sold for a record $5,942,500 to the San Francisco Museum of Modern Art. An unusually kitschy Hans Hofmann painting, The North-Easter (1952), also set a record, at $200,500.
Things got lively about halfway through the auction, as Nauman's neon Run from Fear/Fun from Rear (1972) came up on the block. A weedy protester in standing room interrupted the proceedings with shouts of "Obscenity! Obscenity! A disgrace to the art world!" and had to be escorted out. The incident was greeted with laughter, and the work -- one of an edition of six -- sold for $310,500. After the sale, auctioneer Tobias Meyer noted that he could feel the room become re-energized.
The sale was relatively celebrity-studded, too. Bidding from a seat on the aisle, John MacEnroe topped a number of other buyers to snag Basquiat's Portrait of Vrks (1982) for a healthy $453,500. Among celebrity consignors, there was Sylvester Stallone, who sold David Hockney's thuggish Berlin: A Souvenir (1962-63) for $635,000, and the Prince and Princess Sadruddin Aga Khan, who sold Rauschenberg's great photo collage, Bicycle (1963), for $1,652,500.
Twenty-one lots were consigned by contemporary collectors Camille and Paul Oliver-Hofmann, who -- according to gossip in the trade -- are dissolving a family trust under pressure from a daughter who wants a pay-out now. According to my count, 12 of their lots sold for a total hammer price of $3,747,000. Top lots in this group were the Gober, the MacEnroe Basquiat and a beautiful 1962 Lichtenstein, The Ring, that went for $2,202,500. Undeterred, the Oliver-Hofmann's are still collecting, or so I'm told.
Five lots came from controversial dealer Andrew Crispo (for details see Bag of Toys by David France), including Marden's Grove Group, another Marden drawing, works by Noguchi and David Smith, and Anselm Kiefer's 1982 Johannisnacht, a fern-encrusted canvas that sold for $541,500. The total at the hammer was $1,895,000. Crispo has been operating privately out of the former Collier & Son building on West 13th and 9th Avenue under the name Canova & Rittenhouse, and has long been rumored to be on the brink of going retail.
Finally, my favorite section, ink-stained wretch that I am -- the lots that didn't sell (thus, for once, confirming my dyspeptic estimate of their true value). Momentum slowed considerably at the end of the auction, with only three of the last ten lots being bought. Among the unsold: a fairly ugly painting by Francesco Clemente; an awful statue of a baton twirler by Duane Hanson; a not-bad black mist painting by Ross Bleckner; and earlier in the sale, a ring of copper plates by Carl Andre.
More importantly, the incredible Baby Doll Lounge (1978) by Richard Estes, which shows a Tribeca street scene with the landmark neighborhood girlie bar in the distance, was bought in at $210,000 bid (est. $250,000-$350,000). A great painting, but the reserve was clearly way high.
A final word: the luxuriously produced catalogue frequently linked the individual lots with high-brow literary quotes or illustrations of historic art. Among the funnier pairings: a passage from the 12th-century iconoclast John of Damascus with Warhol's Marlon; Paolo Uccello's Perspective Study of a Vase from the Uffizi with Mangold's ellipse painting; and a Warhol Mao (1973), that went unsold at $310,000 bid, with the Chinese dictator's famous statement that "Revolution is not a tea party."
No table of sale prices this time around. Instead, we introduce you to ArtNet's new illustrated chart of auction results, just a click away.

WALTER ROBINSON is editor of ArtNet Magazine.