Getting ready at the Art Show 2002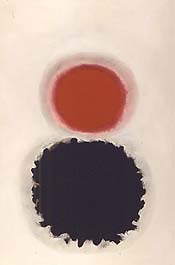 Adolph Gottlieb
Bonac
1961
at Richard Gray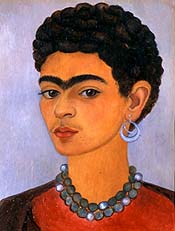 Frida Kahlo
Self Portrait with Curly Hair
1934
at Richard York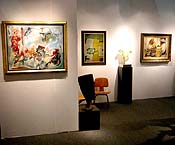 Installation view at Mary Anne Martin
with Matta's Morphology of Desire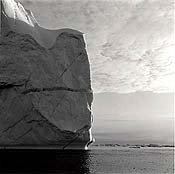 Lynn Davis
Iceberg #33, Disko Bay, Greenland
2000
at Edwynn Houk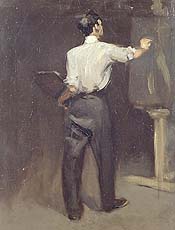 Edward Hopper
The Painter
1903-06
at Linda Hyman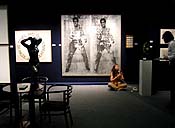 Warhol at C&M Arts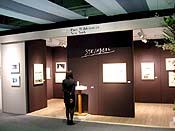 Saul Steinberg
at Pace Wildenstein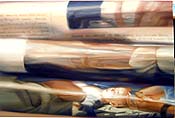 Xiaoze Xie
August 2001
2002
at Charles Cowles
Gilbert & George
Gilbert & George
1975
at David Zwirner
Febrath Hines
Untitled #1
1974
at June Kelly
Richard Diebenkorn
Head of a Woman
1961
at John Berggruen
Art Show Action
by Lindsay Pollock
The Art Show 2002, Feb. 21-25, 2002, at the Seventh Regiment Armory, Park Avenue and 67th Street, New York, N.Y. 10021

It's high noon on Wednesday, Feb. 20, five hours before the $2,000-ticket crowd arrives at the Art Show, the elegant fair of modernist and contemporary art mounted every year by the Art Dealers Association of America (ADAA) at the Park Avenue Armory. Much remains to be done. A team of workers unfurls a giant blue carpet over the Armory's scuffed wooden floor. Wooden ladders dot the aisles, and the metallic tap tap tap of hammer-wielding art dealers hanging prize canvases drifts between the booths.

"This is a time of optimism," says Richard Gray, owner of Richard Gray Gallery in Chicago and New York and president of the ADAA, which celebrates its 40th anniversary this year. "We are pleased to be back," Gray notes, referring to the Armory's recent incarnation as a military outpost. "It was almost at the last minute."

Hanging in Gray's booth is a large, moody painting by Adolph Gottlieb, Bonac (1961), priced at $875,000. A Chinese red orb floats like a sun over an ominous black circle. "Look at this," Gray says, opening a tiny door to his booth's storage closet and bringing out from the darkness several minute canvases, including a bright work by David Hockney.

Civility and serenity also reign at Richard York Gallery, where York and a helper calmly make last-minute adjustments. A big bowl of shiny foil-wrapped peppermint patties -- York brand, of course -- rests on a long table. A fine Frida Kahlo Self Portrait With Curly Hair (1934) dominates one wall. Reminiscent of a Mexican religious folk painting, or retablos, the work is oil on tin and measures less than eight by six inches. Unlike more commonplace retablos, the Kahlo costs $1,200,000.

York explains that Kahlo discovered her husband, Diego Rivera, was having an affair with her sister. Frida chopped off her long hair, which Diego loved, moved out, and painted this self-portrait. "She's self-confident, defiant," York notes, looking into Frida's large brown eyes. The pixie-ish image of Kahlo, sporting her cropped mop of curls and signature unibrow, was later given to Ella Wolfe, who helped found the American Communist Party. York recalls Art Shows past, when a scruffy looking Madonna appeared at his booth, and another lucrative moment when Oprah Winfrey popped by and picked out an Impressionist painting.

A very different Kahlo is on display at Mary-Anne Martin/Fine Art. A smallish watercolor and pencil View of Central Park, signed and dated 1932, presents a view from Kahlo's hotel room on Central Park South. The small brown building in the upper right corner is an early incarnation of the Metropolitan Museum of Art. Kahlo's Manhattan vista, done in earthy greens and browns, with pencil sketches of East Side apartment houses and a pre-Wollman rink reservoir, allows a glimpse into the artist's soft and spontaneous side. The price is $65,000.

Rosita Chalem, Martin's research director, points out a star $1.1-million painting by Roberto Matta while helping her art handler navigate a cardboard bin of canvases. In Matta's Morphology of Desire (Psychological Morphology No. 37), which dates from 1938, the colors melt and meld in the trademark fashion of high Surrealism.

Down the way at Edwynn Houk, large black and white photographs of icebergs rest on the floor. These almost-abstract Greenland seascapes by Lynn Davis aren't frozen in place, though. A lanky gallery guy methodically positions the hefty Disko Bay pictures on the wall.

Zabriskie Gallery also shows several photographs, including a 1924 Man Ray snap of Marcel Duchamp's famed painting of the Bride Descending the Staircase. The price is $7,500. The stately Virginia Zabriskie, who opened her gallery in 1954, wears a cherry red cardigan and reads the Dining Out section of The New York Times, unruffled by all the pre-opening buzz.

Another veteran, Linda Hyman, a private dealer of American Moderns since 1981, readies for the big night. Hyman, who works from the Upper West Side, has placed an Arthur Dove, which is already sold, next to a classic WPA picture by Ben Shahn. The work shows four jobless guys, "sad and lonely," sitting in Seward Park on the Lower East Side, one of Shahn's favorite spots. By 1932, almost one million New Yorkers, a full third of the labor force, were unemployed. No longer a slum neighborhood, the same park is still a rather forlorn strip frequented by the down and out of today.

Back up at the front of the armory, a man with dusty boots and faded jeans speaks crisply into his cell phone, "I think it's going to be a bit of a scramble." With a pack of Marlboro Lights tucked into his t-shirt pocket, he explains that crews of "70 guys, teamsters, electricians and carpenters" have been working since last Friday to prepare the site. He amends his quote, "Carpenters come first," he says, nodding to his co-worker.

Across from the scrambling workers, at C&M Arts, the gallery opened by former Goldman Sachs money-man Robert Mnuchin, hangs a giant Warhol silkscreen from 1963, Double Elvis. Mirror images of rock and roll studliness, replete with unbuttoned shirt, hip-hugging holster, and pointed revolver confront the viewer. The price? "It's non-quotable," calls out a busy gallerist glued to her cell phone. "It's in the many millions."

PaceWildenstein also landed a prime position flanking the entry. For the third consecutive year, dealer Arne Glimcher has chosen to install a special exhibition of a single artist's work -- this time, paintings, sculptures and works on paper by the veteran New Yorker illustrator Saul Steinberg (earlier shows were of works by Agnes Martin and Pablo Picasso).

After several hours of traipsing through booths, things can go a bit blurry -- an effect that isn't helped by the recent vogue for blurry realism. At Charles Cowles, the Chinese painter Xiaoze Xie, who also teaches at Bucknell, is presenting August 2001, a Photo Realist painting of a stack of newspapers. Cowles affectionately calls Xie "Mr. X." At $5,500, the work is priced to sell. Xie's first New York show opens March 16 at Cowles' Chelsea outpost.

Blurred Photo Realism is also on offer at David Zwirner, via a fascinating portrait by Gerhard Richter of Gilbert and George from 1975. This work is priced $1.2 million.

At June Kelly's booth are two oils by Felrath Hines, a gifted colorist who died in 1993. Hines did things with yellow and grays that mere mortals can only fantasize about. In Untitled #1 (1974), priced at $40,000, overlapping organic forms float quietly on the painted surface. Three Grays with Green Circle (1975) is a simple abstract composition that exudes remarkable grace and strength. It's $36,000.

Kelly recently closed a solo show of Hines' work, well reviewed by New York Times critic Ken Johnson, at her SoHo gallery. Hines also worked as a painting conservator. While chief conservator for the National Portrait Gallery in Washington, D.C., he was responsible for preserving Gilbert Stuart's portraits of George and Martha Washington.

More brilliant color can be seen in a work by Willem de Kooning at the John Berggruen Gallery. The large untitled work from 1977 combines a profusion of pinks yellows and blues. Berggruen, a San Francisco dealer long associated with Richard Diebenkorn, has brought that artist's Head of a Woman from 1961. Diebenkorn rendered a creamy-toned female head and shoulders, on a black field, in thick broad brushstrokes. The price is $185,000.

The center of Berggruen's booth is dominated by an unusual still life by Balthus, titled Legumes dans un bol et huiler (1970) and priced at $275,000. From an artist better known for his oils of little girls, the elegant watercolor is startlingly fresh. Peter Crumb, an artist who was helping out at the gallery, suggests that Balthus captures sexual undertones with his vegetables. "Those eggplants are phallic," he says, swinging his Louis Vuitton sachel and heading off for a break.


LINDSAY POLLOCK is a freelance writer based in New York City.