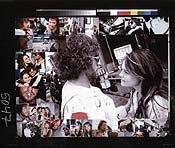 A "Wonderland" collage by Val Kilmer and Ali Alborzi, at Off Main Gallery, Santa Monica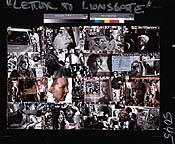 A "Wonderland" collage by Val Kilmer and Ali Alborzi
Pablo Picasso
Le Tricorne
1919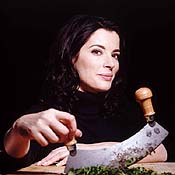 Nigella Lawson on the BBC
Michael Stipe by Helena Christensen, at the Proud Galleries, London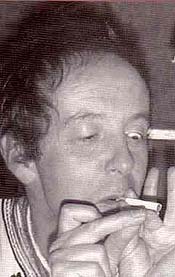 Taylor Mead, from warholstars.org
A drawing by Alfredo Martinez (reproduced on a t-shirt).
Celebrity Art
by Baird Jones
Alert Los Angeles gallery-goers got a very special preview of the hot fall film Wonderland, in which Val Kilmer stars as notorious porn star John Holmes, thanks to a one-week exhibition of photo-collages at the Off Main Gallery at Bergamot Station in Santa Monica, Aug. 24-Sept. 1, 2003. Also starring Lisa Kudrow, Christina Applegate, Carrie Fisher, Dylan McDermott and Eric Bogosian, the film depicts Rashomon-style the 1981 quadruple "Wonderland Murders" in Los Angeles, for which Holmes and drug kingpin Eddie Nash stood trial (neither were convicted).

Kilmer collaborated with photographer Ali Alborzi, who took photographs on the Wonderland set between takes, to make about 400 original collages that include original photos as well as ephemera from both actors and the film prop department. The collages are for sale at prices ranging from $1,000 to $10,000, depending on size. According to Off Main Gallery director Laurie Frank, the exhibition is slated to travel to London, Moscow and Toronto. The film is set to be released on Oct. 3.

* * *

The landmark Four Seasons restaurant is keeping Pablo Picasso's famous Le Tricorne (1919), the 22-foot-tall Ballet Russes stage curtain that has hung in the corridor between the Pool and Grill Rooms since the restaurant opened in 1959, according to Roger Friedman of Fox news online. Earlier reports had the beleagured Vivendi conglomerate, which has already sold much of the Seagram art collection at auction, flogging the Picasso as well -- perhaps for as much as $20 million. But Four Seasons owner Julian Niccolini has confirmed that the media company has turned the Picasso over to the restaurant. "The Picasso is staying!" Niccolini reported at the recent 15th anniversary party for the East Hampton eatery Nick and Toni's. "Vivendi has donated it."

* * *

Svengali-like supercollector Charles Saatchi and voluptuary cookbook-author Nigella Lawson have officially tied the knot, according to a report on Peoplenews.com. The quiet ceremony, held in the couple's Belgravia home, was low-key -- Saatchi notoriously hates parties -- and attended by only a handful of friends and their three children by previous marriages. Lawson wore a flowing black dress and Saatchi a white shirt and baggy pants. The newlyweds have jetted off to parts unknown for a honeymoon.

* * *

Former supermodel Helena Christensen, who retired from full-time catwalk duty five years ago to be with her newborn son Mingus, has taken up photography and is now having her first solo exhibition at the Proud Galleries in London. Dubbed "People and Portraits," the show is on view Sept. 5-Oct. 4, 2003, and includes photographs of actor Orlando Bloom, Marianne Faithfull and actress Erin O'Connor. "Since I was a small child, I've loved capturing elements of my life through the camera," Christensen told the London Telegraph. "As I started modeling I took my camera everywhere. Photography was a way of catching up with myself and enjoying the images when I had time."

* * *

Andy Warhol superstar Taylor Mead is fighting eviction from his tenement apartment on scenic Ludlow Street on Manhattan's Lower East Side. According to Mead's landlord, the nearly destitute 77-year-old poet and actor maintains a public health hazard because of a plethora of debris. Mead has countered that this so-called rubbish is actually priceless artwork gifted by such pals as junk sculptor John Chamberlain, earthwork artist Robert Smithson and Nouveau Realiste Christo.

What's more, a renovation project next door has resulted in three gaping holes in Mead's apartment ceiling and walls. "Flying bricks narrowly missed my head," Mead exclaimed to me. "My home is covered with dust." The neighbors promise to repair the damage but Mead reports he can still see the sky at night as he looks up from his bed, and admits, "It is a bit romantic."

* * *

Convicted art forger Alfredo Martinez, currently in jail for passing off copies of drawings by Jean-Michel Basquiat as the real thing, is hard at work on his artistic comeback, says Artnet Magazine people photographer Nancy Smith. "I've sold some photos of Alfredo to Black Book magazine for a big article on him, written by Chris Lee, the new contributing editor there, coming out this October," she said in an email. "I'm also organizing a show of drawings that Alfredo sent out from the Metropolitan Detention Center in Brooklyn. He mails me huge 12 x 16 inch envelopes filled with folded up collages and drawings. He uses torn-out pages from old books for paper, and coffee and juice as pigments to draw with." Alfredo's exhibition is scheduled to appear at the Proposition in Chelsea in November.

* * *

Tracey Emin still likes to party hearty, according to the London Mirror. Tabbed to present a GQ award for lifetime achievement to the Clash, "she staggered around on stage forgetting what the award was, and who it was for." The presentation reportedly ended with "the sloshed painter" on the floor, "giggling drunkenly."


BAIRD JONES is author of Mark Kostabi and the East Village Scene 1983-87.