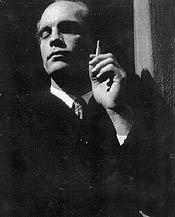 John Malkovich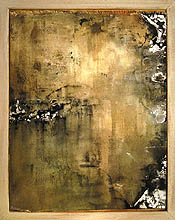 Andrei Petrov
Compelling Evidence
2003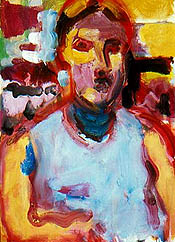 Robert De Niro, Sr.
Portrait of George
1980-1981
Frank Sinatra
Francesco Scavullo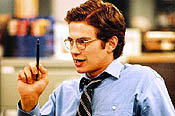 Hayden Christensen
in Shattered Glass
Photo by Jonathan Wenk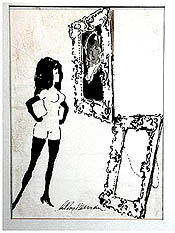 LeRoy Neiman
Femlin with Scarf
1970
Celebrity Art
by Baird Jones
Hollywood is turning its lenses on another art legend. Psycho-actor John Malkovich has signed on as the lead in Raul Ruiz's biopic of lusty Austrian Art Nouveau star Gustav Klimt. The Valkyrie-like German actress Veronica Ferres, who has been called the "German Sharon Stone," is to play Klimt's glamorous lover and model Emilie Floege, while others in the cast are the ravishing French star Sophie Marceau and Austrian actors Elisabeth Orth and Georg Friedrich. Production is slated to begin later this summer in Vienna.

* * *

Will Donald Trump's The Apprentice television series catapult artist Andrei Petrov to fame? Petrov's marblized abstract paintings made a featured appearance on the show at the beginning of March, when one team of prospective Trump lackeys sold $13,000 worth of Petrov's canvases. According to the New York Post, Petrov's gallery in Alexandria, Va., the Principle Gallery, sold 18 canvases by 11 am the next day and 100 more via the Internet. Artist Meghan Boody, who has a better art-world track record -- she has showed at Sandra Gehring Gallery in Chelsea, for instance -- fared less well at Trump's hands. The team of apprentices that represented her work managed to sell only $869 worth of her quirky sculptures and paintings. For more info on Boody see www.lookingglasslabs.com; for info on Petrov, see www.AndreiPetrov.com.

* * *

Art insiders have long appreciated the late painter Robert De Niro Sr., for his Matisse-like paintings (now represented by Salander-O'Reilly Galleries in Manhattan), as well as for being a pioneer of art colonies in both SoHo and Provincetown, and father of the actor Robert De Niro Jr. He was also gay, as the New York Post recently pointed out in a Page Six item sourced to De Niro: A Biography, a new book from HarperCollins by film critic and celebrity biographer John Baxter. According to the book, the the poet Robert Duncan was De Niro Sr's long-time paramour but "Tennessee Williams and his lover Kip Kiernan may have initiated him, but it's equally possible that Pollock was among his first lovers." Ah, Pollock. De Niro Sr was studying at Hans Hofmann's school in Provincetown when he and the late painter Virginia Admiral decided to get married, and though the marriage only lasted a few months, they remained friends. De Niro Jr is now executor of his father's estate.

* * *

The newest art gallery in Las Vegas, the Godt-Cleary Gallery at the Mandalay Place, premiered with shows of prints by Ed Ruscha and James Rosenquist. But currently on view in the town that Frank Sinatra built are works by -- yes -- Frank Sinatra. Surprisingly, some of the works are quite serviceable geometric abstractions. Call it art's "Ol' Blue Eyes" period, said a wag at the Las Vegas Mercury. The show features 18 paintings by the crooner, who would sometimes sign his works with the surprisingly workable nom d'brush of "Artanis." A gala party on Apr. 18 benefits the Barbara Sinatra Children's Center in Rancho Mirage. "My husband especially loved the color orange," Barbara told me. "His second favorite colors were yellow and red, so I guess that makes sense. He found orange to be the happiest color. It gave him a good feeling. Oddly, he preferred grapefruit juice to orange juice in the morning. Twenty years ago he dedicated a painting to me that he called The Sunshine of My Life -- and it's an abstract work done almost entirely in orange. Steve Wynn ended up owning it."

* * *

Photographer Francesco Scavullo, who snapped lovely faces from Kim Basinger to Robert Mapplethorpe for Cosmopolitan and Playboy, told me a few weeks before he died in January, "The most impactful photographs I ever took were probably the shots I did of Martha Mitchell for the 1974 New York magazine Christmas issue. She came in with no make up and with this horribly big hair bun and I just transformed her look. My makeover made Martha beautiful and young. That spread marked the sudden end of the makeup-less hippy era in fashion. After that glamour came in big time."

* * *

At the premiere of Broken Glass, actor Hayden Christensen confided in me that he is something of a collector. Not art, unfortunately -- but toy frogs. "I have 30 of them," he said. "All gifts. Most are cloth covered with bead stuffing. Some are carved out of wood. I got my first frog when I was 13 from Kelly Rutherford, who was also my age. I did a movie of the week with her called No Greater Love, and had the biggest crush on her, and that started me off on my frog hobby. I would never give any of my frogs away, I'm going to keep them all for myself, totally. I'm a collector. Someone just told me Pink collects toy frogs also but I hear she only has a dozen or so."

* * *

During a party not too long ago celebrating Playboy Magazine's 50th anniversary, Playboy staff artist LeRoy Neiman, inventor of the Femlin, the foxy little lady wearing nothing stockings, gloves and a bowtie who cavorts across the magazine's "joke" page, frightened me with stories of a more ominous obsession. "I had a stalker who just followed me everywhere," he said. "I just could not get rid of this incredibly angry guy. "Finally I flew off to Russia for a retrospective of my paintings at the Hammer Gallery there. When the plane touched down in Moscow, there he was, standing at the gate. I got so upset that I fell down the plane steps and broke my ankle. The Russian doctors wanted to operate but I took the next plane back to the U.S. for the operation. The weirdest thing is that I never saw that stalker again."


BAIRD JONES is author of Mark Kostabi and the East Village Scene 1983-87.