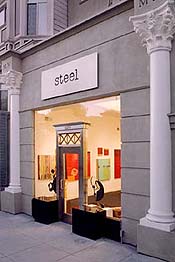 The Steel Gallery of Contemporary Art, San Francisco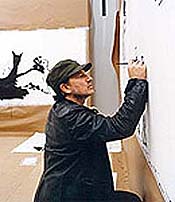 Bono at work in the studio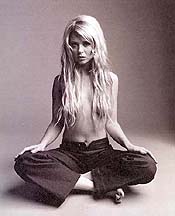 Tara Reid

"Playboy at 50" at Christie's, Dec. 13, 2003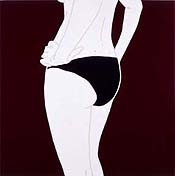 Natasha Law
Black Knickers
2003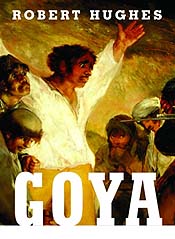 Goya
by Robert Hughes (Knopf, $40)
Celebrity Art
by Baird Jones
Movie star Steve Martin showed slides and discussed his art collection down in Washington, D.C., last weekend, courtesy of the Corcoran Gallery of Art. His interlocutor was Norman Rockwell biographer and New York Times Sunday Magazine contributor Deborah Solomon, who said Martin was "amusingly candid, even pointing out that his 1964 Roy Lichtenstein Pop classic -- a close-up of a disappointed redhead sighing into the phone "OHHH...ALRIGHT..." -- contains a spelling mistake." Maybe he should he white-out the "alright."

* * *

Bestselling romance novelist Danielle Steel -- whose Answered Prayers comes out in paperback this month -- is becoming an art dealer. According to San Francisco Chronicle art critic Kenneth Baker, the Steel Gallery of Contemporary Art opens on Oct. 7 in a 1,000-square-foot storefront at 3524 Sacramento Street in San Francisco. A collector herself, Steel says she favors lesser-known and younger artists -- though the Bay Area sculptor Peter Forakis and figurative painter Sam Messer may show there as well. Steel also favors red paintings, Baker says, to such an extent that she had to be reined in by gallery director Dana DeKalb.

* * *

U2 lead singer Bono has taken up the brush and made 16 paintings to illustrate a new version of Sergei Prokofiev's Peter and the Wolf as part of a fundraiser for the Irish Hospice Foundation. The combined book and CD, with music performed by Gavin Friday and the Friday Seezer Ensemble, can be bought for 30 euros at www.peterwolf.org. Bono's drawings -- done in collaboration with his two kids, Jordan and Eve -- go on view at Christie's in Los Angeles, Oct. 13-15, 2003, and New York, Nov. 20-21, with the auction scheduled for Nov. 21.

* * *

Batty blonde actress Tara Reid has also taken up the brush, adding a canvas to artist Peter Tunney's room-sized installation at the hip new Capitale restaurant on the Bowery in New York. According to a report in New York Magazine, Reid and Tunney were drinking Bellinis at Cipriani before the Josie & the Pussycats star picked up a brush to help Tunney paint the words NO GOOD DEED GOES UNPUNISHED on a small canvas. "I glued the very brush that touched Tara's hands on the painting," he adds.

* * *

When Las Vegas Sun gossip scribe Timothy McDarrah (son of famed Gotham photographer Fred McDarrah) dialed up the telephone numbers from Hugh Hefner's little black book from 1957, the only one that was still good was its first one in the A section, that of photographer Richard Avedon (the good things in life never change). The black book was on display at the Palms Hotel and Casino as part of the preview to "Playboy at 50," an auction of Playboy and Hefner memorabilia scheduled for Christie's New York on Dec. 17. Other memorabilia includes original manuscripts, paintings by Alberto Vargas and LeRoy Neiman, cartoons by Eldon Dedini and Shel Silverstein, and an original Playboy Bunny costume. The preview exhibition, now on tour, stops in Chicago, Oct. 24-31, before opening at Rockefeller Center on Dec. 13.

* * *

Road to Perdition and Talented Mr. Ripley star Jude Law's older sister Natasha Law exhibits her erotic nudes in "Kaleidoscope," a new group show that opens at the tony Ingrao Gallery on Manhattan's Upper East Side, Oct. 9-Nov. 30, 2003. "I ask my models to dance around, dress and undress," says the painter. "It's a very intimate situation." Since opening last year, Ingrao has been celebrated for its combination of rare antiques and cutting-edge art displayed throughout three floors of its East 64th Street townhouse. The exhibition, organized by independent curator Blair Clarke, founder of Voltz Clarke art consultants, also includes landscape murals by Adam Cvijanovic, a video installation by Marit Folstad and large-scale Zen-influenced landscape photos by Christine Nachmann.

* * *

Spotted at the opening for East Village expressionist Rick Prol's exhibition at Maya Stendhal Gallery in Chelsea -- Gabriel Byrne, who noted that "several years ago I very unwisely gave an interview to the London Times in which I discussed the long list of odd jobs I had before I became an actor and somehow in this humdrum list amongst plumber and electrician they inserted the completely ludicrous job of bullfighter, something obviously I never did.

"Ever since then, this crazy falsehood has had a life of its own. No matter how many times I try to deny it, the story just keeps coming up again," said Byrne. "This topic has become almost unbearable to me. Let me make it clear for the absolute last time. I never killed a single bull. I never faced a single bull. I never trained as a bullfighter. I was never a bullfighter in any way period. I've never even had a job of any kind in Mexico or in Spain."

Byrne paused, then added, "This is what happens when an Irishman gives an interview to the London Times, he ends up regretting it for the rest of his life."

* * *

At the party at the Four Seasons restaurant for Madeleine Albright's new best-seller, Madam Secretary, the badly limping art critic Robert Hughes told me, "After ten operations on my leg, a broken arm that at one point the surgeons actually wanted to amputate, a sewn-back-on thumb, six broken ribs and now-constant pain, strangely enough I feel almost happy that I had my car accident four years ago. I had become completely blocked in my research for my book on Goya. But after my injuries I came to understand how Goya's own physical infirmity, his sudden deafness with disequilibria at 50, ushered in his preoccupation with nightmare and unhappiness that makes him perhaps the first modern painter. This insight was a breakthrough for my book.

"Goya's deafness was not understood then or now. Some believe it was due to syphilis, yet he lived on to 82 in good health which makes that diagnosis unlikely. The uncertainty behind his illness just made his infirmity that much more difficult for Goya and it lead directly to his vast output of artistic melancholy which was obviously also influenced by political events as well. Goya became uncertain of everything. Here was a man obsessed with witches yet he was also completely of the Enlightenment. His painting cried out, 'I am deeply unhappy and I don't understand why,' which is a very modern form of despair. I think my own car accident helped me through a blockage in understanding the key role that Goya's deafness had played in his inspiration."

* * *

London's glam couple, Nigella Lawson and Charles Saatchi, returned from their 10-day honeymoon in Coatia, according to the Daily Mail, and took their kids to school the next day wearing exactly the same outfits they had worn to the wedding.


BAIRD JONES is author of Mark Kostabi and the East Village Scene 1983-87.