Jeff Koons
Ilona on Top (Rosa Background)
1990
$156,500




Bob Dylan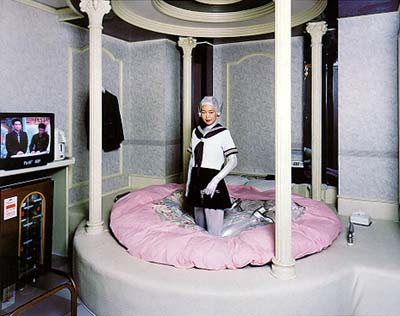 Mariko Mori





Andes?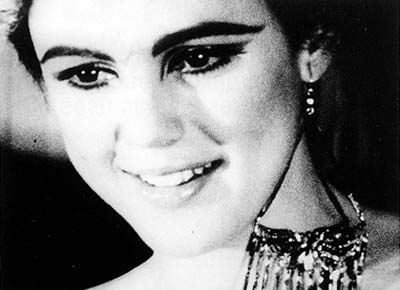 Edie Sedgwick
in Warhol's
Poor Little Rich Girl,
1965






The Borg matrix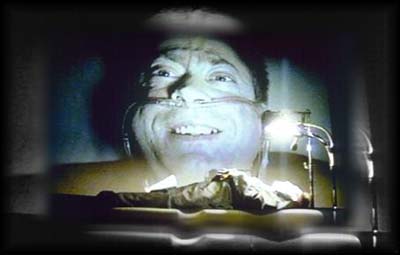 Bob Flanagan,
in Sick









saddle shoes
Alexandra Peers of the Wall Street Journal correctly picked that the Jeff Koons Ilona on Top would be a big seller at Sotheby's contemporary auction on Nov. 19, going for $156,500. But let's look a little closer at this figure.

At the height of his market in the late '80s, Koonsie's editions of three kitsch pieces would go for $125,000 apiece, with waiting list. Relatively speaking, this makes last night's price look like a bargain.

Intriguingly, Koons' refusal to show since the Ilona series went on view at Sonnabend in 1991 appears to be a clever tactic to restore his auction bona fides. For five years, collectors have been afraid to put Koons on the block with a justifiable fear that there would be no takers. Just like Bob Dylan, who created interest in his career by disappearing during his Woodstock period in the '60s, Koons' Garbo-like reticence may have restored his market credibility.

Moriko Mori tested the auction market for the first time on Nov. 20 at Sotheby's, with the tacit approval of dealer Jeffrey Deitch. The piece, depicting the billionaire nymphet in her signature schoolgirl uniform, was expected to fetch between $15,000 and $20,000. It has been consigned by Deitch collector Simon Cerigo. It's actual hammer price? $17,000.

Brainy and beautiful Brooke Alexander director Carolina Nitsch-Jones gave us a backroom preview of the gallery's spring 1998 show of very late Warhol drawings.

Brooke Alexander, Inc., has been buying these larger-than-life depictions of personalities like David Hockney, Herman Hesse and John Lennon, as the Warhol Foundation has put them on the market.

The Andies are line tracings from photographs, unsigned, on thick yellow stock. They'll be priced at $25,000 a piece and up. The most expensive? Elvis, of course.

The Warhol Foundation's recent donation of sets of the late artist's films and videotapes to the Museum of Modern Art, the Whitney, the Warhol Museum, UCLA and the Museum of Radio and Broadcasting, along with their copyright, is valued at $9 million, at least as far as the IRS and state attorney general's office are concerned. The rest of us can go rent them at the video store for a few bucks.

This month three downright awful painting exhibitions have received praise in disparate places: Carroll Dunham (Metro Pictures) from David Rimanelli in The New Yorker; Terry Winters (Matthew Marks) in the New York Times; and Richard Pousette-Dart from his longtime champion Hilton Kramer in the New York Observer.

Back in the '60s, Philip Guston ripped off his severed head, big-eyed, big-toothed doofus archetypes from R. Crumb, without attribution. Now Tip Dunham has made a career out of doing inferior replicants of Guston's geeky rip-offs.

Why are Dunham's poorly conceived emaciated dweebies worthy of more praise than Mark Kostabi's flexible robots? Answer: They're not.

Then there's Terry Winters' badly executed crosshatches that resemble an adolescent's crayon copy of the Borg matrix, done while watching Star Trek: The Next Generation on TV. More dreck.

And what about the Met, which has recently wasted gallery space on R.B. Kitaj, Frank Auerbach and other unworthies? Yet another new low with Pousette-Dart's busy canvas-filling abortions.

Because he taught for years at Sarah Lawrence and had half a dozen fans, the late Dick P-D is considered P.C. by curator Lowery Sims, I guess. But the work is bad, bad, bad -- we dare you to imagine having to live with one!!

Winters, Dunham and Pousette-Dart, white males all, share an agenda: fill the canvas with doodads till you drop. Is celebrating them some in-joke among the revolutionary disenfranchised? We hope so -- otherwise, it's just more bad taste.

Not ever, no way, inconceivable, never.
-- Jerry Saltz, in a rare retelevised appearance on CBS cable's Eye on People, when asked if Mark Kostabi should be considered a great artist.

Thanks to director Kirby Dick for including this reporter's 1994 interviews with the much-missed Bob Flanagan, in his critically acclaimed flick Sick, now playing at the Angelika downtown.

Peter Blum director Arthur Solway reminisced about the late, great Ray Johnson, while manning his booth at SoHo's Artists' Book Fair. "I was at Ray's Long Island home, in connection with curating a 75th birthday tribute to John Cage.

"Ray graciously agreed to help -- so I asked him where his gallery was. 'It's in the garage,' Ray answered, and he took me there -- his gallery was in his car!

"Ray lent me his John Cage saddle shoes, right out of the back seat!"


You can see the buildings, you can see the cars, but you can't see the people.
-- Colorado satellite imagist David Gallagher on the now commercially available, high-intensity satellite photos' degree of resolution.

Thanksgiving means football and Jeffrey Deitch's intriguing dealer/collector relationship with ex-Philadelphia Eagles owner Norman Braman. Braman the Brahmin was an NFL big-foot, frustrated year after year by Philly teams that were good but not great, consistently making the playoffs, only to lose in the first round three years in a row.

Braman signed an unknown Reggie White out of the defunct WFL Memphis Showboats -- White went on to win last year's Super Bowl with the Packers. Braman also fired defensive genius Buddy Ryan, and led NFL owners into abandoning televised instant replay.

As a collector, Braman is second only to Donald Rubell on the Miami scene, where he's decamped post football. Perhaps Deitch can teach him a few new plays....

"Who are the greatest people you know?"
"You wouldn't know them." -- ACLU founder Roger Baldwin.

Negotiations between Shanghai officials and Thomas Krens have broken down over money: hence the Gugg's planned contemporary art tour of China has been canceled. Meanwhile, the latest Krens blockbuster, "China: 5,000 Years," opens Feb. 6 both uptown and downtown Guggenheims.

Full of tantrum-throwing head cases, the New York art world is not exactly a repository of the kind and well balanced. Yet, it didn't take too long to come up with a Turkey Day list of New York's "Ten Nicest Arties" (though not too nice!).

Fiona Howe of Paul Kasmin
James Elaine of the Drawing Center
Annabella Johnson of Sean Kelly
Peggy Allen of the Guggenheim
Downtown Festival czar Simon Watson
Artist Stephen Westfall
Charlie Guarino of Artforum
Gagosian artist Outtara
Elizabeth Phillips of Jeffrey Deitch
Artist Elana Herzog


And, what the hell, Santa Claus is coming, so check out the ten naughties who, of course, need no introduction. For some satirical fun, match the innocent on the left with the rumored vice on the right:

Clearly labeled "PARODY"
Have some fun with Booner and the boys. Happy Thanksgiving!!!

CHARLIE FINCH is the New York editor of Coagula Art Journal and has coauthored the forthcoming Most Art Sucks from Smart Art Press.