Jeff Koons
Buster Keaton
1988
$409,500 at Christie's
Matthew Barney
Cremaster 4
1994-95
$387,500 at Christie's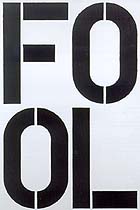 Christopher Wool
Untitled (Fool)
1990
$600,500 at Christie's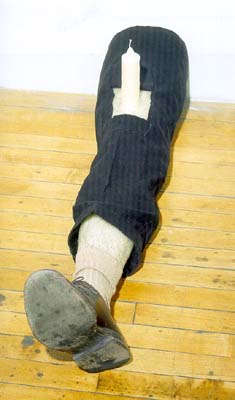 Robert Gober
Untitled (Leg with Candle)
1991
$794,500 at Christie's
Robert Ryman
Signet 20
1965-66
bought in at Christie's
Alexander Calder
Constellation
1943
$1,982,500 at Sotheby's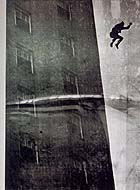 Andy Warhol
Suicide
1964
at Sotheby's
Lucian Freud
The Painter's Mother
1982-84
$3,302,500 at Sotheby's
Gerhard Richter
Vierwaldstätter See
1969
$1,047,500 at Sotheby's
Jean-Michel Basquiat
Grillo
1984
$1,102,500 at Sotheby's
For a moment there, it looked like a meltdown. Christie's contemporary art specialist Philippe Ségalot had a phone pressed to his ear and was waving his bids. Auctioneer Christopher Burge was accepting them, and the moving price of Jeff Koons' nearly life-size Buster Keaton was tracing a vertiginous trajectory to uncharted heights. But then Ségalot was waving even when it wasn't his turn to bid, and suddenly all was clear to Burge. With uncanny deadpan delivery, and in the face of what seemed rather strong evidence to the contrary, he said, "Oh. You're not bidding." Ségalot's phone had gone dead.

The climb stopped. Burge took a couple of bid steps backwards and for a moment it seemed that sanity would be restored. But Segalot earnestly and frantically fussed with a couple of phones, started talking again and bidding again, perhaps before he'd actually gotten his bearings. Burge arched his eyebrow in an expression that straddled the intersection of indulgence, disbelief and humor. He asked Segalot, "Do you know to whom you are speaking?"

Segalot apparently did [for a darker take on this story, click here], and he persisted. The sculpture wound up selling to London dealer Anthony d'Offay for $409,500, a record price for a work by Koons. It was one of 12 new highs hit at Christie's May 19 auction, a sale that should give hope to opportunists and send shivers down the spine of anyone who's been in the art market for more than a decade. Back around 1988, prices for art -- and contemporary art in particular -- started a dizzying and, in retrospect, horrific ascent. They separated from the stage of the known, and lurched off in a careening path that had, and has, no parallel. That rise, of course, was followed by the most severe recession in art prices in over 50 years.

The Christie's sale was unnerving because of its sheer success in a fairly new arena. The firm was holding its third evening auction of post-1970 art. It was not the relatively blue chip playing field of Jasper Johns, Andy Warhol and Roy Lichtenstein but of Robert Gober, Jean-Michel Basquiat, Matthew Barney and Christopher Wool, whose Untitled (FOOL) brought $600,500, a sum that is six and a third times the previous record for a painting by the artist.

The buyer was Robert Soros, son of collector and financial guru George. Soros the younger was being counseled by art advisor Thea Westreich, who assured her client that FOOL was as good a Wool word painting as he could find. Several trade sources criticized Westreich for pushing her client to keep after the painting, though one critic acknowledged that Westreich is knowledgeable about Wool's work and has long championed it.

The morning after the auction, Westreich declined to discuss her client's identity but said of the astronomical price, "Look, it was [underbidder] Simon de Pury and me at the end, and a lot of people earlier on. Neither one of us is stupid or new to the market. If we're ready to spend that kind of money on a painting, there's a reason."

The most startling aspect of the Christie's auction was the constellations buyers fell into. De Pury not only underbid the Wool but went after Robert Gober's Untitled (presale est. $300,000-$400,000), a clothed and shod man's leg (mid-thigh down) protruding from a wall with a candle set atop the thigh, just above the knee. De Pury chased it to $530,000, and it ultimately sold to a telephone bidder for $794,500, with London dealer Anthony d'Offay's New York agent, James Cohan, underbidding.

It was a little jarring to see de Pury pursuing works by Wool and Gober. The Geneva-born art advisor's C.V. includes a stint as a director at Sotheby's and as a curator for Baron Hans Heinrich Thyssen-Bornemisza, whose billion-dollar collection of Old Masters and modern giants is a museum unto itself in Spain. De Pury is generally associated with art by Degas, Gauguin and Picasso. Yet he's working with his obviously well-heeled and presumably long-established clients in the pursuit of '90s art, which virtually overnight has come of age.

De Pury was but one market heavyweight who in the past has landed multimillion-dollar works but lost out at this Christie's sale. Other underbidders were dealer Lucy Mitchell-Innes of Mitchell-Innes + Nash in New York, collector/dealers Alberto and Jose Mugrabi, who own hundreds of works by Warhol, Tom Wesselmann, Basquiat and Eva Hesse, and d'Offay, who succeeded with some works but failed to land still more. Their failure to buy wasn't a lack of financial strength. Either they were timid and behind the times, or they are more sober than most of the Christie's buyers. We'll know in a decade or two.

The cautionary tale in the Christie's sale was Robert Ryman's 1966 Signet 20. The painting is a classic by the Minimalist artist, large and in good shape though it had been shopped around before the auction. Its estimate, $1.5 million-$2 million, however, was steep for any Ryman, whose auction record is $2.3 million. Signet 20 was bought-in at $1.1 million. Burge later said, "Rymans brought very very high prices in the late '80s and haven't got back [to that level]. The owner tried to recover what he'd paid for it then, and we took a chance on it." People now going hammer and tongs after even good works by a particular artist may wish to keep the Ryman in mind before they lift their paddles.

The Christie's wave-of-the-future auction was preceded by Sotheby's May 18 sale of post-war art that also saw some spectacular highs along with cool indifference. New York dealer Lucy Mitchell-Innes termed the bidding at Sotheby's "pretty aggressive" with buyers blasé about spending millions for contemporary art. "Nobody seemed to care [about the cost] if they wanted something. And the reason is that everything good that comes on the market goes very, very quickly. People know it'll be a long and boring wait until the next thing comes along."

No one was shy about going after Alexander Calder's Constellation (est. $600,000-$800,000), a spiky wall-mounted stabile that sold to the Gap chief and SF MOMA board member Donald Fisher for $1.98 million. Warhol's Marlon brought $2.64 million, against a high estimate of $2 million, and his compelling, grim Suicide fetched $717,500, against a ludicrous estimate of $100,000-$150,000. But the market is unwilling to be pushed by the sellers' expectations. Lucian Freud's The Painter's Mother sold at the reserve of $3 million ($3.3 million with premium) to London's Dover Street Galleries. Gerhard Richter's Vierwaldstatte See also sold on its reserve, of $950,000, to de Pury.

The market covets freshness, and Richter prices are trying to find a sustainable level. In May 1995, his work broke the $500,000 barrier, and six months later nipped at the heels of $1 million. Then, suddenly, in June '98, it reached $2.5 million, followed six months later by Domplatz, mailand, which sold for $3.65 million. But now auction houses may have gone to the well a couple of times too often. "It's a small market," said one auction insider. "Maybe everyone who needed one has one."

Volatile, confounding and, to one unsuccessful bidder, baffling. A woman at Sotheby's went up to $1.4 million for Andy Warhol's 1962 Campbell's Soup Can (Chicken with Rice), which had been estimated at $600,000-$800,000. When the bidding was still around $600,000, she looked tolerant of other bidders, who seemed to her interlopers. When the bidding reached its final stop of $1.5 million ($1.65 million with fees), auctioneer Tobias Meyer tried three times to get her to go one more. Having lost what she'd considered a sure thing, the woman said, in a European accent, "I stop now. Bye bye." The hammer came down, she got up and walked out.

For the moment, no one, save the auction houses, seems happy about the market's heat. Christie's, in particular, is thrilled, and in a way it should be. The house put together a beautifully crafted sale, with no redundancy in the lots and often, though not always, with great examples of artist's works -- consequently bringing into the limelight a number of young artists whose work is interesting.

But the prices were often freakish -- collectors were buying because they want something NOW, willing to take the gamble (with potential losses in the hundreds of thousands of dollars five years on) that their artists will only go up.

After the Christie's auction, one dealer griped, "Money is stupid. It'll go anywhere." Another likened people buying now at unprecedented prices to "day traders" who will end up taking a bath. But five years from now, he said, once they've been burned, they won't come back to the market, ever. Another pro, who isn't down on the current rush, said, "The market is essentially smarter than it's ever been, and it's very well endowed. It's like a very beautiful girl with a big sex drive. And that's a very different thing from a very beautiful girl with no sex drive." In other words, money is long. Art is short.


ANDREW DECKER writes on art and the art market.